Thye Hong Fried Prawn Noodle $6.80
Thye Hong has a really long history, spanning over 40 years! They still insist on serving their fare on Opeh leaves specially imported from Malaysia and Indonesia. The leaves aren't just for decoration, they actually infuse a subtle, woody fragrance to the noodles. I was trying to limit my intake of food so that I would have space for all the dishes, but I found myself returning for seconds (and thirds)! The broth was indeed very fragrant and it was a pleasure slurping up the noodles. The prawns were lacklustre as they were kind of soggy and stuck to their shells. Still, the noodles were so nice I didn't mind ignoring the prawns.
Li Xin Teowchew Fishball Noodle Stall Mee Pok dry $4.50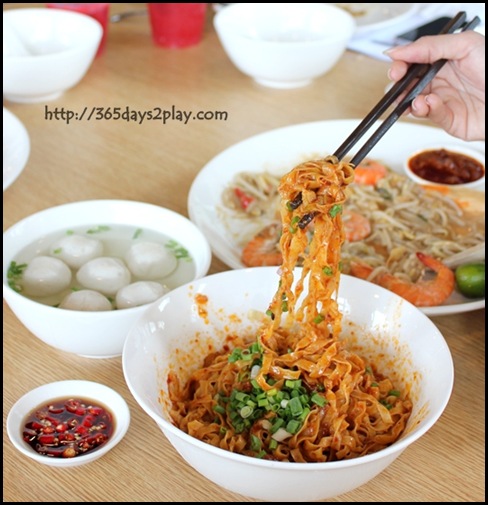 Yet another stall with years of history! Their fishballs are still made from the same recipe used since Li Xin started way back in 1968! The fishballs are made with yellowtail only and kept chilled and not frozen, so as to retain their bounciness. I found the fishballs to have a very strong fish taste, definitely very different from the generic ones you get nowadays. I also liked the mee pok noodles that came in a spicy yet slightly sweet sauce. I found it refreshingly different and I liked the slightly sweet sauce, but a couple of the bloggers found it weird.
Cho Kee Wanton Noodle Stall Fried Dumpling Spinach Noodle $7
Cho Kee Noodle started way back in 1965 in Old Airport Road. Now, to cater to the modern tastebud, Cho Kee also offers noodles made of spinach, carrot and seaweed. I found the noodles too spicy for me, but I really liked the QQ texture. This above is a picture of spinach dumplings, but I was unable to taste the flavour of spinach at all. In fact, the colour was also more yellow than green, although you could definitely detect a hint of green. I suppose this is a good thing which probably means they did not use green food colouring to cheat? The soup dumplings were also very tasty. The dumpling skins were velvety soft, and they were filled with meat rather than fat bits.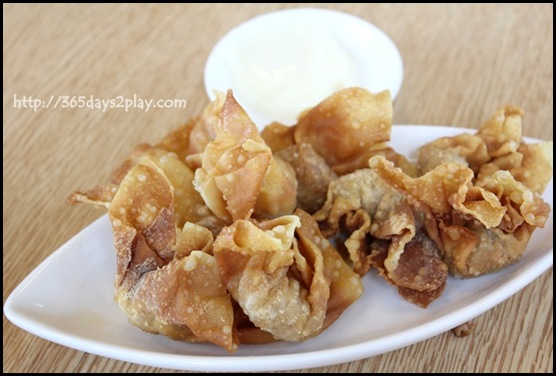 For the $7, you also get a plate of crispy wantons. These wantons are the total opposite of the soup wontons in that they are fried to a crisp! They are so super crispy that the wanton that I stuffed in my mouth literally melted away without much effort. These wantons remind me of the wantons from Parkland Wanton Noodles, except these are more crumbly/crispy and the meat more moist.
 Formosa Delights Stall Dao Xiao Mian Beef $6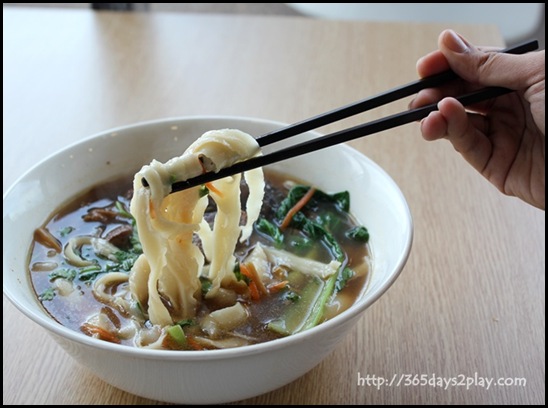 This is Formosa Delights' 5th store and they are famous for handmade noodles made daily and cooked upon order. For those of you who are not familiar with Dao Xiao Mian aka Knife Shaved Noodles, the guy will hold up a block of dough and he will slice the noodles one by one. The noodles will fly though the air into the boiling pot! This felt like a healthier bowl of noodles as compared to other soup noodles as lots of vegetables are provided. Also the soup had a slight herbal flavour
Ah Yip Herbal Soup Stall Herbal Duck Drumstick Soup Noodles $13.50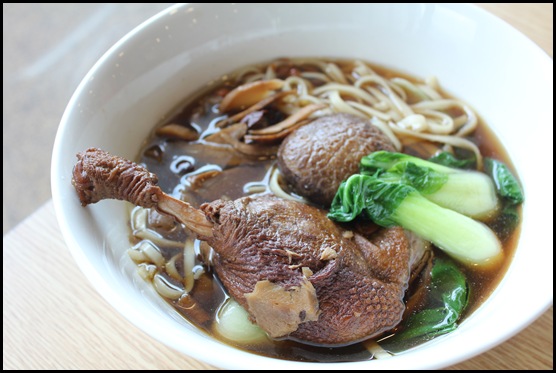 Did you know that the founder of Ah Yip herbal soup used to be a physician?  He felt that drinking herbal soups to be an effective and easy way to maintain good health and he wanted to share his knowledge with everyone. Talk about eating what the doctor ordered!  Ah Yip's Herbal Soups take more than 10 hours to prepare. Despite that, I found this dish to have a very light herbal taste. I could see that a lot of herbs had gone into the dish as I could see them swimming around. I guess this dish would appeal to those who don't like a strong herbal flavour and yet want to enjoy the goodness of the herbs. The duck meat fell from the bone easily without much pressure, but I found it to be very stringy for a duck drumstick.
 Fu Lin Tofu Yuen 7 pcs set with Noodle $6.80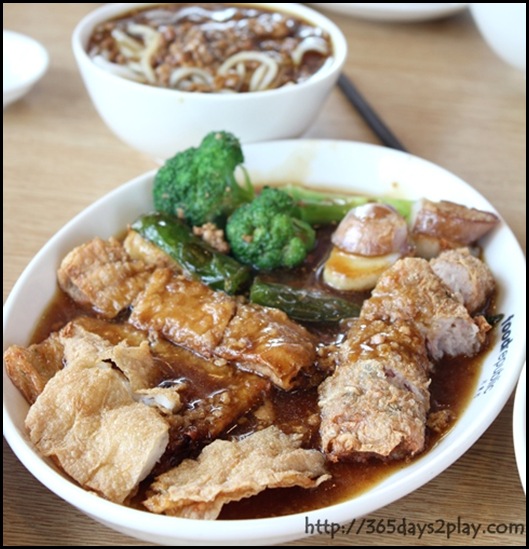 Fu Lin Tofu Yuen serves Hakka Yong Tau Foo and started in 1994 in the East Coast area. The difference between other stalls is that all the yong tau foo will be cooked crispy and served with their special minced chicken mushroom sauce and chilli. I was at first shocked that a healthy dish of yong tau fu has turned into a fried fest, but the surprising thing was that the yong tau foo items didn't feel oily. They were crispy on the outside yet they retained their firm and juicy interior. Very delicious and indeed the mushroom gravy was so delicious I was busy trying to get extra onto my yong tau foo pieces. It's no wonder that according to the owner, other players have been trying to mimic the minced chicken mushroom recipe. Well you know where to get the original now.
Bangkok Gem Stall Pad Thai with Prawns $6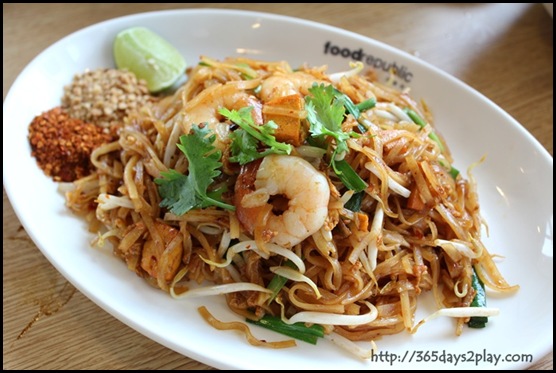 This Pad Thai looked so appetising but failed to deliver. There was an overwhelming fried kuay teow taste and it was way tooo spicy before we'd even stirred in the chilli. Suffice to say that I think Thai Express' version of Pad Thai is much better.
Read more about Food Republic at 112 Katong Mall
https://365days2play.com/2012/04/20/food-republic-at-112-katong-snacks-and-drinks/
https://365days2play.com/2012/04/20/food-republic-at-112-katong-oodles-of-noodles/
https://365days2play.com/2012/04/20/food-republic-at-112-katong-rice-and-more/