*Friend Invite*
Oh man, this post is so belated, I hope my friend doesn't kill me! Remember nearly 2 years ago, I posted about this tiny cafe called Room with a View tucked away on the 5th floor of a Carpenter Street building? Well they've grown up and they have a full fledged cafe complete with hot food, at the new Alexandra Retail Centre in Pasir Panjang!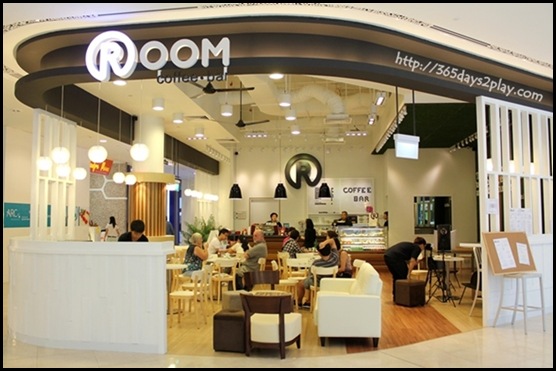 I had the opportunity to try it a couple of months back and I have to say, it's the perfect place to spend a quiet afternoon tapping away on your laptop and sipping a cuppa. There's also free WIFI to boot and lots of power point sockets! There are so many office towers around Alexandra Retail Centre aka ARC, such as Mapletree Business City, NOL, PSA , HP etc… If only bosses would allow you to work offsite! If it were me, I think I would be doubly productive in a more conducive environment!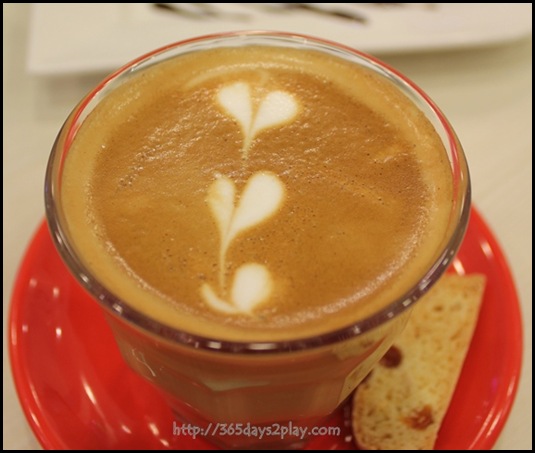 Cafe Latte $5.50
Delicious coffee. Strong and smooth. Packs a punch which is perfect for waking sleepy office workers up. Don't you just love the cute bright red saucer? It put me in a good mood even before I'd drunk the coffee! And the biscotti that Room makes is very good too.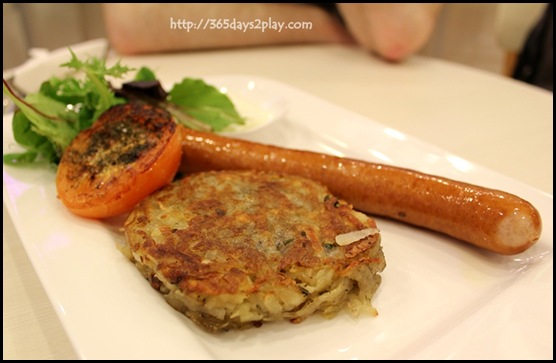 Rosti with Cheesy Chicken Sausage $10
I had this for my lunch. I was afraid it would turn out to be just any old chicken sausage which I can cook myself, but this sausage was very delicious. It was really juicy, coupled with the cheesy bits oozing out. I liked that it didn't feel fattening either. Also liked the rosti. The potatoes were cooked just right and retained a nice bite. The colour was a little darker than usual, because the skins of the potatoes were also used.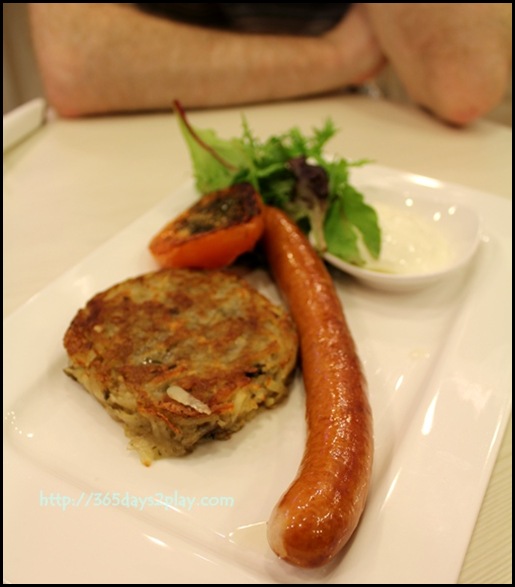 Is it just me or do you see something funny here…. 🙂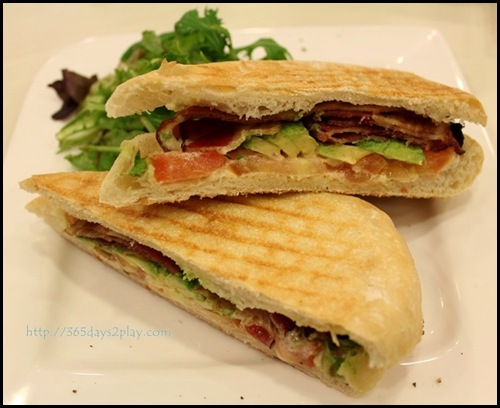 Bacon Avocado and Tomato Panini Sandwich $10
The Partner ordered this and enjoyed his sandwich very much. It was chock full of ingredients that were threatening to spill out. A twist to the usual BLT, the creamy avocados made the sandwich feel more substantial than if it had just been plain old lettuce. If you order the panini sandwich for takeaway, you get a free iced tea!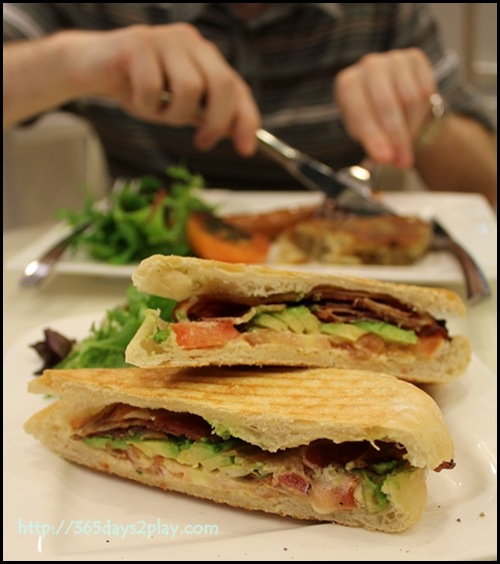 Dark Chocolate Brownie $6
This brownie would please dark chocolate lovers. As I have a sweet tooth, I thought it wasn't sweet enough for me.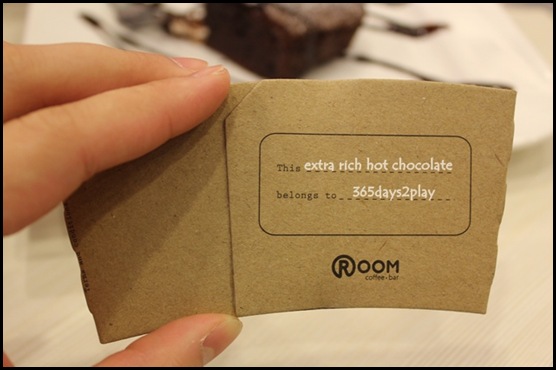 Check out the cool coffee cup holders. You can write your name on it so nobody would be able to steal your coffee. And I believe if you've collected 10 of these and you return them, you get a free coffee on the house!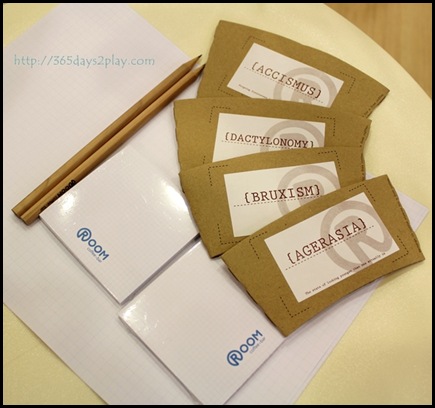 Why not learn a new word while you're enjoying the coffee?
Agerasia, if only there were some instructions as to how to achieve this…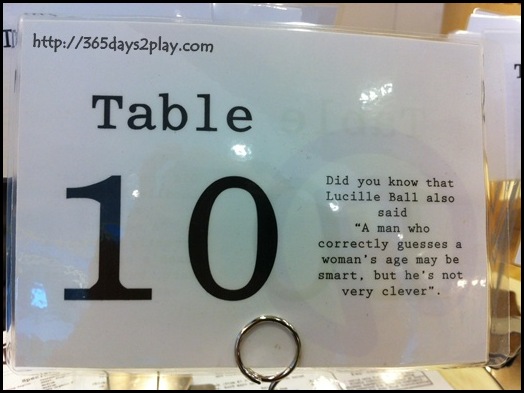 The table numbers also impart words of wisdom. Men would do fine to remember this.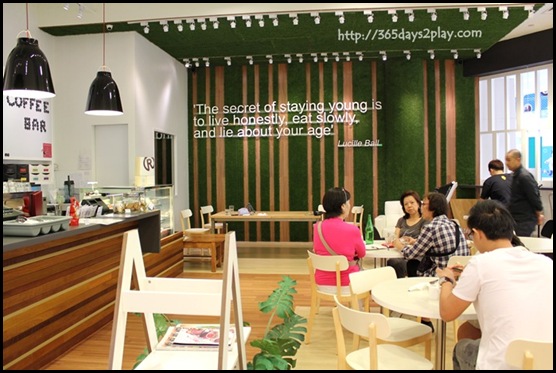 Why, you don't say…. I might have done that a few times myself!
There is much more that Room Coffee.Bar offers. We only tried a tiny sampling. You should check out the full menu here. Going to try out their Wagyu burgers when I am there again! Oh you have to try their Signature Carrot Cakes too, I hear they have a following from the Carpenter Street days.
Room Coffee. Bar
460 Alexandra Road, #01 —18, PSA Building (Alexandra Retail Centre), Singapore 119963 (Sheltered all the way from Labrador MRT Station)
Mon – Fri: 8:00 am – 8:00 pm    Sat – Sun: 10:00 am – 7:00 pm
Telephone: +65 6438 4230
Email: hello@roomcoffeebar.sg
Website : http://roomcoffeebar.sg
Menu : http://roomcoffeebar.sg/our-menu.html
Facebook : https://www.facebook.com/roomcoffeebar