I've always had this long standing impression of beach/sports-themed bars/restaurants and greasy Western fare going hand in hand. It's hard to change this perception because alcohol is where they make their money, so the focus is often not on the food. And their menus, they look like cookie cutter templates of one another. Once in a while though, a restaurant pops up which bucks the trend.
A couple of weeks back, I had the pleasure of checking out Coastes Singapore, which is located along Siloso Beach in Sentosa. Coastes has recently rolled out new dishes from classic beach bites to seafood and pasta dishes. I tried some of their new dishes and I am glad to report that I really enjoyed their seafood dishes! My dining companions and I both agreed that the seafood dishes boasted fresh tasting and succulent seafood.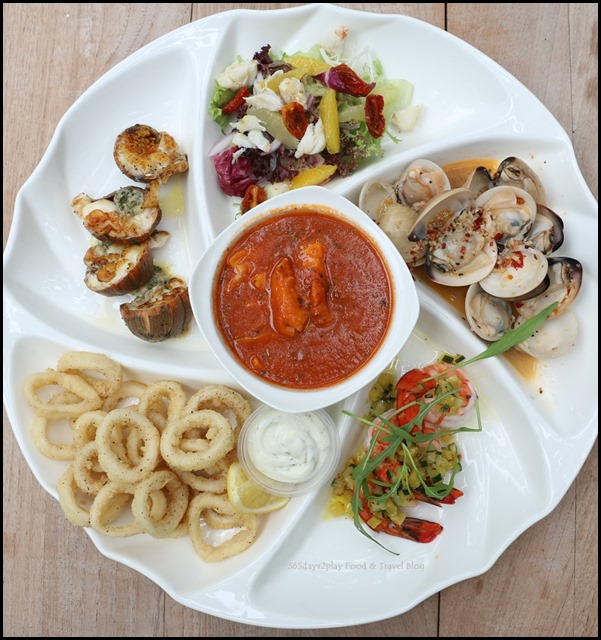 Seafood Platter $52 (Pan-fried crayfish, crab salad, fish stew, poached tiger prawns, chilli clams, calamari rings)
At first glance, this Seafood Platter may seem a tad expensive, but it is a good way to sample all the delicious seafood dishes that is available at Coastes. For platters, it tends to be that there are some dishes which you love, and some not so much. Amazingly, the 3 of us managed to polish off nearly the entire platter plus other dishes! The fish stew was really robust tasting, calamari so crispy and moreish, prawns succulent and fresh, clams oh-so tender, crab salad refreshingly good. If there's one grouse, it's the crayfish that was a tad salty, but at least succulent and fresh tasting.
Seafood Risotto $32
There's something about the broth that makes this risotto really robust tasting, and choc a block with ingredients.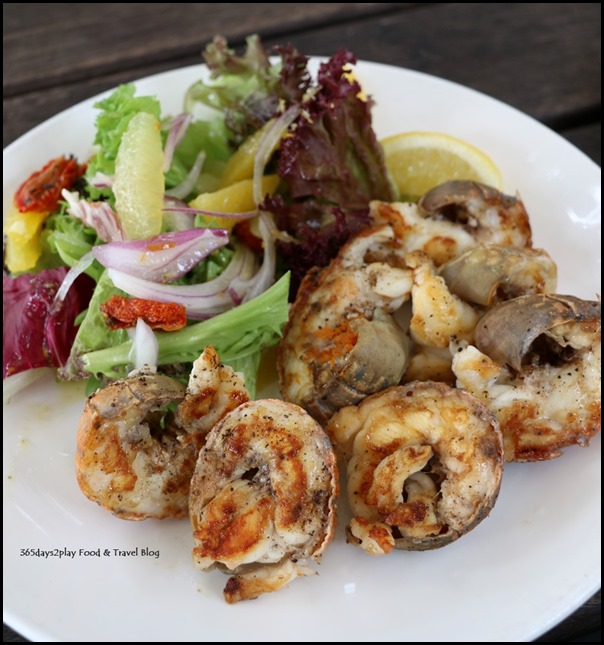 Slipper lobster aka crayfish $32
We didn't know that these were already available on the seafood platter so we ordered this. As mentioned above, these were succulent and fresh tasting, but a little on the salty side.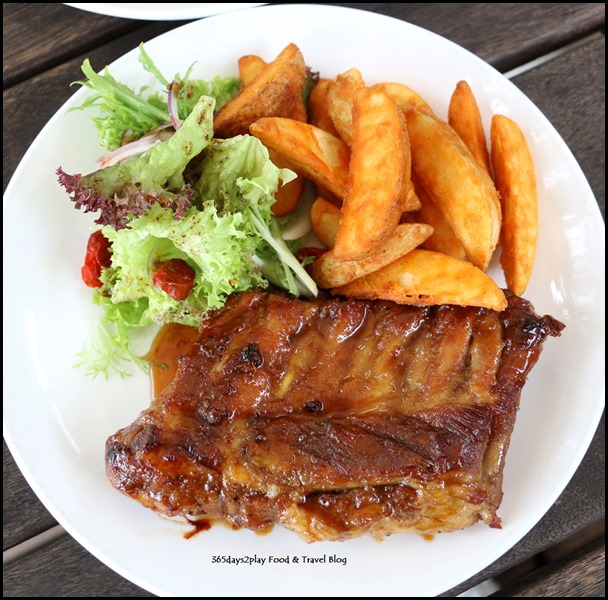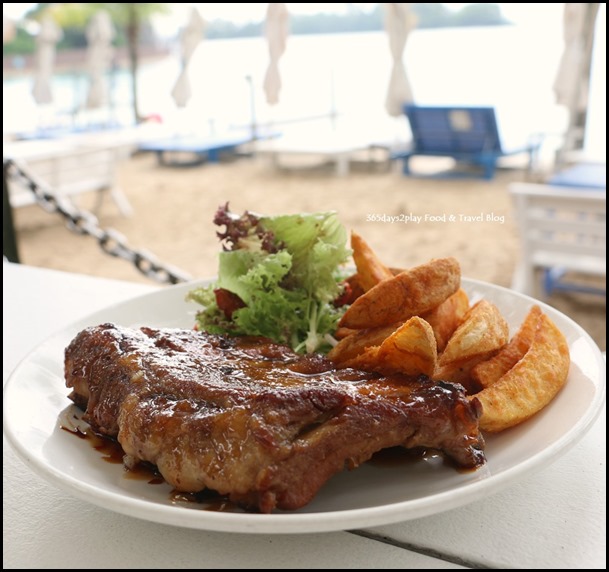 Bourbon-glazed pork ribs Half slab $20 Full Slab $30
This came highly recommended as it's one of the more popular dishes at Coastes. Unfortunately the ribs were a tad dry (despite it being slow cooked for quite a number of hours) and each rib had to be prised apart with some force. The bourbon glaze has potential though, and if the ribs were more tender, I can certainly understand why this dish would be popular.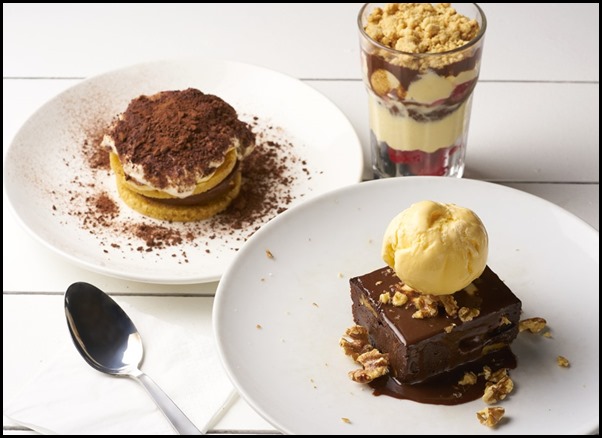 Banana and Chocolate Pie, Salted Caramel Brownie and Forest Berries and Cream Cheese Trifle
I had to rush off after lunch so I didn't get to try these newly launched desserts. They sure look good though and that brownie is just calling out to me right now.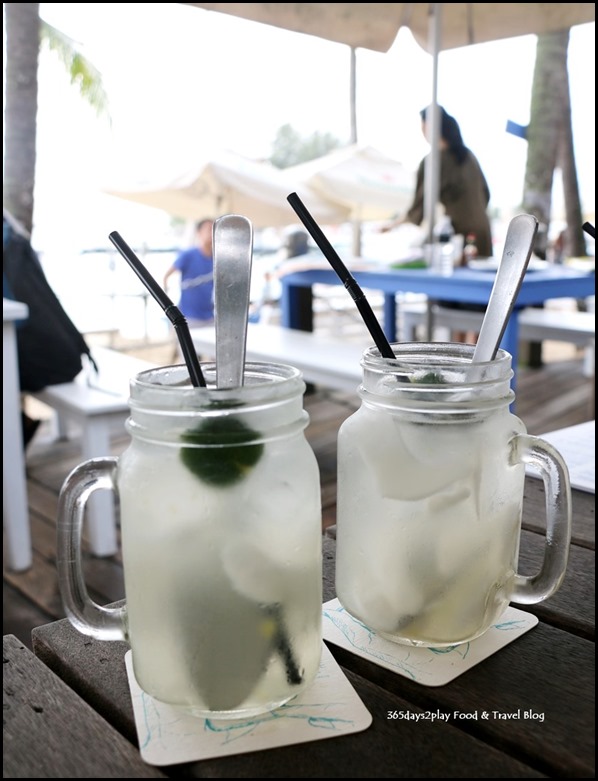 Coconut Kumquat Mocktail $10
Not cheap for a drink comprising of coconut water, coconut flesh and calamansi juice….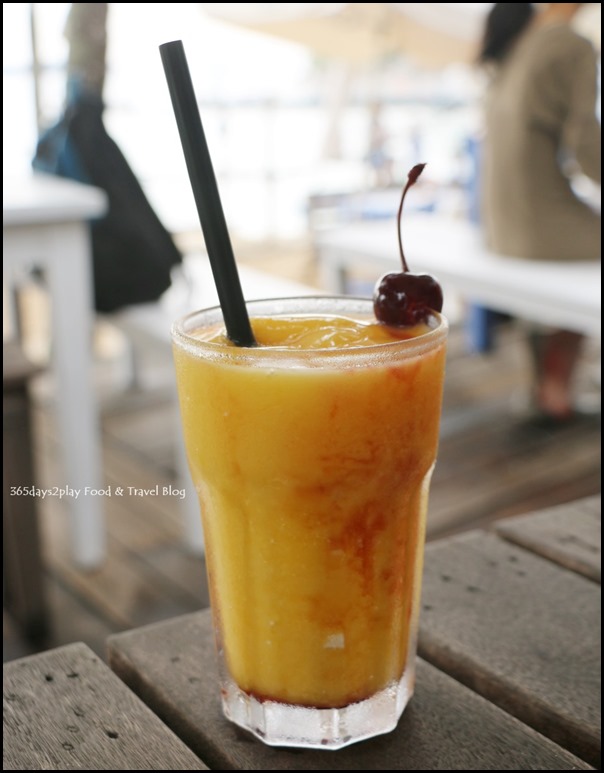 Shades of summer (Peach fruit, peach syrup, vanilla syrup, mango juice, coconut, ribena) $10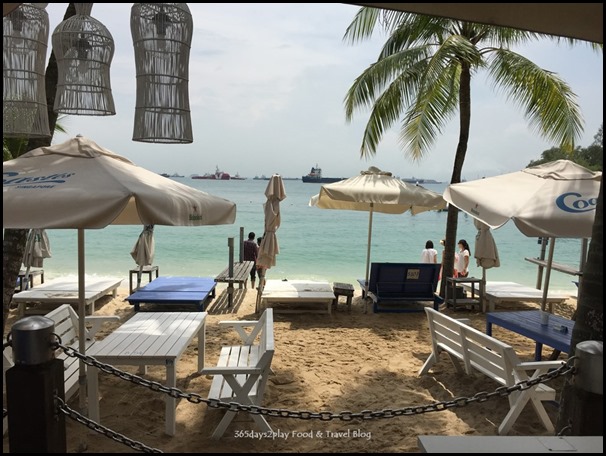 The beach is a hit with the families and children. In fact, Coastes is a really family friendly restaurant, with a huge number of families visiting on weekends. There are beach toys provided free of charge for the children to play with. Have to bring Baby the next time to check it out. We have yet to let Baby play with sand because previously he had a habit of rubbing his eyes ever so often and I didn't want any sand getting into his eyes!
---
Add me on Facebook, Instagram and Twitter if you want to be kept up to date with the latest happenings in the food and lifestyle scene in Singapore!
Reviews of other Restaurants in Sentosa
---
Coastes Singapore
50 Siloso Beach Walk 01-06, Sentosa, Singapore 099000
MON — THUR  9am — 11pm
FRI, SAT, & EVE OF PUBLIC HOLIDAY  9am — 1am
SUN & PUBLIC HOLIDAYS  9am — 11pm
Tel : 6631 8938
Email : reservations@coastes.com