*Media Invite*
Another restaurant bites the dust. Remember Fisherman's Market Seafood Buffet Restaurant? That no longer exists, but the good thing is, another restaurant that is EVEN BETTER, has taken its place. Actually Chiso Zanmai is owned by the same people. Guess they must have realised that the prices that Fisherman's Market charged made it really uncompetitive. Chiso Zanmai doesn't look any different from Fisherman's Market. The decor is the same, and even the layout of the various food sections. However, the food is modelled after its Osaka counterparts.
The key point to note is that Chiso Zanmai is nearly HALF THE PRICE of the old restaurant. At SGD$24.90++ per adult for a Japanese Buffet, is that a steal or what? And let's be frank here. A lot of people like to attack the sashimi counter when gorging at hotel buffets, as everyone knows that sashimi is expensive. Now here's a buffet where you can do away with the other frills (ie the food items that people hardly touch but hotels find it necessary to include in their buffets in order to impress you with variety), and pay less!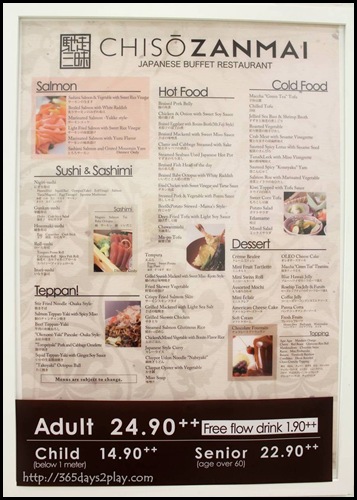 Chiso Zanmai's Menu. Click on it for a larger version
Salmon Salmon Salmon!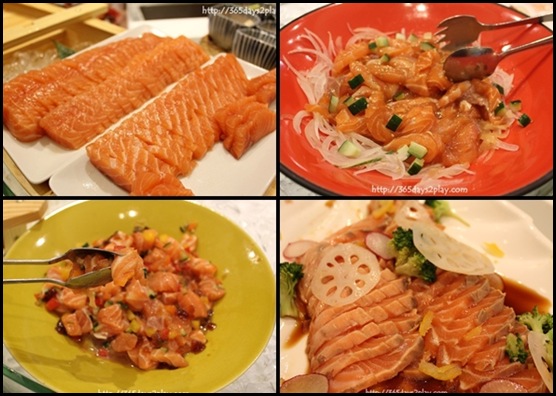 Chiso Zanmai loves me so they've specially created many Salmon dishes knowing my love for salmon! Here you have salmon sashimi, broiled salmon and marinated salmon.
Sushi and Sashimi Counter
They've stuck to the usual favourites in regards to the sushi and sliced hand rolls. Tempura Prawn roll, California roll, Spicy Fish Roll and Prawn, Squid, Octopus, Eel, Salmon and Tuna for the Sushi.
Cold Food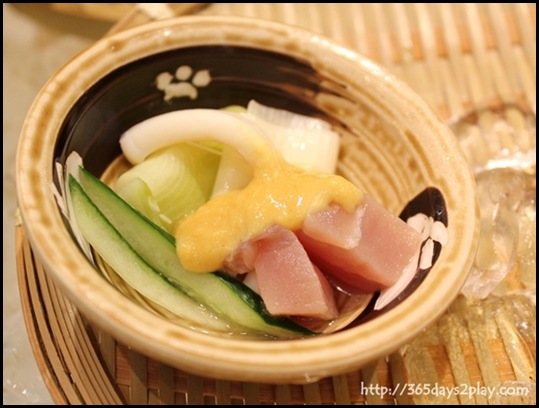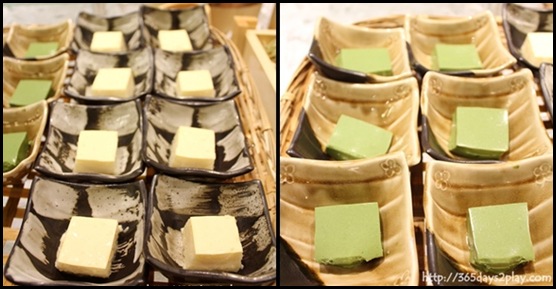 The one on the left is a sweet-corn tofu. The green tea tofu is really interesting. It marries the silkiness of tofu with the distinct taste of matcha. The best part is that it is like eating Green Tea Ice cream minus the cream.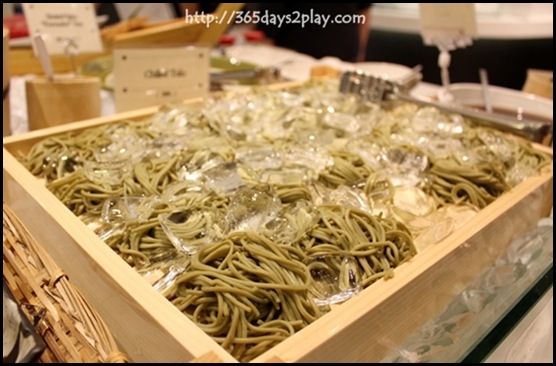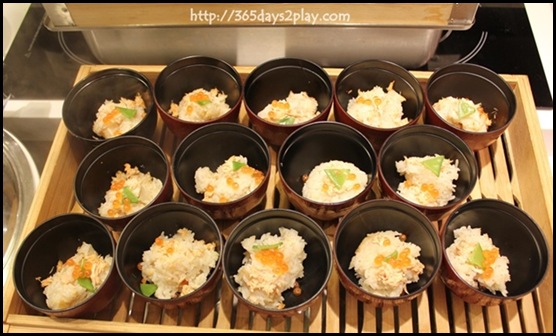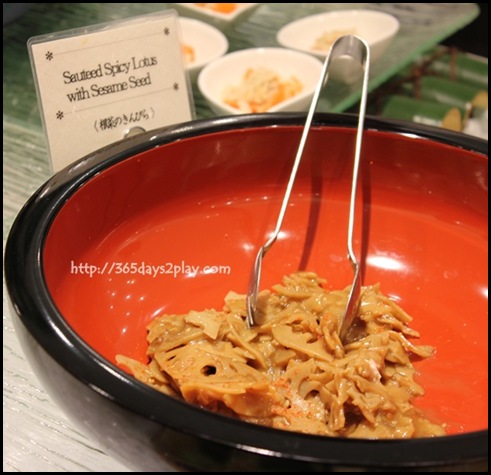 This Sautéed Spicy Lotus with Sesame Seed dish was highly recommended to me. However, by the time I got around to trying it, it was all gone!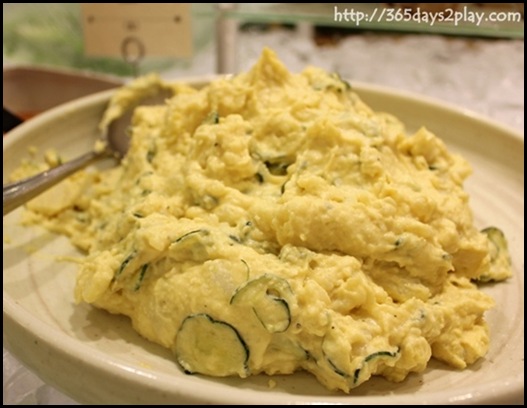 Teppanyaki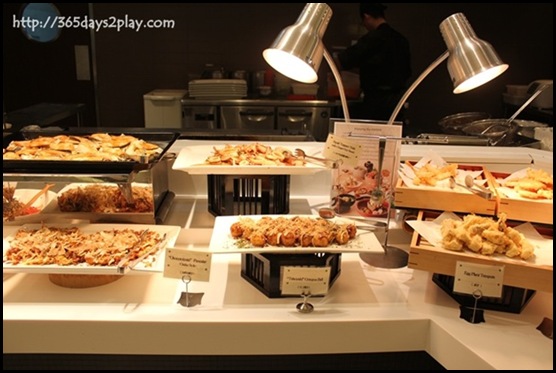 The Okonomiyaki pancake was also highly recommended. Luckily I managed to get quite a bit and it was very tasty. Chiso Zanmai's version has more egg than starch, which made for a more palatable dish. They have squid, salmon and beef teppanyaki too. Alas, I didn't get to try any of the tempura items. It must have been damn good. I lucked out for the 3 instances that I was at the tempura counter.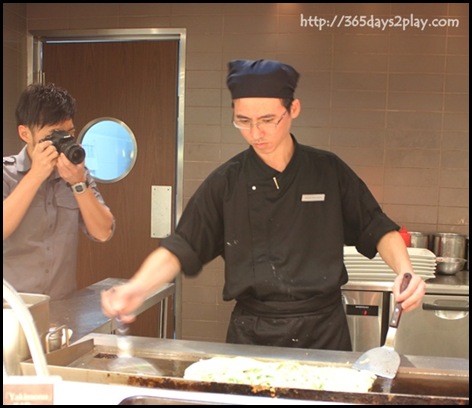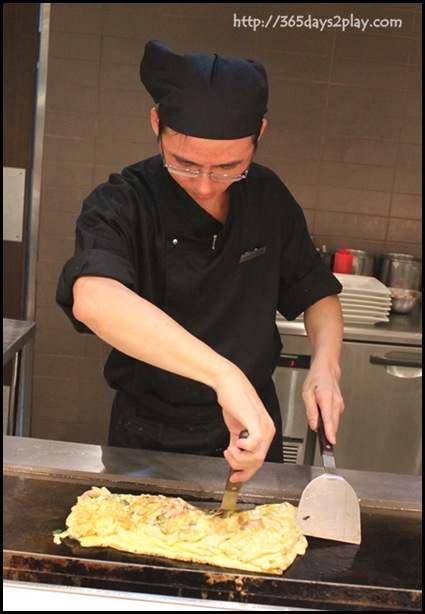 Chef cooking up a Pork and Cabbage Omelette "Tompeiyaki". Very delicious too. I really love their omelettes and okonomiyaki.
Hot Food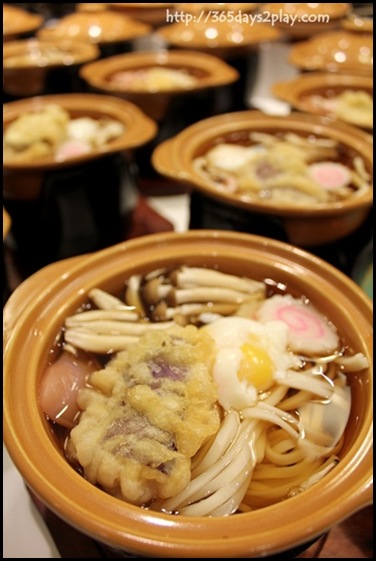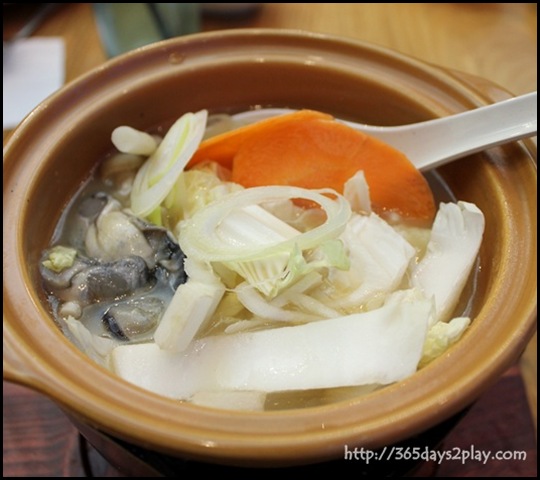 The 1st was a Claypot Udon Noodle "Nabeyaki" and the 2nd was a Claypot Oyster with Vegetable soup.  I tried the oyster soup which had a generous amount of oysters in it. I like it that it was served in a claypot, complete with burner to keep your soup hot.  It's an interesting way to serve the soup instead of the usual ladle it out of the pot style.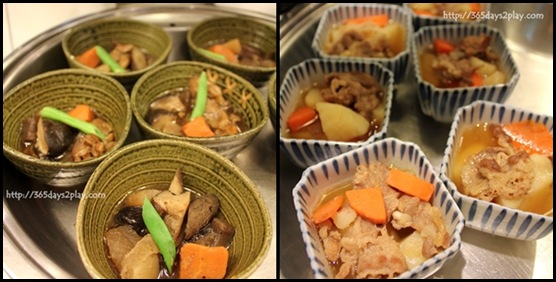 Braised Eggplant with Bonito Broth in Mt Fuji Style.
Grilled mackerel with salt.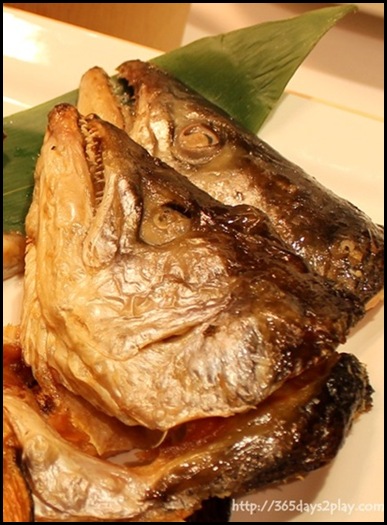 Braised Fish Head of the Day…They say Ang Mohs don't know how to eat fish if the heads are still attached. Well I have to say that in this case, the fish heads do look a bit scary.
Apart from these, they also had hot food like Braised Pork Belly, Beef & Potato Stewed, Ma-po Tofu etc…
Desserts
Green Tea Tiramisu
Assorted Mochi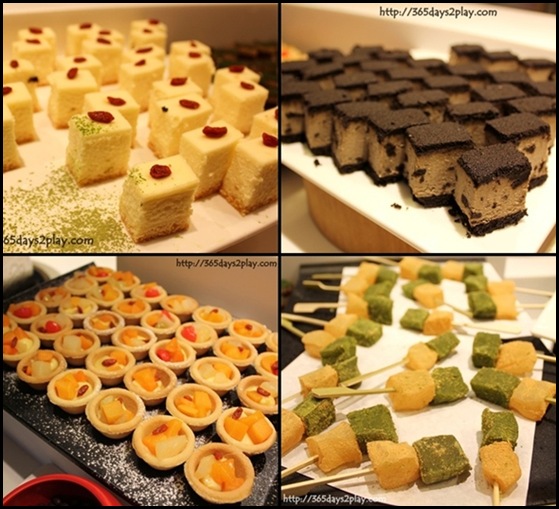 Oreo Cheesecake, American Cheese Cake, Fruit Tarts and more Assorted Mochi   
And finally..the ubiquitous chocolate fountain.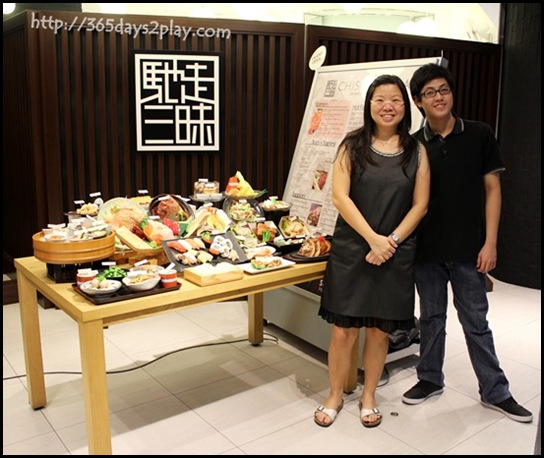 My dining companions from my baking school looking happy and well-fed.
On the whole I think that Chiso Zanmai is a very value for money buffet. The decor may not be hotel standard, but if your priority is food, this is really a good steal.
**Thank you Amanda & Word of Mouth Communications for the wonderful evening
CHISŌ ZANMAI
6 Eu Tong Sen Street , #01-15, The Central , Singapore 059817
Mon – Sun:12:00 pm-3:00 pm    ;    6:00 pm-11:00 pm
The Central is just above Clarke Quay MRT station.
*If you've enjoyed this post, please vote for me at the Singapore Blog Awards. I'm a finalist! Voting ends 30 June 2012, but you can vote once per day! Make sure the "Voted" sign comes up to indicate that the voting was successful!