Lewin Terrace, located on Fort Canning Hill, is one of those fine-dining restaurants that boasts a very historic location but yet is a mere stone's throw away from the city centre. Surprise surprise, it is but a 10 minute walk from City Hall MRT station!
Admittedly, finding it may be a bit of a problem, but if you know to stop your taxi just before the Philatelic museum, the stairs leading to the black and white conservation building which houses Lewin Terrace is just behind the museum and the fire station! Thankfully, I am familiar with this area, having worked in the vicinity for several years. I've never found it a problem to get here, even on my 1st day of work, because I know my museums well!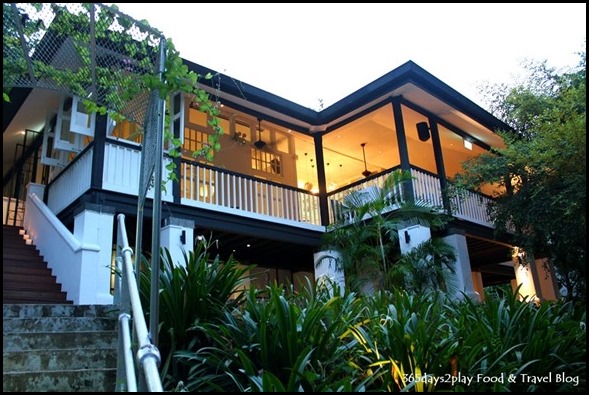 This is the beautiful Lewin Terrace bungalow that greets you after you have ascended the stairs. This was the former residence of the Chief who headed the Central Fire Station on Hill Street. You might vaguely recall that the restaurant Flutes used to occupy this building previously. Here's a good spot to take all those selfies, if you manage to arrive before nightfall. But be careful because you might find a friendly face popping out of the veranda to welcome you warmly with a "HELLO!" just as you are admiring yourself in your iPhone, as was what happened to me.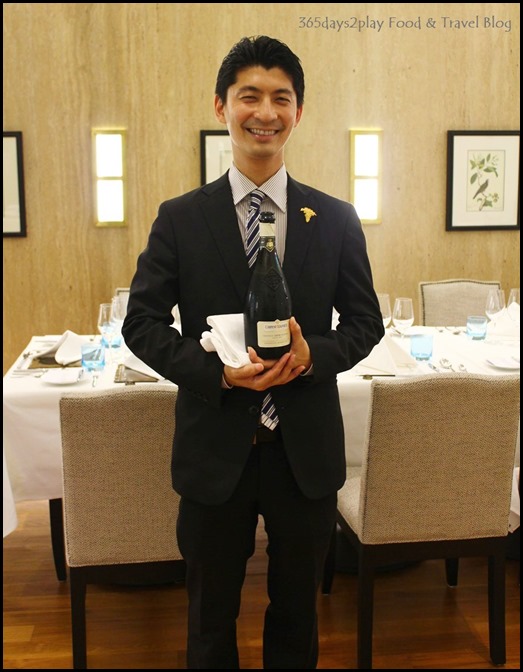 The friendly face and voice belongs to none other than Mr Daisuke Kawai himself, the general manager and chief sommelier of Lewin Terrace. You can tell he's a friendly person right?

The Japanese are ever so polite and eager to ensure you have a good time, you know you are in good hands when it comes to service standards. Beneath his unassuming exterior, Daisuke boasts an arsenal of sommelier awards, including Top Wines Best Sommelier of the Year in the Singapore World Gourmet Series Awards of Excellence 2013.
We had a sampling of the tasting menu available at Lewin Terrace, prepared by Chef de Cuisine Ryoichi Kano and team. Chef Ryoichi loves experimenting with different foods, spices and tastes, which is evident in the French Japanese inspired cuisine that you will find at Lewin Terrace.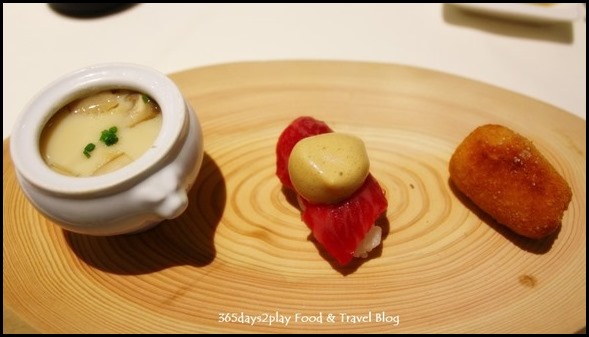 As always, an amuse bouche to start off the meal, or in this case, 3 of them. A very light rendition of a chawan mushi on the left, followed by my favourite of the 3, a tuna sushi. It was so fatty looking that we had all privately hoped it to be a slice of wagyu beef instead!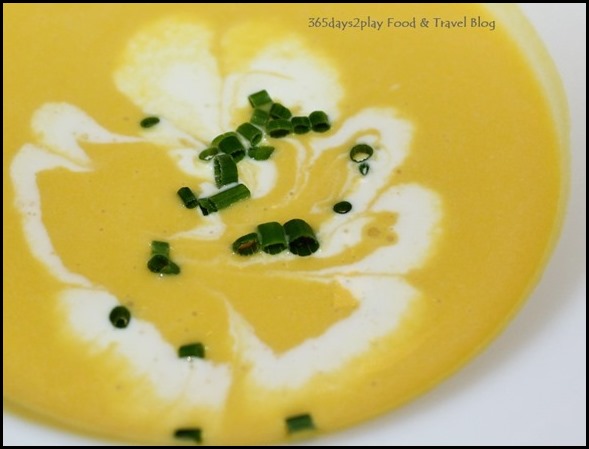 Cold Pumpkin Soup
Moving on to the cold pumpkin soup. This soup really befuddled me, because while it sounded and looked like a "Western" style soup, it had the lightness that is not normally associated with cream soups. Really refreshing and unique.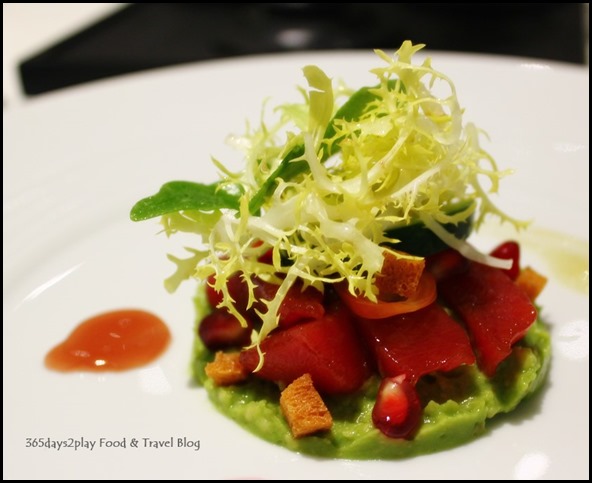 Tuna & Avocado Salad
I love sashimi so this was a great starter for me, and a very healthy one too. Love how the delicate flavours of the tuna mixes with the more heavy and creamy texture of the avocado, balanced out by hints of sesame oil.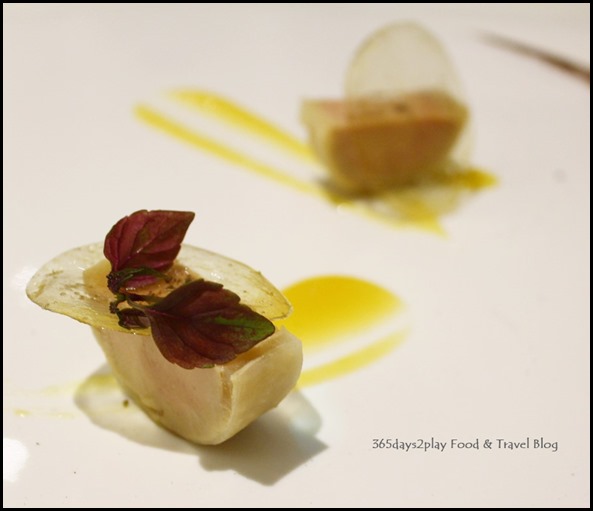 Bettarazuke-wrapped Foie Gras Terrine
I love foie gras of any form, including this Japanese fusion foie gras terrine. The bettarazuke, a type of pickled daikon popular in Tokyo, lent a crisp and slightly tangy taste to the otherwise rich tasting foie gras terrine.
Amadai Saikyoyaki
This was my 2nd time trying Amadai fish, also known as tilefish, the first time being at Crystal Jade Golden Palace. Not a very common fish in Singapore, the thing that immediately strikes you is that the fish is eaten with the scales on! The fish is fried to a crisp, hence if you don't pay close attention, you may assume that you are just ingesting fried fish skin. Lewin Terrace has managed to perfect their fish frying techniques as the flesh still remained wonderfully tender.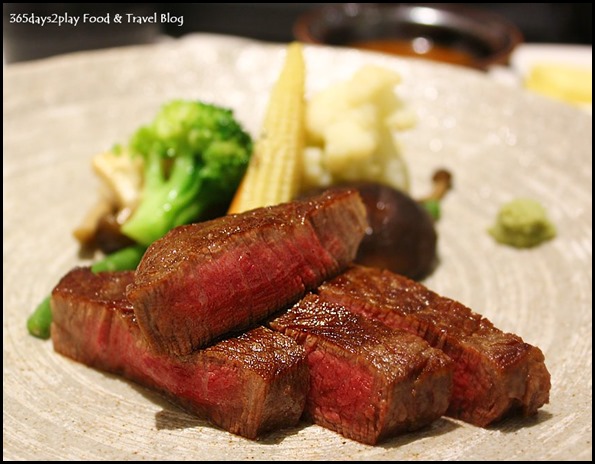 Beef Toubanyaki
This wagyu beef dish was my favourite dish of the evening! You would probably have heard of Teppanyaki, but have you heard of Toubanyaki? Teppanyaki is where the chef cooks the dish in front of you, but for Toubanyaki, you do your own cooking.  We were presented with these delicious morsels of beef. One look at the meat and I just knew that it was the perfect doneness for me and indeed I was right. Couldn't put down my fork as I finished 3 out of the 4 pieces of beef. They were supremely tender, and very rich, even though you can't quite see any marbling. I managed to test out the Toubanyaki with the 4th piece.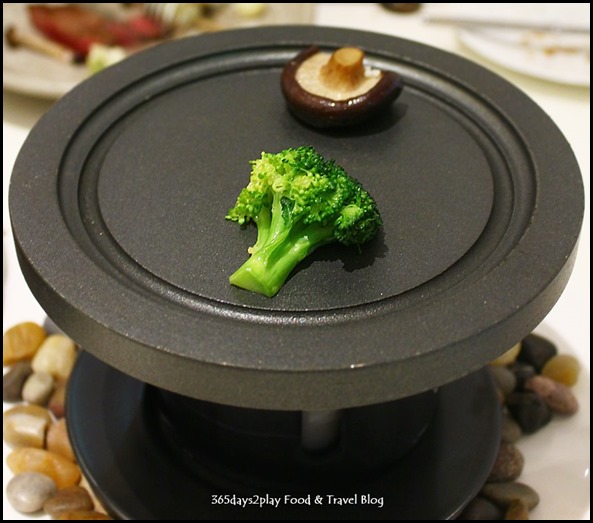 Picture of the individual toubanyaki sets for you to cook the beef. I'm afraid I do not have a picture of meat on the grill as it was quickly consumed before a photo could be taken. We took to grilling the vegetables as well just for fun.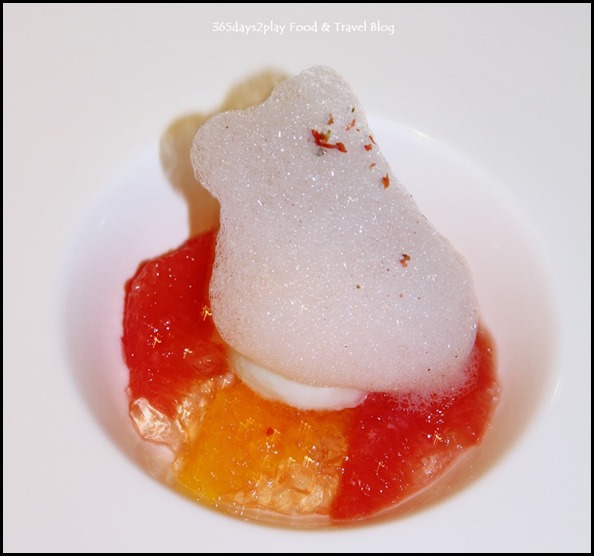 Deconstructed Spumoni
After the rich slices of beef, it was nice to enjoy this delicate deconstructed spumoni, which comprises of chardonnay jelly and grapefruit pieces at the bottom, followed by a cream cheese ice cream, topped off with some foam. I usually don't like foam of any sort, but I loved the fresh citrusy flavours coming from the grapefruit, as well as the textures provided by the jelly. Probably my favourite dessert of the evening!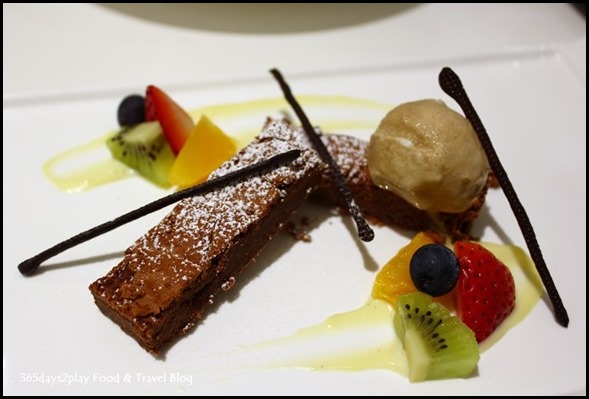 Chocolate Flourless Cake
Although I adore chocolate, I didn't much enjoy this dessert because the cake was slightly too dry for my liking, and slightly crispy on the exterior.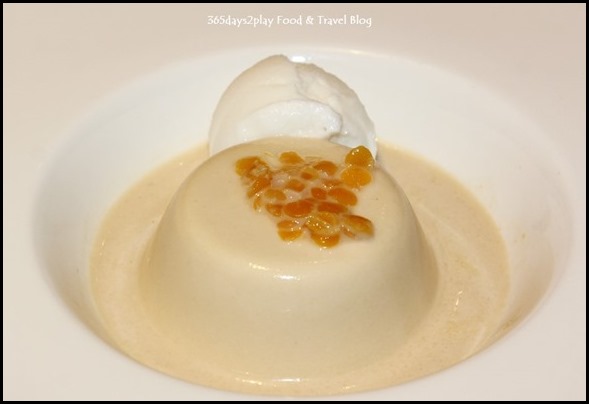 Sesame Blancmange
I've always been fascinated by this dessert called Blancmange. Hands up any of you who remember this dessert from your Enid Blyton storybooks? It used to fascinate me no end as a child, that there would be this delicious jelly like dessert in the UK, that was not heard of in Singapore. But of course, we have this too, it's called agar-agar! Well, unfortunately because I do not like sesame based desserts, I didn't quite enjoy this sesame blancmange as the sesame taste is quite distinct. Wonder why I don't like sesame based desserts, when I love sesame oil, and roasted sesame seeds?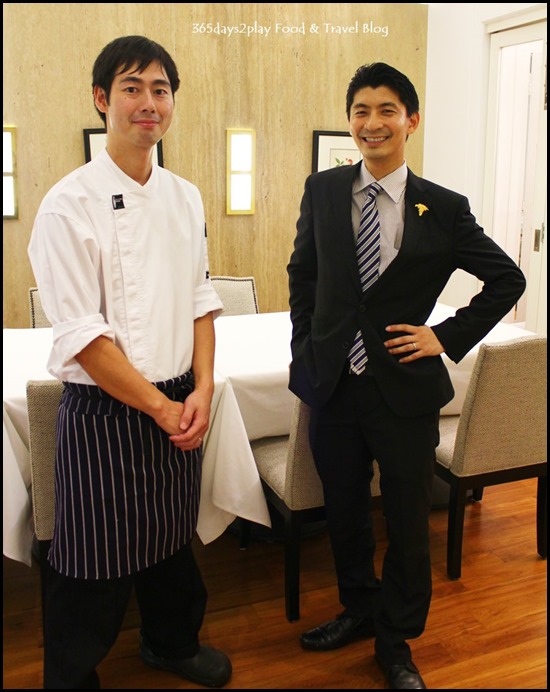 Chef de Cuisine Ryoichi Kano and GM / Chief Sommelier Daisuke Kawai making our dinner here a very enjoyable affair.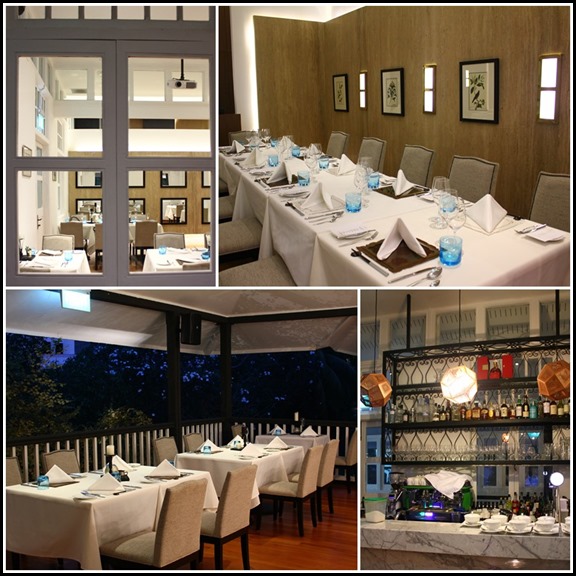 ---
Add me on Facebook, Instagram and Twitter if you want to be kept up to date with the latest happenings in the food and lifestyle scene in Singapore! 
---
Lewin Terrace
21 Lewin Terrace Singapore, Singapore 179290
Tel: 6333-9905
Website:
www.lewinterrace.com.sg
Email:
info@lewinterrace.com.sg
Opening Hours: Monday to Sunday
Lunch:12pm — 3pm (Last order at 2pm)
Dinner: 6.30pm — 11pm (Last order at 9.30pm)
(Access to Lewin Terrace is through the red gates to the left of the Singapore Philatelic Museum at 23-B Coleman Street, Singapore 179807 and the main entrance of the restaurant is located up the flight of stairs.)