Chinese New Year is just about 6 hours away so let me wish all of you out there a Happy Chinese New Year in advance! May the year of the Dragon bring you peace, prosperity, happiness and health!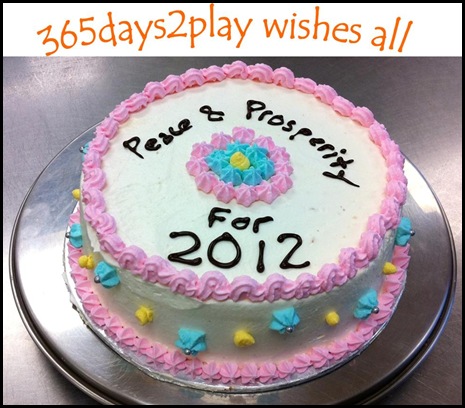 This evening, I will be enjoying a sumptuous reunion dinner with my parents, the Partner as well as my 3rd Uncle's family at our favourite Cze Char stall in Bedok. I may even be able to get second helpings if the Partner acts up and sniffs as dishes that are too foreign for him.
Every year, I always entertain the thought of welcoming in the New Year by visiting Chinatown. There's just no place in Singapore that's as festive and atmospheric than Chinatown on Chinese New Year eve! It's jammed packed like hell and you move a few inches every minute or so. But that's how you soak up the atmosphere isn't it? You may find very good deals too but only after 12 mid night when the stallholders are keen to get rid of their goods. The Partner finds the idea totally abhorrent and encouraged me to go last week with one of my good friends so that he would be free of that task. Heh, that's what he thinks cuz there's no rule against going to Chinatown twice right?!
Anyway go last week I did, and here are the pictures. If you don't know what to do on Chinese New Year eve, go to Chinatown! Enjoy!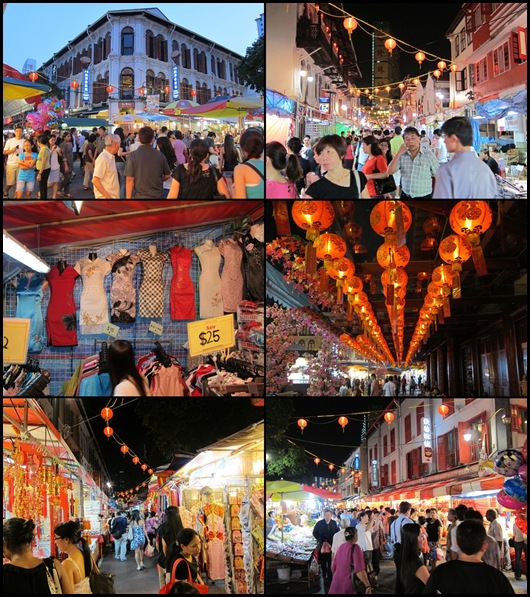 One day, just maybe one day I will be able to fit into a Cheong Sam.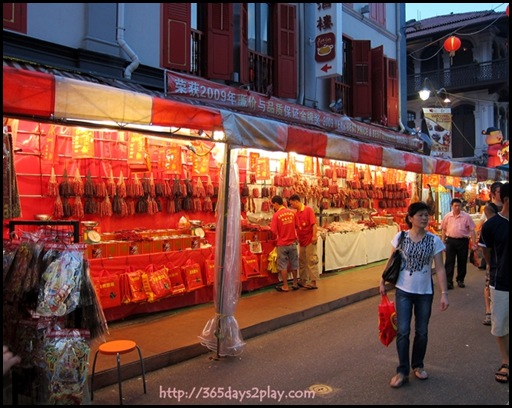 I dunno why but I find the waxed meats stall fascinating. I somehow gravitate towards it. I hear the meats calling out my name.
Apparently everything can be waxed, even fish. No idea what wax is used. I wonder if we can still get the same taste without using wax? I suppose that would be the European meats. I overheard a customer complaining that the waxed meats were more expensive than the Parma ham she bought in Europe. I bought $5 of the waxed duck seen in the 3rd picture, which amounted to 2 pieces.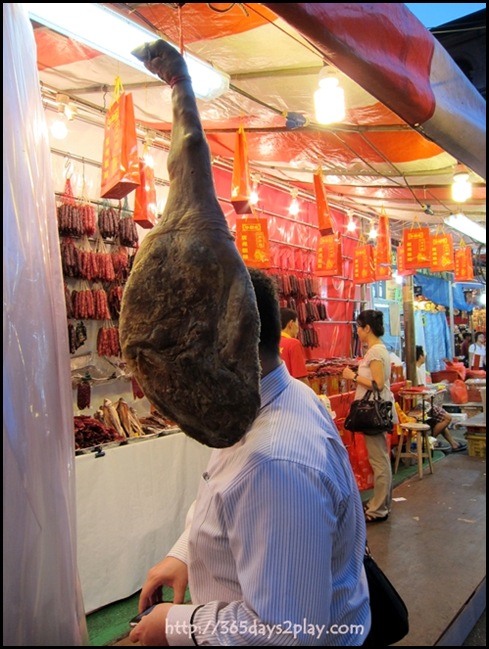 My friend was too shy to appear in the picture so he hid behind the leg of ham.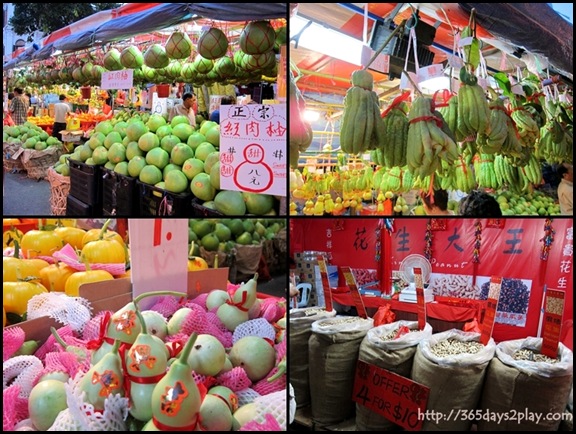 Clockwise : Pomelos, buddha's fingers, gourds, peanuts. The fingers and the gourds are for display and not for eating.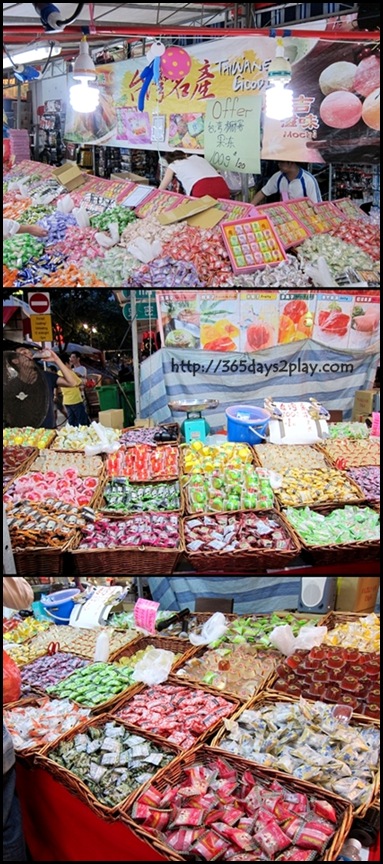 Taiwan fruit jellies. There are several stalls selling these and there is a guy standing there just to dish out samples. According to my friend, if you eat lots of samples and don't buy any, they will take you aside and ask you what you're doing. Don't know whether to believe him or not.
The jellies are very nice. They are ice-cold, sweet, and quite firm so they give a good bite. Rather expensive though. $1 for 100g, but 2 of the jellies are already 100g. I tried to limit the flavours I chose, but I still ended up buying 12 for $6.
These aren't the traditional Chinese New Year goodies we eat in Singapore. Is it just me or what but I thought that the number of stalls selling the traditional goodies were very limited. Stuff like Kueh Bankit, Almond cookies, Love Letters, Pineapple Tarts etc. I thought I would see stall after stall selling those, but I was wrong.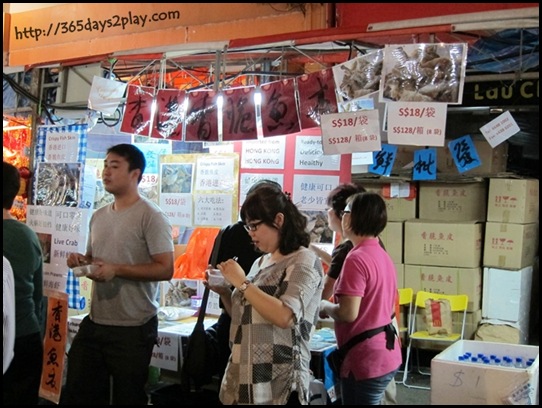 See this stall selling Crispy Fish Skin for $18 per packet. Don't think this is traditional Singaporean CNY fare. I tried some and they were very delicious! Absolutely addictive, and they weren't oily tasting too, on the contrary, quite light.
Now finally a place selling traditional Chinese New Year goodies. Apparently this shop is super famous and has a very long history. Look at all the newspaper write-ups! There are even black and white photos of snaking queues! Love old photos which let me glimpse what Singapore was like back in the old days.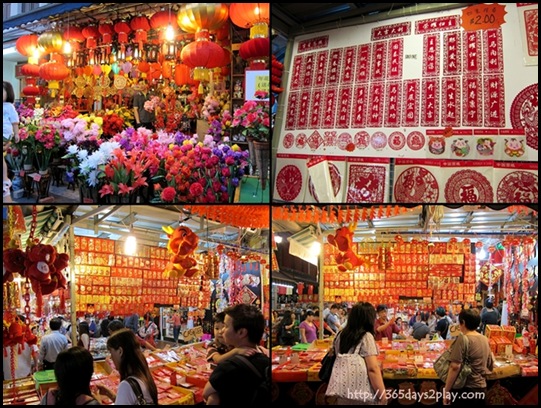 Chinese New Year decor and red packets you can buy. I prefer getting red packets for free from the banks.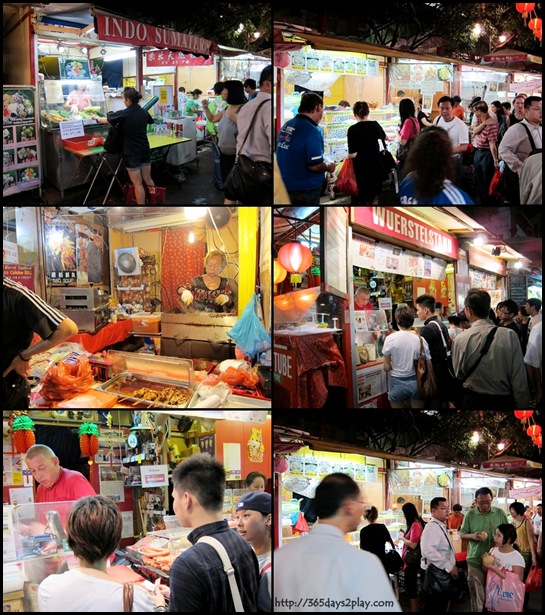 There is this cluster of mini food stalls somewhere near the Chinatown food centre. Not to be mistaken for the Smith Street Food Street. The Indo Sumatera stall looks really old school. The sign says it sells "Indo Traditional Snacks with Natural Ingredients and Less Sugar". And then there's the Caucasian selling sausages in Chinatown. I believe these stalls are here all year round.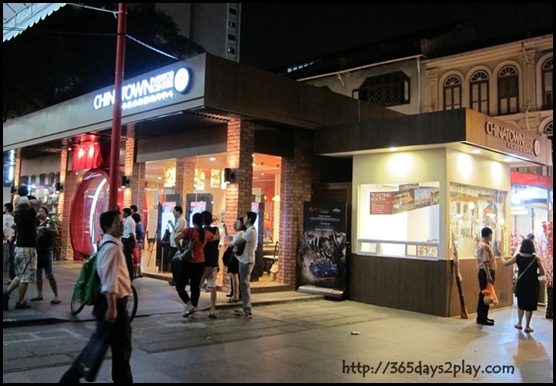 The New Chinatown Visitor Centre
Well that's all for now folks! Have a very festive and happy Chinese New Year! May you receive lots of Ang Pows, and for those that are giving, give more!!
HUAT AH!!!!!!