It's been a long time since I've been to Chijmes. To think that at one point in time, because my office was so nearby, we would visit the restaurants at Chijmes at least a few times a month! The 3 restaurants we patronised the most at Chijmes were Hog's Breath, Lei Garden and Sun Dining. For some reason, we would never visit the restaurants in the Courtyard. What a pity, because I now know that quite a few of them offer good lunch promotions!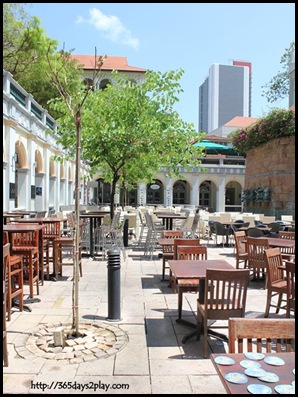 If not for the tall building in the distance, wouldn't this make you think of some courtyard in France or Italy?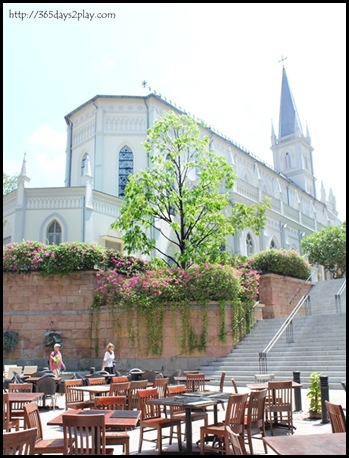 You may have seen the Chijmes Church from the front, but have you seen it from this angle?
Bobby's Taproom.Grill.Bar has been at Chijmes for the longest time. In fact, this was one of the 1st restaurants I reviewed when I first started my blog! They now also have another outlet at Cuppage Centre. This time round, I was invited to Bobby's along with Hazel and Grace.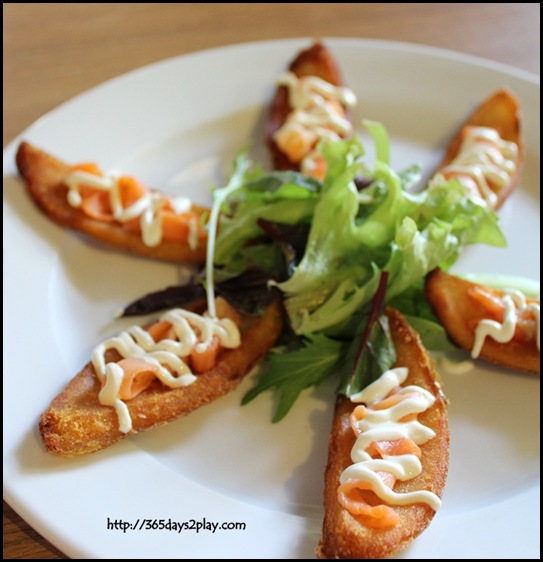 Crunchy Potato with Smoked Salmon $18
To start off the lunch, we had some crunchy potato shells with smoked salmon. They looked so pretty on the plate they were almost too irresistible to eat. Turns out that these potato skins aren't all that crunchy after all. They might have been, if it were just the skins only, but because the sliver of potato flesh that is next to the skin is also served, these tasted more like wedges than potato skins. I liked the smoked salmon that goes with the potato but I think the chef was a little heavy handed on the mayonnaise.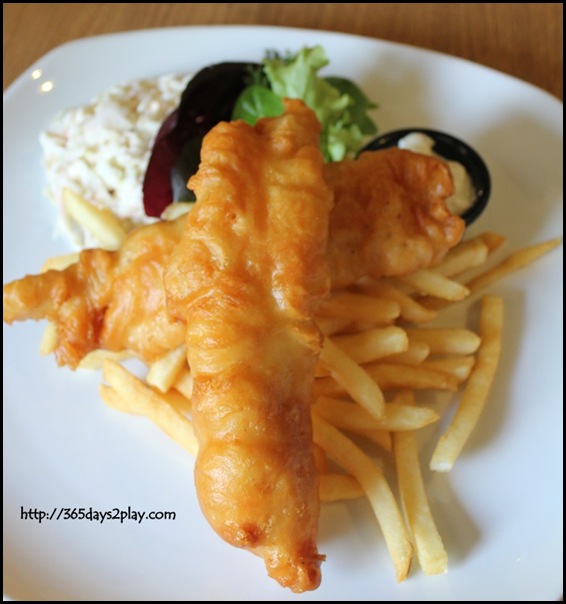 Fish & Chips with sides of fries and coleslaw $24
Fish and Chips made with Dory Fish. I loved the Fish & Chips very much. They were served piping hot and the Dory was almost melt in the mouth. It was very flaky which meant that it wasn't dry. Although people say that Dory can be bland, I certainly didn't think so at all and on the contrary, I thought it was full of flavour! If anything, the batter was just a little bit too thick that it almost threatened to overwhelm the fish. We were told that this is one of the favourite dishes of customers who patronise Bobby's.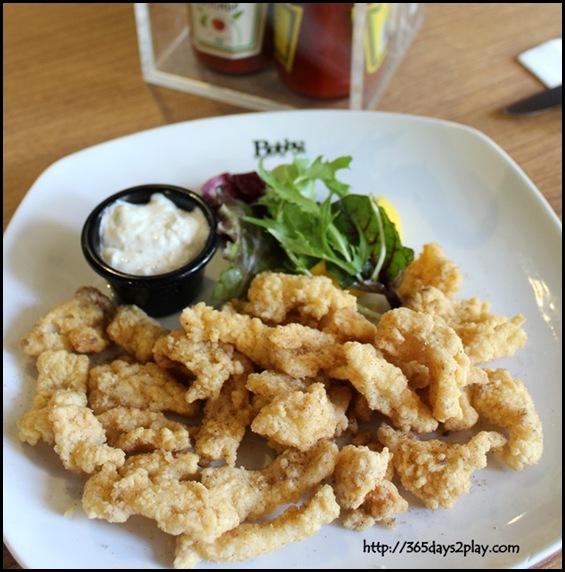 Fresh Calamari fried till golden brown and served with Tartar Sauce $15
Very very tasty Calamari that is made fresh by the chef. We were told that many restaurants actually buy premade Calamari from their suppliers. If the calamari is in ring form, it is usually premade. Hmmm I could think of a few restaurants I've been to that serve calamari in ring form, and one of them is a restaurant that is famous for its calamari! Next time I should think twice about dining at restaurants who keep using pre-packaged products. Anyway these calamari were fantastic in their own right. The whole squid is used, even the tentacles, that's why they are in such odd shapes.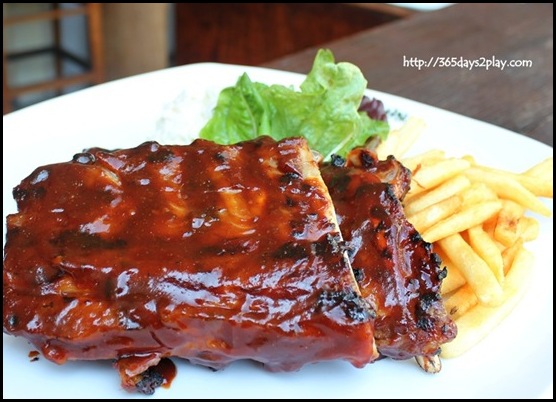 Signature Baby Back Pork Ribs served with coleslaw and french fries $38
I have a soft spot for ribs and I was really glad to know that we would be trying their signature ribs. The ribs were pretty good. They were extremely tender, practically falling off the bone with minimal pressure on the knife. The special BBQ Sauce was also nice, although I wouldn't mind if it had a more intense BBQ flavour. You can reread what I wrote about Bobby's ribs way back in 2010!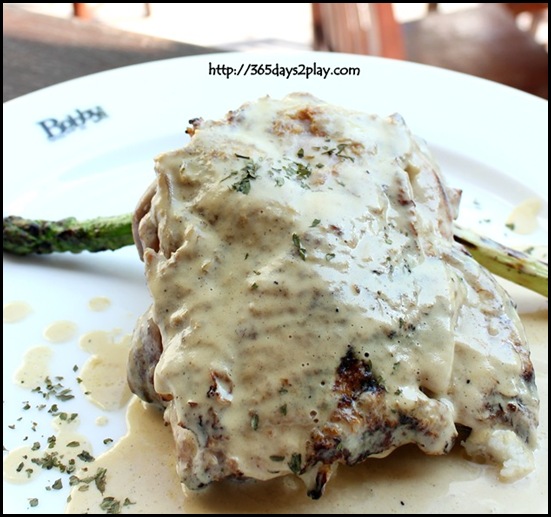 Chicken Dijonaise (Chargrilled boneless chicken served with creamy dijon mustard sauce and sides of mash potato and daily vegetable) $25
I think mustard is underrated and this is one dish that Bobby's has created to turn the humble mustard into a star. For the record, I love mustard. I could dip my fries in mustard if they provided it at McDonalds, but unfortunately they don't.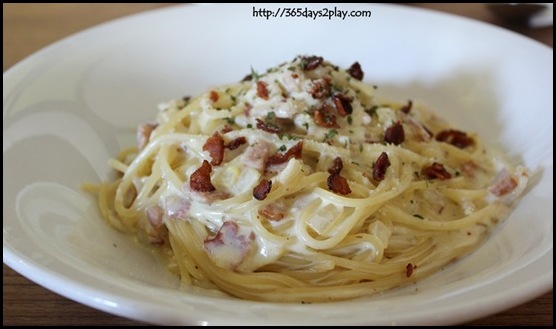 Spaghetti Carbonara with bacon, egg and onion in parmesan cream sauce $23
I've always found pasta carbonaras served in Singapore to be very thick and heavy. We were told that this IS exactly the way you find it in Italy, and that the Italians are perfectly fine with their pastas being "dry" and sticky like this. I have never been to Italy, so I really can't tell for sure, but I know that I only like pasta Carbonara done Jamie Oliver style. I cook pasta carbonara often myself, and I pour in enough pasta water such that I end up with enough sauce to scoop out by the spoonful. Interesting that Wikipedia states that the traditional Italian way to cook pasta carbonara is without cream, even if it is common elsewhere. Anyone out there who's been to Italy care to enlighten us?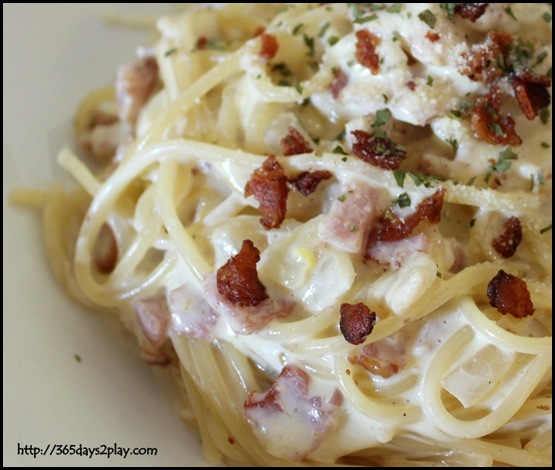 Anyway, if you like the creamy and thick version, Bobby's the place to go.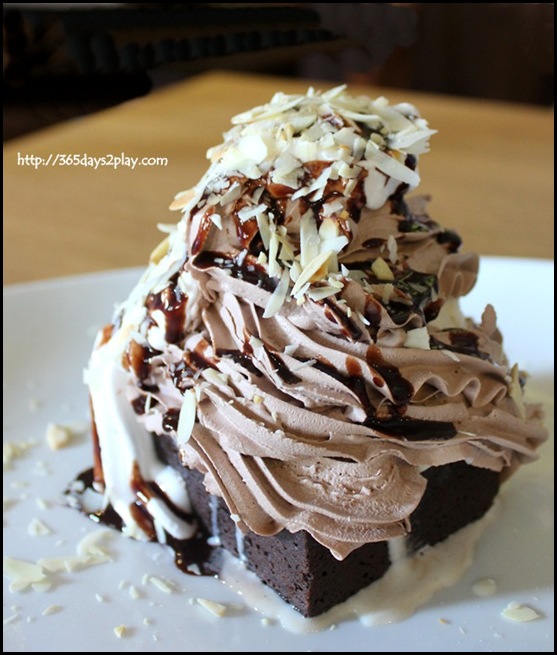 Chocolate Volcano – Homemade chocolate brownie with vanilla ice cream, chocolate mousse & whipped cream $13.95
And last but not least, the mountainous crowd pleaser of a chocolate brownie squashed under voluminous amounts of cream and ice cream! It elicited a number of oooohs from our table. A very delicious end to the meal it was as the brownie was very chocolaty and was the perfect vehicle to get the ice cream into your mouth.
Bobby's bistro @ Cuppage: 25-27 Cuppage Road, Orchard S(229 454)
Bobby's @ Chijmes:30 Victoria St, # B1-03 Chijmes Fountain Court, S (187 996)
Mon – Sun:11:00 am-1:00 pm
Phone : 6337 5477
Email : sales@bobbys.com.sg
Website : http://www.bobbys.com.sg/