*Media Invite*
Recently I was invited to try out Bornga, a Korean BBQ Restaurant at Star Vista. I am no expert when it comes to Korean BBQ, having been to only one other a couple of years back at the Esplanade. Which was why I was quite happy to make the trek to Star Vista, even though I live on the opposite end of Singapore.
Established in 2002, Bornga is a BBQ chain restaurant in Korea, and is the brainchild of Jong Won Paik, one of Korea's most renown celebrity chefs. The opening of Singapore's restaurant marks the 1st in Singapore and the 13th outlet outside of Korea. You can now find Bornga in China, Indonesia and even one outlet in USA, as well as 33 others in Korea.
Be warned, I will be inundating you with numerous pictures of raw meat. I sure hope pictures of raw meat turns you on, because I sure am getting hungrier as we speak.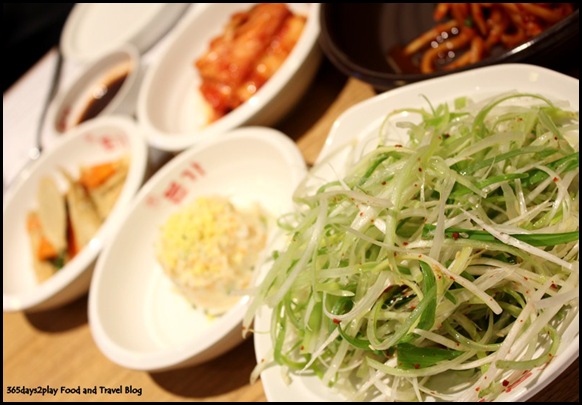 Okay let me first start with something less bloody…the side dishes. As you know, all Korean meals are accompanied with a variety of small side dishes. I am in awe of all Korean housewives, how they must slave over the stove having to prepare so many different things.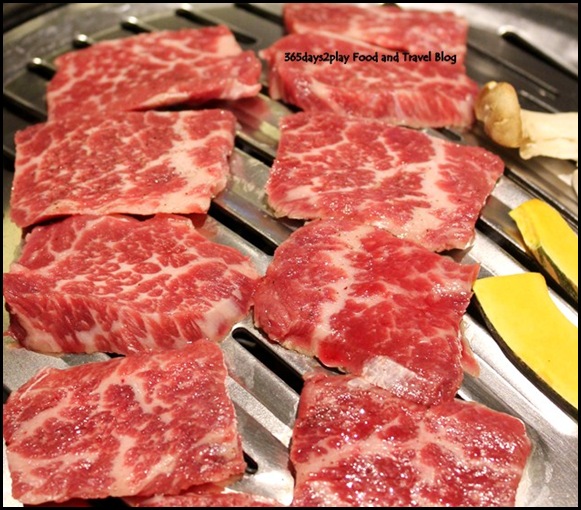 Ggot Sal (unmarinated boneless beef; $38)
First up, the Ggot Sal, which is boneless and tender prime beef cuts served non-marinated so that guests can enjoy its deep beef flavour. Now I often hear people saying "oh this meat is great, the beef flavour is not so strong!" and nothing irks me more than to hear those kinds of statements. I'm like, why did you bother to order the dish if you didn't want to taste it? Notice the rich marbling, which I'm sure is a huge turn on for anyone who loves his meat.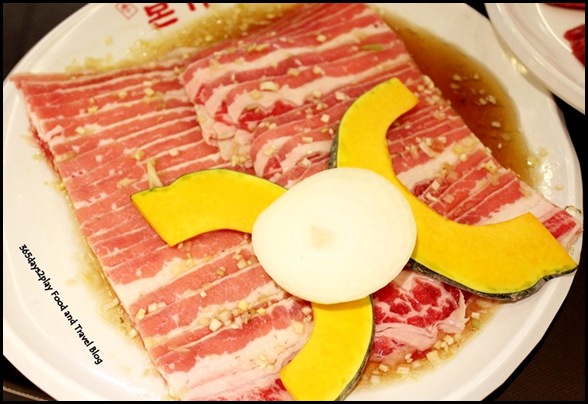 Woo Samgyup (thinly sliced beef brisket with BORNGA's special sauce; $22)
This is one of the favourite dishes in Bornga. Apparently the recipe is patented as the beef slices are seasoned in Bornga's secret marinade. Unlike the typical Korean BBQ dish of bulgogi which usually appears dull after marinating for at least half a day in dark-coloured sauce, Bornga's Woo Samgyup is served shortly after being doused in the dressing that retains the meat's natural colour, while enhancing the traditional bulgogi taste.
While the meat tasted great, I think they can do away with the pumpkin slices as it just looks weird….don't you think?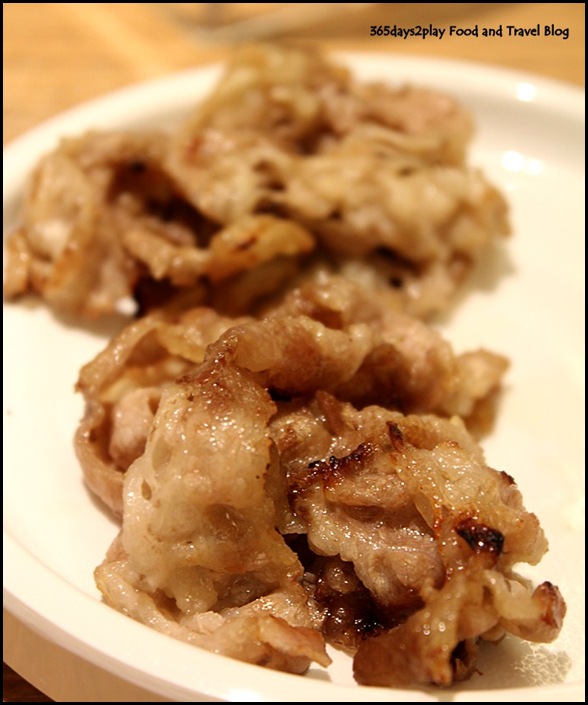 This is how the Woo Samgyup looked like after being BBQed. Loved the aroma and flavour of the BBQ meat for both the meat dishes I have featured so far. Certainly, keep your calorie counter at home when dining at a Korean BBQ restaurant but it's well worth the calories! I'm afraid I was a little too busy wolfing the slices down to really pay attention to what Ivy from FoodNews was saying.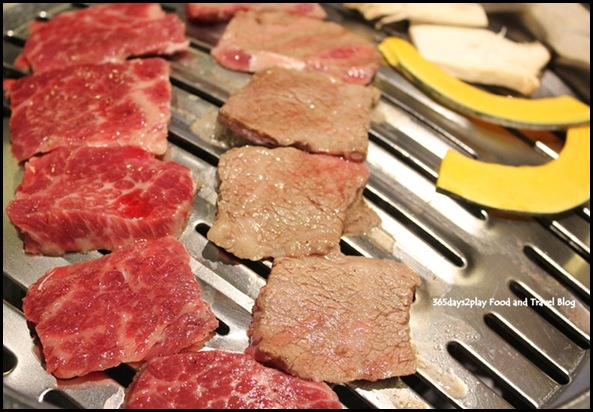 This is how the Ggot Sal looks like when the beef slices get cooked. You will notice that the meats are cooked over a stainless steel BBQ grill. The waitstaff can help you grill your meats, or you may choose to do it yourselves.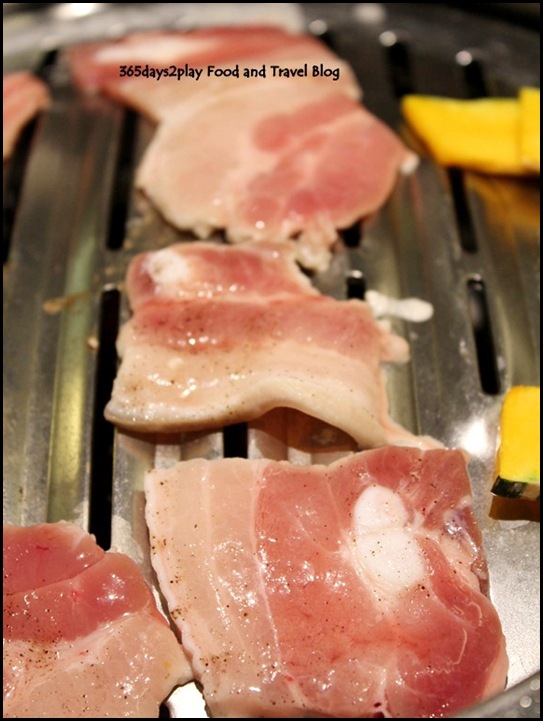 Samgyupsal (Grilled Pork Belly) $18
If you're not a beef fan, fret not because you can still order this grilled pork belly, specially chosen for just the right proportion of fat and meat to render the "melt in your mouth" texture.
Yangnyum Galbi (beef ribs marinated in BORNGA's special sauce; $45)
And the last of the meat dishes that we tried was the Yangnyum Galbi. I'm sorry it may not look so appetising in this photo above, but I assure you, the beef ribs were really tasty!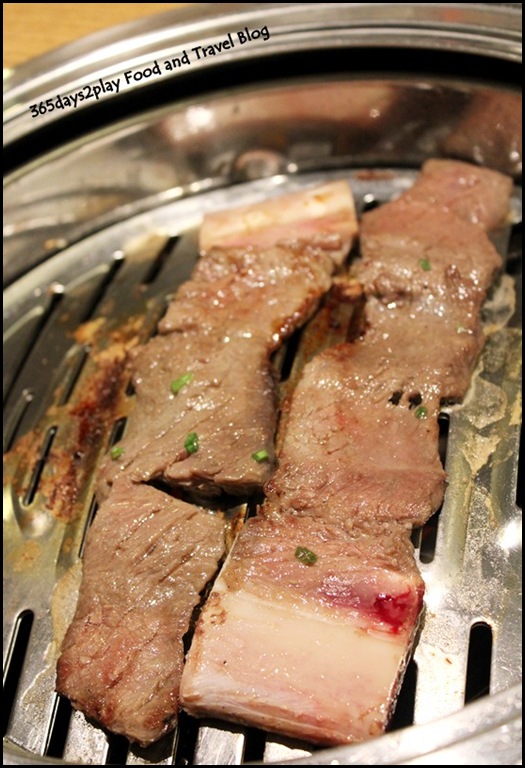 It's interesting to note the way that they've cut up the beef ribs. Instead of doing it on a per rib basis, they've some how sliced it in a way that the whole chunk of meat is able to lie flat on the grill! These ribs didn't taste as fattening as the earlier dishes, for some reason.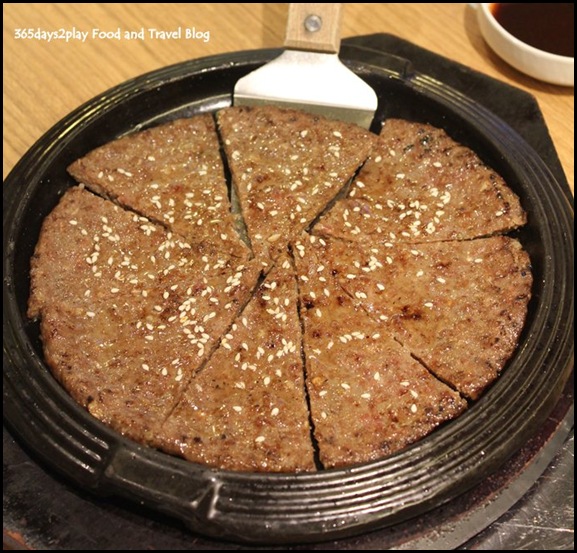 Tteokgalbi (ground rib meat patties mixed with soy sauce seasoning; $20)
Oh wait, this is the last of the meat dishes, but it isn't counted as it's minced meat patty. While it's nice, I would recommend you save your $ and your stomach space for the more memorable BBQ meats.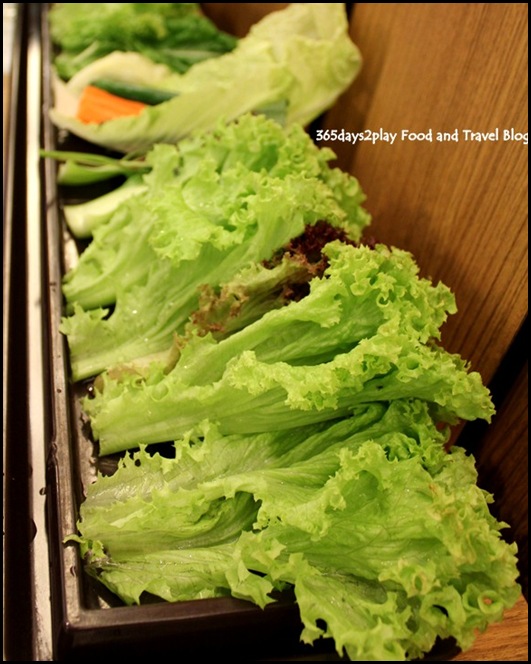 Fresh vegetables to cleanse your palate or to eat together with the pieces of BBQ meat.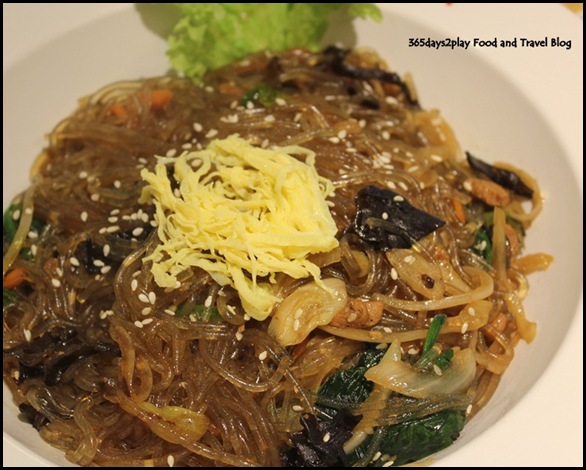 Jap Chae (Stir Fried Beef and Veegetables with glass noodles) $23
This is a DEFINITE MUST ORDER dish if you're at Bornga. Everyone at the table agreed how delicious the glass noodles tasted! Infused with delicious beef stock and a bouncy chewy texture, I really enjoyed this very much and had to stop myself from consuming too much in case I didn't have space for the other dishes.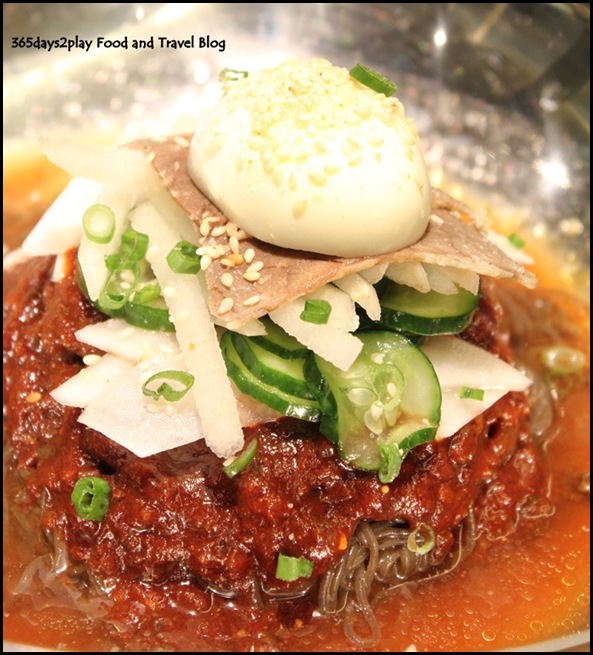 Bibim Naeng Myun (buckwheat noodles in a spicy chilli sauce; $15)
Another noodle dish to choose from but I didn't like this one as much as the Jap Chae. Trust me, order the Jap Chae and you won't go wrong.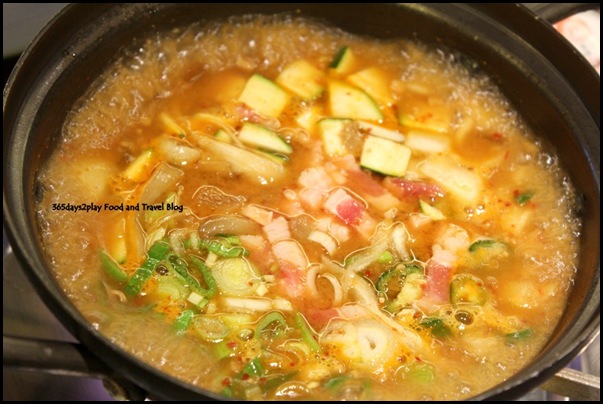 Chadol Duenjang Jjigae (a traditional Korean soybean paste stew with beef; $16)
After the meaty "in your face" dishes, this beef stew felt a little too safe….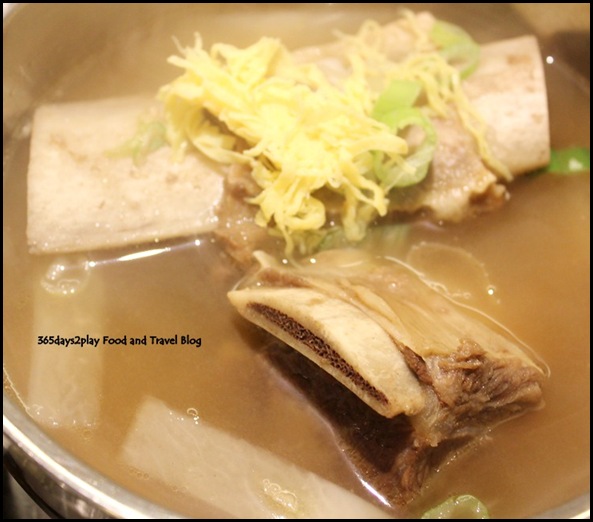 Galbitang (Beef Short Rib Stew) $18
If you must have a stew, order this instead. It's lighter on the taste buds as compared to the slightly sour Chadol Duenjang Jjigae above.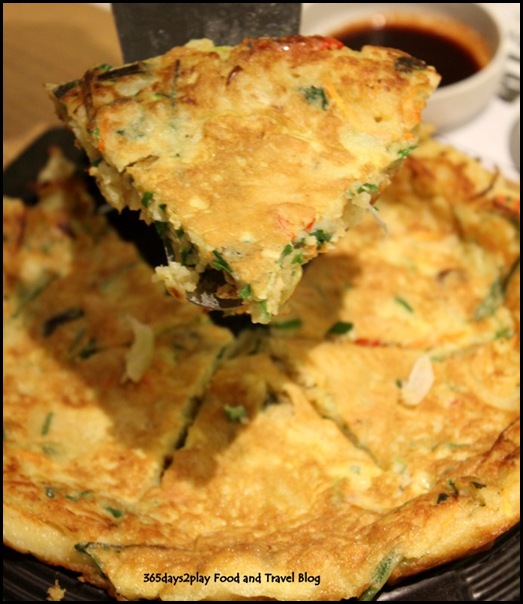 Haemul Pajeon (pancake made from scallions and a variety of seafood; $22)
This pancake is something that is commonly found in Korean restaurants. My friend who accompanied me on this tasting had about 3 or 4 slices, each slice being about the length of your palm. I didn't like it much, as I didn't like the numerous haebi (dried prawn) dotting the pancake.
Numerous side dishes. Be prepared to have tons of plates in front of you and don't mistakenly dip your meat into someone else's sauce dish!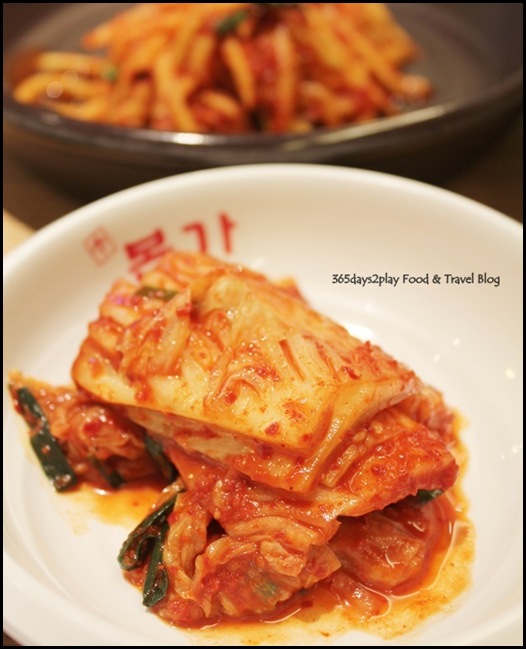 And how can I not end off with Korea's most famous food, the Kimchi???
Thank you Bornga and Ivy of FoodNews for hosting the lovely dinner.
~~~~~~~~~~~~
Add me on Facebook, Instagram and Twitter if you want to be kept up to date with the latest happenings in the food and lifestyle scene in Singapore!
~~~~~~~~~~~~
Bornga Korean BBQ Restaurant
#02-02, The Star Vista, 1 Vista Exchange Green, Singapore 138617
Tel : (65) 6694 4696
11:30am to 10pm daily