I've always been amazed with the tranquil location of Rider's Cafe. I guess it's no surprise from the name that Rider's Cafe is located within the Bukit Timah Saddle Club. It is located just off Eng Neo Avenue, in a woody and forested area that is next to impossible to get to via public transport as it is nearly a kilometre from the main road and pitch dark at night. I'd been to Rider's Cafe several years back on a weekend at about 4pm, and we were one of the few customers there. Imagine my surprise when we went there for lunch on a week day and it was packed! It was a Friday, but still!!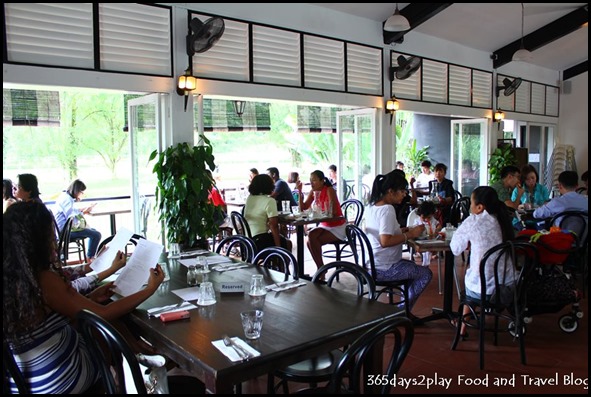 There is no air-con at Riders Cafe but you will hardly miss it because there are fans all over the place, and also the greenery helps take the heat away. Those people sitting at the veranda have the view of the horse training area.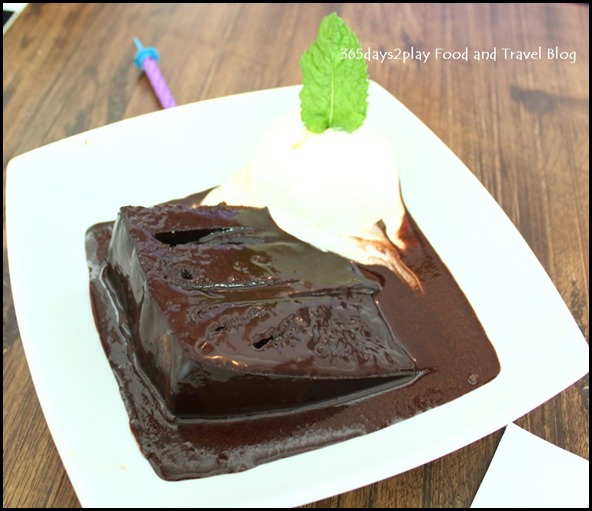 Death by Chocolate Cake $13
Since it was a birthday celebration, let me start by introducing the cake that we ordered. The chocolate cake was SERIOUSLY GOOD and totally lived up to it's name. It is so chocolaty and as if that is not enough, it is swimming in a generous pool of chocolate sauce. And there are hidden pieces of chunky chocolate bits within the cake. I hardly think that a chocolate cake can go much more chocolatey than this. But of course, as with all things in life, there must be balance, so here you go, a vanilla ice cream to join the crowd and make things more sublime. This is definitely one of the best chocolate cakes I have eaten in recent times. If you need to find some comforting chocolate cake, this would be it.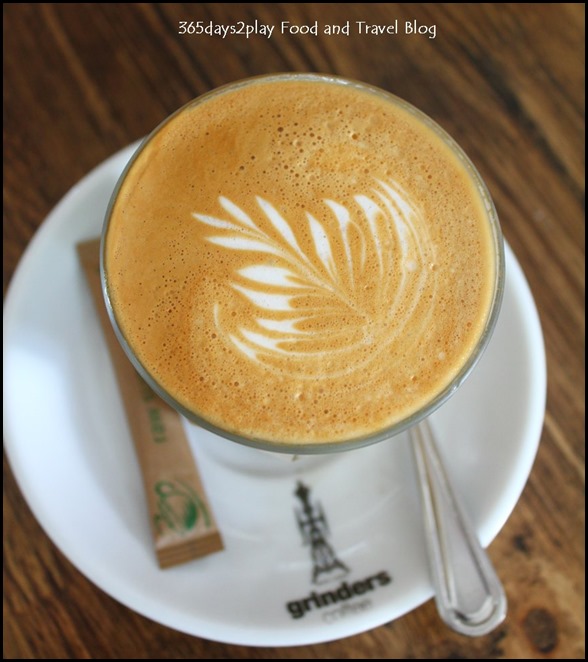 Cafe Latte $4.50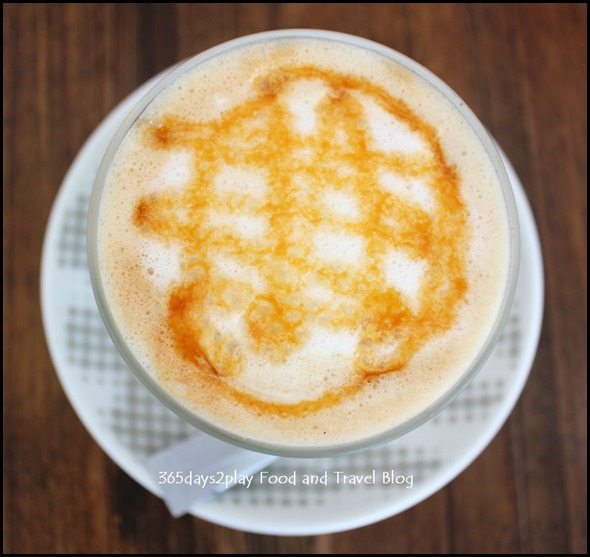 Caramel Chai Tea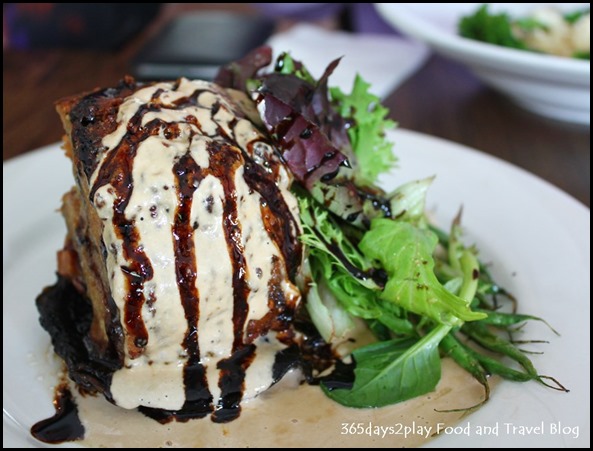 This was the 2nd birthday cake we ordered. Ok just joking, actually this was the special of the day, the Roast Pork belly which we ordered to share. It was quite good. Although the skin could have been crisper, the flesh was wonderfully tender, with the layers of fat obviously adding to the enjoyment.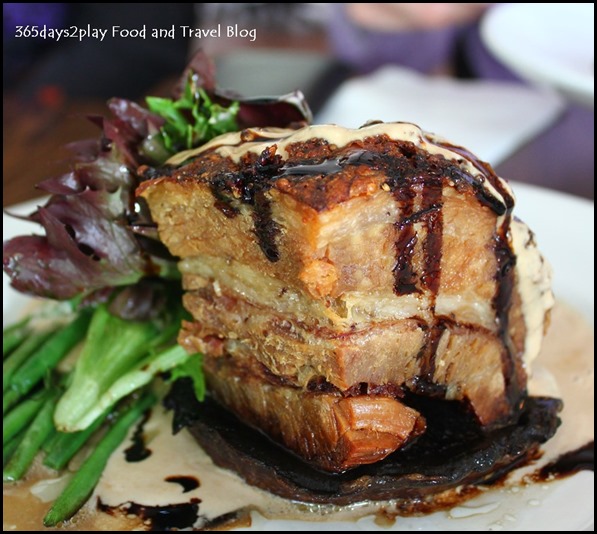 View of the pork belly layers. Apart from the skin, the flesh was wonderfully moist.
Fried chicken Taco $15
We also ordered this to share and this was very good. Had I known that this would be pretty substantial (it was listed in the appetiser section), I would gladly have ordered this for lunch. I like the spiciness of the chicken as well as the sriracha mayonnaise. Pretty generous on the avocado slices too.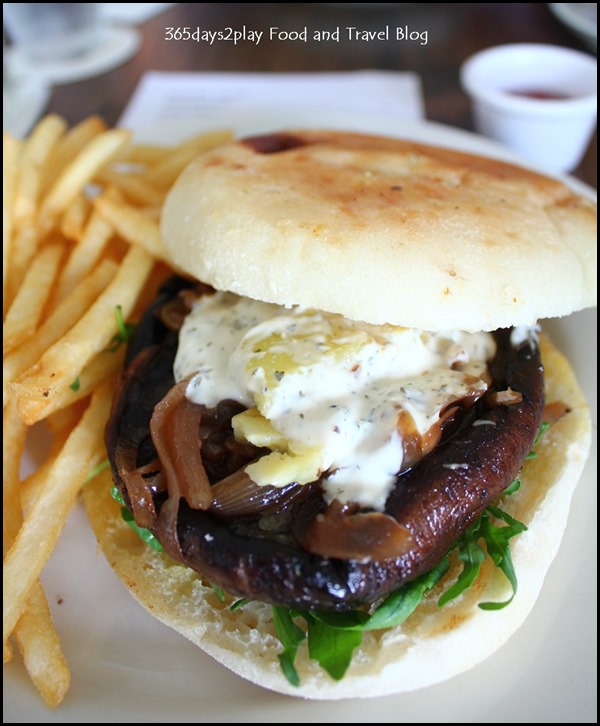 Portobello and Halloumi Burger $16
I had a hard time deciding what to order because the menu was a little steep. Most of the main courses were $25 and above. I have a policy where if I am in doubt as to what I want to eat, I always choose the cheaper option. The burger turned out to be a rather bad choice. The bread bun was quite tough, and it was almost impossible to use a knife and fork. In the end, I had to eat the burger with my hands. The portobello mushroom with the caramelised onions and parmesan ranch sauce was tasty. The halloumi was a disappointment in terms of size. I was expecting a bigger chunk since this burger has no meat, but we were given just slivers. Halloumi is naturally mild tasting and that was lost in the parmesan ranch sauce.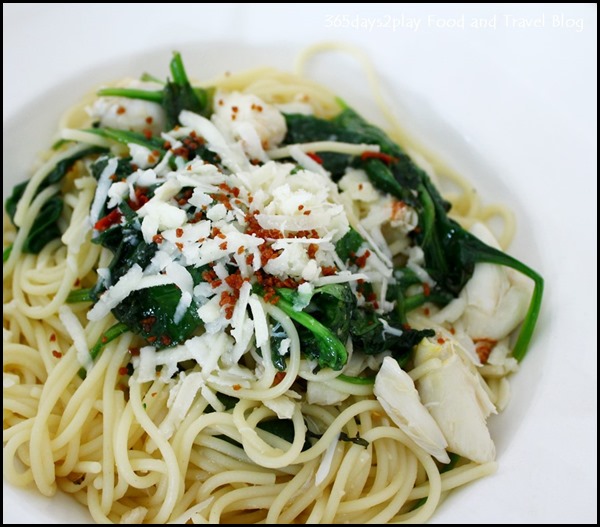 Spaghetti Aglio Olio with Crab Meat and Spinach $26
I nearly ordered this but thank god I didn't because this was quite a disaster. To me, aglio olio pasta means pasta that is tossed in olive oil and obviously the pasta ought to be al dente. It is especially important that the pasta be al dente for aglio olio as there are no thick sauces to mask the mistakes! I think you can tell from the picture that the pasta looks slightly over boiled, based on the colour and the size. My colleague told me it felt as if she was eating pasta soup.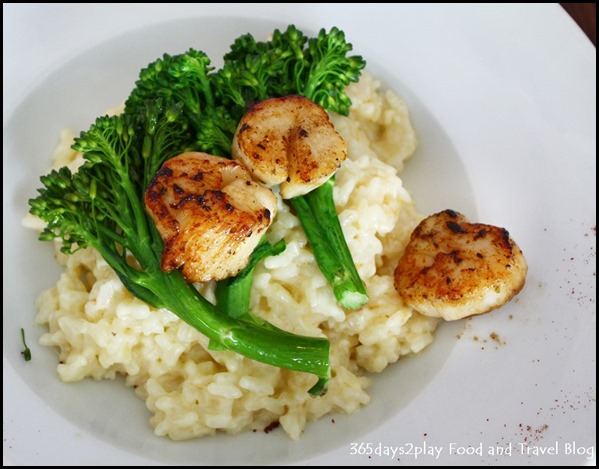 Creamy Risotto with seared scallops and brocollini $26
The birthday boy ordered this and I think he liked it. The rice grains in this version of risotto are still pretty firm, unlike the other version where it's more mushy.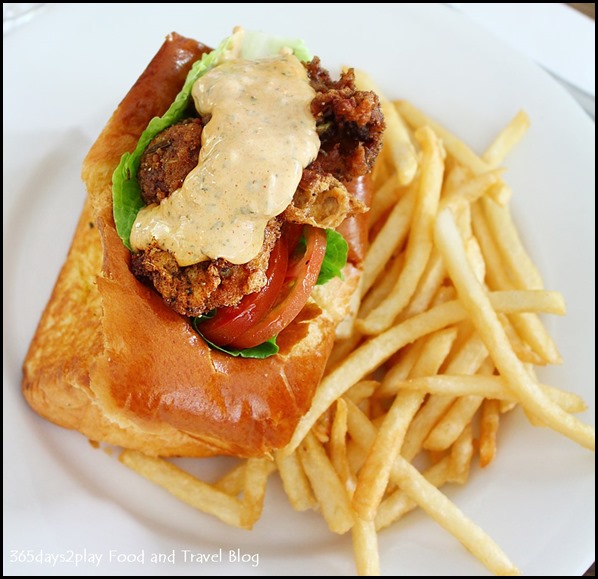 Fried Oyster Roll $16
Another colleague ordered this interesting sounding oyster roll with brioche bread, baby cos, tomato and spicy remoulade. Forgot to ask her how this tastes.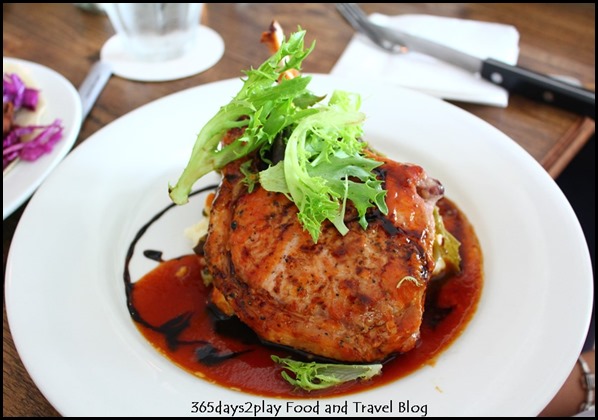 Bone In Pork Chop $35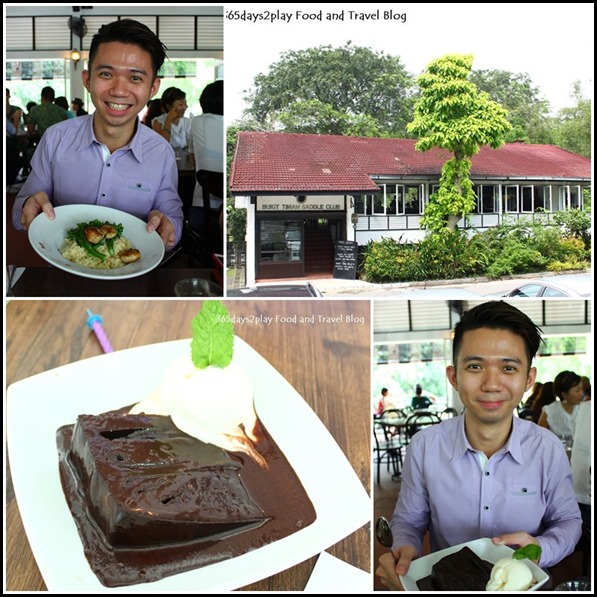 Some pictures of the birthday boy, looking really happy.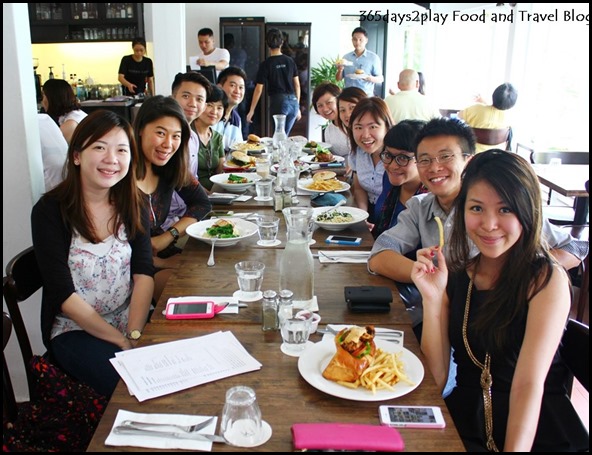 Me and my colleagues were at Riders Cafe to celebrate the birthday of a colleague.
This is a working stable, with members' horses kept here.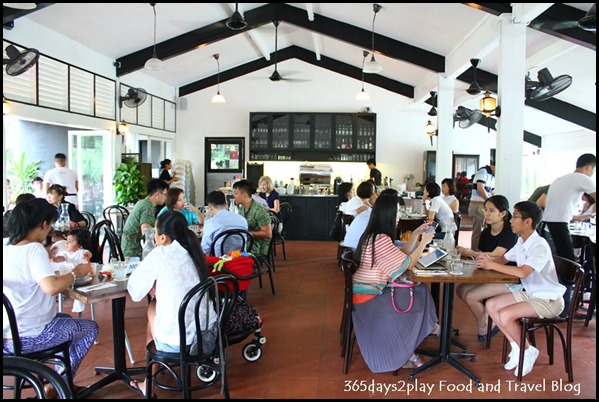 I really love the colonial black and white house feel of the place. It seems to transport you back to a bygone era. Guess that is why people take the effort to travel all the way here in the middle of nowhere to enjoy the ambience. I would definitely love to come back here again on a lazy afternoon with a good book or a laptop and a cuppa to pass the time.
Check out my review of Rider's Cafe scones back in 2010.
---
Add me on Facebook, Instagram and Twitter if you want to be kept up to date with the latest happenings in the food and lifestyle scene in Singapore!
---
Riders Cafe
51 Fairways Drive
Singapore 286965
Bukit Timah Saddle Club
Tel : +65 6466 9819
Operating Hours : Sunday — Thursday 8am — 9pm
Friday & Saturday 8am – 10pm
Closed on Monday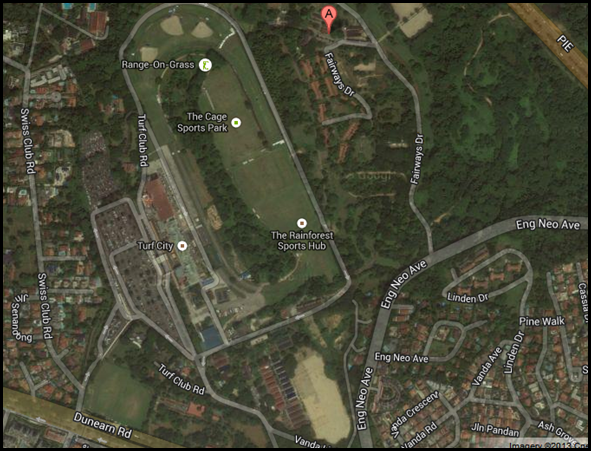 "A" marks the spot of Riders Cafe