With a name like that, it's hard not to sit up and notice this new cafe that's popped up in the Bukit Timah area back in November 2013. I was quite happy to be invited down for a tasting session to help them find their pan if need be. For the record, there's a western stall at the food court in the Botanic Gardens called Two Cooks and a Pan. The people from The Missing Pan might want to inquire with the Two Cooks….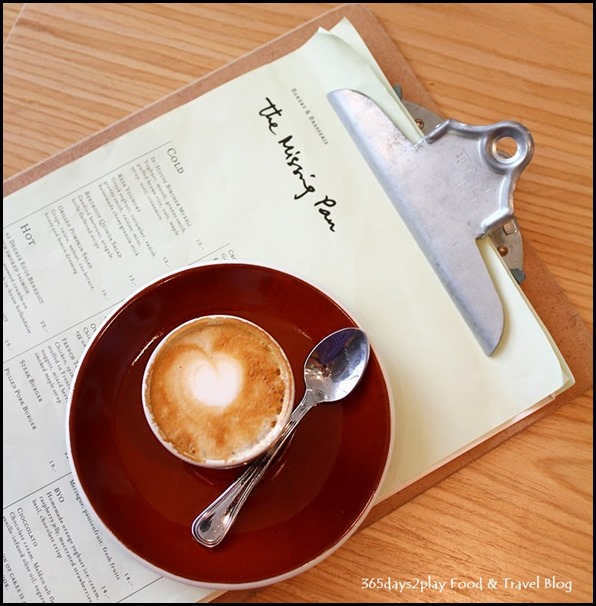 If you walk past The Missing Pan, at first glance, you might mistaken it for a really tiny cafe able to seat 2 or 3 couples at the most. That's because the bulk of the seating is actually upstairs! Take the tiny lift right in the middle of the cafe to the 2nd floor, and take your pick of whether to sit facing the open kitchen concept or by the full length windows looking out onto Bukit Timah Road. I'm sure most people would love the quirky yet stylish decor here, with understated tones lots of shelves high above us. I'm frankly a little tired of the retro look that so many cafes sport these days.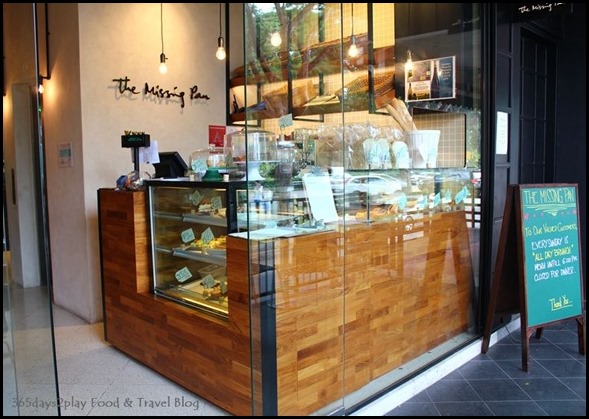 The Missing Pan not only differentiates itself from the other cafe in terms of decor, but in terms of menu as well. I like it that there are quite a number of items to choose from. I've kinda reached a point where I would like to relax in a cafe and have some brunch that doesn't just comprise of eggs benedict or all day breakfast, although I must admit I do often order those. But I would LIKE to have a choice. At The Missing Pan, you have 4 egg dishes to choose from, several sandwiches, burgers, a pasta dish, salads and a beef stew.
French Toast Salpicon – Chicken, spinach and mushrooms stuffed in French toast, banana nuggets, mixed berries, strawberry-smoked maple syrup ($19)
For those of you who just can't decide between savoury or sweet, you can get both! This French toast hides savoury gems of chicken, spinach and mushroom encased within itself, while the sweet bits such as the fruits and goreng pisang nuggets greet you on the outside. I particularly liked the piping hot deliciously sweet goreng pisang but I'm not so sure if I appreciate this 2 in one wonder. While I don't mind eating sweet and savoury in a single dish, and I've no problems hopping from savoury to sweet then savoury again, I don't like mixing both savoury and sweet within one mouthful.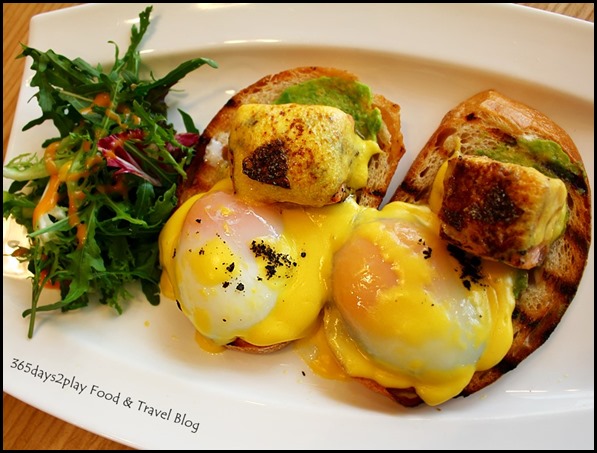 62 Degree Eggs Benedict – Smoked salmon, avocado, seaweed crumbs on sourdough with in-house hollandaise sauce ($22)
This is sous vide eggs benedict with a slight twist. Instead of slices of salmon placed underneath the wobbly eggs, the chef has put a cube of smoked salmon next to the egg. Not a bad idea, since it means direct access of egg yolk onto bread!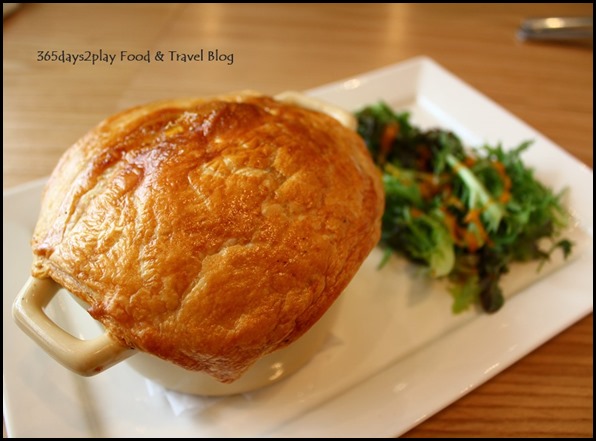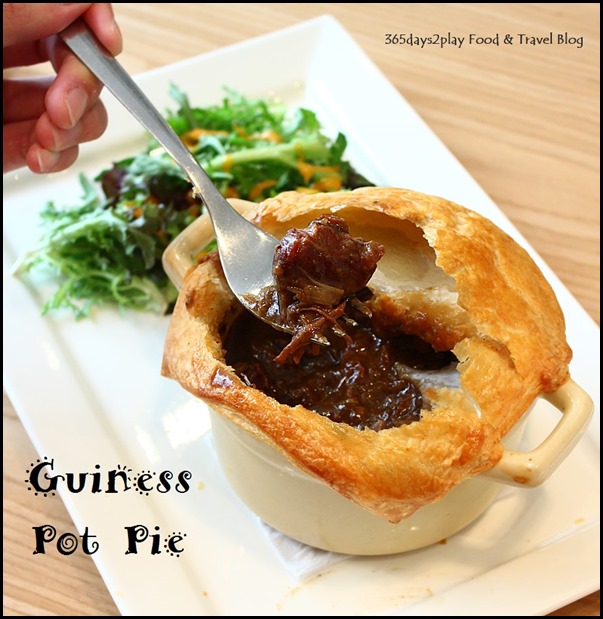 Guinness Pot Pie – Hearty beef stew with Guinness topped with puffed pastry ($24)
A really hearty and chunky beef stew, for those who want something manlier than eggs.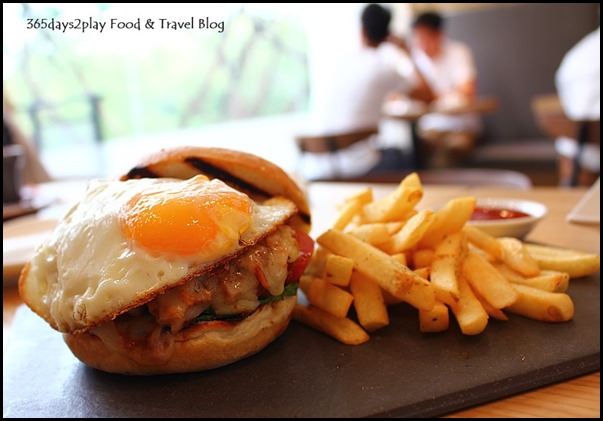 Pulled Pork Burger ($19)
This was a bit of a disappointment. For one, the fried egg was overcooked. You can see the yolk is somewhat firm. The pulled pork also tasted pretty normal, nothing to shout about.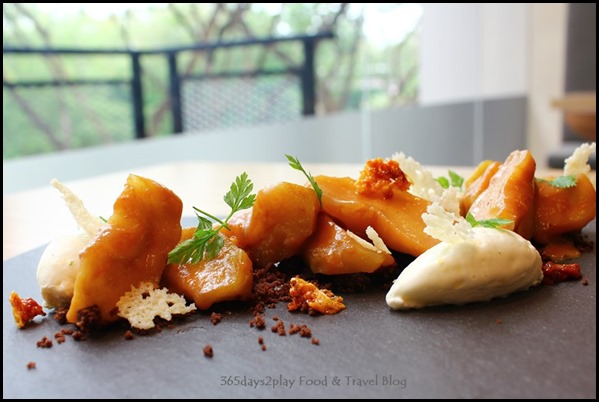 Mela Con Formaggi – Granny smith, banana caramel sauce, chocolate soil, citrus mascarpone, parmigiano reggiano chips, homemade honeycomb ($14)
One of the star dishes we tried that day, this plated dessert was DA BOMB. Love the crunchy apples that were really sweet. I love the sticky textures the honeycomb and chocolate soil created, with the mascarpone helping to cut through it all. A must order dessert that is really pleasing on the eye too!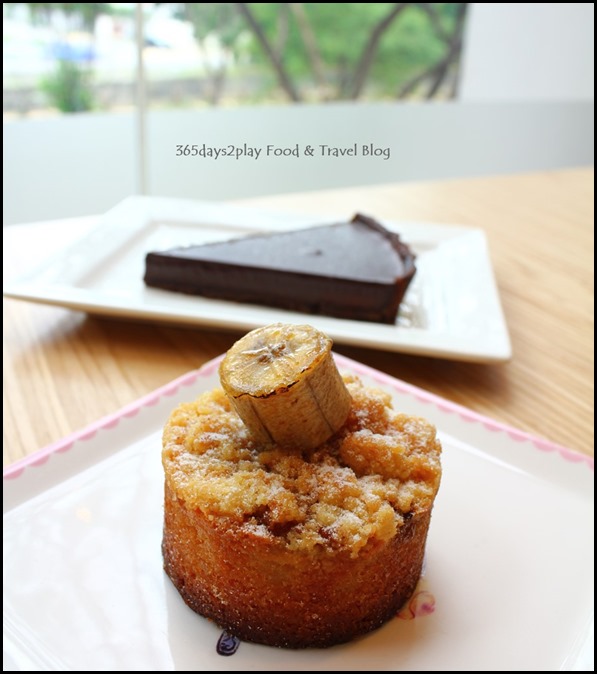 Banana Cinnamon Crumble  ($3)
I was surprised to find this costs only $3. There are some other pastries that are around the same price too so you can still have a little something to eat here without breaking the bank.
Chocolate Tart ($7.50)
I must admit I can't really remember how the banana cinammon crumble tastes like because I was so engrossed in this Chocolate Tart. If I may say so, this is one of the best chocolate tarts I have ever eaten! It's sticky, it's chocolaty, it's rich, it's pure chocolate heaven on a plate for chocolate fans like me. I was told a certain celebrity loves this chocolate tart so much, she does takeaways a few times a week!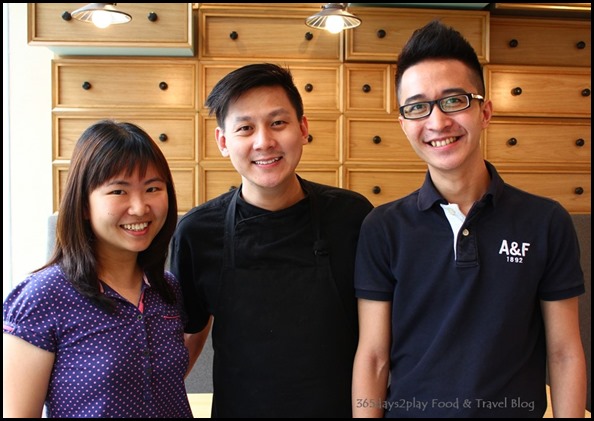 Me, chef of The Missing Pan and Edsmond of The Chosen Glutton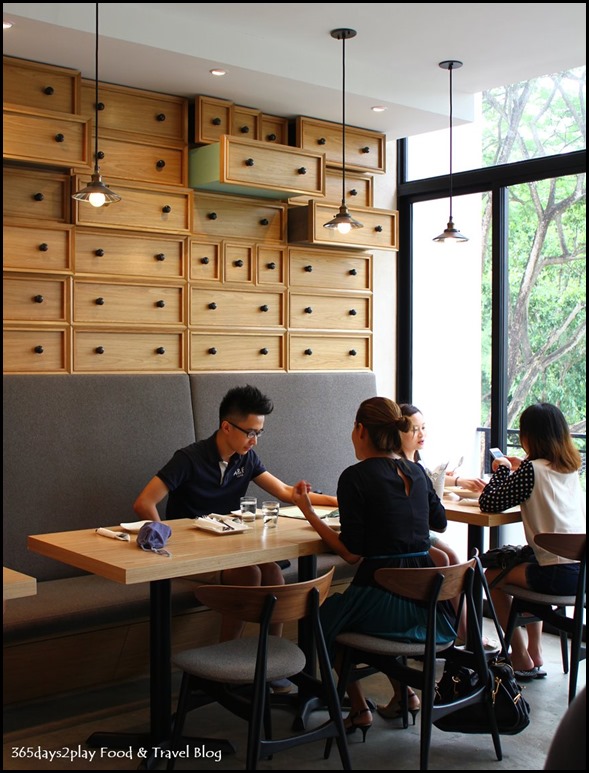 Spot some one familiar?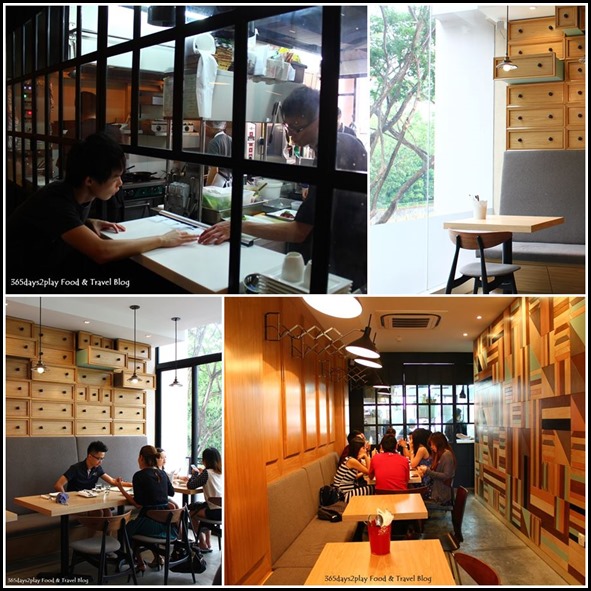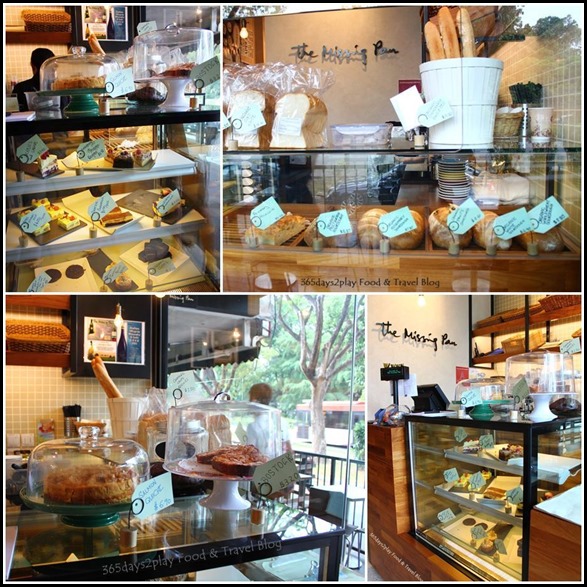 The owners, Bernard Toh and Grace Chia, from the now defunct Uppercrust, started their F&B business due to their passions lying in the love for fresh, rustic bread. Breads are made freshly on the premises without using preservatives, additives and flavourings. There are ciabattas, focaccias and organic sourdoughs to ryes and multigrain.
---
Add me on Facebook, Instagram and Twitter if you want to be kept up to date with the latest happenings in the food and lifestyle scene in Singapore!
Other must visit cafes in Singapore!
---
The Missing Pan
619D Bukit Timah Road, #01/02-01 Singapore 269724
Tel : 6466 4377