There are a precious few Greek restaurants in Singapore. The last I counted, there were only TWO. One is Blu Kouzina, of which is the focus of this article, the other being Myconos on the Bay at Quayside Isle, Sentosa.
I've always wondered why is it that we have such a proliferation of Italian restaurants in Singapore, and French restaurants as well, but not Greek? Can there be that many Italians in Singapore or is it a simple case of pizza and pastas being easily received by the general public, largely helped along by American TV programmes? The thing with Greek food is that it is probably very palatable to the Asian palate, as Greek food emphasises fresh ingredients cooked in a simple and light way. Because Greek food is not often smothered in thick sauces, freshness of ingredients is key.  Perhaps that's the reason why so few Greek restaurants have managed to stay afloat in a country that has precious few farms providing fresh produce that is demanded of Greek cooking.
Anyway, it was my father's big birthday, and I had spent the entire week thinking of somewhere unique enough to hold a birthday celebration for a person who does not eat meat! I went through a gazillion fine dining restaurants, but because menu choices are limited at such places, and I couldn't run the risk of not having fish and prawn dishes for my father to choose from, it was decided that Blu Kouzina would be the birthday venue. It's quite certain that none of us had tried Greek cuisine in Singapore before.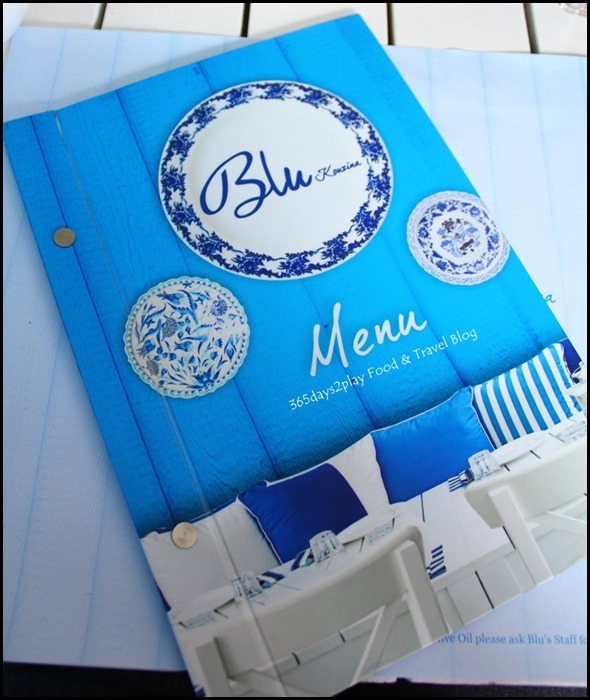 Menu is not cheap though. Appetisers are mostly above $15, meats are $20 and above and seafood $30 and above, in general. But the food here is REALLY GOOD.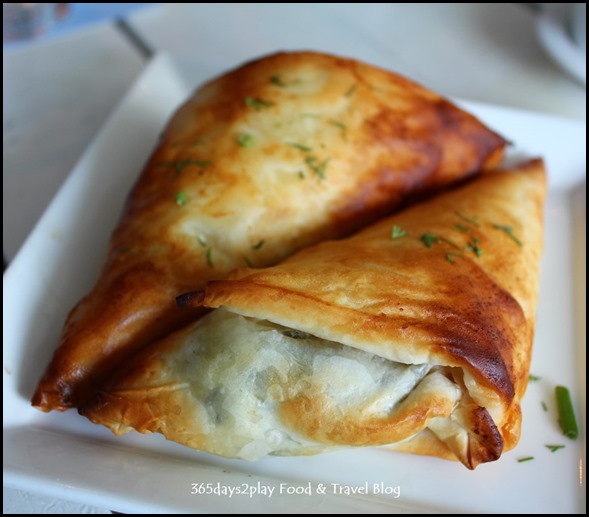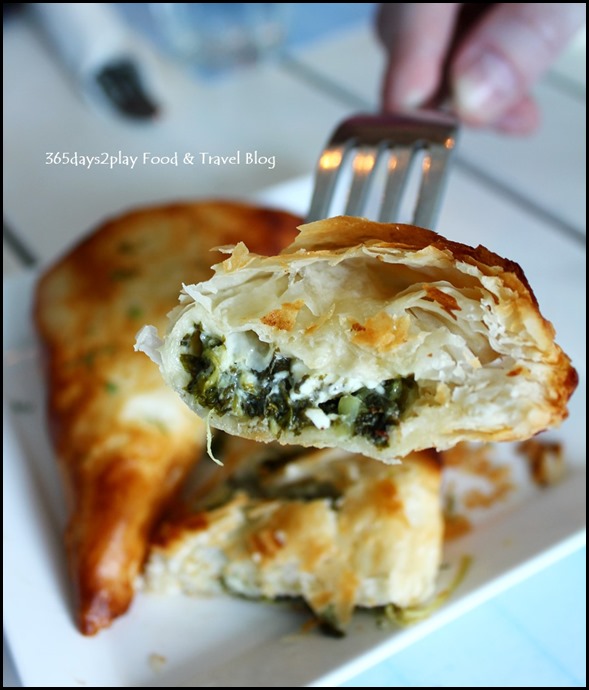 Spanakopita – Phylo pastry filled with spinach, feta cheese and herbs – $14
For some reason, I just knew I would love this dish when I saw it on the menu. Piping hot filo pastry filled with slightly creamy spinach. The filo was as crisp as can be and the buttery taste went really well with the fillings. SO GOOOOOD. If it wasn't so expensive, we would really have liked to have a second serving of this.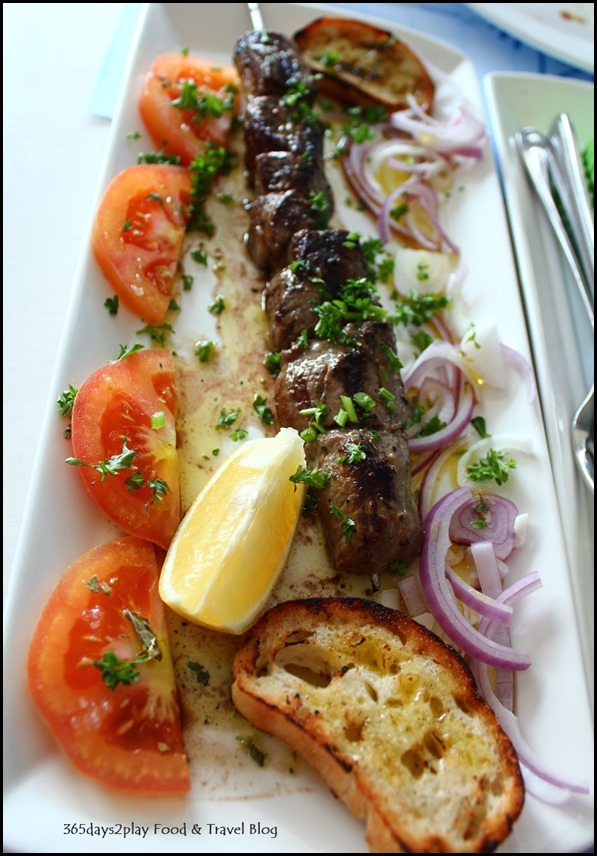 Kalamaki Souvlaki – Beef skewers served with fresh onion, sliced tomato, in-house bread and lemon $12
The meats appear to be one of the more value for money dishes at Blu Kouzina. Beef was really tasty and pretty tender. Everything has a good drizzling of olive oil, which seems to be the dip of choice, together with the zesty lemon juice.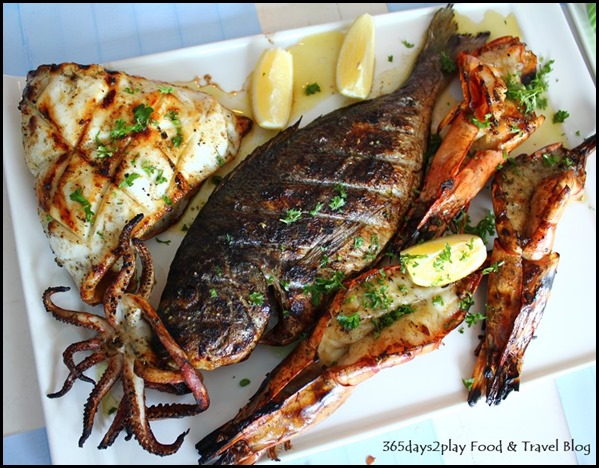 Seafood Platter – Grilled Squid, Jumbo Prawns, Sea Bream 400g – $103
You can get the squid, jumbo prawns and sea bream as individual dishes, but we thought we'd go for the platter, since it also came with a few extra sides such as potatoes and grilled vegetables. But aside from the extra sides, the cost is more or less the same if you order the dishes individually. The seafood is really on the pricey side, because I don't think the sea bream was worth $42.80, even if it is air-flown from Greece. It was a little lacking in taste, and not as tender as I would have liked.
Oh the olive oils on the platter are definitely worth mopping up with the bread accompaniments. I believe Blu Kouzina are in the olive oil business as well, hence the quality of olive oil provided here.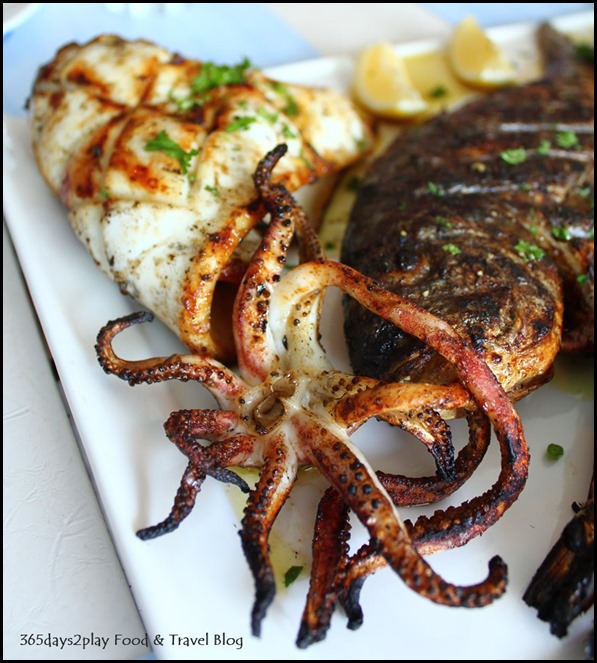 I was in two minds over the squid as well. On one hand, the portion was humongous, and I really enjoyed the charred flavour of the tentacles, the squid body seemed a bit boring. First few bites are okay, but there's so much to go through, it kinda tasted bland after a while. I wish there was something to make it more interesting.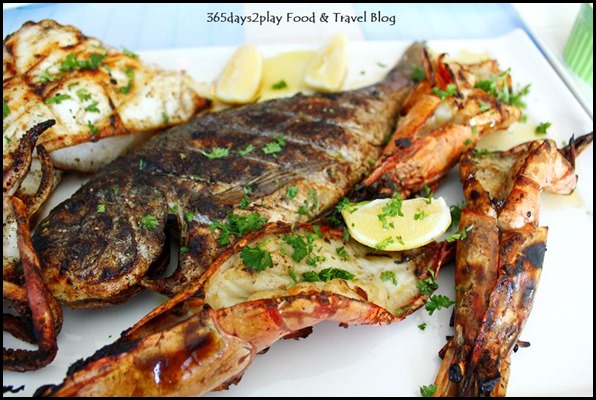 The jumbo prawns were the clear winner in this dish. Flavourful, tender, and extremely fresh, if they hadn't cost $45.80 on their own, we might just have ordered some more! $15 per prawn, that's steep don't you think?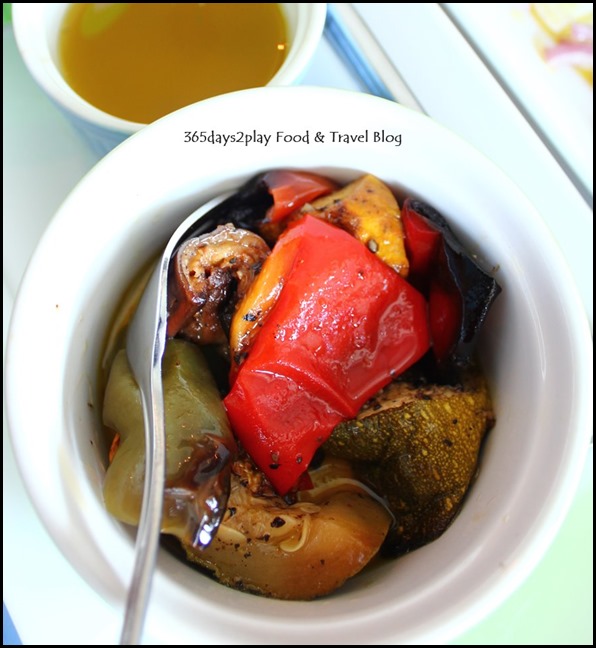 This is the grilled vegetables that came with the seafood platter. Good to eat when you need a break from the seafood.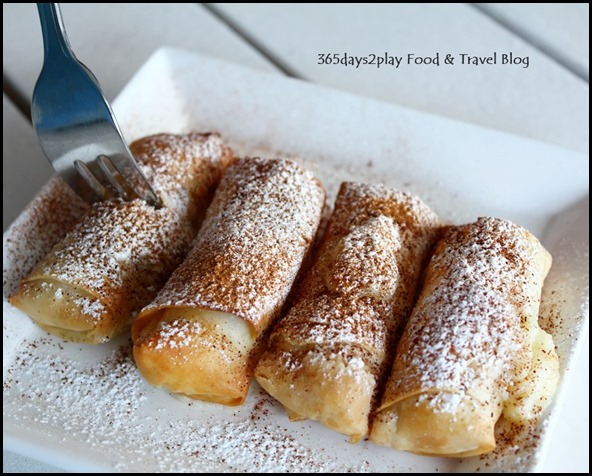 Bougatsa – Hot filo pastry filled with semolina cream filling and topped $13
This was what we had for dessert. Another astounding dish that left us with deep memories. The filo pastry was once again unbeatable, and the semolina cream amazing as well. It all went so well together! If only they were bigger!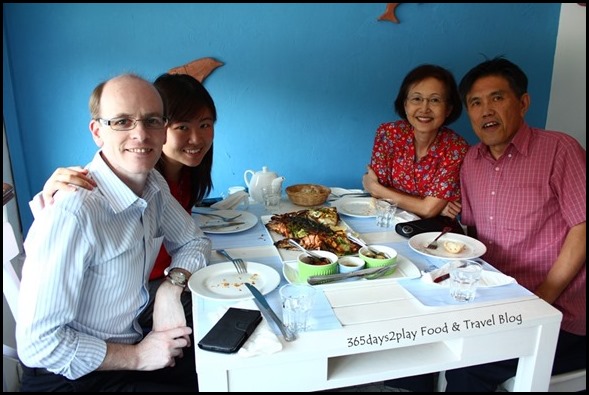 That's us just before tucking into the seafood platter.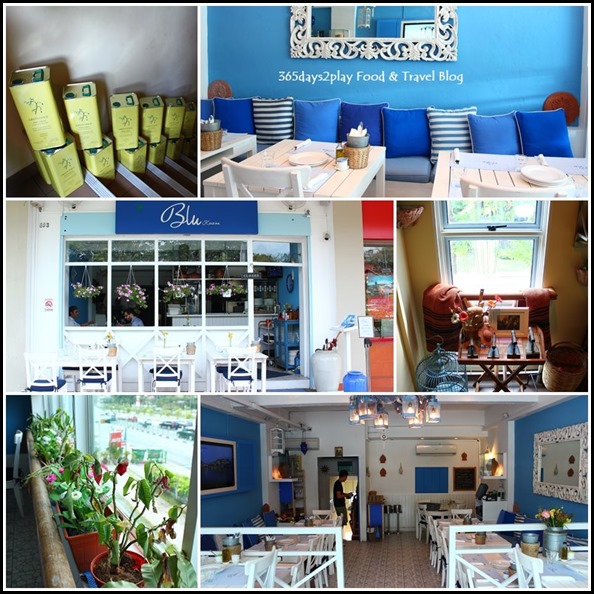 Like the blue nautical coloured theme. We were one of the last few customers to leave, hence the empty room, but when we first arrived, the place was packed. See the olive oil canisters, they have the whole stairway lined with them.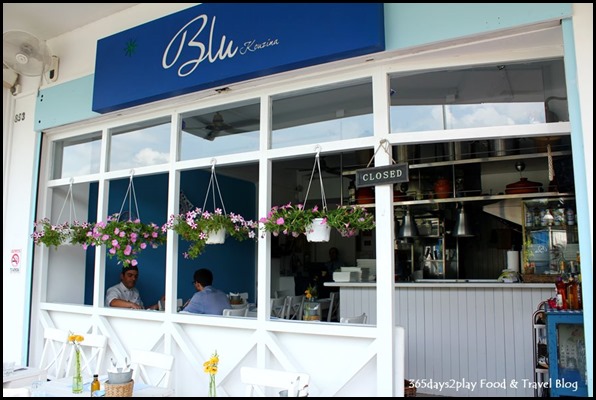 Hope to visit Blu Kouzina again soon for the spanakopita and bougatsa! This time round we will also try more of the meat dishes.
---
Add me on Facebook, Instagram and Twitter if you want to be kept up to date with the latest happenings in the food and lifestyle scene in Singapore!
Other restaurants along Bukit Timah Road
---
Blu Kouzina
893 Bukit Timah Road ingapore 589615
Lunch
Fri — Sun  12pm – 2.30pm
Dinner
Mon — Sun pm – 10pm
First Seating from 6pm – 8pm
Second Seating from 8.15pm — 10pm
Last Order at 8pm (First Seating) & 10pm (Second Seating)
Complimentary valet service to guests
T: 6875 0872
http://www.blukouzina.com/menu.html