Now that staycations are allowed again, and with no knowing of when it will be safe to travel overseas again, hoards of Singaporeans have been booking staycations to somewhat satisfy the travel bug. But with so many hotel staycation deals around, how do you know which is the best hotel deal for you and your family?
I say, the best advice would be not to be too hasty. Sit down and really compare the deals. You will probably find some very good hotel staycation deals out there, no doubt. However, at the end of the day a stay at a luxury hotel will cost several hundred dollars. Ask yourself, what else could you do with the money? Most people say they need to go for a staycation to relax. But with that money, you could have a perfectly relaxing time at a spa with spare change left over. You could treat your entire family to a meal. You could even do some minor redecorating of your room, eg buy some Balinese styled furniture or fixtures to make your room feel like a hotel room, that would have a more long term impact.
Since the Covid-19 pandemic is still ongoing, the following recommendations will give priority to staycations in less crowded hotels.
Private villas with private pool

Without a doubt, private villas would be the best way to go. Most people spend a good deal of time at the hotel swimming pool when on staycation. With a private pool, there is no need to mix with the potential crowd at the main hotel pool, nor is there any worry that time slots to use the pool is in short supply. Private villas are also more spacious so you don't feel the need to leave the safe confines of the room.
Private pools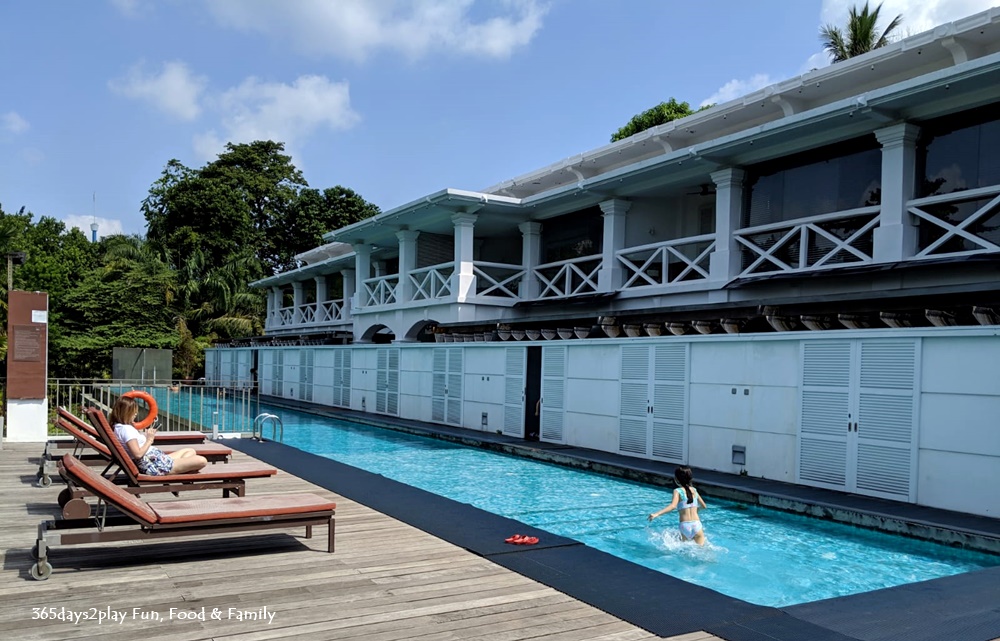 Or private-ish pools. If private villas are too expensive to consider, there are some hotels with separate wings and their own adjacent pools. So the crowd wanting to use the pool will be much smaller. For example the Amara Sanctuary Resort has a separate 2-storey Larkhill Terrace wing of about 20 rooms, with a long lap pool directly in front of this wing.
Check out my review of Amara Sanctuary Resort Sentosa
Executive lounge
Book a room that includes access to the hotel's Executive Lounge. Usually only the more premier rooms have this perk, or available as an additional top up for basic rooms. Executive Lounges are usually very spacious and have an exclusive vibe. Well worth the additional money as it allows you to avoid the crowded main hotel restaurants. Especially useful during breakfast. Look for hotels that also provide a generous spread during afternoon tea and evening cocktails. With that, your lunch and dinner are settled too. Value for money! Pan Pacific Singapore, Conrad Centennial Singapore and ParkRoyal on Pickering are 3 such hotels with good Executive Lounge service.
Check out my review of PARKROYAL COLLECTION Pickering
Check out my review of Pan Pacific Singapore Executive Lounge and Pan Pacific Singapore staycation
Hotels in the CBD or Orchard Road
If you're not the lazing by the poolside type, and are instead looking at the hotel as a base for exploring the surrounding areas, now's a great time to stay in hotels in the CBD area or Orchard Road. Given that many people are still working from home, the CBD and Orchard Road is quieter than usual. It's so devoid of crowd that ERP rates are not charged during this period, a sure sign of the times. Shop and eat to your heart's content without having to jostle with the usual crowd. You might even enjoy VIP service….
Check out my review of Holiday Inn Singapore Orchard City Centre
Business Hotels
On the same line as above, hotels catering mainly to the business crowd may also be worth considering.
Unique Hotel rooms
When in doubt, and all else being equal, go for a unique hotel experience. After all, the staycation may last a day or two, but the memories made will last much longer. Fancy staying in a warehouse in Singapore? You can at the Warehouse Hotel. What about a hotel set in a nature reserve, possibly the only one in Singapore? Read more about these unique hotels in Singapore here.
Best hotel deals
No doubt you will be looking for great hotel deals and there are plenty floating around. Not every deal is a good deal. Those that dangle vouchers for return stays are not that great unless you really plan to revisit again in the near future. But why do that when there are so many other hotels to experience? Meal vouchers are generally good, unless you plan to be out shopping, in which case it might be burdensome to have to return to the hotel at a set timing. I've even seen dinner vouchers to be used on the day you check out. Again this can be good or no good depending on your plans for the next day. And restaurant vouchers are only as good as the restaurant that the hotel boasts. If it was never a restaurant you planned to dine at, having vouchers for it would be of low value in my opinion. Similar argument for hotel spa vouchers apply.
---
Add me on Facebook, Instagram and Twitter if you want to be kept up to date with the latest happenings in the food and lifestyle scene in Singapore!
---
---