For years I've been avoiding the Singapore Flyer. Every I drive past it, which is pretty much on a daily basis, I marvel at its beauty and simultaneously shudder at the thought of being inside an enclosed capsule high up in the sky for 30 arduous minutes. It didn't help that a number of years ago, the Singapore Flyer actually developed a fault. Passengers were trapped with no way of escape! Never mind the issue of how you would hold your bladder for that long. What if you had to rappel down, from the top capsule?????
I had 2 chances to go to the Singapore Flyer. 1st time was in 2008 when our Company Recreation Club sold tickets. I actually bought a pair (what was I thinking), but then my grandfather passed away so I sold the tickets. Then there was another media invite, of which I ahem joined them after they'd landed on terra firma. This time round, when budget flyer Scoot sent out an invite, I said enough is enough, I can't keep escaping, I'm going to drag myself up there!
Third time lucky I guess. Not only was I NOT afraid, except for jelly legs when I first got into the capsule, I enjoyed the ride enough to snap numerous pictures. We even went TWO rounds on the Flyer! No joke! No problems looking through the grass to spot the ground or anything. I was so afraid I would be paralysed with fear in the capsule and totally embarrass myself! I tell you the mind does play tricks.
Thanks Scoot! It was great flying with you. Hopefully next time it'll be via the actual plane!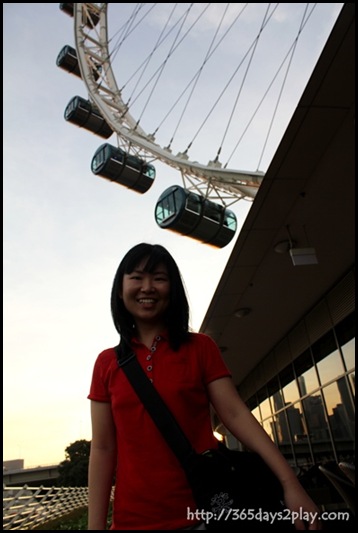 That's me before the ride. Still smiling, that's good.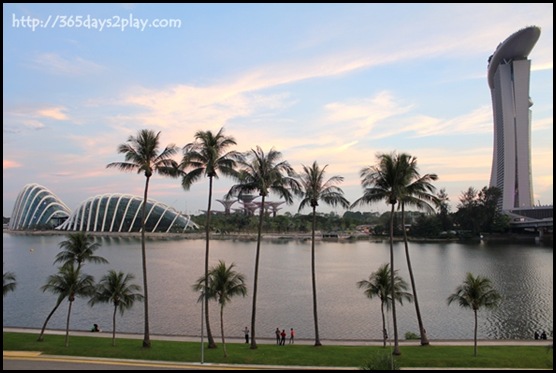 View from the VIP lounge. Everything always looks better when you're a VIP…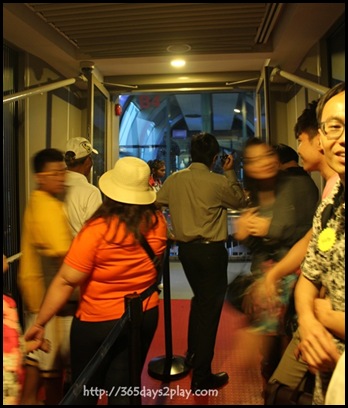 Lining up to enter the capsule. Notice the capsule in front that just swung by. Up close, it actually goes faster than expected.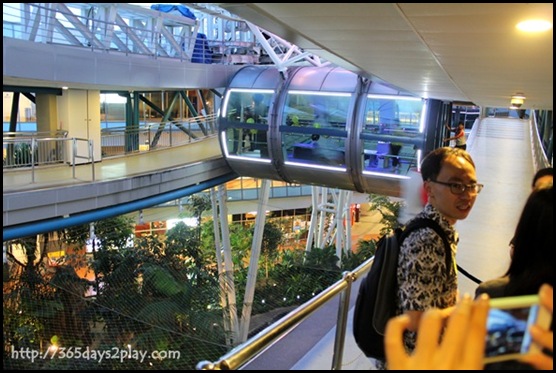 The capsules don't stop for you. Notice the passage is curved to follow the rotation of the Flyer. You have to be quick when entering. A few months ago there was news that a baby fell out of his pram and into the netting when disembarking. At that time, I was thinking how on earth could that happen? Now I know how. If you disembark when the capsule is already along the upper part of the passage, wheely things when unsecured will roll downwards and that must be what happened!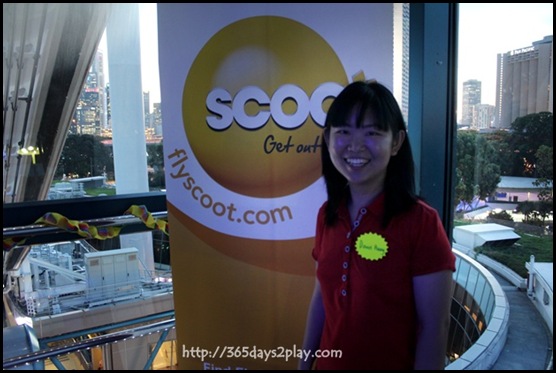 Campbell Wilson, CEO of Scoot in the yellow polo tee, plus fellow bloggers on the right.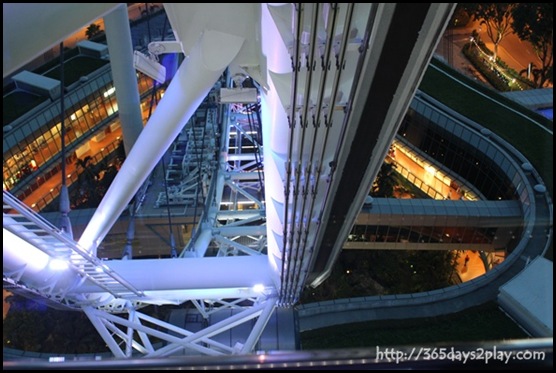 Oooo, it's getting higher!! AHHHH!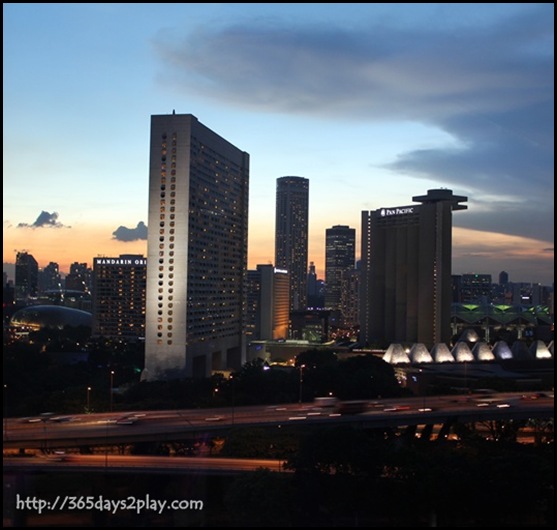 Distract myself by taking pictures of buildings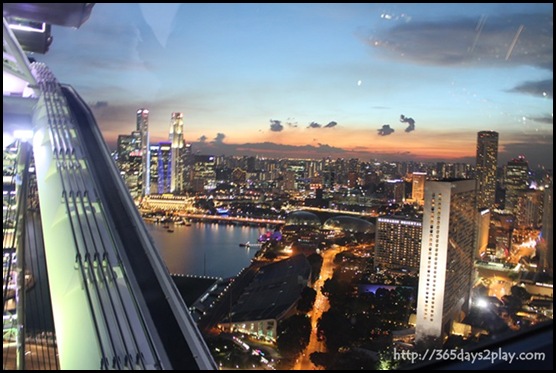 Wow check out the sunset views from the Singapore Flyer! The best time to catch both day and night views would be to take the 7.10 flight??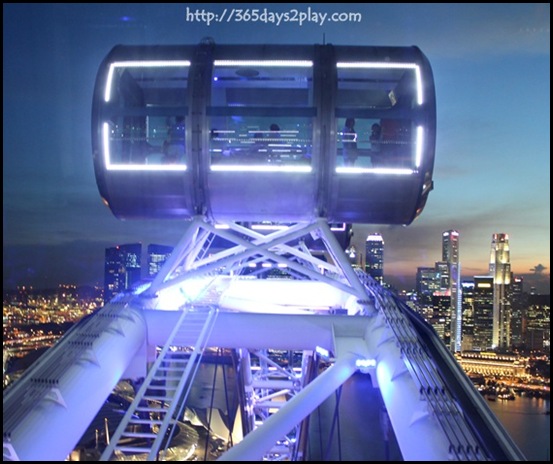 Almost at the top!!!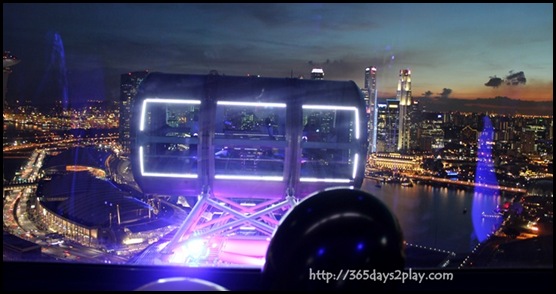 On top of the world! I celebrate a personal milestone! WOOPIE!!!!! I MADE IT!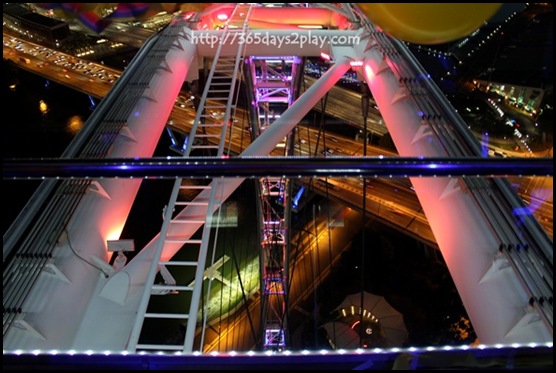 And I still dare to look down! Man, can't imagine what the fuss was about being afraid! PAH!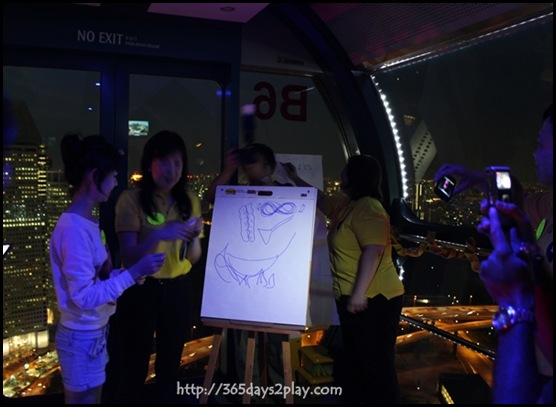 Meanwhile, all the other bloggers were playing Draw Something Scoot style….I joined in periodically when I wasn't taking pictures. Btw the girls won, if you must know. Hands down.
More pictures. The downward part is where you can get good pictures of Marina Bay Sands and Shenton Way.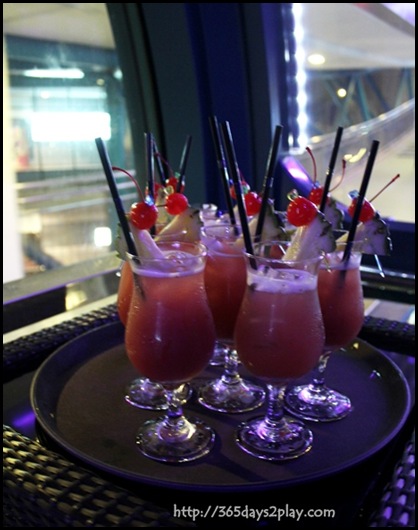 Didn't realise that they'd provided drinks. Should have had one of these immediately to help calm the nerves. Then again, it was a good thing I didn't cuz I might have had to run to the toilet.  Oh did I mention we went TWICE on the Flyer? 2nd Round was to pick up the late comers.
More about Singapore newest budget carrier Scoot in the next post. Keep watch!