[Media Invite]
If you're looking for a spacious family room + swimming pool for your next hotel staycation, you just might want to consider Amara Sanctuary Resort Sentosa. Recently, the husband, toddler and I had the luxury of checking out Amara Sanctuary, via the Club Tiny Package.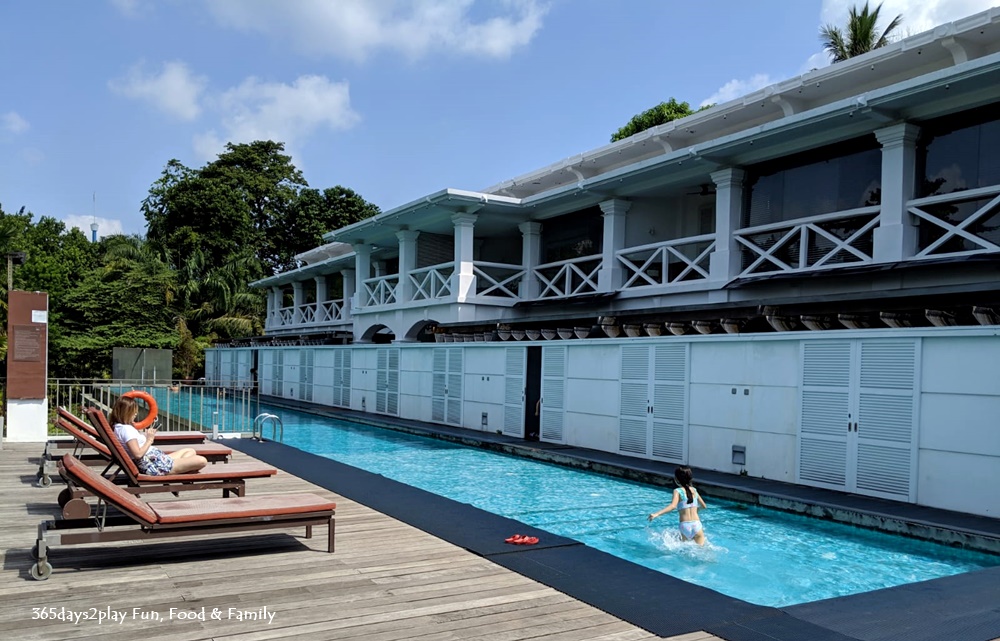 There's just so many things I loved about the staycation. First of all, the spacious rooms. These family rooms are located in a separate block (Larkhill Terrace) away from the main hotel block. The rooms are huge! There is a separate living room area, the bedroom with a king-sized bed and even a balcony with a day bed to lounge on. It literally felt like the size of a small apartment.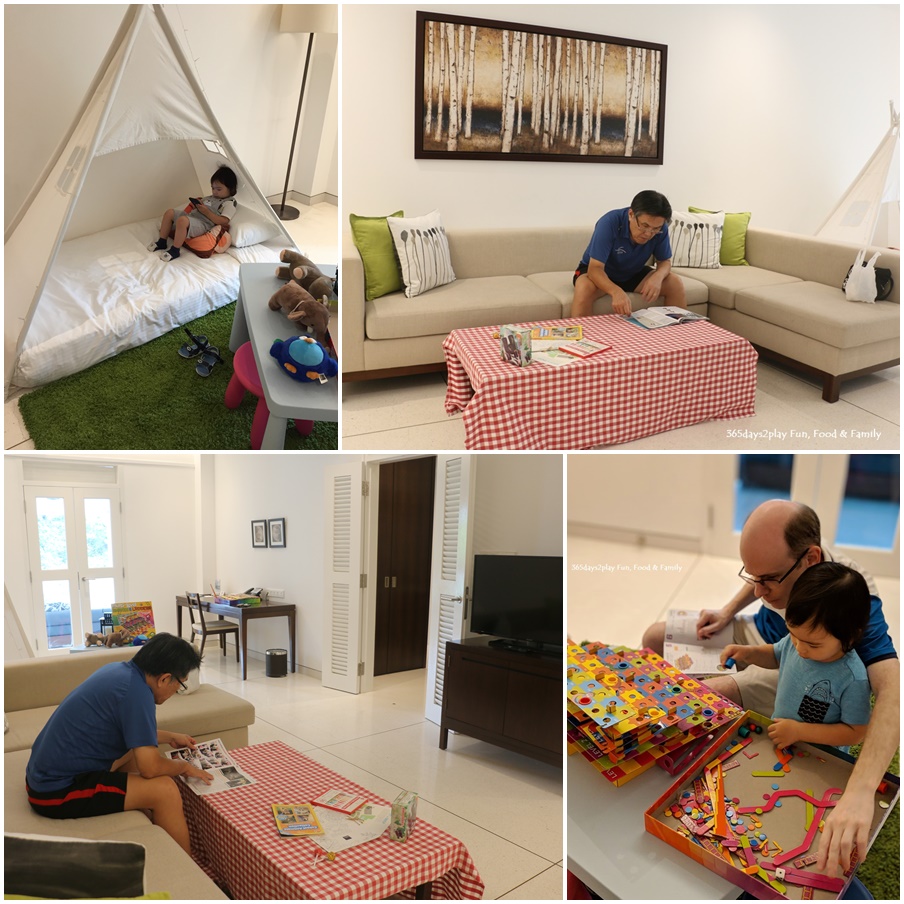 Enough space for everyone to be doing their own thing separately somewhere.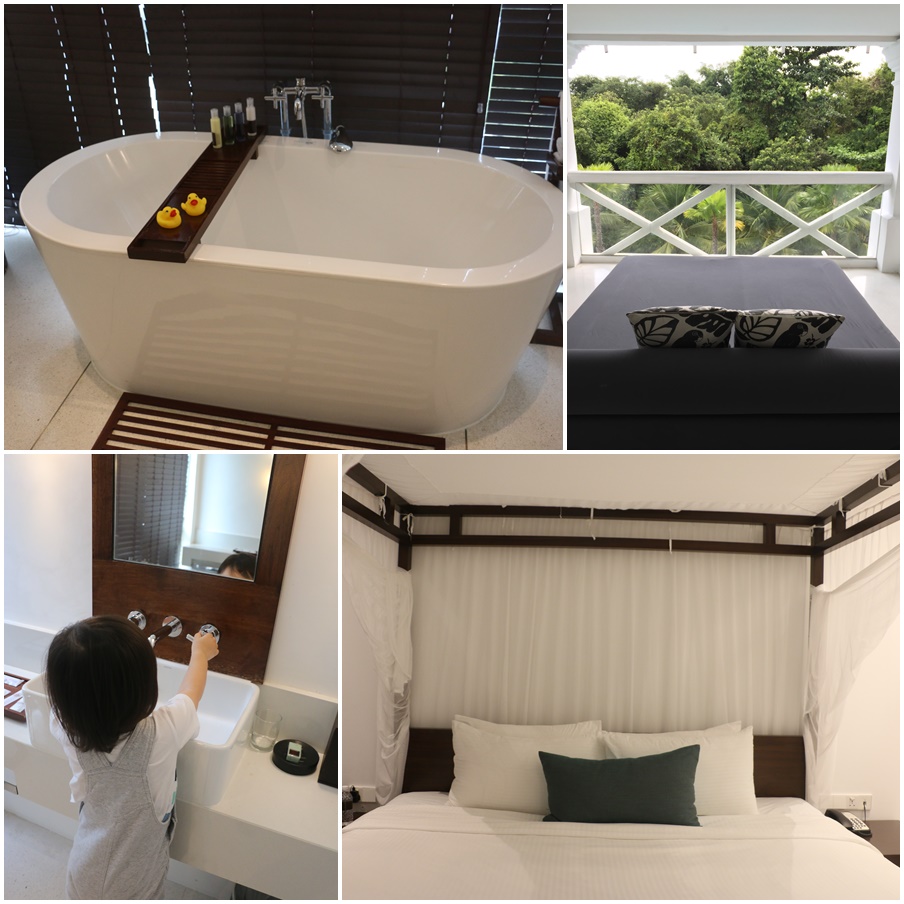 The toddler went wild exploring every single inch of the room, from jumping on the sofa, to rolling on the daybed, and snuggling under the sheets of the king-sized bed. Oh and the view from the balcony. If you want pool view up front, this is it, the pool is just directly below!
Check out my video of the entire family suite at the end of this post.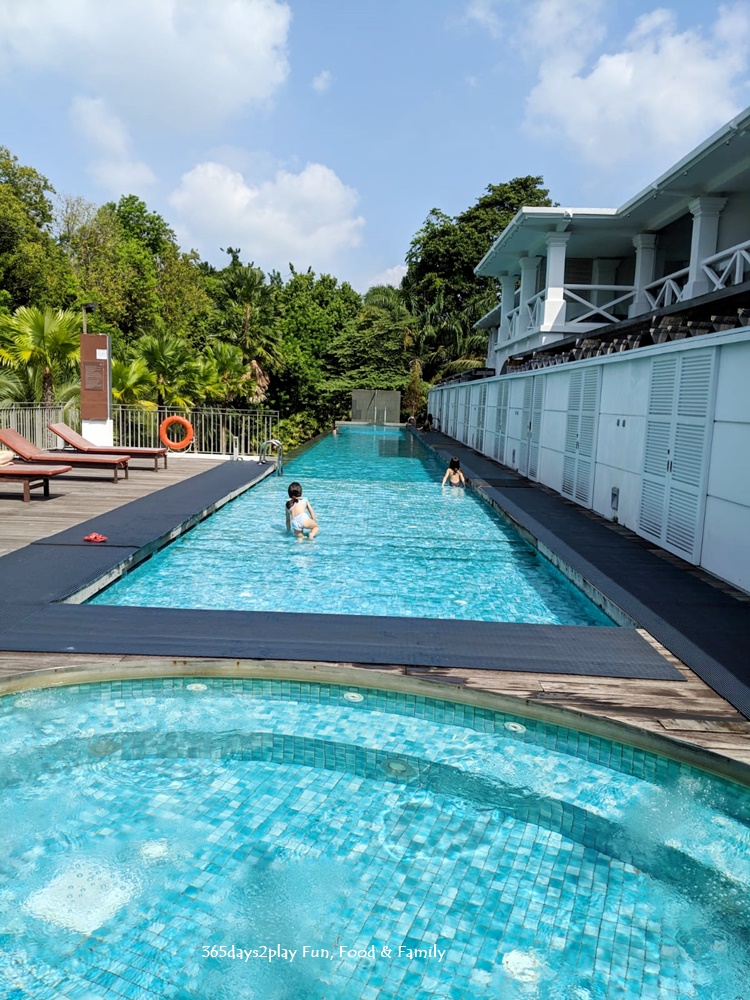 Look at the clear blue water. You will be surprised some hotels' have pools with cloudy water!
And speaking of pool, the Larkhill Terrace's pool is even better than the pools at the main hotel block, if I may say so. It spans nearly the entire length of the Larkhill Terrace, so its great for serious swimmers like me who like to do laps. But what I really love about it is that it is so private! Only the guests staying at Larkhill Terrace are able to use this pool, and neither is the pool along any walking path so swimmers are not subject to perving eyes of roaming hotel guests. When we were there, there were times when we were the only people in the pool. Doing laps in serenity without having to constantly avoid other bodies is such a luxury. This was like having a private pool, a very large one at that, minus the private villa price. The couple suites on the ground floor have even easier access to the pool. All they need to do is to simply open their courtyard door and literally dive right in.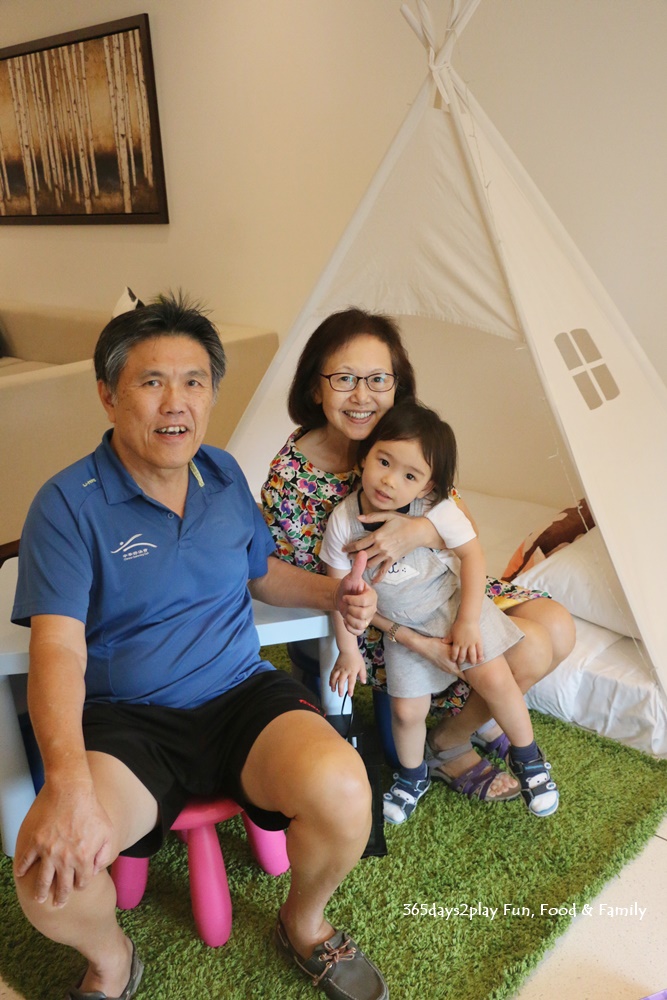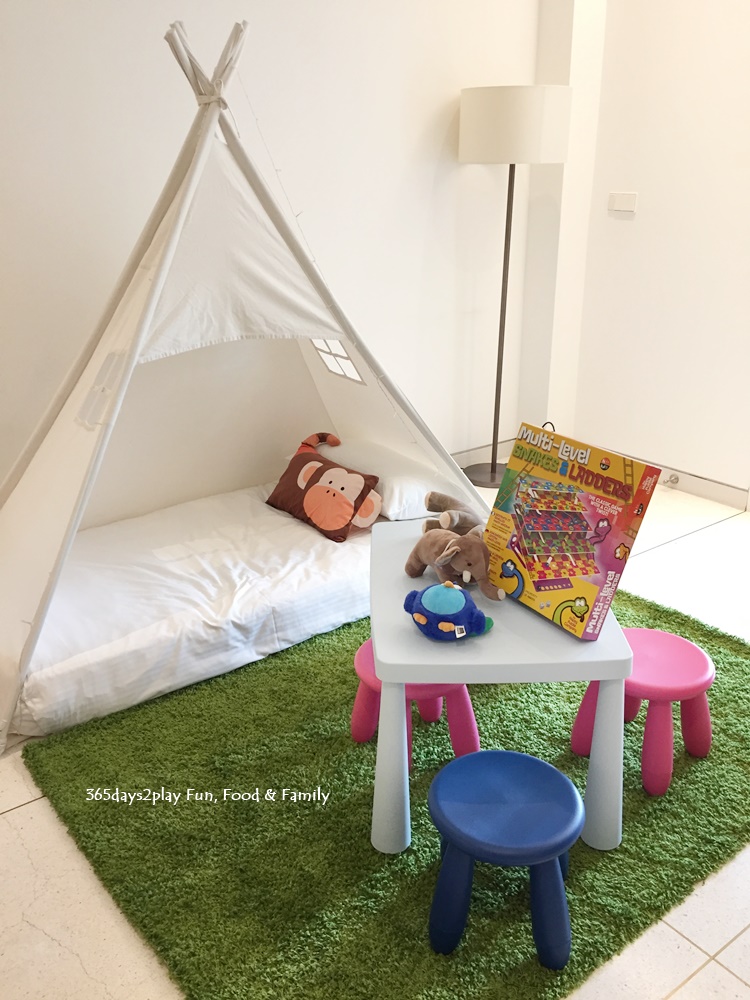 And what about the Club Tiny Package (link at bottom of post)? Talk about pampering the kids. With the Club Tiny Package, the kiddos receive a Club Tiny Welcome Pack, some games set up, a binoculous and map of the property to do some serious exploring, and their very own Teepee. No child can resist entering a teepee when they see one and Edward was just over the moon checking it out. Even us adults had a go lying on the small mat inside the teepee. So cosy! Thanks to the teepee, for the first time in a very long time, Edward chose to sleep separately from us! So cute watching him curled up on the mattress after a day of excitement, although I had a moment of guilt as I rolled around in the luxurious King bed without an additional child taking up space.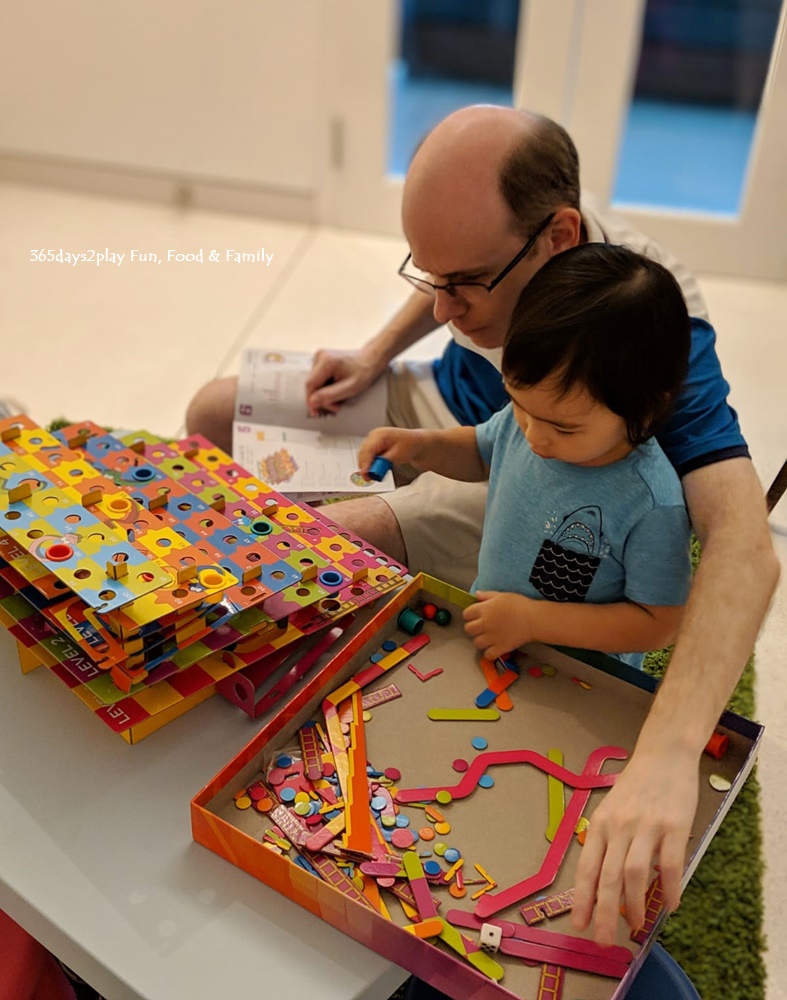 We were also very enthralled by the board game provided. It's a 3D snakes and ladders set, where if you land on a snake, your counter literally goes rolling a few levels down. We almost spent too much time playing with it as opposed to spending time at the pool!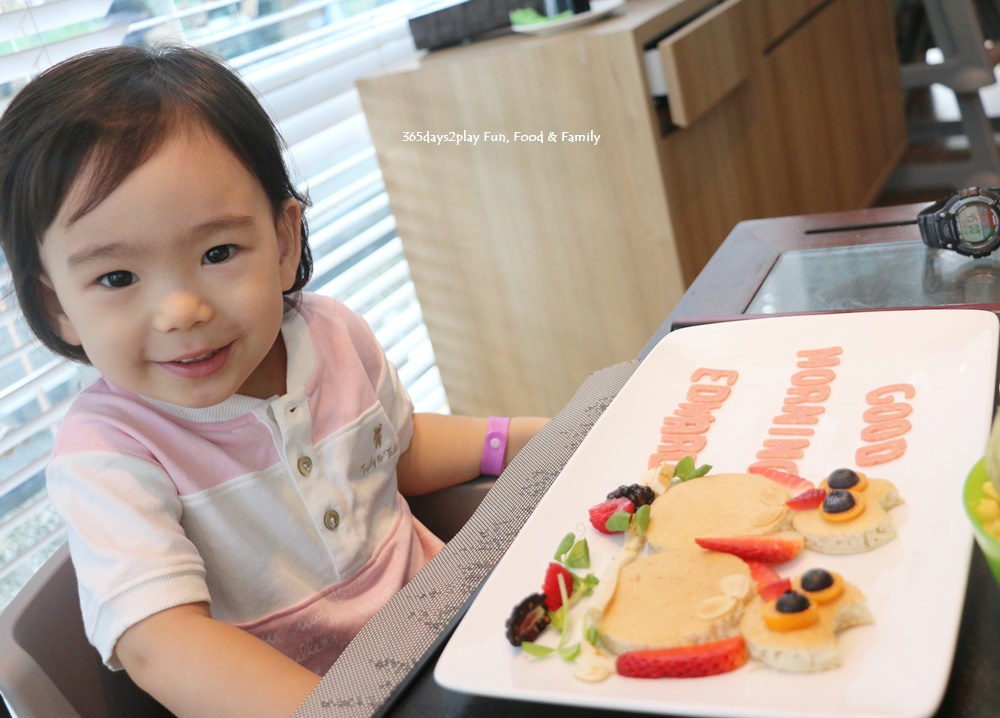 Another perk from the Club Tiny Package is a specially prepared breakfast for 1 lucky child. This is not available on the normal menu so this is very exclusive! Edward was so impressed with his "special breakfast" that even till today, he keeps asking for a special breakfast. It's these little touches that are etched in the memory for a long time.
Scroll down to see more pictures of our lovely staycation at Amara Sanctuary Resort Sentosa.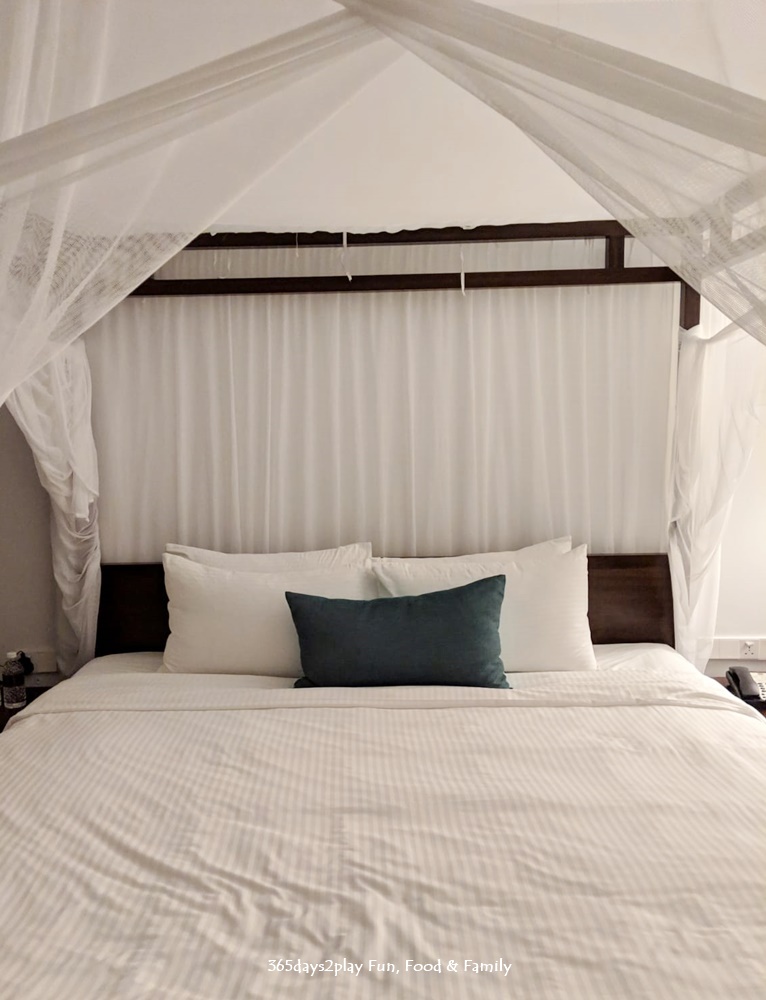 Our King-sized four poster bed. Super spacious.
Just can't bear to leave the teepee. Our bedtime milk and story. Can I just mention again that I love the teepee!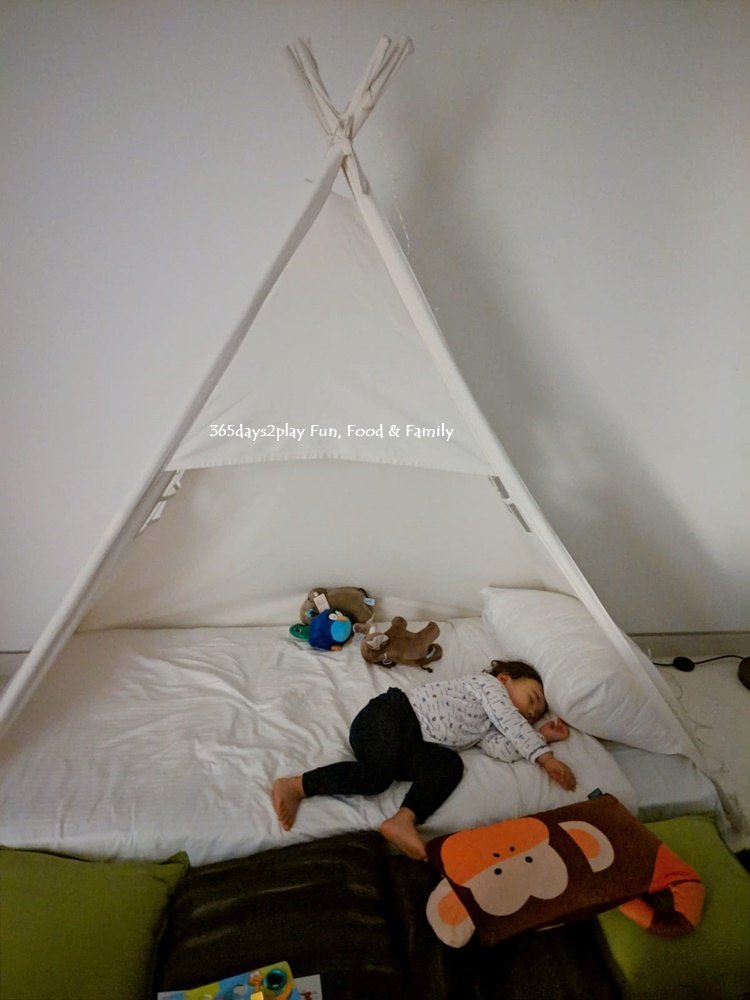 Yes, Edward did finally fall asleep way past his usual bedtime. Who can blame him? Btw the photo looks bright because we used Google Pixel 3's night mode. Seriously not bad right! The room lights were actually switched off, save for 1 small lamp!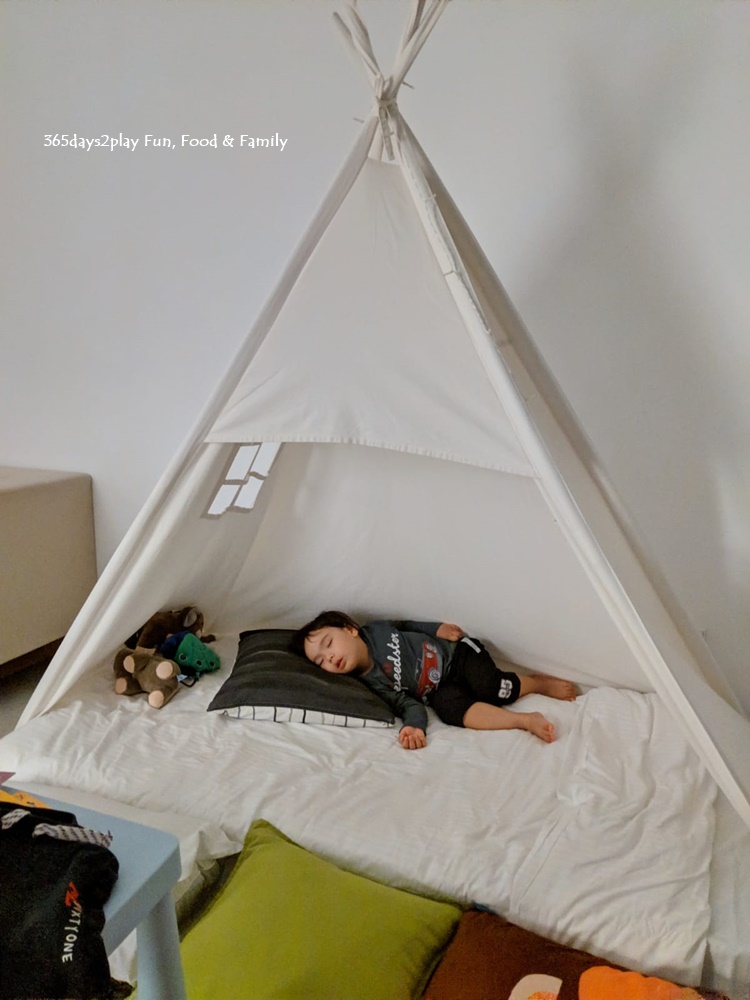 Asleep again on the 2nd night of our staycation…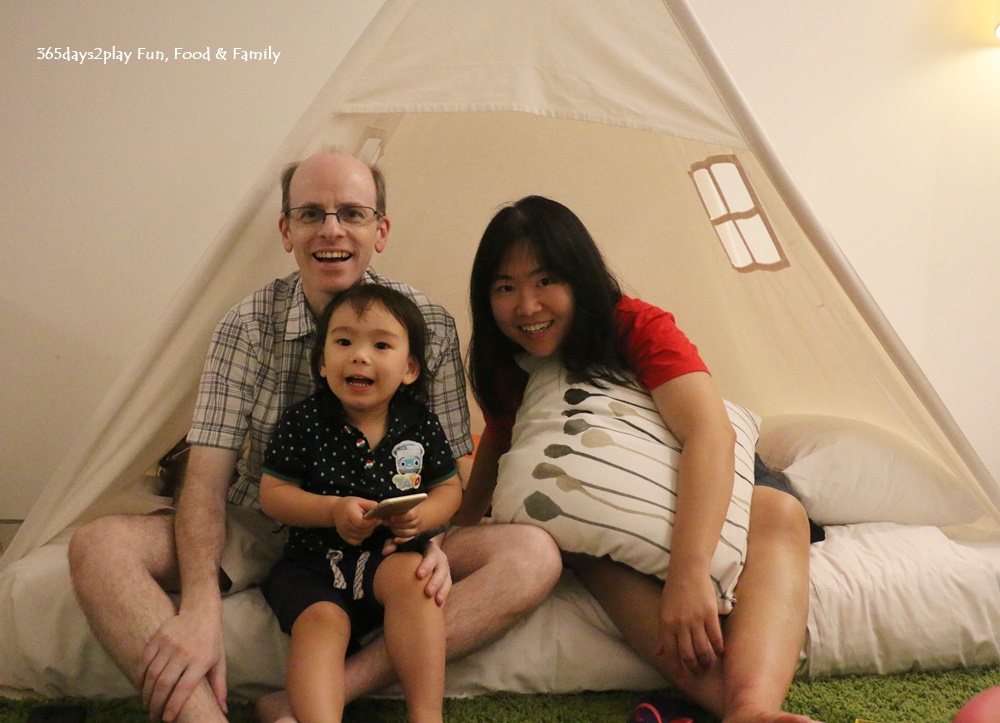 Family photo. Say TEEPEE!!!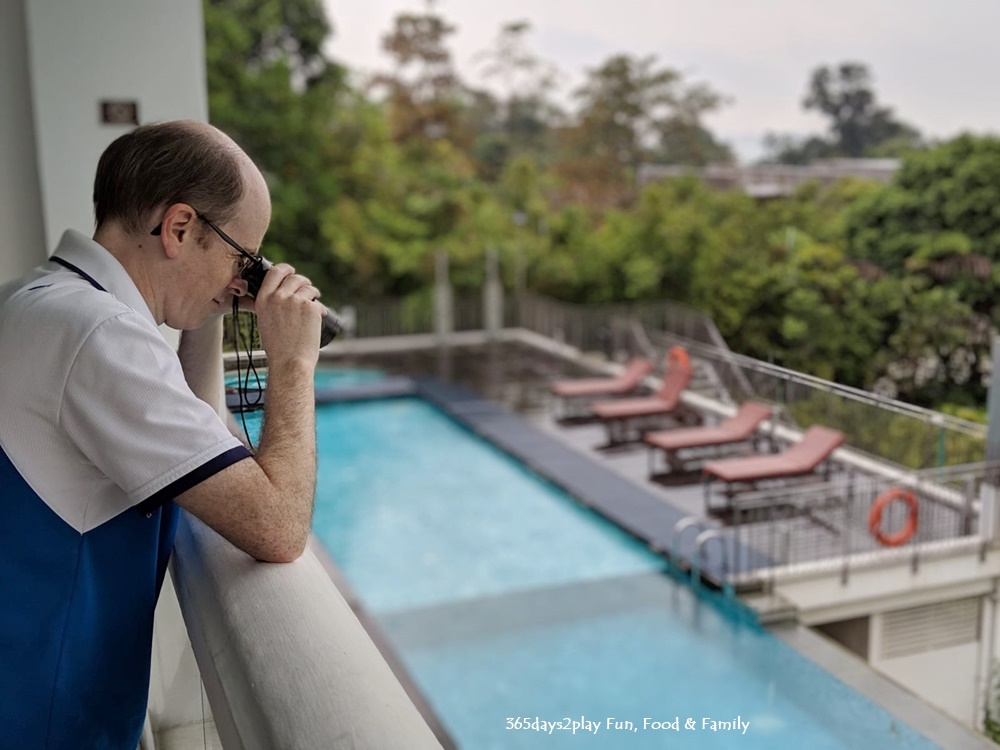 More swimming pool photos. No binoculars needed actually!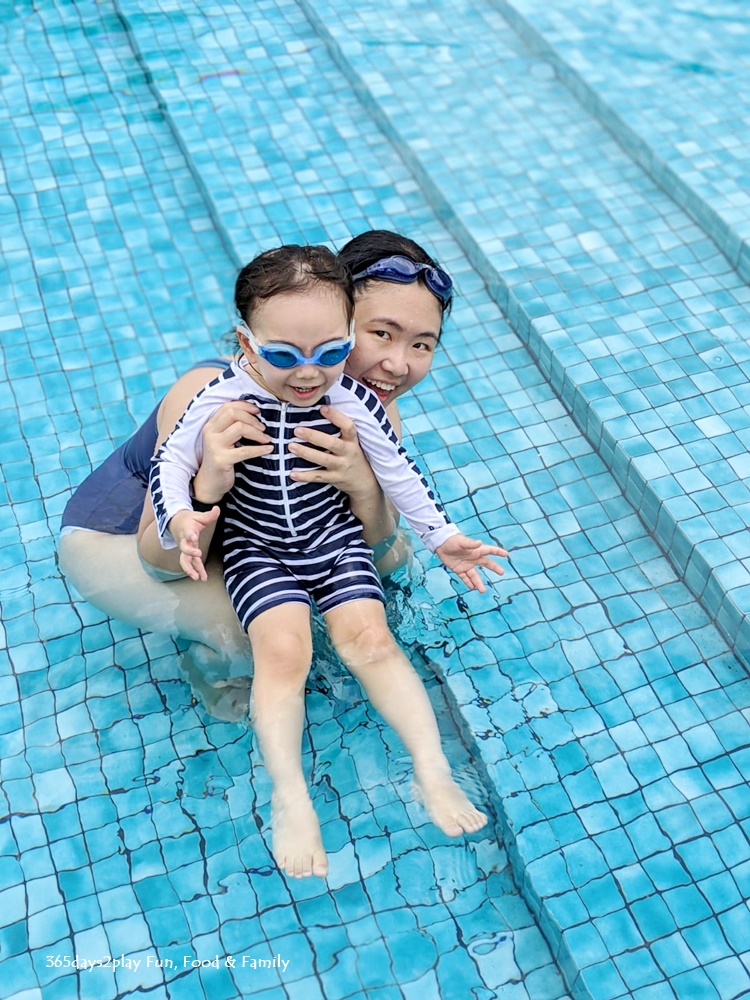 Edward had a wild time at the pool. It's a personal record for us that we stepped into the pool THREE times over the course of a 2 day staycation!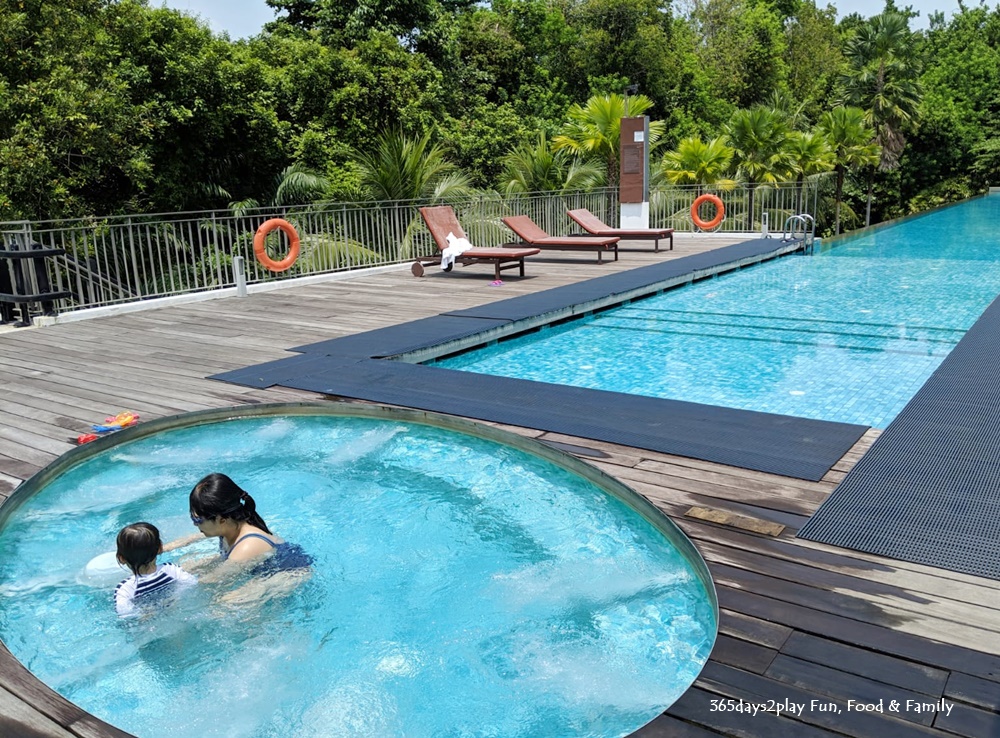 Edward spent his time at the Jacuzzi pool which was big enough to be a "swimming pool" of sorts. He loved pressing the button to get the water jets going. There is actually a children's pool section at the long lap pool.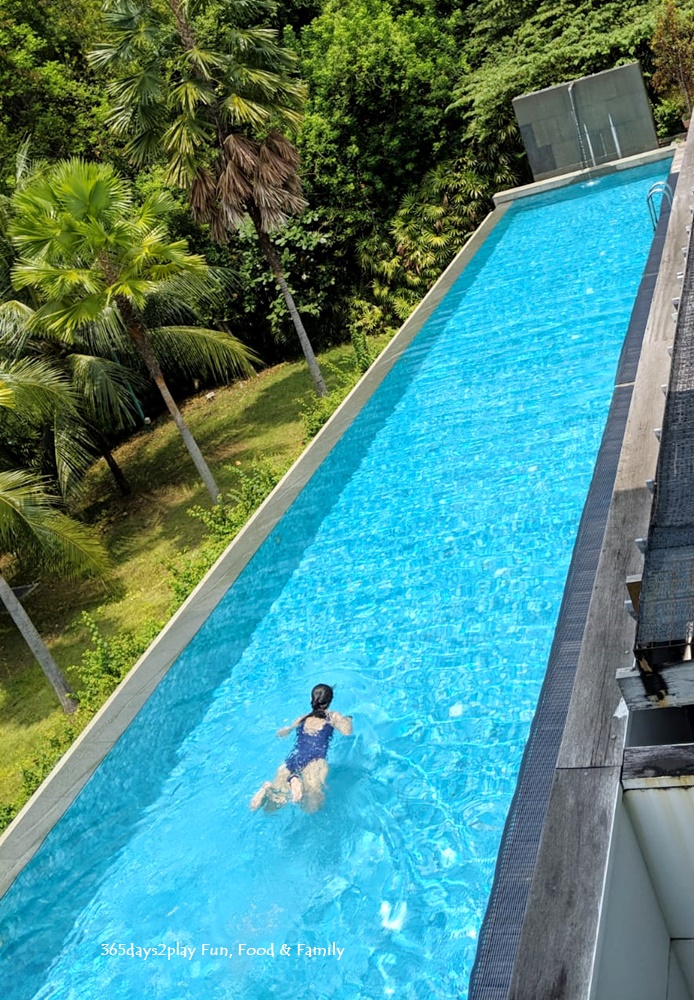 As for me, the "serious" swimmer, I couldn't get enough of the long lap pool. Managed to get some serious swim time on the 2nd day of our staycation before the evening crowd came in. And by crowd I mean just a few people actually. I seriously prefer this relatively exclusive swimming pool to a private plunge pool because it's so much bigger.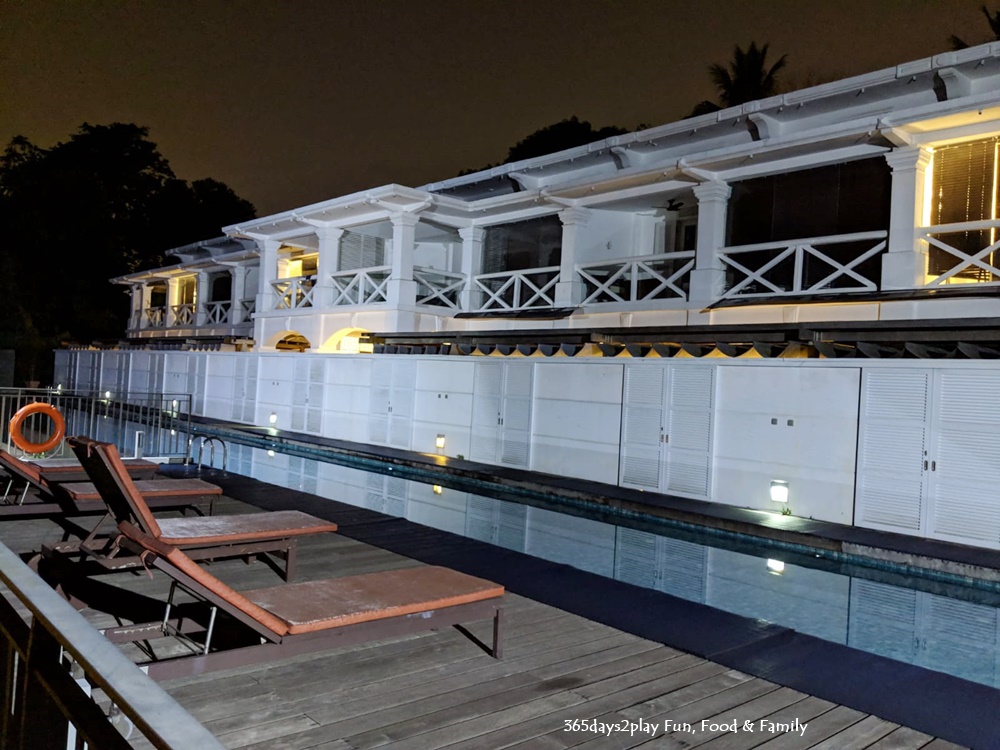 The place looks nice at night too. In case you were wondering, those doors flanking the length of the pool are actually the doors into the Courtyard Rooms. Amara Sanctuary markets them as couple rooms, but I've seen several families take them. Very convenient to access the pool, or laze on the daybed and just enjoy the view. I even saw one family have breakfast on the daybed while their daughter swam nearby. Idea for my next staycation!
Our Family Suite is the one protruding out on the upper floor. I believe it is slightly larger than the rest.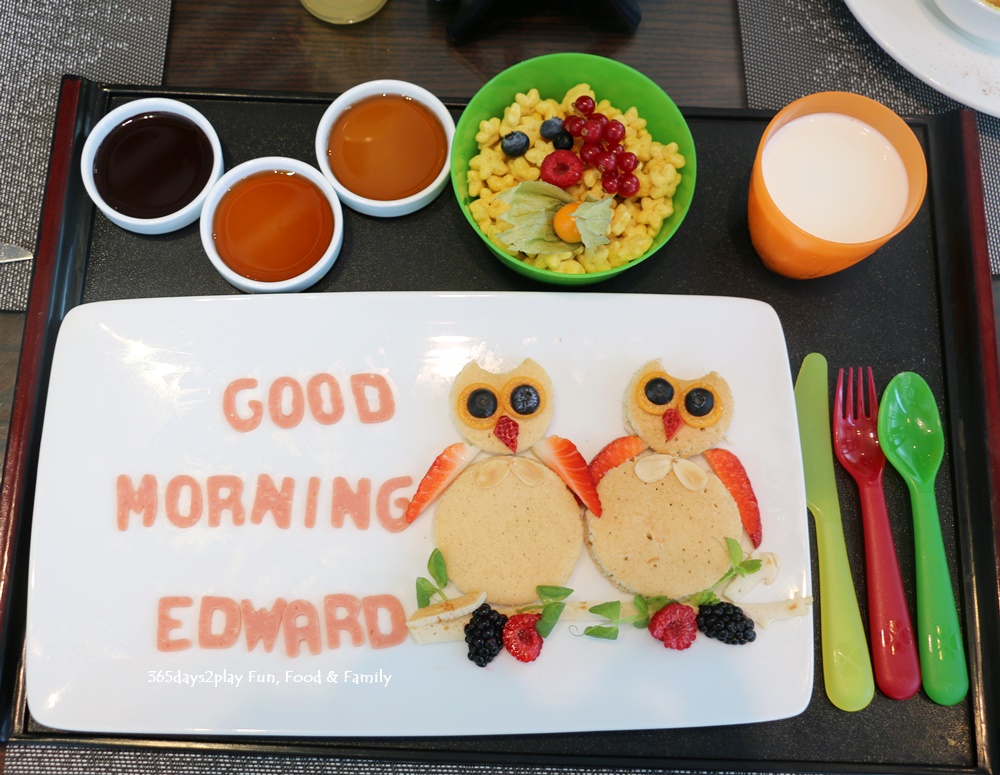 Good Morning Edward!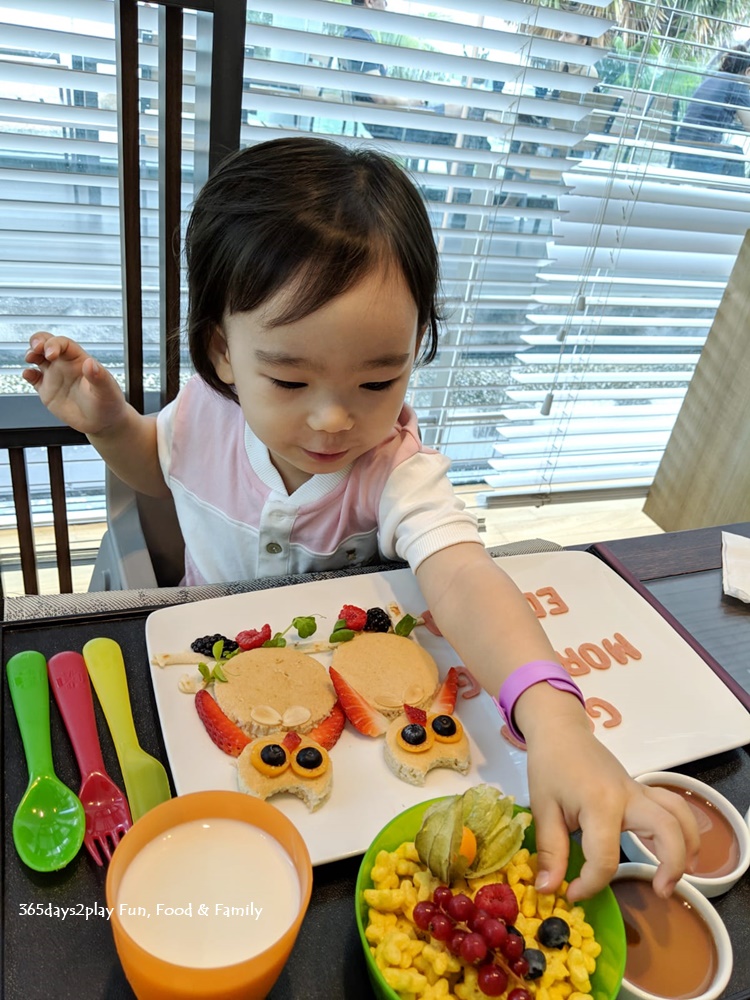 I'd want seconds if I had a breakfast like this.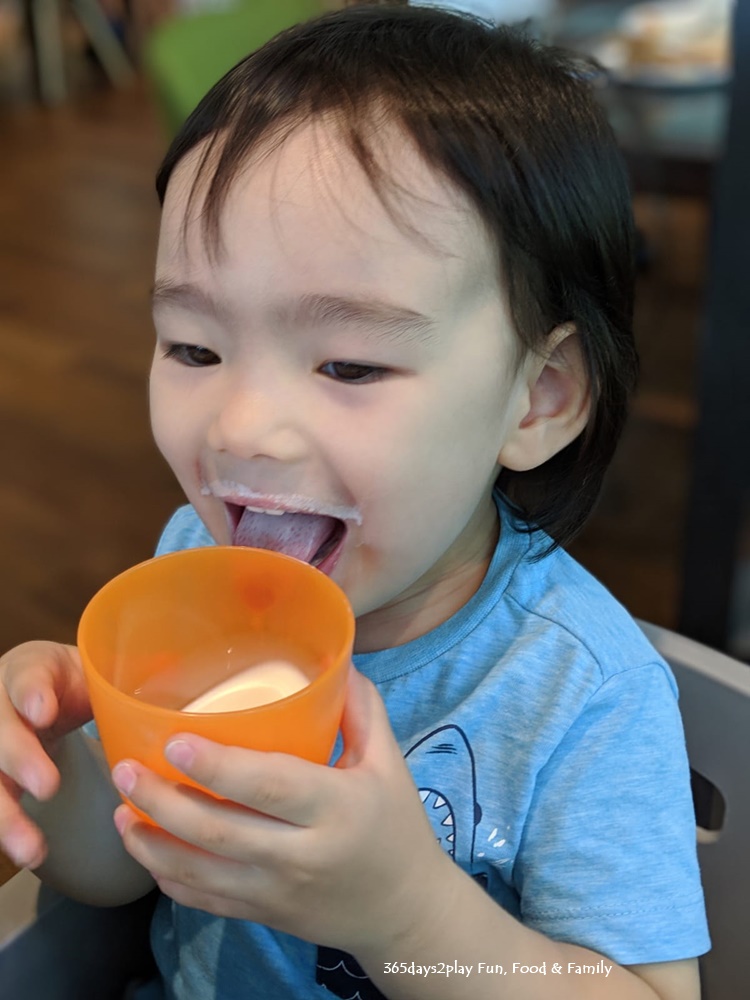 Happy boy enjoying his milk!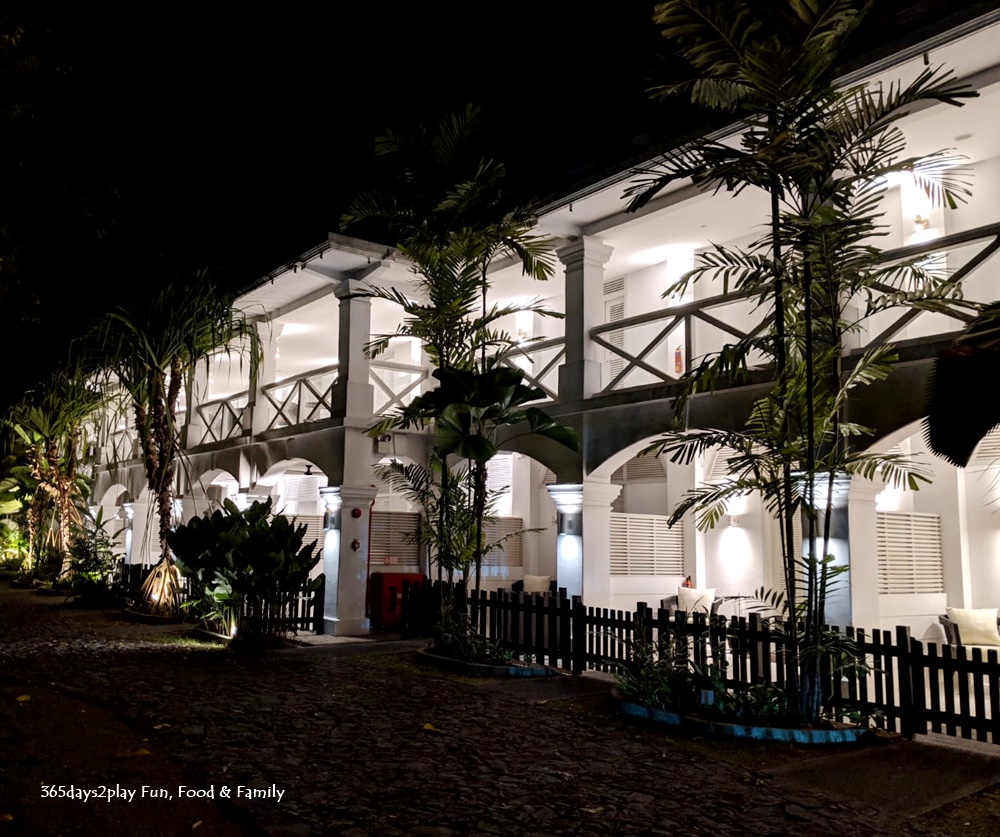 Night view of Larkhill Terrace.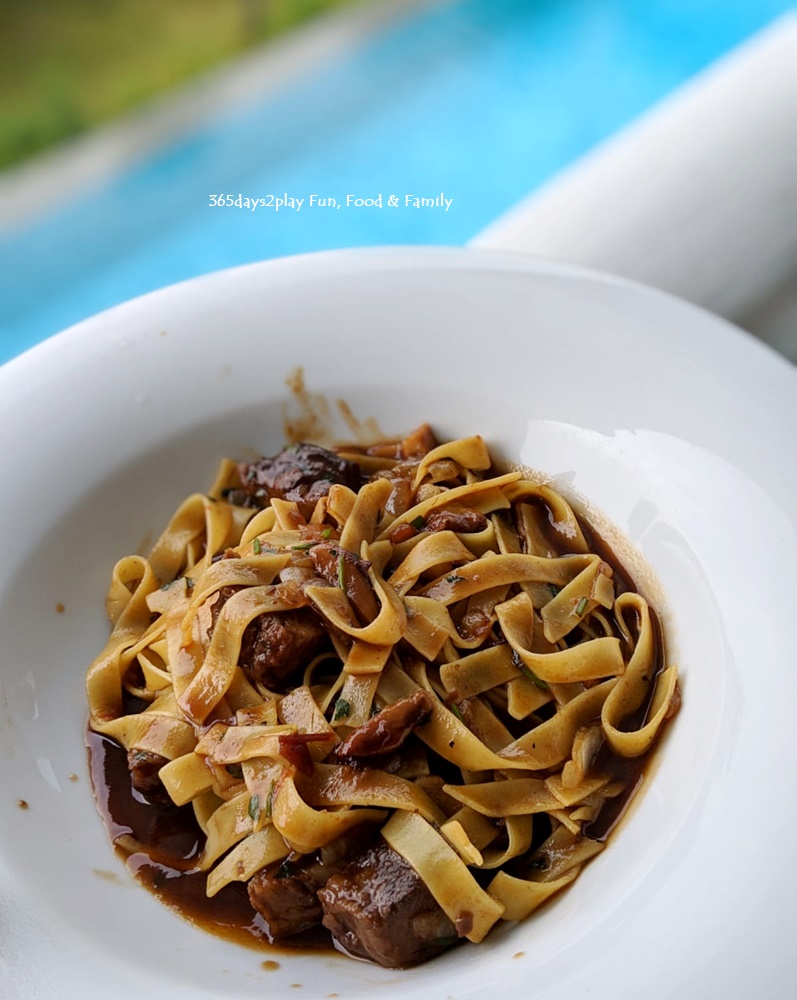 Picture of what we ordered for room service on our first night at Amara Sanctuary. We were planning to go for dinner but it suddenly started to pour cats and dogs. What's a hangry person to do. Must say the room service was pretty efficient. I was afraid the food would be cold, but no this beef cheek pasta was still piping hot and tasted as good if we were eating in a restaurant. I hope the waitstaff didn't have to walk in the torrential rain to bring me my meal. We were so impressed with the food we decided to have dinner in house again at Amara's restaurant called Shutters, instead of venturing out to Sentosa's numerous eateries, and once again the meal did not disappoint. It's a pity the restaurant wasn't fuller than it was, it really is a hidden gem. 
Watch the video above for a sneak peek of how the Amara Sanctuary Resort Sentosa Family Room looks like.
All in all, we had a really memorable and enjoyable staycation. I really would love to return again and I know Edward does because he keeps mentioning Amara or Special Breakfast now and then. But rooms at this exclusive Larkhill Terrace are slightly more expensive than normal rooms, so I guess I'll have to wait for a special occasion before indulging again.
Read more about my other staycations in Singapore
Holiday Inn Singapore Orchard City Centre
---
Add me on Facebook, Instagram and Twitter if you want to be kept up to date with the latest happenings in the food and lifestyle scene in Singapore!
---
Amara Sanctuary Resort Sentosa
Sentosa Island, 1 Larkhill Rd, Singapore 099394
Tel: +65 6825 3888
Email: sentosa@amarasanctuary.com
https://sentosa.amarahotels.com/
Club Tiny Promo : https://sentosa.amarahotels.com/club-tiny.html