Inspired by the famous last queen of France, Marie Antoinette, and exuding the style and private ambience of Marie's favorite hideaway chateau, the Petit Trianon in the gardens of Versailles, a visit to Antoinette Restaurant, Pí¢tissierie & Salon de Thé lets diners embrace the same French elegance. Antoinette Restaurant was conceived by Chef Pang Kok Keong, with the 1st outlet at 30 Penhas Road opened in June 2011,  a second at Mandarin Gallery opened 2 months later; and the third and largest at 3100 square feet, opened in 2012 at Palais Renaissance.
Many people think that Antoinette is just a place for desserts, cakes and sweet treats, and indeed, they do serve these (my favourite being the Nougatine crepe!), however, there's a whole repertoire of French inspired main courses waiting to be sampled as well in their recently revamped menu. Now, you needn't just come during tea time, or after dinner. Anytime of the day would be just as good! The following are some of the dishes I tried at Antoinette Restaurant a while back. Can't wait to return again!
Salade d'í‰té (Summer Salad) $16.50 – Quinoa served with extra virgin olive oil, rocket leaves, compressed watermelon, roasted butternut squash, pumpkin seeds, sour dough chips, feta cheese and sherry vinaigrette
This nutrient packed salad was not just tasty and refreshing thanks to the interesting use of watermelon, but also filling as the quinoa acts like a grain even though it is very much a seed.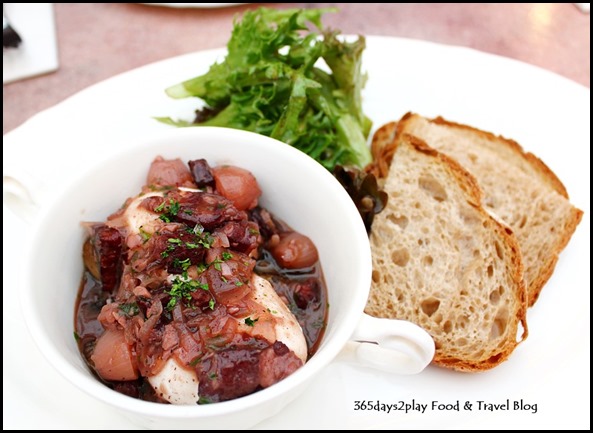 L'oeufs en Meurette (Poached egg with Red Wine Sauce) $17.50 Poached egg with sautéed mushrooms, smoked pork belly, red wine sauce, toasted Levain bread and salad tossed in house dressing
The L'oeufs en Meurette was like the eggs benedict you can find in any cafe these days, except more glorified and more "adult". Instead of buttery hollandaise sauce, the red wine sauce gives a tart contrast to the creamy egg yolks.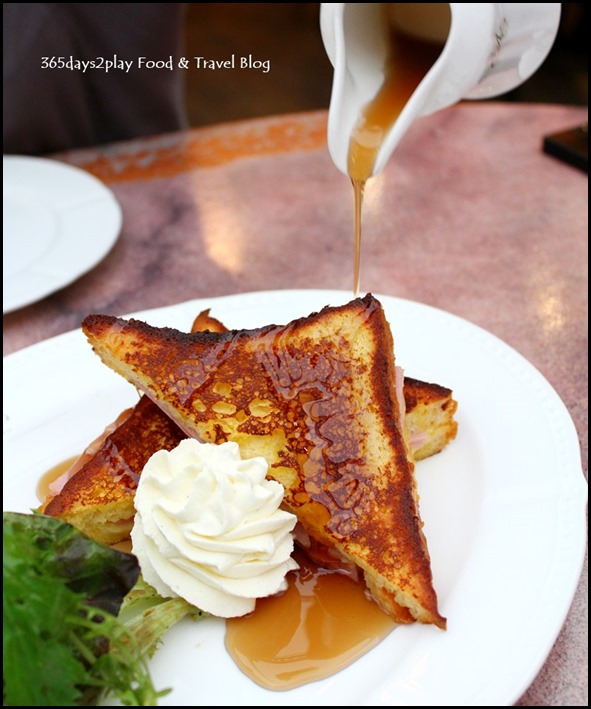 French Toast with Ham and Cheese $14.00 – Brioche bread sandwiched with Swiss Gruyí¨re cheese cream, Paris ham served with salad tossed in house dressing
I shall not be ashamed to say that despite the numerous delicious dishes available at Antoinette, there is still something comforting about eating a plain old ham and cheese sandwich. Only this one is made more decadent with the use of nicely toasted brioche bread. I don't often mix sweet and savoury stuff, but golden syrup on bread is one exception I have no qualms making!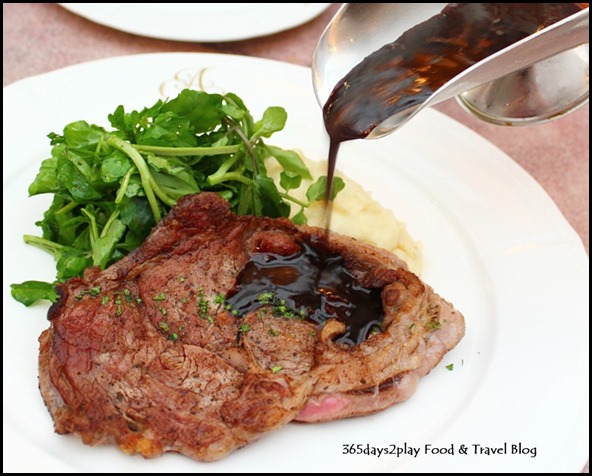 Entrecí´te Poêlée í  la Bordelaise $36.00 – Pan-fried certified Premium Black Angus Ribeye steak served with shallot red wine jus, pomme purée and seasonal vegetables
I wasn't expecting too much from the steak, however it was surprisingly good, very tender and flavourful. The shallot red wine jus really jazzed up the steak with its deep flavours.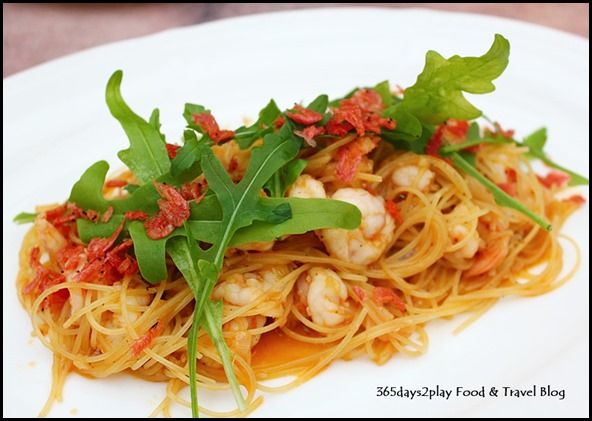 Shrimp Capellini $26.00 – Capellini pasta with sea shrimp, Sakura ebi and crustacean oil
My favourite pasta style these days is the aglio olio style, which is light enough such that the ingredients are not masked by heavy cream or tomato sauces. So this dish really hit the spot, with each forkful of capellini beautifully coated in crustacean oil, accompanied by sweet succulent sea shrimps.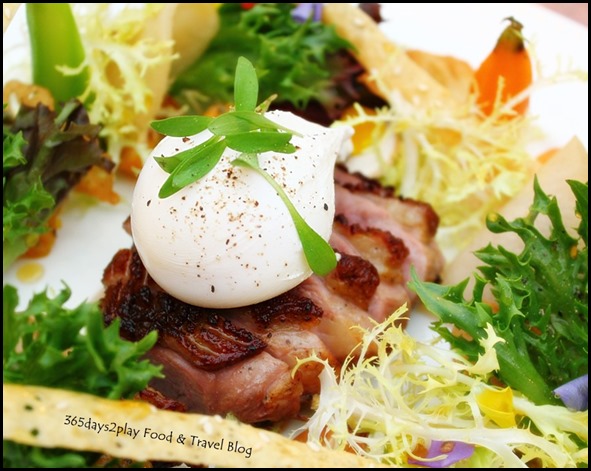 Le Grande Jardin d'Antoinette (e Grand Garden of Antoinette) $30.00 Roasted duck breast with pickled pears, poached egg, roasted asparagus, baby carrots, beets, sweet potatoes, cresses, flowers, mixed greens, sunflower seeds, button mushrooms, cherry tomatoes, lotus root chips, lavosh crackers and caramel orange dressing
Well, this would be the dish to order if you were torn between a brunch dish vs a proper main course dish vs a salad. You can have it all here! Who could resist the voluptuous poached egg sitting atop the roast duck breast? The duck breast was also perfectly roasted, still retaining its tenderness and such a good vehicle to mop up the creamy egg yolk.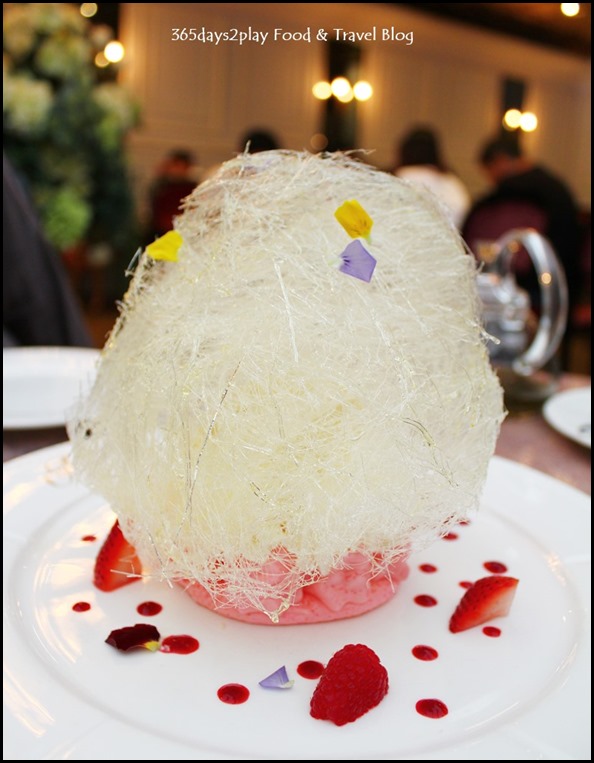 Le Vacherin de la Reine (e Queen's Vacherin) $25.00 Rose petal meringue filled with yuzu cream, vanilla ice cream, vanilla crí¨me Chantilly, lychees, strawberries and raspberries, crowned with an ethereal spunned sugar
Not much of a fan of this one. It was a little difficult to plough through the big mass of spunned sugar although I'm sure it would elicit alot of ooh and aahhs at the table.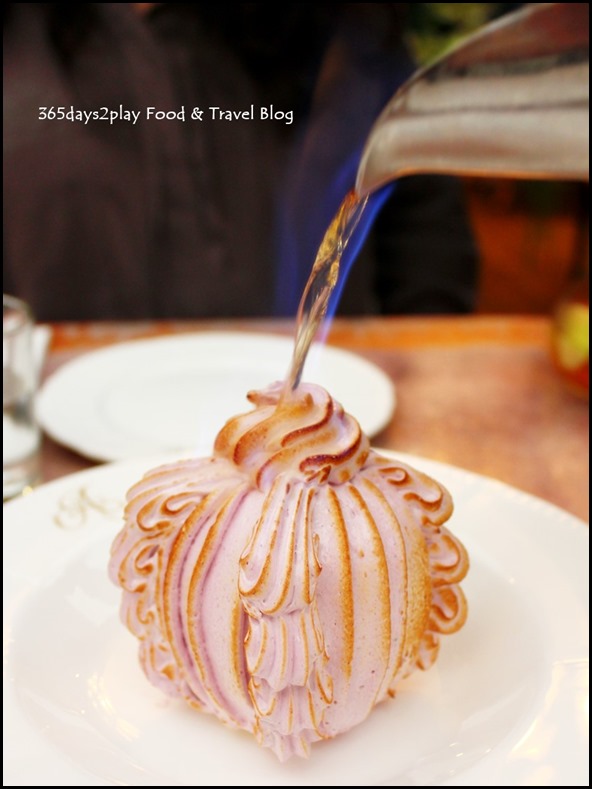 Omelette Norvégienne (Baked Alaska) $25.00 A grand classic of vanilla ice cream with "griotte" cherries cooked in kirsch, orange confit and almond nougatine, enveloped in a torched blackcurrant meringue and flamed Grand Marnier liquor poured over
Alas, not a fan of this Baked Alaska either as I don't like meringue that is still soft or semi-soft. I did enjoy the cakey interior though.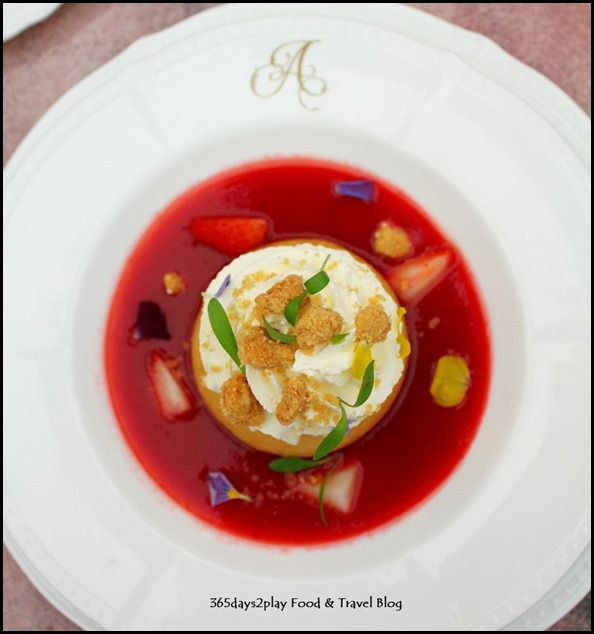 Baba aux Fraises (Strawberry Baba) $18.00 Baked Baba dough soaked in citrus vanilla syrup perfumed with aged dark rum, served with kirsch macerated strawberries, strawberry coulis and vanilla crí¨me Chantilly
This was more my thing, with a proper cake base to actually chew on. The rum and kirsch really packs a punch, which is how I like it with alcoholic desserts. Either go all the way, or eat chocolate cake.
---
Add me on Facebook, Instagram and Twitter if you want to be kept up to date with the latest happenings in the food and lifestyle scene in Singapore! 
---
Antoinette at Penhas Road
Address 30 Penhas Road (off Lavender Street), Singapore 208188
Reservations Tel (65) 6293 3121
Operating Hours Monday to Thursday — 11am to 10pm (last order 9.30pm); Friday and eve of public holiday — 11am to 11pm (last order 10.30pm); Saturday — 10am to 11pm (last order 10.30pm);
Sunday and public holiday — 10am to 10pm (last order 9.30pm)
Credit Cards Visa/Master/Amex
Nearest parking Penhas Road and its vicinity
Email sweets@sugardaddy.com.sg
Website www.antoinette.com.sg | Facebook http://www.facebook.com/antoinette.sg
New menu is available at all 3 Antoinette outlets.