If there's one thing I love doing during the Christmas season, that's having afternoon tea. There is an unexplainable pleasure just sitting around sipping cups of tea and savouring dainty morsels amidst Christmassy decor. I've been meaning to visit Marriott Hotel for its Afternoon Tea as they have the 1-for-1 promo using the Entertainer App. Good to know that the promo was still applicable during the festive period. Did a spot of shopping at Tangs before and after our afternoon tea. What a really convenient location to rest your feet for a while, say if you're waiting for a ride home or waiting for a friend.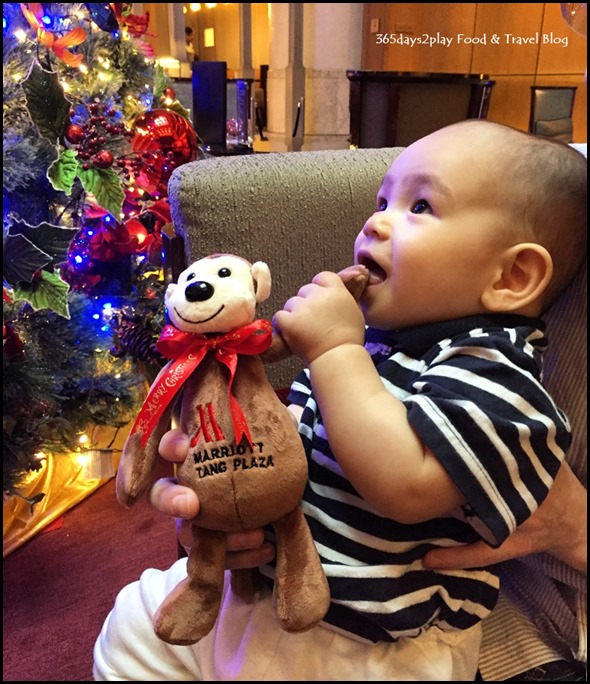 Edward's 4th afternoon tea outing (previous ones were Goodwood Park Hotel, Grand Copthorne Waterfront and Chef's Table at Capella Sentosa). He loves going out because of all the attention he gets, and for some reason, he loves people watching too! He especially loves watching people deep in conversation, wonder why? He had an early Christmas gift too, a little Marriott Tang Plaza monkey soft toy, which he promptly decided to lick….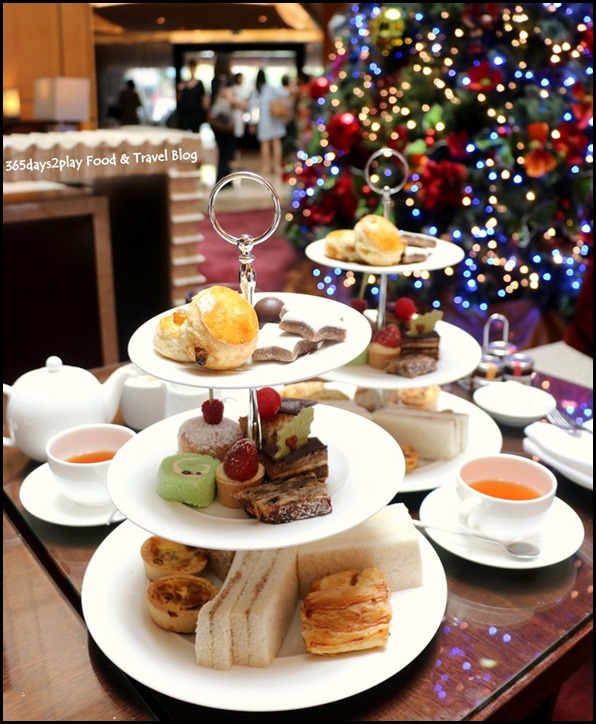 Ok here are the pictures of the afternoon tea. The teas are refillable and you can also order as many different pots of tea as you wish. We were pleasantly surprised to find out that the food items were refillable, as it wasn't stated on the website!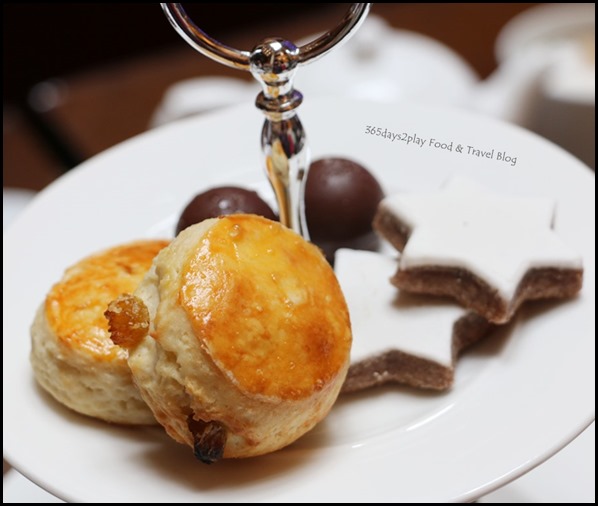 Top Tier — Scones and Christmas cookies/chocolates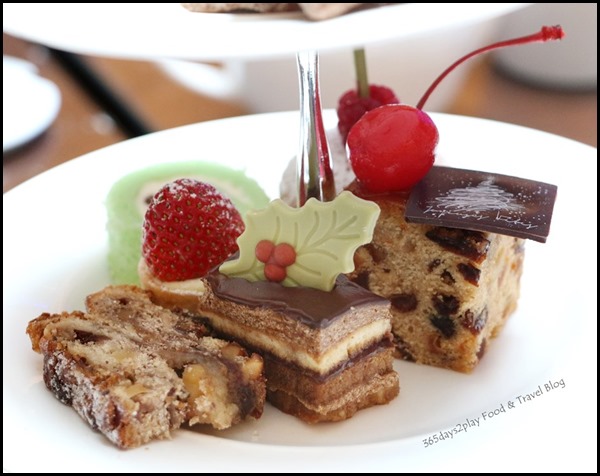 Dessert Tier — Stollen, Chocolate cake, Christmas cake, pandan cake, jam doughnut.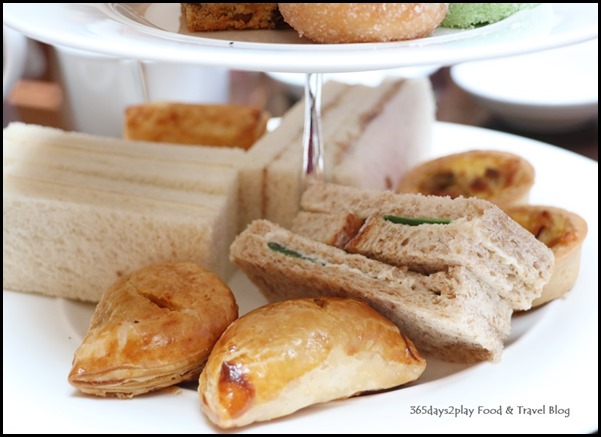 Bottom Tier — Finger sandwiches with 3 different type of fillings, quiches, curry puffs. The curry puffs were best forgotten as the pastry shells seemed to taste pasty (probably due to margarine being used instead of butter?). The bread for the sandwiches were also on the dry side, but thankfully no such issue for the seconds that were brought around.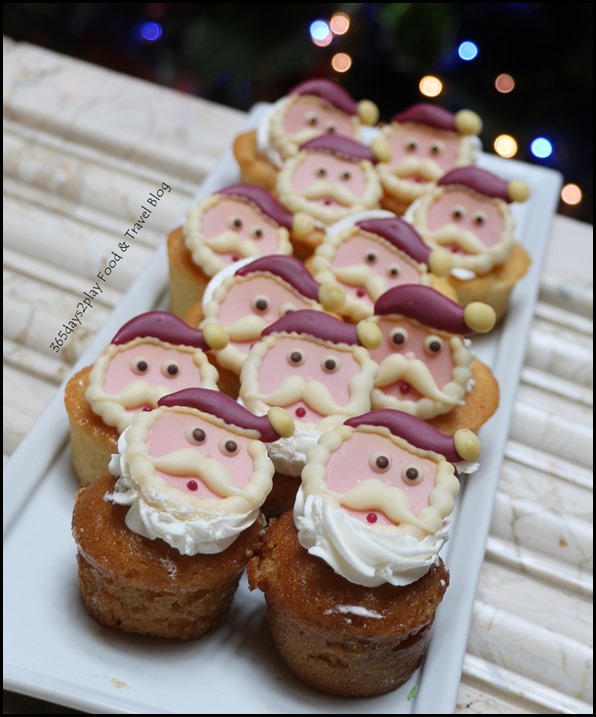 These weren't in the original afternoon set that they served to our table. Staff started walking around with trays of extra nibbles after about 1 hour, so make sure to catch their eye for extras!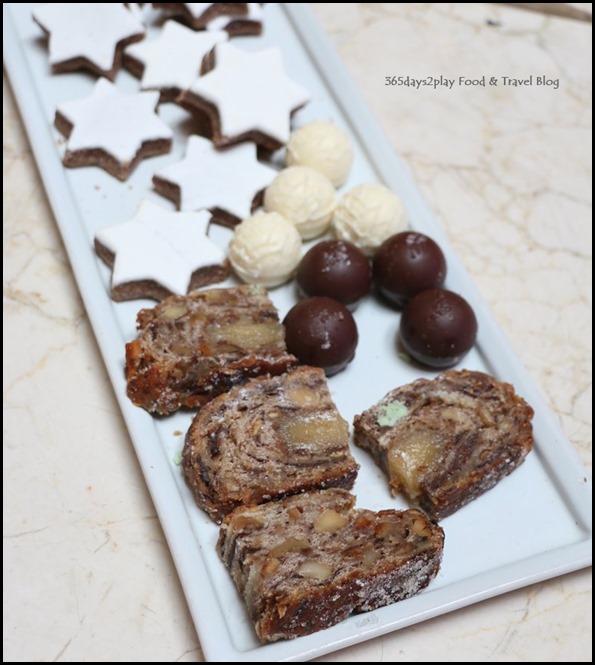 You know, I hadn't realised I liked stollen so much until recently. I think I devoured at least 3 pieces. According to Wikipedia, Stollen is a cake like fruit bread with raisins, almonds and other dried fruit added. I love the centre bit which contains the fruit paste!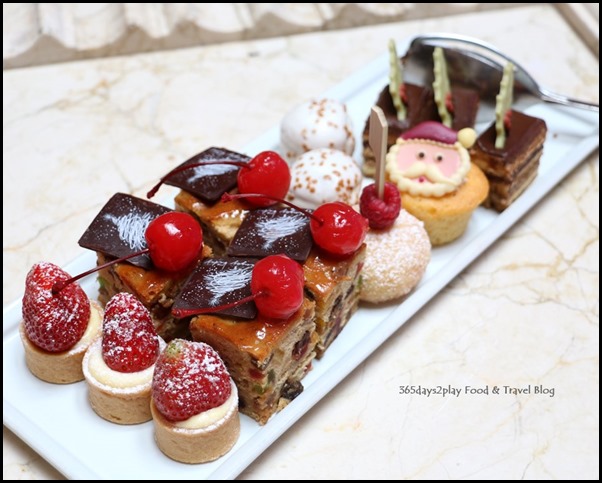 So festive looking!!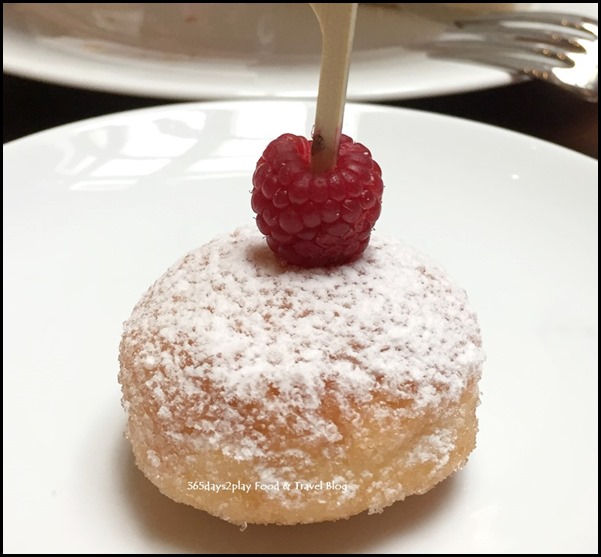 Jam doughnut!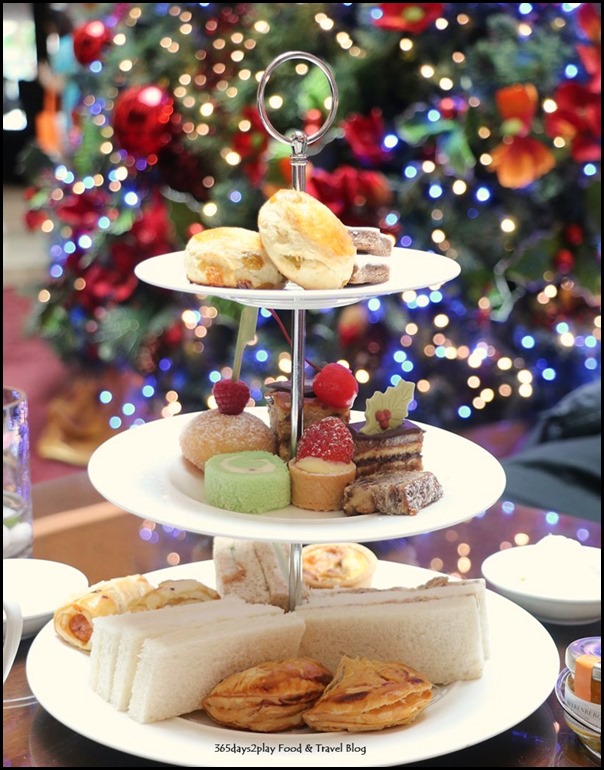 We deliberately sat next to the Christmas tree so that we'd have it as a backdrop in our pictures!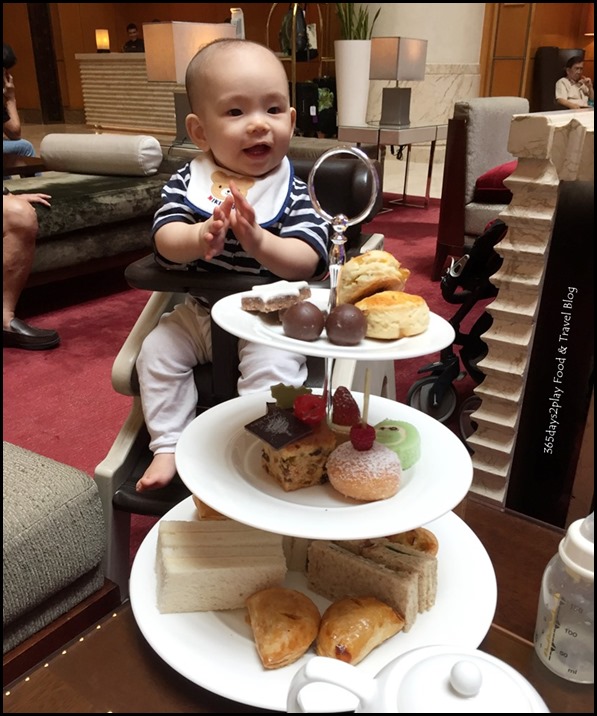 Baby thoroughly enjoying the festivities and the novelty of it all even if he has no idea what's going on!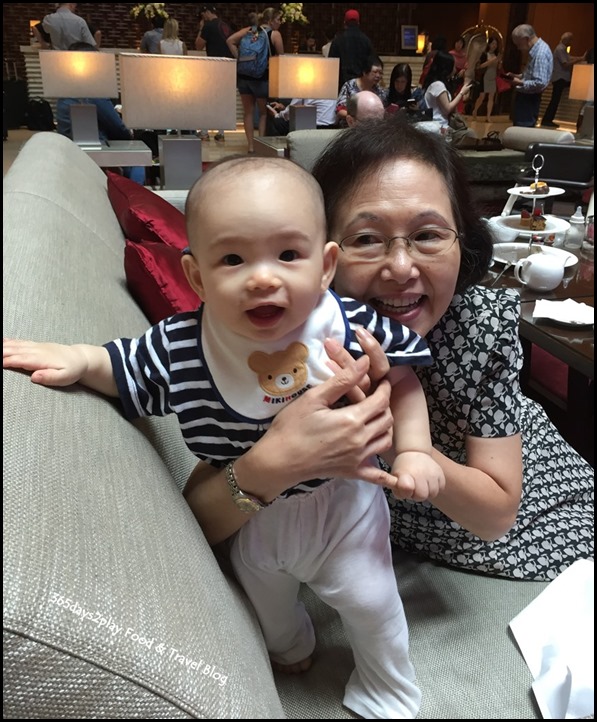 He had a bit of a fun time crawling up and down the sofas under the watchful eye of Por Por. Doesn't take expensive toys to entertain a baby!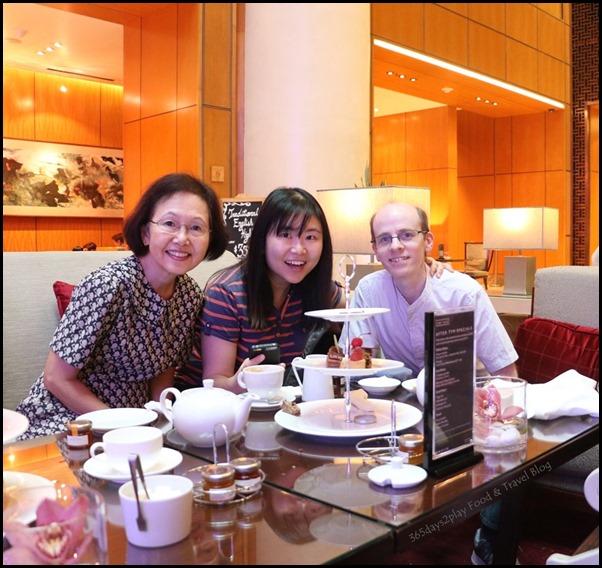 The adults' turn to have a picture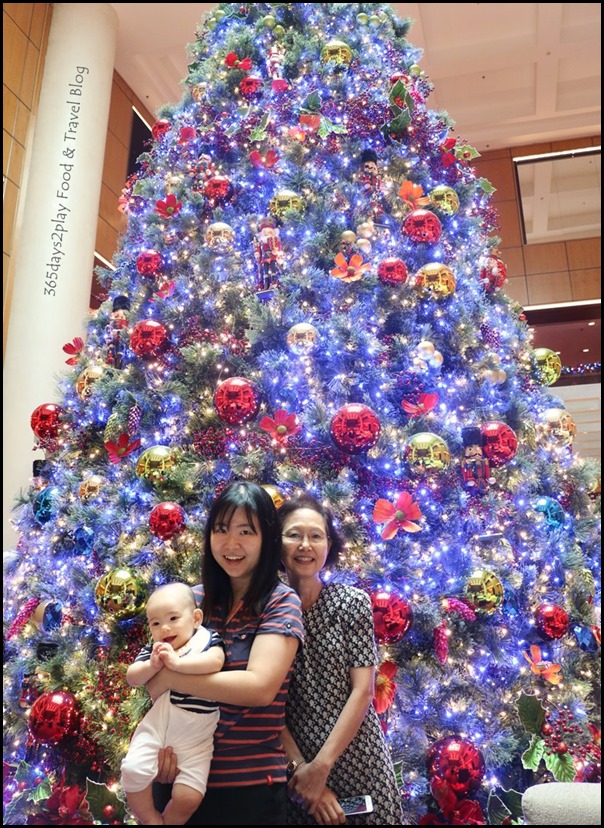 Baby looks angelic here………..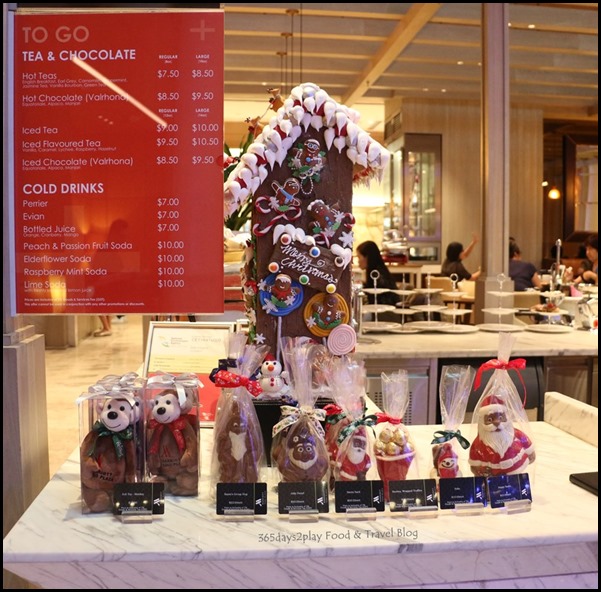 As mentioned above, Marriott Lobby Lounge is a good place to have a cuppa or a cake and rejuvenate before resuming your shopping exploits, or simply to pass the time leisurely. Hmm I just noticed they have Valrhona Hot chocolate for $8.50. Might check that out soon.
---
Add me on Facebook, Instagram and Twitter if you want to be kept up to date with the latest happenings in the food and lifestyle scene in Singapore!
Read my reviews on other afternoon tea places in Singapore
Singapore Marriott Tang Plaza Hotel Lobby Lounge
Capella Singapore Chef's Table
Grand Copthorne Waterfront — Most value for money!
Mandarin Oriental Singapore Axis Bar
---
Traditional English Afternoon Tea at the Lobby Lounge
Singapore Marriott Tang Plaza Hotel
320 Orchard Rd, Singapore 238865
Phone: (65) 6735 5800
Reservations : http://www.singaporemarriott.com/dining/reserve-a-table/
http://www.singaporemarriott.com/dining/promotions/