[Media Invite]
How do you like to spend your weekends? For me, one of my favourite ways is to enjoy afternoon tea at a posh hotel. There's nothing quite like sitting back amongst luxurious surroundings while nibbling on dainty food and sipping cup after cup of tea. Conversation is not always necessary, sometimes I like to just stare into space, contemplating life. You know they say creative people need space to just think…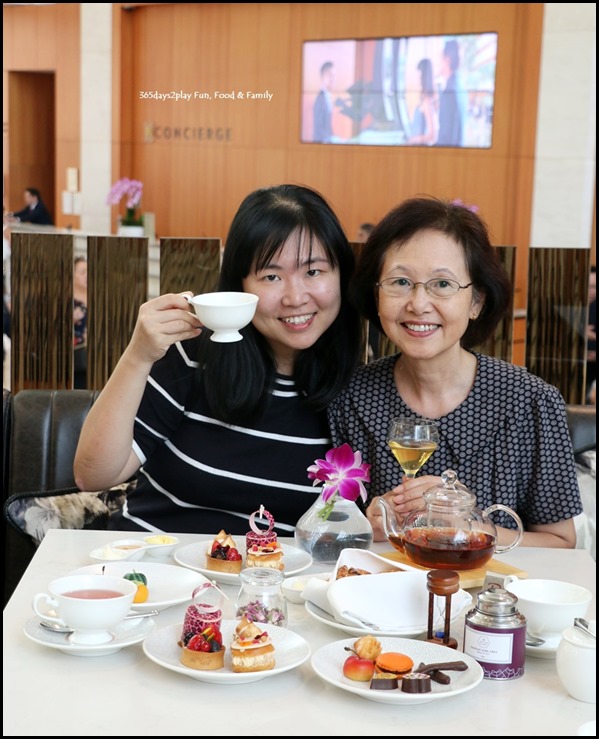 So, when Marina Bay Sands recently opened Renku, I made sure to quickly check it out. The tea takes centre stage at Renku, literally. There are professional Tea Masters who will provide tableside service and recommend tea blends customised to your preference. There will also be a tea pouring performance at some point during the afternoon tea!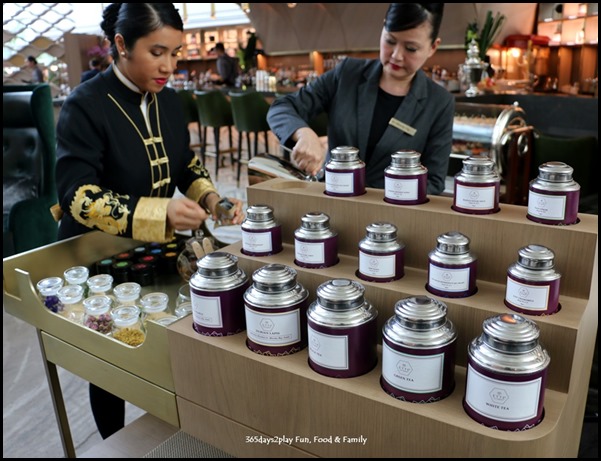 Tea from local tea atelier, ETTE, is used. Aside from 13 standard types of tea flavours, including heritage flavours such as Nasi Lemak and Mango Sticky Rice (yes you heard me right), you can opt to have a customised cup of tea by choosing a tea base from green, white or black tea, and have them paired with fresh herbs and flowers from MBS's own herb garden. Selections include butterfly blue pea flower, rosemary and kaffir lime. (The herb garden is just behind the Rise Restaurant, go check it out!). Or you can go for 2 tea blends exclusive only to Marina Bay sands, ie the Marina Pearls or Durian Lapis flavours.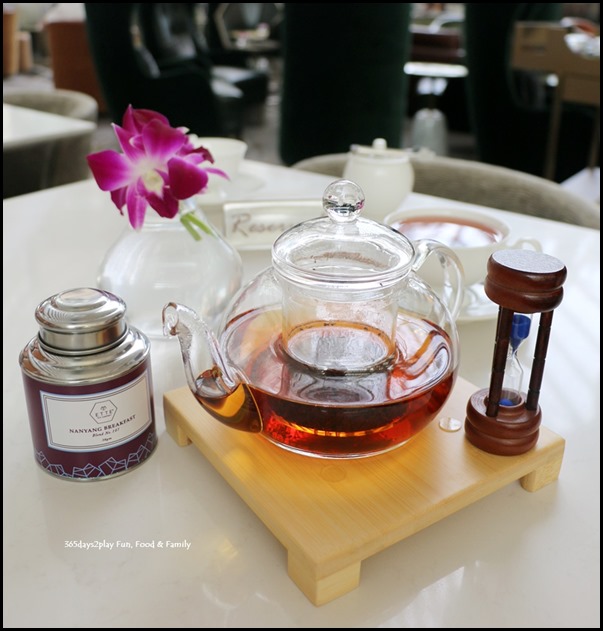 Such lovely little glass pots, all the better to admire your tea. And for each flavour that you order, you will be given a little sample packet of the same tea to take home and enjoy! How thoughtful is that? That's definitely the first time I've come across that in Singapore! Makes you want to order every flavour on the menu!!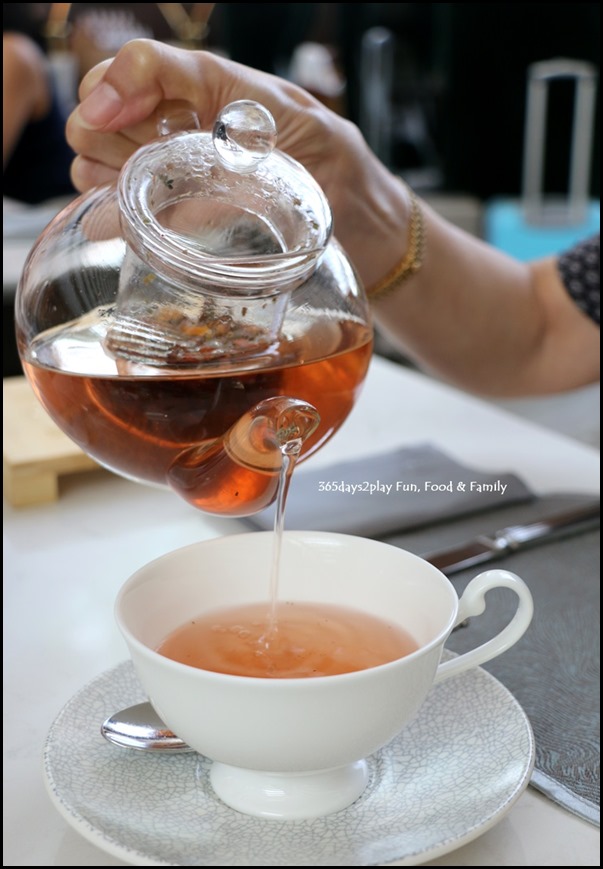 Something therapeutic about watching tea being poured.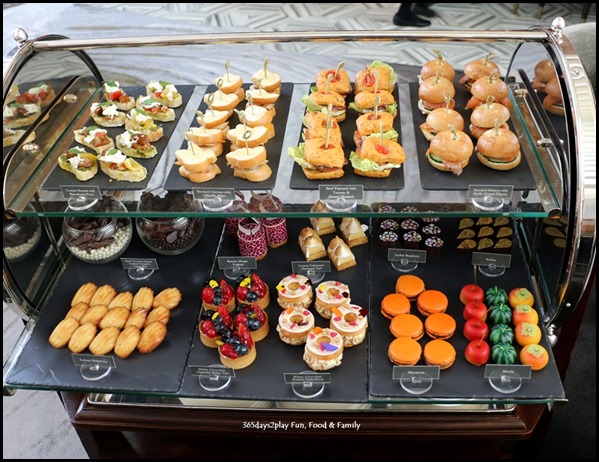 Here comes the goodies trolley! You can have multiple servings of your favourite items.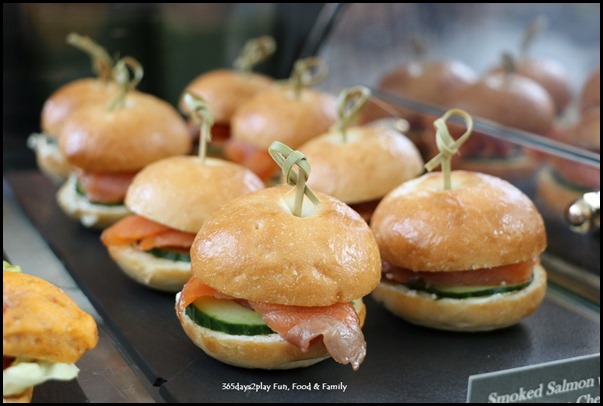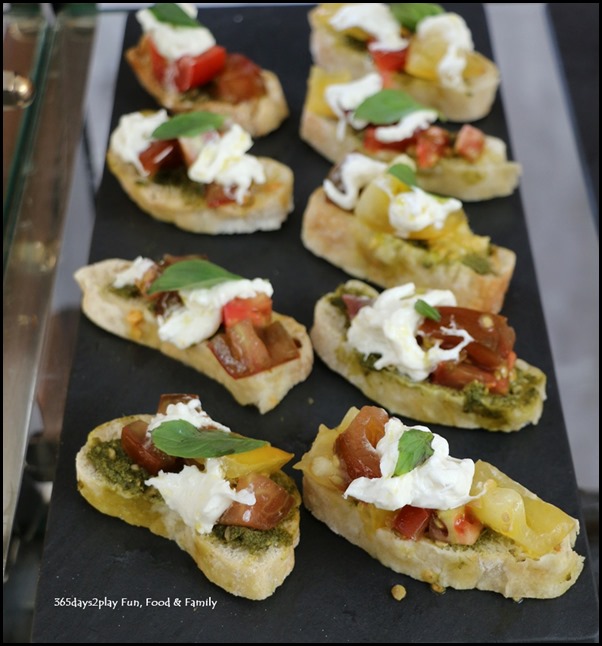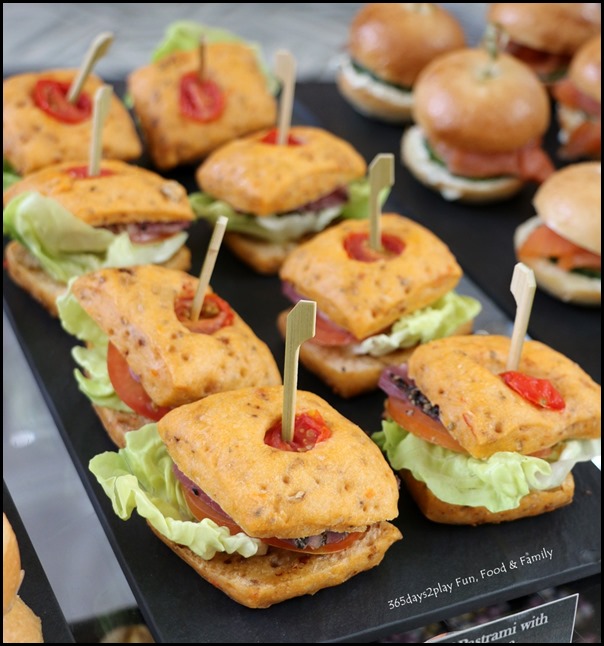 4 savoury sandwiches were available when we were there. Above are Smoked Salmon with Garlic Cream Cheese, Tomato Burrata with Macadamia Pesto and Beef Pastrami with Tomato and Honey Mustard. The sandwiches were nice, but nothing too fancy there. I wish they had more savoury options though, like mini tarts or something not using bread as a base.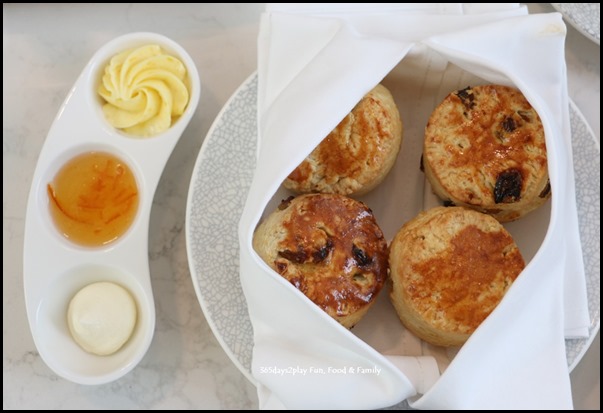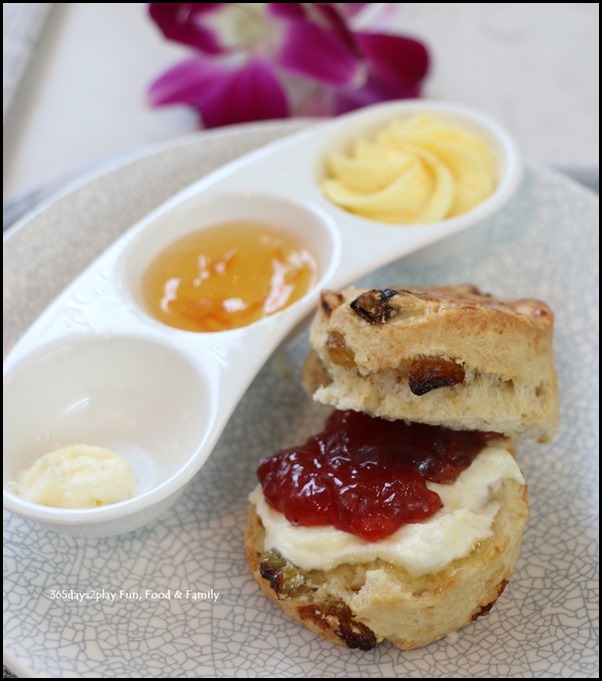 Ah scones…a must have for every afternoon tea if you ask me. The debate on whether cream should go on the scone first or jam will never be resolved, but whatever you do, make sure you put a generous amount! These were really good scones, and the clotted cream seemed to have an essence of ginger in it. Nice touch.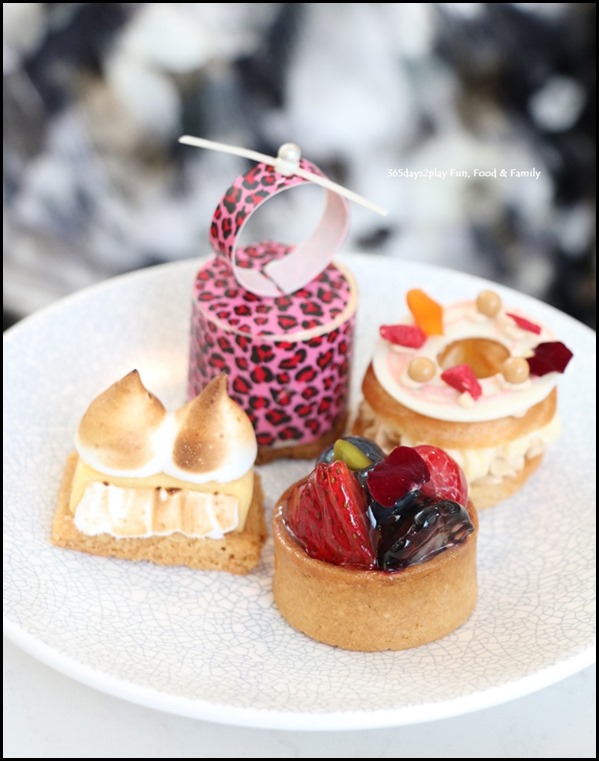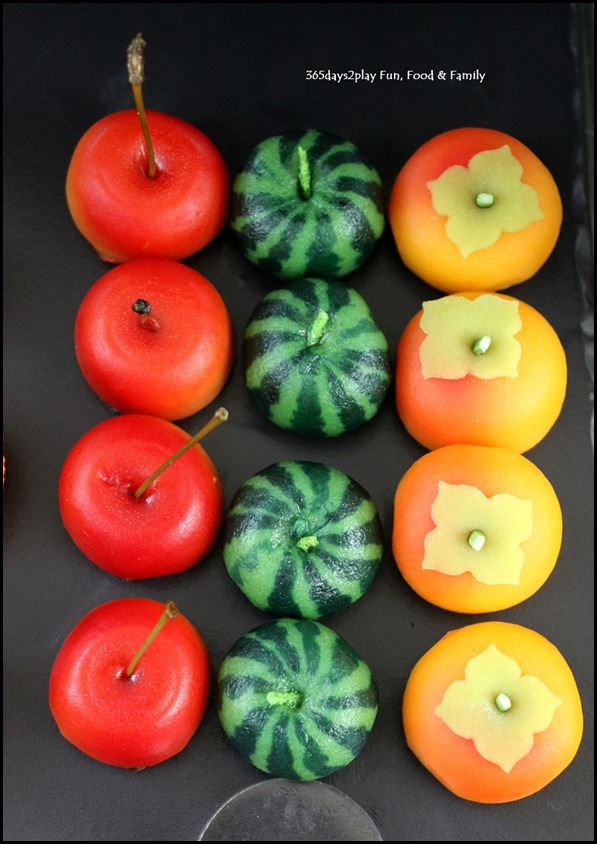 A wider variety available for desserts. Many would love the macarons, but my favourite would be the lemon calamansi meringue tart. I have a soft spot for lemon tarts, can't resist their zesty flavour! I love nibbling at them little by little and enjoying the soury tingle! The little mini mochis here are also almost too cute to eat!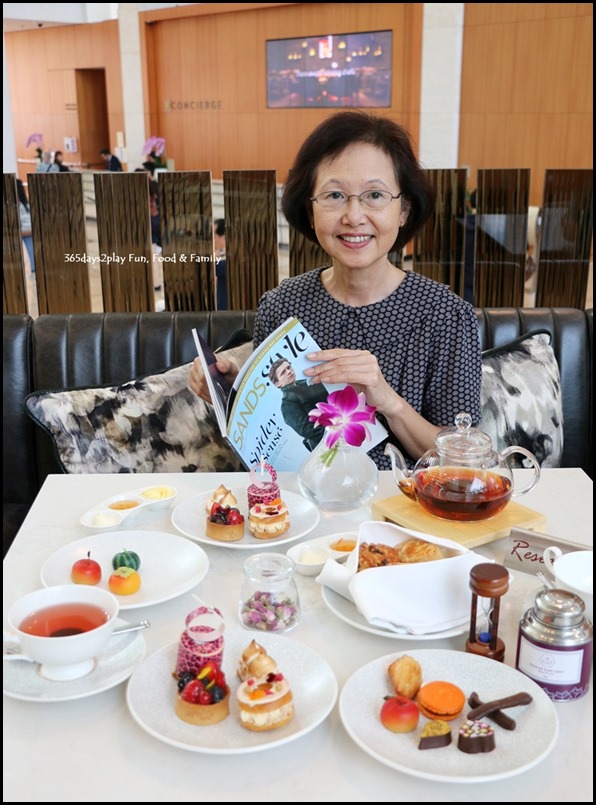 Sit back and relax with a magazine while you're at afternoon tea.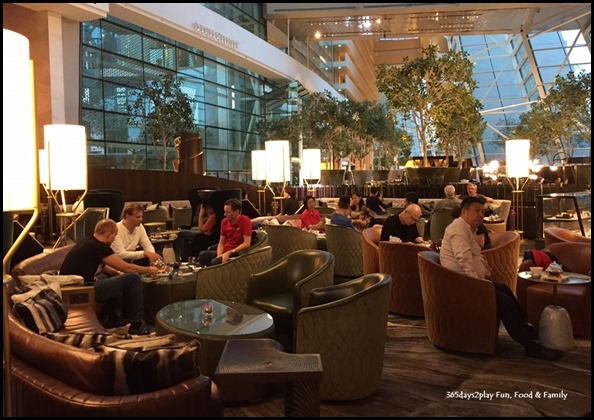 Renku while being right next to the crowded reception area of MBS Hotel Tower 1, feels exclusive and peaceful thanks to it being on a raised area.
---
Add me on Facebook, Instagram and Twitter if you want to be kept up to date with the latest happenings in the food and lifestyle scene in Singapore!
Other afternoon tea places in Singapore
---
Renku at Marina Bay Sands
10 Bayfront Avenue Marina Bay Sands Hotel Tower 1 Lobby, 018956
High Tea:
First seating: 2:00pm to 3:30pm
Second seating: 4:00pm to 5:30pm
Weekday : $48 SGD per adult
Weekend : $53 SGD per adult
Unlimited servings of food and tea
Telephone: +65 6688 5535
Email: Renku.Lounge@MarinaBaySands.com
http://www.marinabaysands.com/restaurants/cafe/renku-bar-lounge.html