Is now also open at Raffles City Shopping Mall. No need to brave the long queues in Tiong Bahru or a long walk from the Tiong Bahru MRT station. Now you can sample Tiong Bahru Bakery products in the air-conditioned comfort of the basement of Raffles City.
Actually, this visit to the Raffles City outlet was my 1st visit ever to Tiong Bahru Bakery. I was quite surprised to find the sit-down area practically empty when I was there around 7-9pm on a Sunday. A number of people were doing takeaways though. I'd heard mixed reviews about the place but most people seem to at least agree that their croissants are damn good. Read on and you'll be able to find out if I agree. Meanwhile, check out the photos of the place. It's sprawling! It's in the basement, opposite Din Tai Fung, at the site that used to be Aerins.
BTW, did you know that Tiong Bahru Bakery is owned by Spa Esprit? They are the people behind House @ Dempsey and they also own/co-own many dining establishments like 40Hands, Open Door Policy and Skinny Pizza.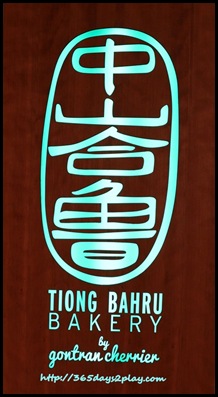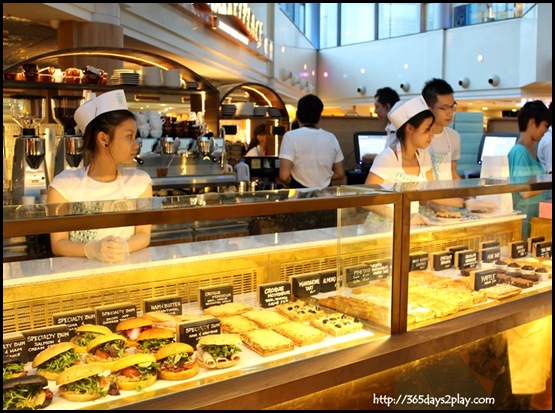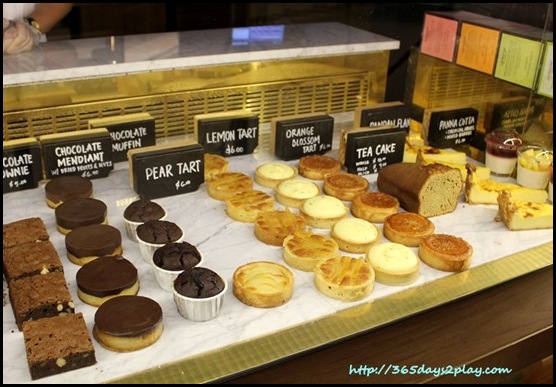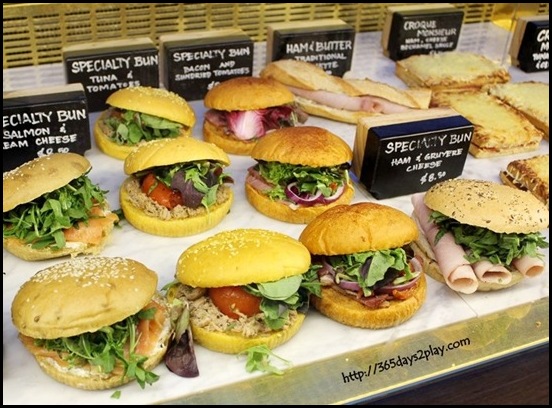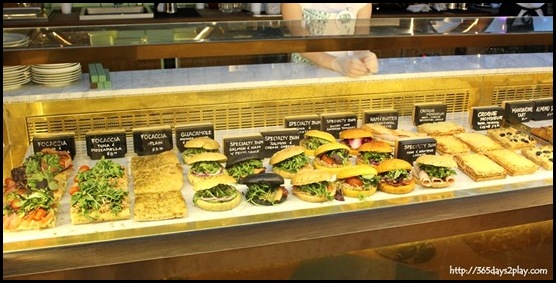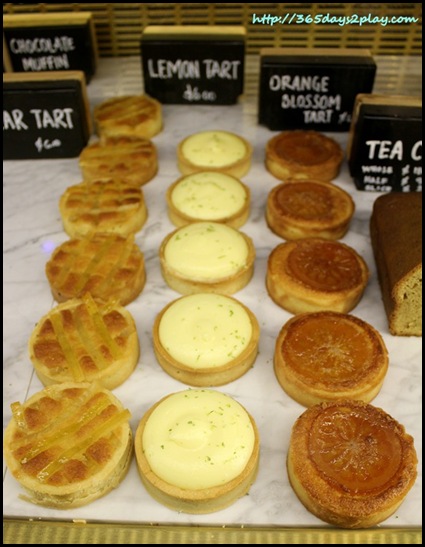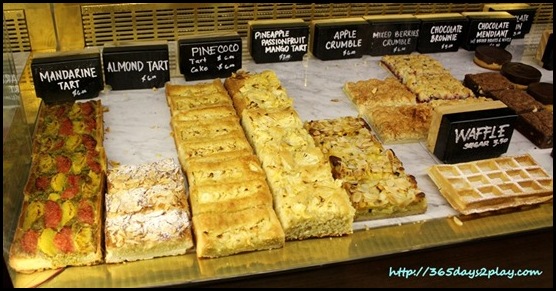 I have yet to try MAGIC.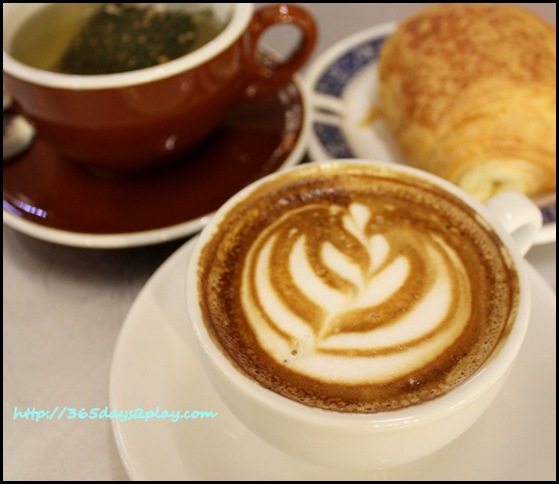 Their coffees are seriously not cheap. $5.50 for a small cup of cafe latte, although they do not charge GST or Service charge. The latte was on the strong side. I had to add 1 whole stick of sugar before it became drinkable. With the sugar, it was really pleasant tasting and I definitely wouldn't have minded having more of it to drink.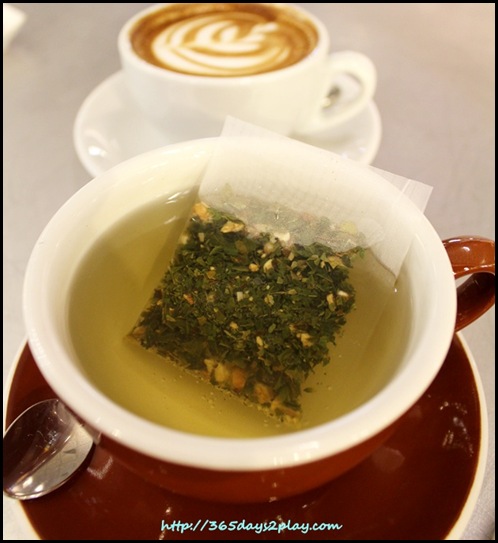 Gryphon Tea Lemon Ginger Mint $4.30
Gryphon Tea may not have a tea cafe of it's own like TWG, but it's certainly permeated dozens of restaurants. I love it that the tea is inside a mesh bag. It feels more "worth it" than if you were to be just served hot water and a tea bag.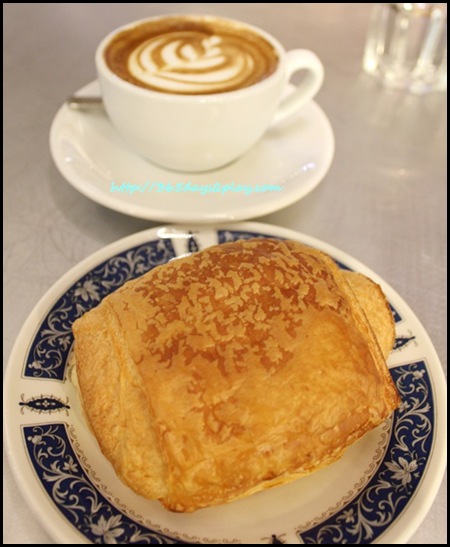 Love the nice little plates!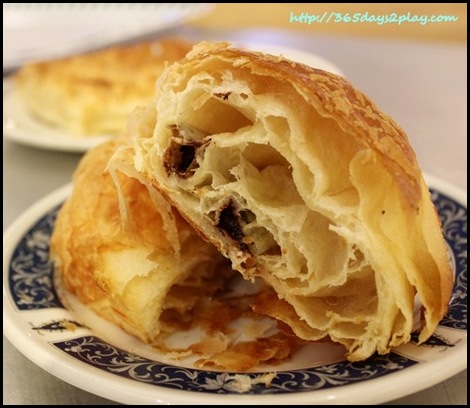 Chocolate Croissant $3.20
You were waiting to hear my verdict about the croissants? Well, I have to say these are really good croissants, but not the best. The croissant itself was buttery tasting which made me want to keep eating more of it. However, the texture was a little on the tough side, probably because it had been sitting in the display case for a while? It was also not hot at all. They have an onsite kitchen but I guess the low patronage meant that the products have been made well in advance. A little bit more chocolate in the croissant to bribe you would also have been welcome.
Nevertheless, I could foresee myself eating this chocolate croissant again, but this time round I would ask them to heat it up. And it happens to be one of the cheapest items on the menu, so if you want some place to sit for a while, this would be the item to order.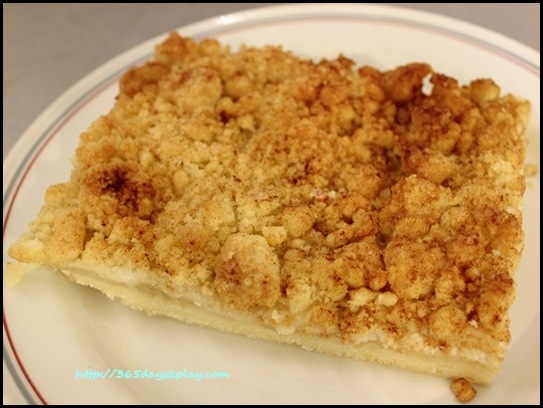 Apple Crumble $6
My dining companion thought that this was a little better than average. Once again, it was served at room temperature. I don't know about you, but I tend to like my baked goods served hot. I can understand that things may not all have popped out of the oven 5 minutes earlier, but at least CHEAT by heating it up for your patrons won't you? Anyway, I didn't like this apple crumble. I thought the base was very stodgy while the crumble itself wasn't buttery enough. In the end my dining companion had to finish my portion for me. With the $$$ I would rather have had another croissant.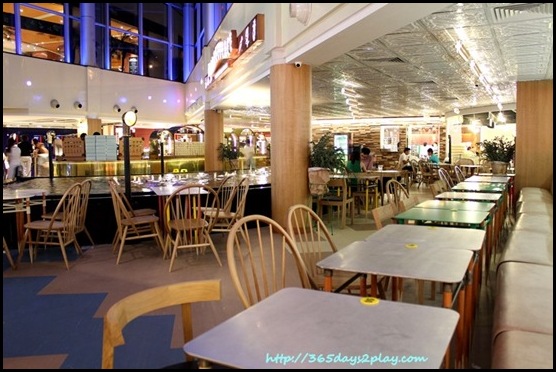 Check out some other Cafes I've visited:-
Cafe Crema at Gardens by the Bay
Tiong Bahru Bakery by Gontran Cherrier
Raffles City Shopping Centre Outlet — #B1-11/12, Singapore 179103
Tel : +65 6220 3430
Trading Hours : 11am — 10pm daily
Tiong Bahru Outlet — 56 Eng Hoon Street #01-70, Singapore 160056
Tel: +65 6220 3430
Trading Hours : 8am — 8pm daily except Mondays