[Media Invite]
For Singaporeans who love visiting Changi Airport for food, or tourists to Singapore looking for a quick and relatively affordable local meal in a restaurant setting, do check out the recently opened Colonial Club. As the name suggests, this restaurant boasts dishes from Singapore, Penang and Malacca (Hainanese-style western delights, Nyonya dishes and other local favourites) that were once popular during the colonial era, but with a modern dash of chef's creativity.
I certainly hadn't heard of Roti Ayam nor Kapitan Chicken Curry nor Inche Cabin Chicken, but you don't really need to have heard of them to enjoy the dishes at Colonial Club. Most of the dishes are, give and take a little, quite similar to what we already have in Singapore. In fact, if you're a purist, you may not actually enjoy the dishes here. For example, yellow noodles are used in the Nyonya Laksa, and it also comes with a soft shell crab. These are items not usually associated with laksa. It would be best to come here with an open mind, or imagine the dishes to have different names (instead of associating them with what you are familiar with), for a more enjoyable time.
Scroll down for pictures of what I tried during the media tasting.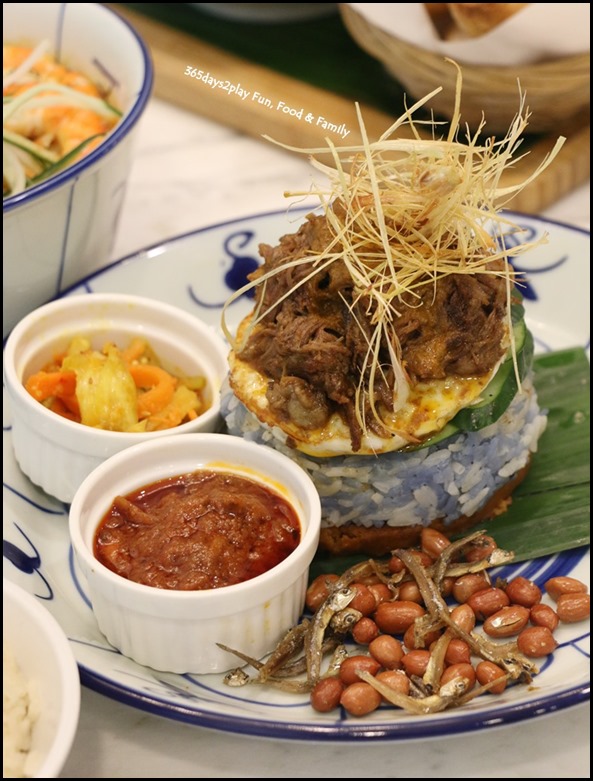 Signature Colonial Club Nasi Lemak $15.90