Ok the soup pot below was to whet your appetite…incidentally quite the same idea in Chinese cuisine as well.
During the Vesak day holidays last week, I took my parents and the Partner out for a nice dim sum lunch. As posted some time back, we like to dine at Pearl River Palace at Suntec Convention Centre. The service at Pearl River Palace is good, and the dim sum dishes are of hotel standard, presentation-wise as well as taste. But still, one can't always dine at the same place all the time or one would never discover other potential gems.
I've dined at Royal China at Raffles Hotel many times with my colleagues. A lot of my colleagues from Hong Kong love the dim sum here, and swear that Royal China serves the best dim sum around the Raffles Hotel and City Hall area. My family had never tried Royal China prior to this so the Vesak day holidays was a good chance to let them sample what Royal China had to offer.
I like the decor of the new Royal China. It has a baby blue theme which I really love, but I hear from the more macho of men that they find it too girly. If you ask me, it's a wonderful place to bring your girlfriend.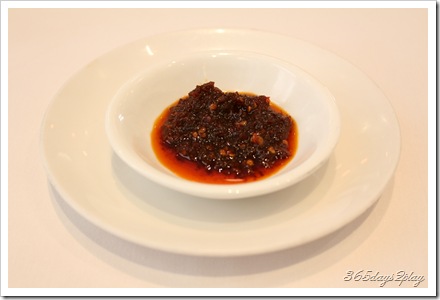 First we start with the Chilli. No Chinese cuisine is complete without it, and let it be known that different types of chilli go with different types of Chinese food.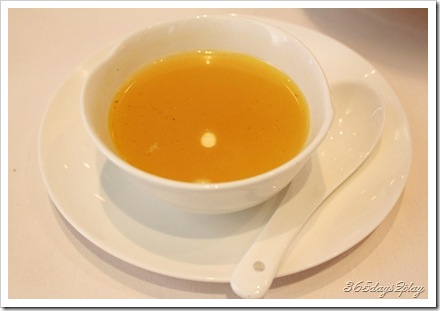 This is the double-boiled pumpkin and pork soup dished out from the funky pot, photo posted earlier. I was a little afraid that it would turn out to be the thick pumpkin soup you get from Western restaurants, but this was a wonderfully light and flavourful broth. The Chinese, in particular the Cantonese, cannot survive without their comfort soups. With soups prepared so lovingly over so many hours, squeezing out every ounce of nutrition from the bones of the pork, it is no wonder that the Cantonese do insist so. I would drink this soup everyday if someone would prepare it for me.
Next, we were served an assortment of exquisite morsels of dim sums.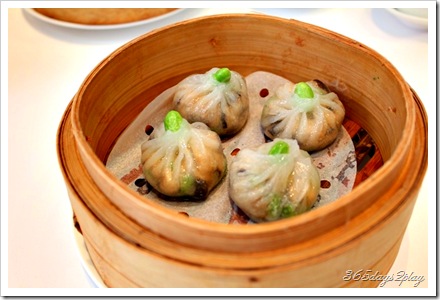 Crystal dumplings — Dumplings filled with mushrooms and crunchy veggies.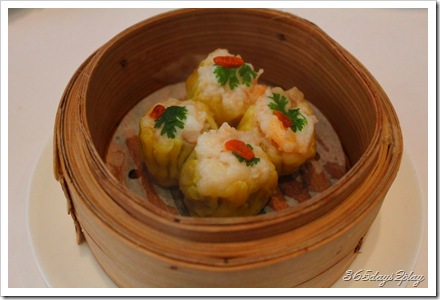 Siew Mai — No dim sum meal is complete without Siew Mai or Har Gow.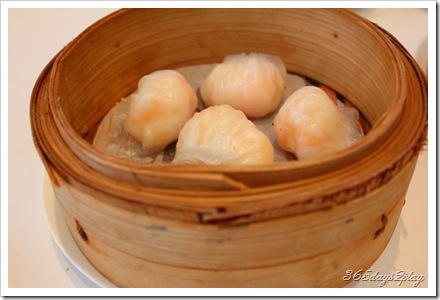 Har Gow — Prawn dumplings wrapped in paper thin rice flour skin. The better restaurants use only prawns and not pork as filling for their Har Gow.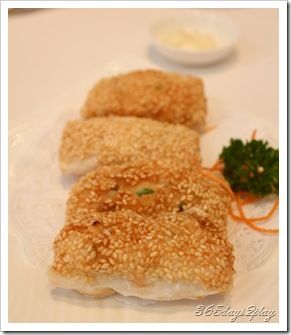 Mango and prawn sesame fried fritter
Special deep fried dumpling, to be dipped in soup served on the side.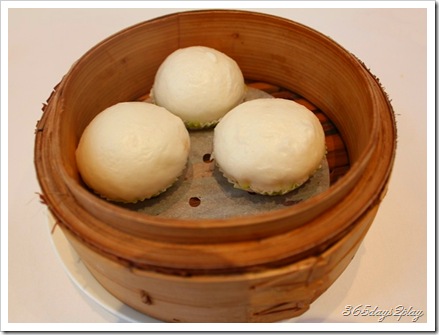 Nondescript buns…..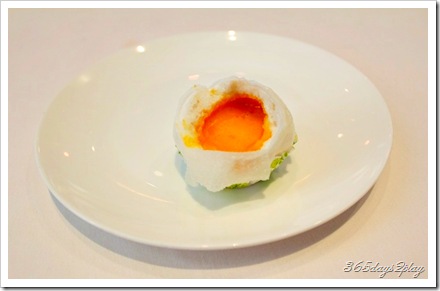 … with a salty surprise inside. These buns filled with a salted egg yolk and mango liquid filling was oh so delicious. Just for this alone, and perhaps the soup, I would be willing to return to Royal China, because it is very hard to find salted egg yolk buns in Singapore, or good ones for that matter! It is absolutely essential that the filling is oozy and liquid, none of the hard muck for me.
Can't wait to go back again!