Last Friday, we decided to try out Otto Ristorante. Otto Ristorante is one of those restaurants where it is highly recommended that you make reservations as the seating area is quite small. It was a bit confusing as to where Otto Ristorante was. If you look at the photo, you would think that this is the front of the restaurant. It is, but if you walk straight in, you end up in an unrelated bar. You have to actually turn left, after the circular fountain. There is a side door which leads into Otto Ristorante proper.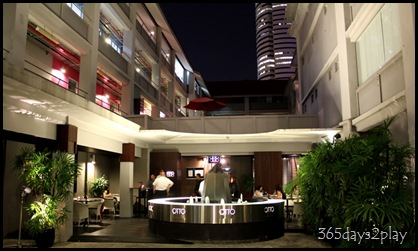 The very polite manager greeted us and gave us a delightful table in a corner. Otto Ristorante is currently having a truffle promotion. You order from the special menu and pay $10 per gram of truffle shavings desired.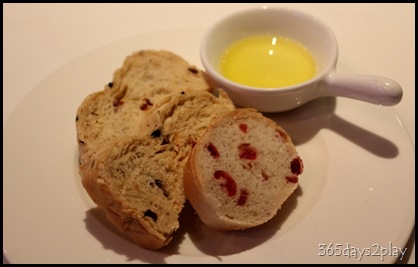 Otto Ristorante has 5 different types of breads to choose from. We were torn between wanting to try all 5 without getting too full before the mains arrived! They had this onion one which I regret not getting! The breads were still warm, which is the best way to enjoy them.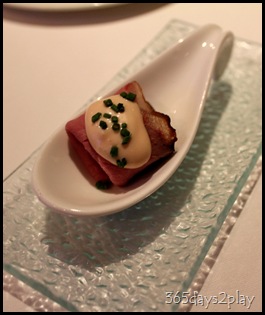 The amuse bouche of beef with thousand island sauce. The beef was nice, tender and flavourful, but the thousand island sauce tasted like something out of a supermarket bottle. It's good, but not amazing. Surely the chef can produce something with a higher "wow" factor considering it's the amuse bouche?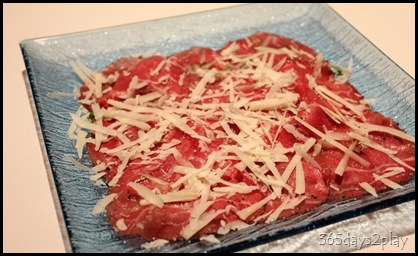 Wagyu Beef Carpaccio with arugula salad and Black "Norcia" Truffle – $26 Wow this was really tasty. Just couldn't get enough of it. Arugula can sometimes be bitter, but it paired so well with the beef! Didn't detect a hint of the truffle though.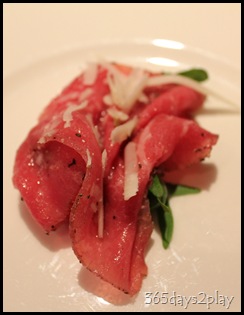 Closer shot of the Wagyu Beef Carpaccio. See how tender and juicy it looks??? Mmmmmm! This is on the starter menu but very light eaters can just consider this as their main dish.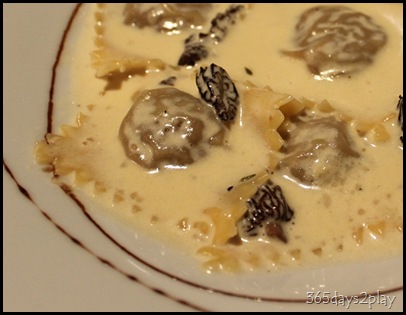 Slow braised veal ravioli with morel mushrooms and thyme sauce – $28. The creamy sauce was not too heavy but still had a cheesy bite to it. The veal ravioli was good especially since it's more common to get cheese or vegetarian ravioli. The morel mushrooms on the other hand looked good but lacked flavour which is such a waste since they are supposed to be very tasty but rare to find in Singapore. Did you know that Morel mushrooms are toxic if eaten raw?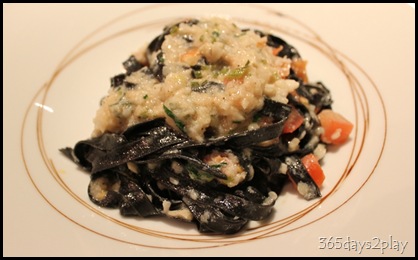 Squid Ink Tagliatelle Baked Cod – $28. Yes I have to admit the photo doesn't look too appetising. These were our first thoughts when we saw the dish. I was expecting an intact portion of cod, but they'd had it minced up with some other ingredients. I don't know what those ingredients were, but it caused the flavours of the cod to be dulled. Even the diced tomatoes had a stronger taste than the minced cod. Also, it felt like there wasn't very much cod to begin with. I was quite frankly very disappointed with the dish.
If I lower my expectations and assume that there was never meant to be any cod in this dish, then it's not so bad. The squid ink pasta was nice and al-dente and filled the gap.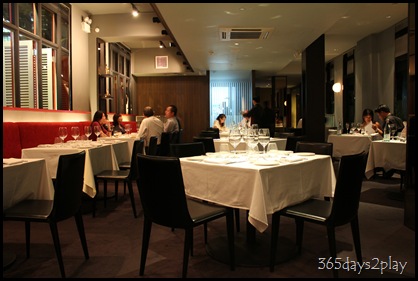 Otto Ristorante has a nice cosy interior. The waiters are extremely friendly and do not hesitate to help you with your selections by offering their recommendations. They are also very attentive and will be at your table instantly the moment you beckon to them. Their attitude cannot be faulted, but because it is such a tiny restaurant, you kind of feel like they are always hovering nearby. The Partner had no issues with this, but I guess I am one who needs lots of personal space!
Despite the cod fiasco, I would come to Otto Ristorante again to try out some of their other dishes including their signature crispy suckling pig ($48)! Crispy suckling pig Italian style, that's got to be really interesting.
Otto Ristorante
28, Maxwell Road, #01-02 , Red Dot Traffic Building, Singapore 069120
Tel: 6227 6819     Fax: 6227 8350
Monday — Friday: 12pm — 2.30pm, 6.30pm — 10.30pm
Saturday: 6.30pm —10.30pm
Closed on Sundays
http://www.ottoristorante.com.sg/