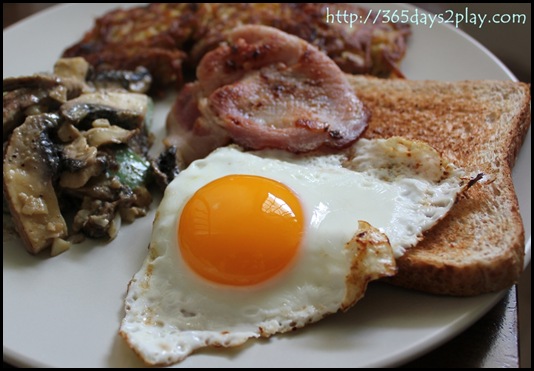 Have I got your attention yet?

We were deciding as to which of our favourite breakfast joints we should patronise when the Partner decided that he would personally prepare a cooked breakfast instead. It was an excellent idea not least because of the money saved. The cafes charge more than $10 for an all day breakfast type of breakfast, even though the ingredients are really cheap, and the cooking methodology pretty simple. Another good reason is that we get to have our favourite sides and as much as we want!
See here, the sunny side up is done SO PERFECTLY. It's a gamble what you get at the cafes. Sometimes the yolk is a tad too cooked, and more often than not, the fried egg is dripping with oil.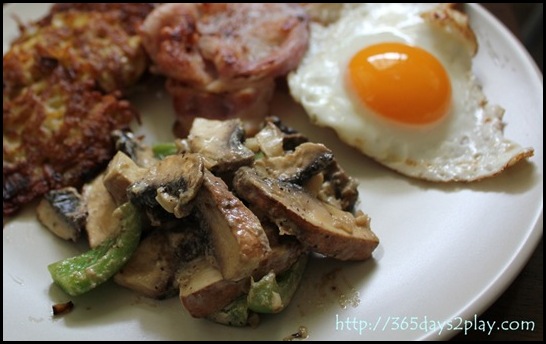 I loved these sliced Portobello mushrooms with sour cream, cumin and a few herbs. The Partner's done the veges previously without the sour cream, and obviously the version with the sour cream gives it a damn good zing.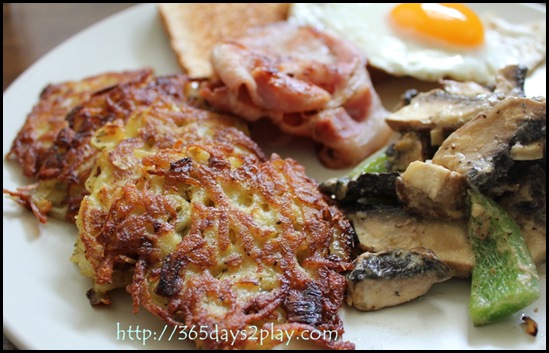 The hash took the longest time to make, as the potatoes have to be partially boiled, grated, formed into patties then fried. Better than any Rosti I've had in any restaurant, even if the presentation could do with a bit of improvement. The potatoes are cooked for just the right amount of time that there's still bite to the hash. Hate those mushy Rosti types.