Along with other people living in the Marine Parade area, we thronged the new 112 Katong mall on the first day of the New Year. I am happy that a new mall has opened up in this area. Previously, I used to like going to the East Coast Park area to have lunch at the C Nai Hong Kong Cafe, but they changed their menu about a year ago, and I was unable to find my favourite Abalone Ee Foo noodle soup. It was really delicious. The whole East Coast Park McDonalds area is getting even more run down due to the impending closure, and one of the restaurants Mango Tree has already relocated to the new 112 Katong mall, but I digress.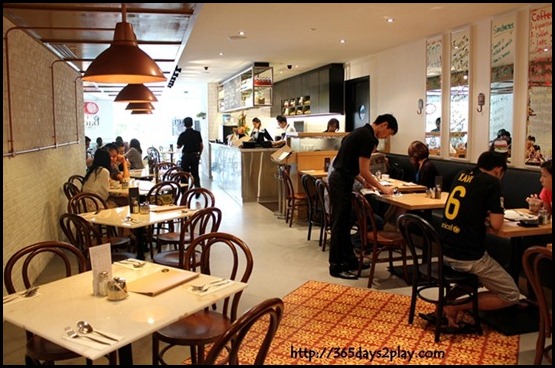 Love the lamps, but if you are tall you may just knock into them. There is also al-fresco seating, sheltered by the upper floors of 112 Katong mall which extends over. Don't like the uncomfortable and unergonomic wooden chairs.
During my 1st visit back in early December 2011, I walked past Baci Italian Cafe. The place looked really promising as the decor looked quite inviting. I researched on the place and it seems that Baci Italian Cafe originated from Malaysia.
I decided to give it a try that day. The menu is pretty limited actually. They have a few sandwiches, a few pizzas, 2 pastas and 4 mains to choose from. I opted for the Pan Roasted Fish while the Partner opted for the Honey Glazed Pork Loin. Guess he was still in the Christmas mood although he'd beheaded our Christmas tree way before the 12th day of Christmas. (I'm still very upset by that, and the stump is still around to remind me of it's former glory!)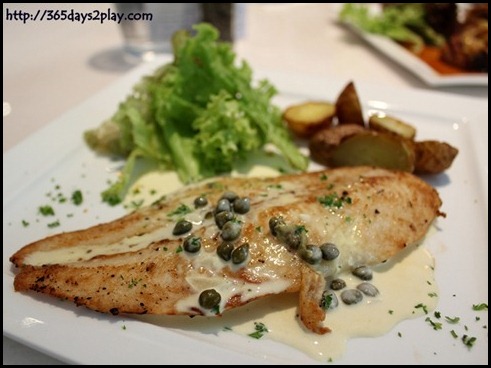 Pan Roasted Fish $13.50 — Fish fillet seasoned with herbs and then pan roasted, topped with lemon caper sauce. The fish was pretty tasty. I think it's dory, or at least it tasted like dory, which is a fish that I like. Although the fish was a little over cooked on the sides and therefore slightly hard, on the whole, it wasn't very dry and I enjoyed it. The accompanying roast potatoes were forgettable, and so small in portion. Even I can make better roast potatoes. So was the lettuce salad. For $13.50, I did think the dish to be over priced for the amount of food served. And dory is quite a cheap fish.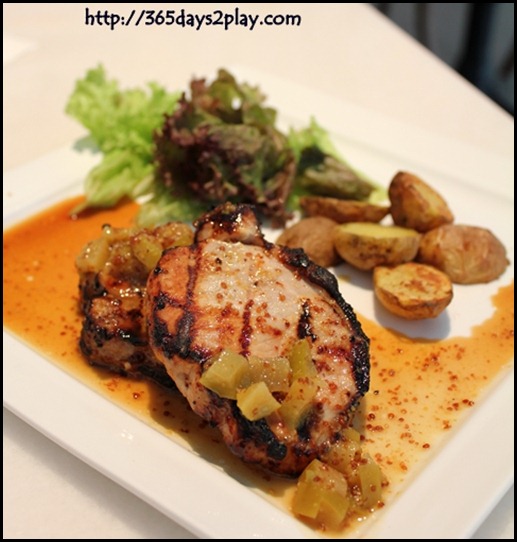 Honey Glazed Pork Loin $16.50 — Pork loin marinated in a honey cider dressing then pan seared and topped with glazed apples $16.50. The pork too was slightly overdone and tough to chew. The honey glazed dressing was quite nice and went well with the porky flavours. Glazed apples was a nice touch but too soft. Would have liked them to provide a bit of a crunch.
We were contemplating having coffee here but the latte costs $5.50. We saw the next table struggling to stir their latte with a spoon barely taller than the latte glass, so it was easy to decide not to have coffee. Baci Italian Cafe has fresh blended juice for $8.50, for those who need a healthy boost, or you could get mojitos and bottled beers here as well.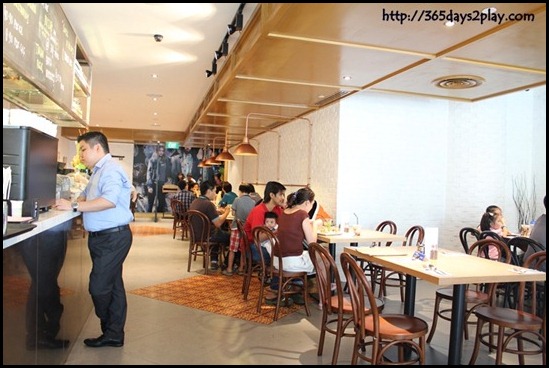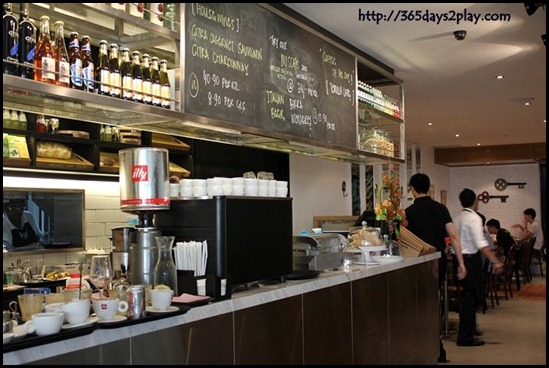 I don't find anything particularly Italian about Baci Italian Cafe. If the word "Italian" hadn't been in the name, I would totally not have guessed it to be Italian. I mean there are only 2 pastas on offer, granted one of them is a choose your own pasta/topping/sauce type. There are more pizzas on offer, but still much lesser than the more conventional Italian restaurants.
Pricing is also a little expensive for a simple, small portioned meal at a heartland mall. Don't be surprised if you see half a sandwich appearing on your table. That's what you ordered. Given that there are quite a number of restaurants at 112 Katong, I think I'll be giving this place a miss for the time being.
You can find out more about Baci Italian Cafe (Singapore) and their menu at http://www.baci.com.sg.
Read more about my visits to 112 Katong at http://life.365days2play.com/tag/112-katong. For food reviews of 112 Katong, visit https://365days2play.com/tag/112-katong/
Baci Italian Cafe
01-07, 112 KATONG
No. 112, East Coast Road
Singapore 428802
Tel: +65 6636-0376
Buses to 112 Katong Mall:
East Coast Road: No. 10, 10E, 12, 14, 14E, 32, 40
Joo Chiat Road: No. 16