*Media Invite*
The kind people from FoodNews who previously invited me to dinner at Pantry at the Stables and Halia, once again invited me to join them at Charly T at the new 112 Katong Mall. The 1st time, I couldn't make it as it was my father's birthday, so I was very glad that they had a subsequent session!
Charly T is a fast-casual chicken based restaurant concept, quite similar to Kenny Rogers. You choose the chicken from 4 different marinades and then you choose the side dishes and special sauces to go along with your main meal.
Chicken Marinades
Charly T's Original Recipe Rotisserie Chicken
Kampong Chicken
Kansas City BBQ Chicken
Black Pepper Chicken
Original Recipe @ $13 (quarter chicken + 2 additions), $24 (half chicken + 3 additions) & $42 (whole chicken + 4 additions)
Kampong Chicken, Black Pepper & Kansas City BBQ @ $15 (quarter chicken + 2 additions), $27 (half chicken + 3 additions) & $46 (whole chicken + 4 additions)
Side Dishes such as:-
German Potato Salad
Macaroni and Cheese
Butter Garlic Rice
Fresh Vegetables
Special Sauces:-
Chermoula Sauce (a traditional Moroccan sauce of cilantro, garlic and cayenne pepper sauce)
Roasted Sesame Sauce
Kansas City BBQ Sauce
Charly T's Original Sauce
You can view the full menu and prices here.
Those who don't like chicken but still want to have a nice evening with their friends can indulge in other signature dishes such as the Kalua Pork and Chicken Schnitzel.
You may not realise this but Charly T is actually a real life person! He has travelled the world and worked at a number of restaurants. You will notice that the dishes served at Charly T are inspired by his travels around the world. Through the restaurant, Charly T hopes that his customers can experience his travels vicariously.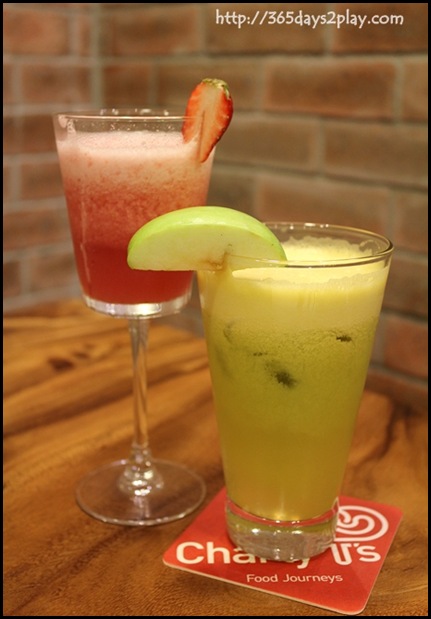 Odyssey Juices to kick start our meal. These are freshly squeezed juices!
Personally, I liked the Kansas City BBQ chicken the most as it had the strongest flavour. The other food bloggers also had their own personal favourites so just order what you think you would like the most.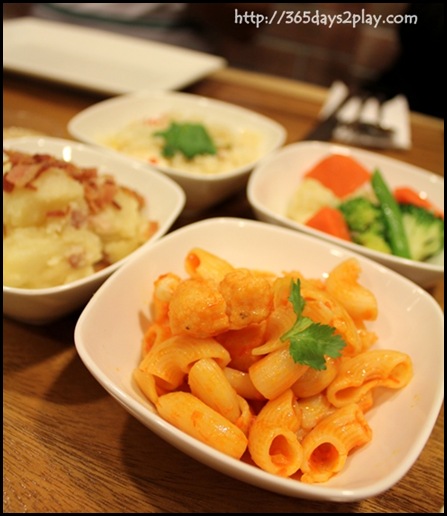 Of the 4 side dishes, I liked the marcaroni and cheese the most. Tasted simple and comforting. I also found the vegetables to be fresh and still crunchy.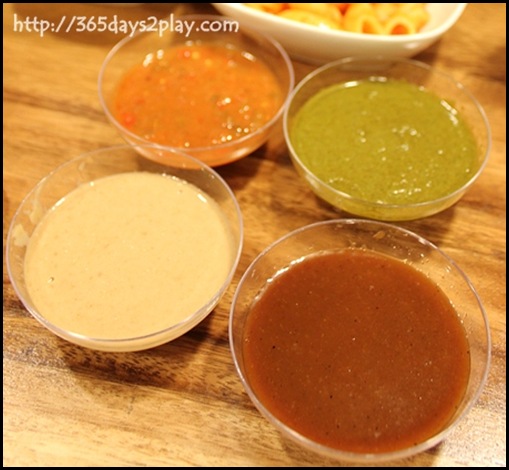 Everyone agreed that the Chermoula Sauce was the best and most interesting flavoured sauce. It kinda looks like the mint sauce you get at Indian restaurants (which I love too btw), but it doesn't taste of mint obviously. We all loved it so much we all tar powed the sauce! Anyway you can ask for all the sauces just to try out all the flavours.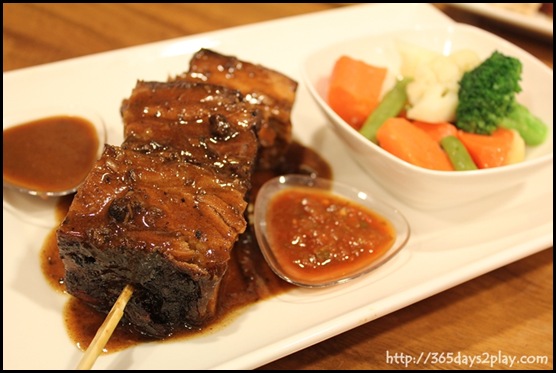 At first I thought the meal was over after all the chicken dishes were out, but there was more to come….This is the Kahlua Pork $16. I know Charly T specialises in chicken, but really for me this was the best dish of the evening! The pork was so tender and just bursting with flavour. Every morsel was enjoyable. The meat had a smoky flavour and was slow cooked to bring out the best.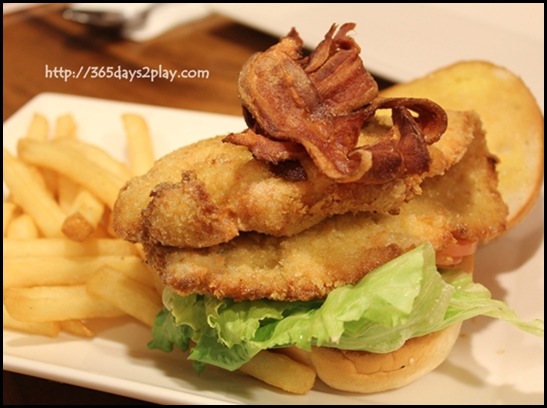 Jumbo Schnitzel Burger $14, also very good for huge fans of chicken. As if there's not enough meat, there's a strip of bacon just to be generous. I thought this dish was so-so, more impressive in size than in taste.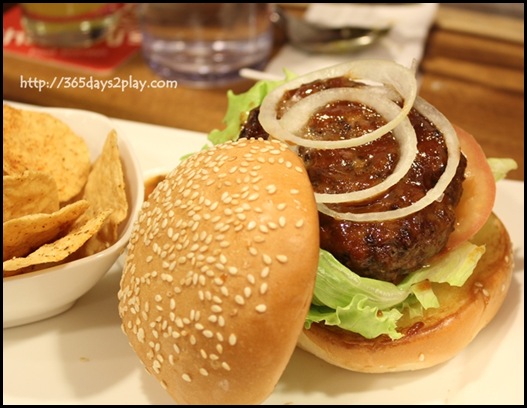 All bloggers agreed that the CT's Beef Burger @ $10.50 was disappointing. The meat was pretty tough for a burger and every mouthful I had had gristle in it. To be polite, I couldn't dispose of the meat so openly so I must have chewed a 100 times before I swallowed the thing.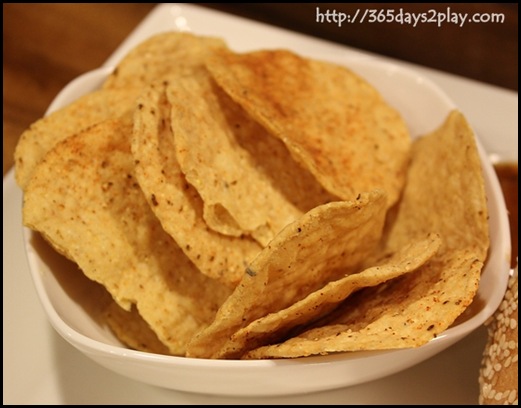 I did like the nachos that came with the CT Beef Burger!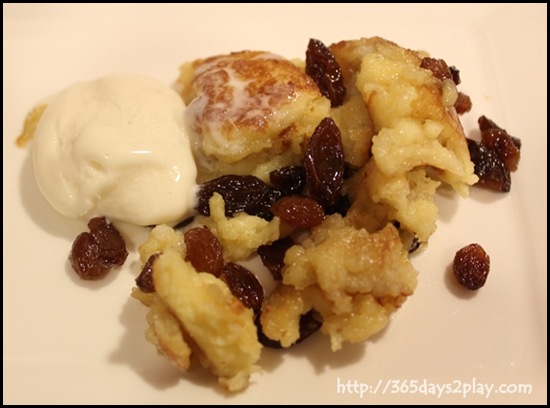 The Kaiserschmarrn $14 is an Austrian-German dessert, which is basically a light and fluffy pancake shredded then dusted in powdered sugar, raisins and served with vanilla bean ice cream. Charly T calls them sexed-up pancakes. To be frank, the globs of pancake didn't look too appetising at first glance, but was surprisingly tasty. If you like bread and butter pudding, this is pretty similar except less custardy. The vanilla ice cream was also very nice. The picture above is just my portion of the dessert, the actual Kaiserschmarrn is good enough for 2 people to share.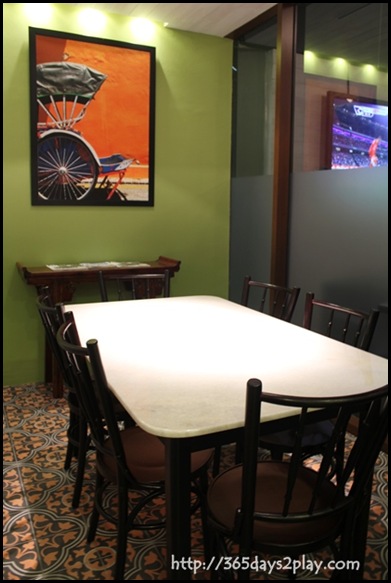 Charly T has a Peranakan inspired private room.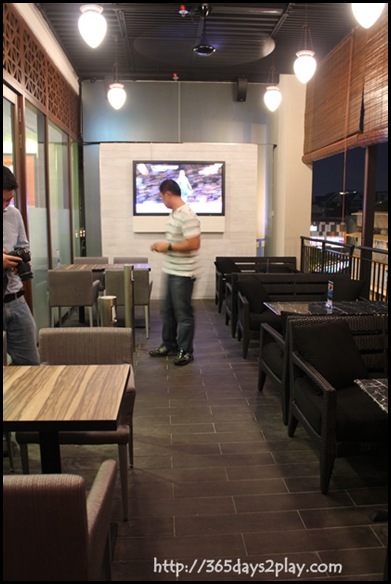 Charly T has an al-fresco dining area, with TV screen. Major sporting games will be aired so if you're looking for a good place to watch the English Premier League, Charly T at 112 Katong is a good place to consider.
20 Handy Road Level 1 NOMU (beside The Cathay) Singapore 229236
Telephone : 6336 7789
Fax : 6339 5081
Email : nomu@charlyts.com
112 East Coast Road #03-15, I12 Katong Singapore 428802
Telephone : 6636 4701
Fax : 6636 4704
Email : 112katong@charlyts.com