When I think of PUTIEN restaurant, I think of its Lor Mee, Heng Hwa Noodles and its Mazu Mee Sua. Those were the dishes I would head for whenever I visited its Vivocity outlet practically a decade ago. Back then, the PUTIEN outlet was located inside the Food Republic foodcourt! How the brand has grown because now they boast 53 outlets all over the world, including 12 in Singapore. And they have also bagged the Michelin One-Star Restaurant Award for 2016, 2018 and 2018.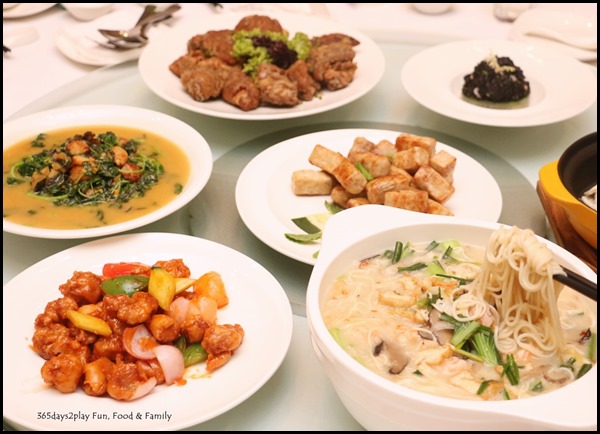 But PUTIEN offers more than just those noodle dishes I mentioned. They have all the sharing dishes that you would expect when you think of a Chinese restaurant. But of course, if you want to dine at a Michelin-starred restaurant without spending too much, those noodle dishes are only $9.80++. Scroll down to what were my favourite dishes from the PUTIEN media tasting.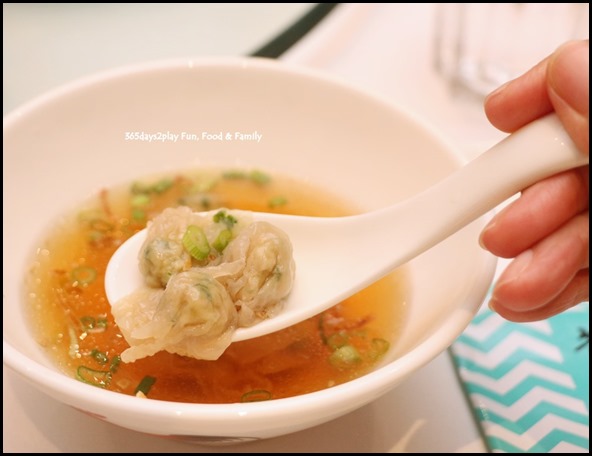 PUTIEN Bian Rou Soup
Whatever you do, you have to order this soup! Those may look like nondescript wantons, but dismiss them as such at your own loss. Those wanton "skins" are actually made from flat as paper pork! Imagine that! Really flavoursome wantons thanks to the pork, yet very tender. And they don't suffer from sogginess because they're not made from flour!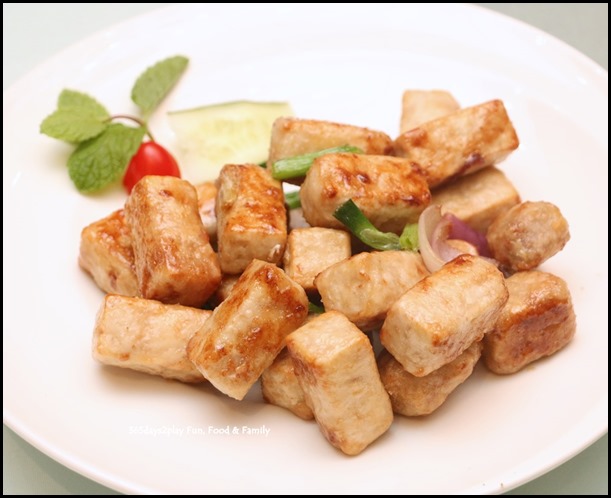 Stir-fried Yam
This is a firm favourite on PUTIEN's menu and something I liked the 1st time I tried a decade ago. The exteriors are crisp and caramelised, while the insides are fluffy.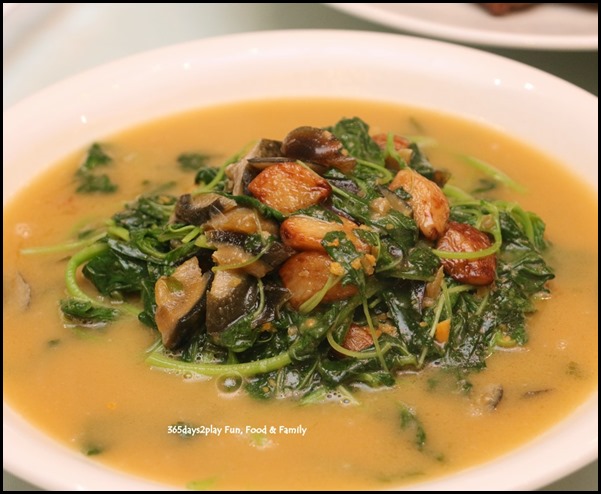 Spinach in Supreme Stock
Spinach fried lightly in garlic already tastes good, but imagine them being accompanied by a rich broth. Really good with lots of rice.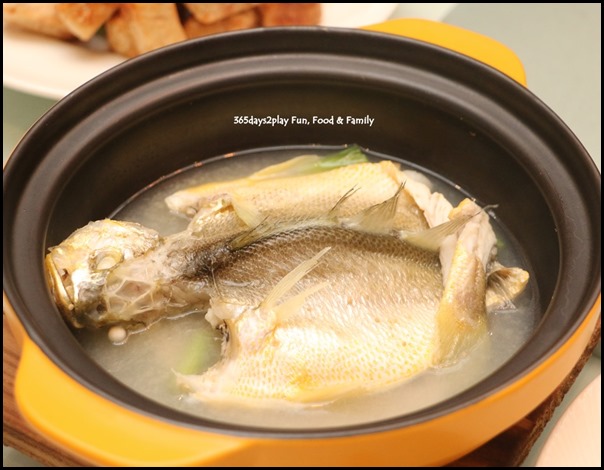 100-Second' Stewed Yellow Croaker
You have to tread dangerous ground to enjoy this dish. This is not your usual steamed fish dish. The flesh of the croaker is supremely tender and tasty, but you have to navigate through the gazillion bones. Well worth the effort I would say, and quite reasonable a price considering it's fish.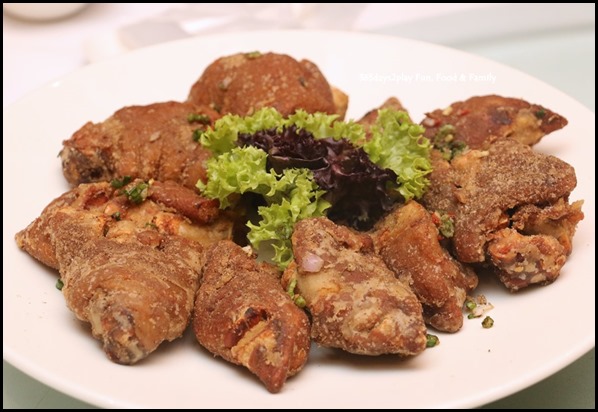 Deep-fried Pork Trotters with Salt & Pepper
This is good only if you can forget that you're ingesting a lot of calories! Very crispy exterior, and gelatinous once you get through that. If you're looking for some meat, this wouldn't be the dish to order.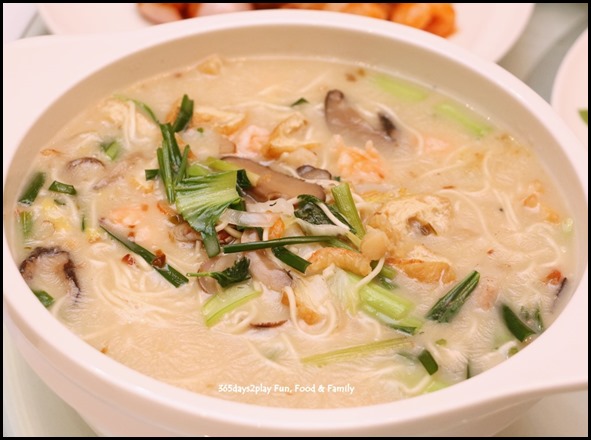 PUTIEN Lor Mee
You know this pot of Lor Mee was sitting around for at least 10 minutes while waiting for the straggler photographers, and most of the broth got soaked up by the noodles. I had already mentally struck off this dish as a goner, but amazingly, it was still very enjoyable which does say something about the broth.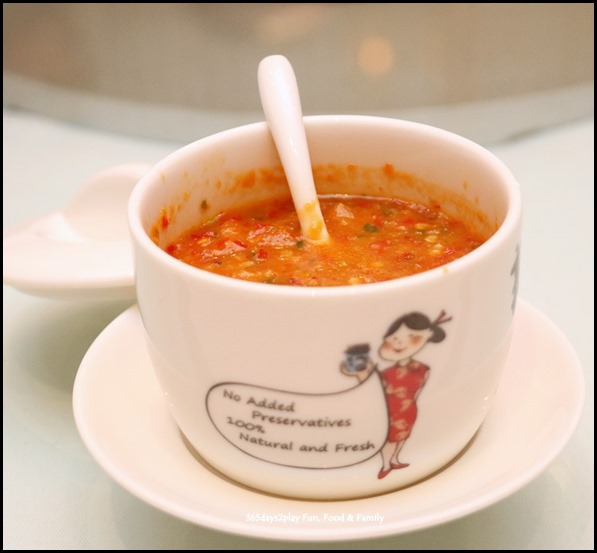 This chilli sauce is very good. Make sure you try it.
Also check out PUTIEN's mooncakes if you have the chance in the future. They are quite different from the usual ones we find in Singapore!
---
Add me on Facebook, Instagram and Twitter if you want to be kept up to date with the latest happenings in the food and lifestyle scene in Singapore!
---
PUTIEN Restaurant
Various outlets : http://www.putien.com/outlet/
Web: http://www.putien.com
Facebook: https://www.facebook.com/PUTIEN.RESTAURANT