There were 2 dining establishments during our stay at Resorts World Genting that were particularly memorable. One of them was The Bakery at Maxims Hotel. That was where we withdrew for the day to relax over a cup of coffee and catch up on our social networks via the free WIFI. The other memorable dining establishment was The Olive Restaurant, just a stone's throw away from The Bakery actually.
Of the entire 3D2N that we spent at Resorts World Genting, The Olive was single-handedly the most memorable restaurant we visited. The Olive is a fine-dining restaurant and without a doubt, the food was impeccable. The service was excellent too. If I were to return to Genting again and had extra cash to spare, I would most definitely visit The Olive.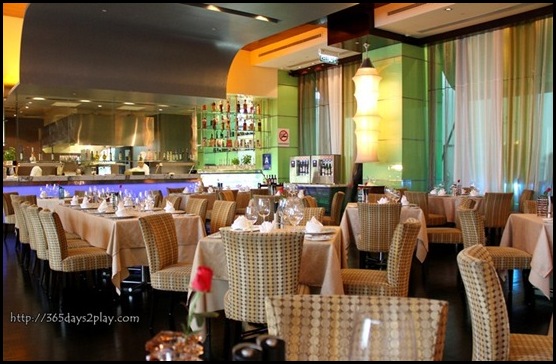 We were the 1st customers to arrive at the restaurant at 6pm on a Sunday evening. Love the elegant ambience and lighting.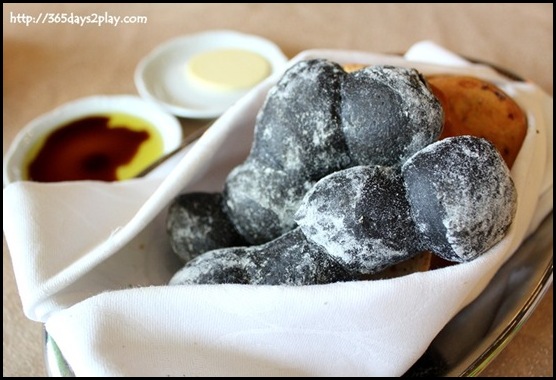 The complimentary bread was excellent! The breads were kept nice and warm in the napkin. Don't be put off by this black bread, cuz it's squid ink bread! It was absolutely lovely and it's one of those places where you could just eat loads and loads of bread and be contented.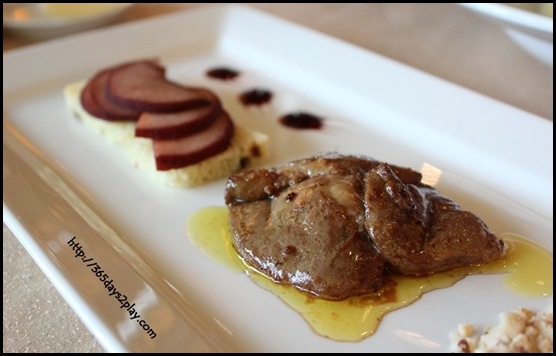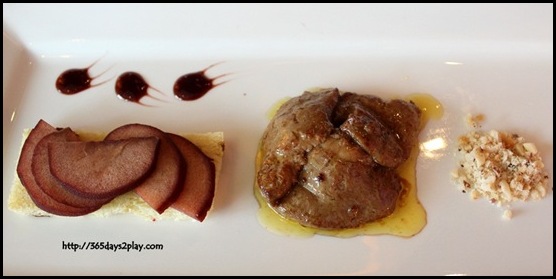 Pan Seared Foie Gras with sweet & savoury brioche, port poached apple, toasted hazelnuts and tangerine caramel sauce RM 128
A little on the ex side, but otherwise a supremely enjoyable dish. Every mouthful of the foie gras was so decadently rich and delicious. The brioche was too small and a little hard, so I made full use of the complimentary bread to accompany the foie gras. Delicious, delicious delicious.
Caesar Salad with baby romaine heart, focaccia croute, beef prosciutto, parmesan crisp, quail egg, and white anchovy dressing RM 28
I loved this Caesar salad a lot. It's a very refreshing way of presenting the salad. You notice that the leaves are still bunched together, and actually that made it very easy to eat, as compared to flat random leaves in the bowl. We also noticed that the romaine lettuce was super crisp and the entire salad had just enough dressing to give some taste without drowning the leaves like many places do. For once, I didn't feel sinful for eating a Caesar salad! This was definitely one of the best salads I have eaten in a while.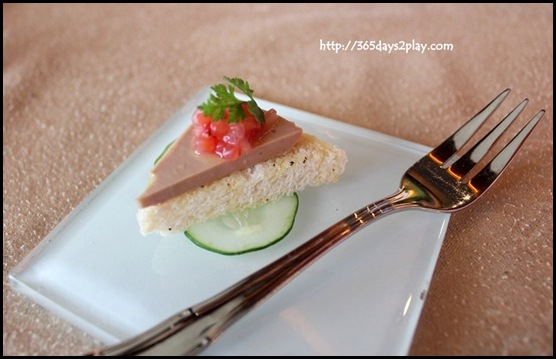 Amuse Bouche
We each got served this amuse bouche which is basically pate on top of bread. Very nice and elegantly presented.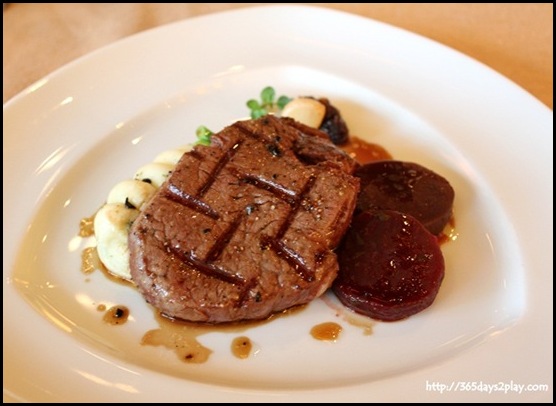 Wagyu Tenderloin Mb 8 RM 240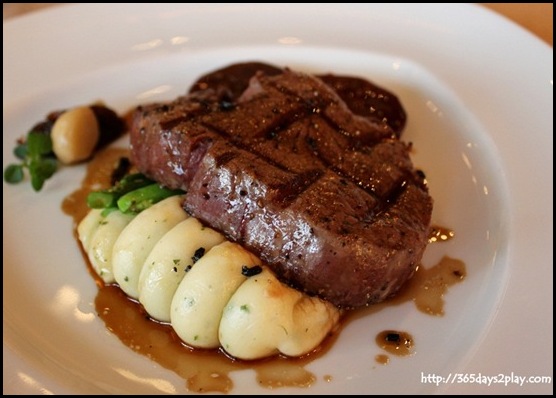 For the mains, The Partner chose the Wagyu Tenderloin. It was indeed very enjoyable, being cooked to the right doneness and the meat having lots of flavour. The mashed potato was fantastic. It retained enough bite and had a wonderful buttery fragrance. I can't say that it's the best steak I've ever tasted though, and at RM 240 it seems really steep. For Wagyu steaks, Prime Society in Singapore does a great one which you should try.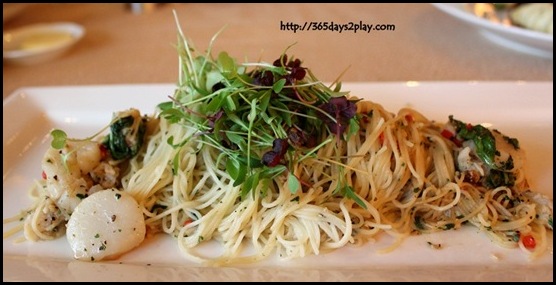 Scallop Capellini with crab meat, canadian scallops, red chili, garlic and basil RM 78
I was quite torn between getting a steak myself as well but I didn't want to die from a heart attack after devouring the Foie Gras myself. The Partner makes it a moral point not to consume Foie Gras, nor Sharks Fin for that matter. Eventually, I settled for the Capellini, which sounded light enough for my stomach yet with enough "sexy" ingredients like scallops. It was a great decision because the Scallop Capellini was great! The pasta had a nice firm bite, and each forkful delivered sweet seafood broth and pasta to my mouth. No regrets ordering this dish at all.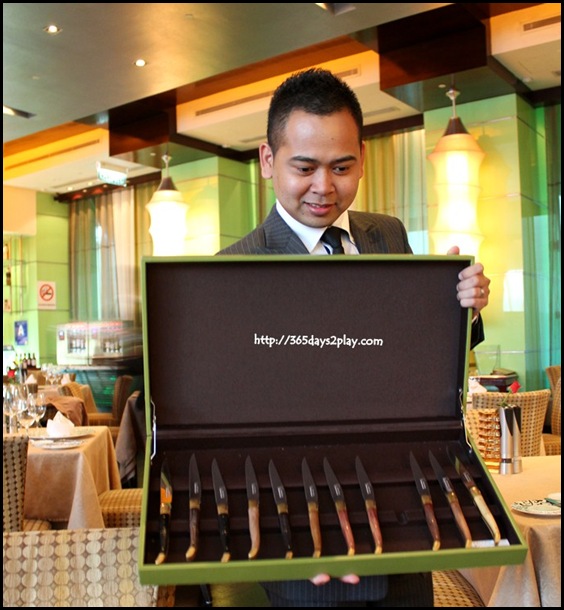 The restaurant takes pains in the details. Here you can see the waiter offering us a selection of steak knives to use.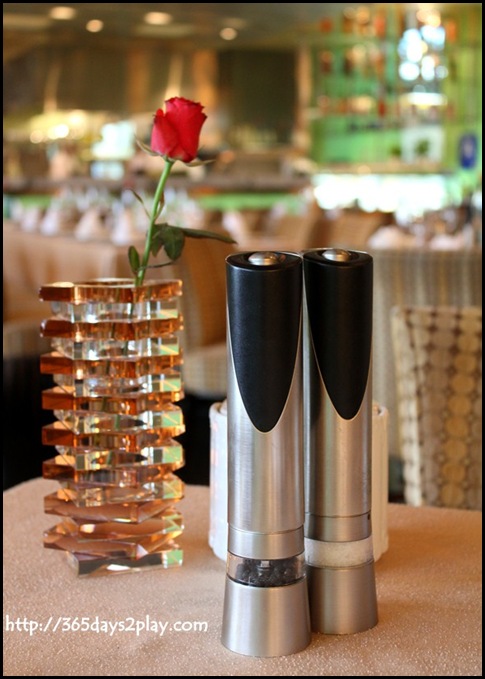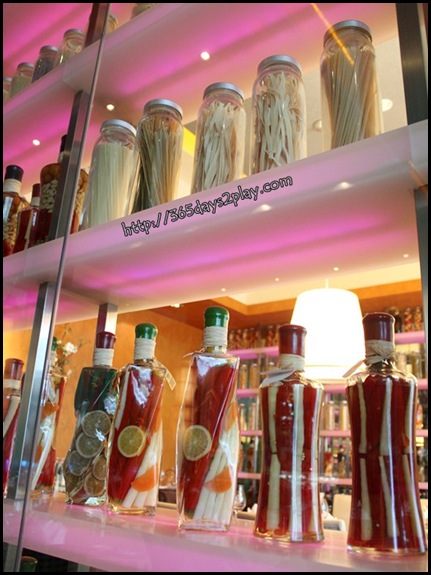 This overlooks into the private dining room. We could see the people in the room, but we couldn't hear them at all.
We didn't order any dessert, but guess what, because we had told the restaurant that it was our anniversary, they suddenly surprised us with a huge chocolate cake! Not one slice, but really, an ENTIRE chocolate cake! It was a memorable way to end the meal and I even got to bring home the cake to share with my family!
So the next time you're in Genting and you're looking for a posh restaurant to celebrate a special occasion, or just to pamper yourself, do consider The Olive.
Thank you Olive Restaurant, you really were the highlight of our stay at Genting Resorts World!
*We visited The Olive Restaurant as part of our sponsored stay at Resorts World Genting. Click here to read more about our 3D2N stay at Resorts World Genting!
The Olive
Lobby Floor, Maxims Genting
Lunch:
12.00pm to 2.30pm (Sunday only)
Dinner:
6.00pm to 11.00pm