After the wonderful Valentine's Day Dinner at Marmalade Pantry at the Stables in Bukit Timah, I was privileged to be invited again to sample Marmalade Pantry's more popular dishes, as well as the dishes that are only available at this outlet and not at Orchard ION.
If you have the time, do visit Pantry at the Stables during the day as you would be able to better appreciate its unique dining location surrounded lush greenery which surrounds the Bukit Timah Saddle Club. Night time is also good if you are looking for a romantic evening. I will warn you in advance that it is really pitch dark beyond the restaurant area, so it is not possible to walk out unless you feel extremely brave. Hmm, the lack of light might actually make this a good place to catch some of Singapore's night sky.
It was a nice quiet evening for me, Wilson of http://Gurkhason.wordpress.com and Melissa of http://Melicacy.com. We got to sample a great many dishes and it was a wonder how we even managed to stumble out the restaurant.
I always end up posting desserts last if I'm doing the post in chronological order, but I think I'll give the desserts some airtime today because the cupcakes are just so pretty!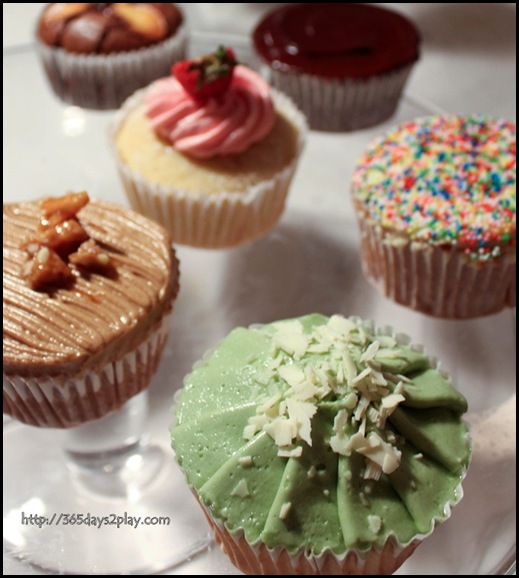 Don't you think the cupcakes look so luscious??? My favourite has always been the Hazelnut chocolate cupcake, which is the one on the top right. If you're a fan of Nutella you would love it! The nice thing about Marmalade Pantry's cupcakes are that the frosting is pretty thick and flat, which makes for easy eating. I don't really fancy those with sky-high frosting as it just seems a little hard to eat and most times you try to lick the cream off first anyway to avoid having any land on your nose.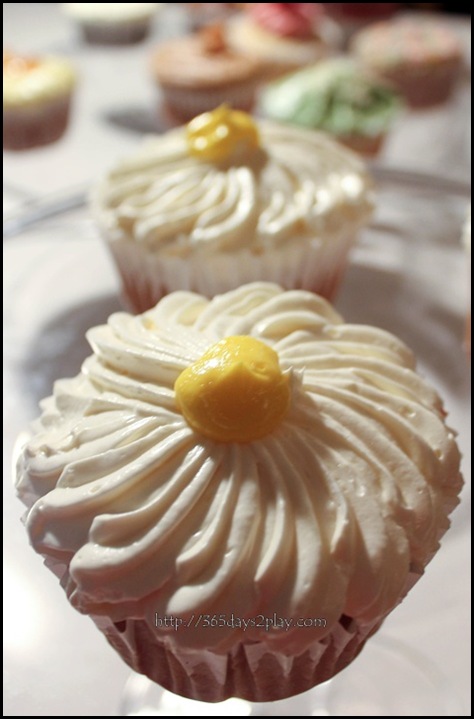 A creamy one which I didn't try, but it does look so pretty though!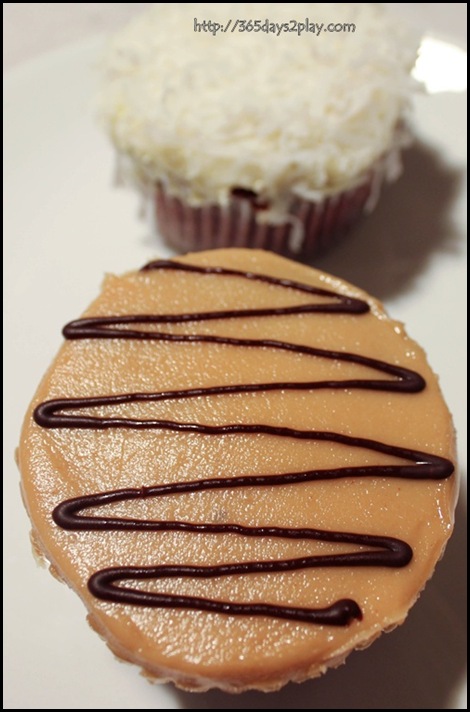 This is the Elvis Cupcake, which is banana cake with a peanut butter frosting.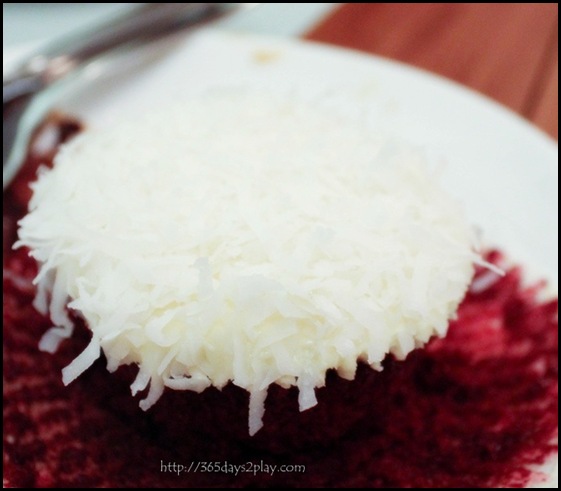 A favourite for many ladies, the Red Velvet cupcake. The redness comes from beetroot juice that is used.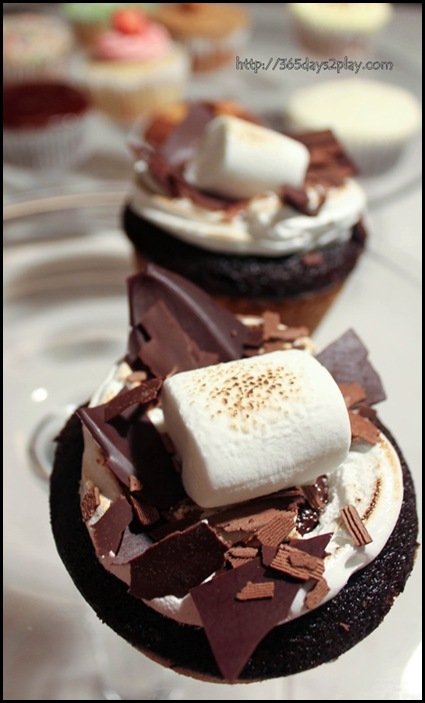 Ok, on to the rest of the meal proper. First up, a little alcohol to set the mood….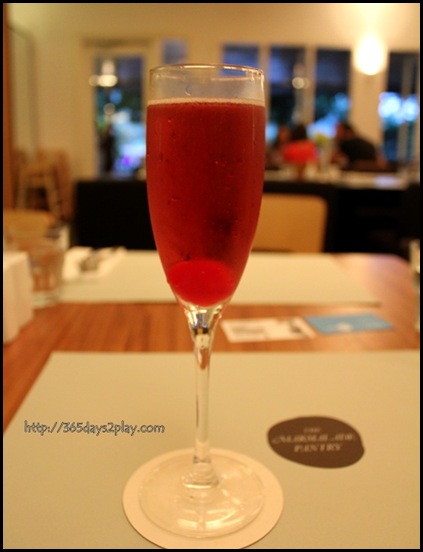 Kir Royale ($18)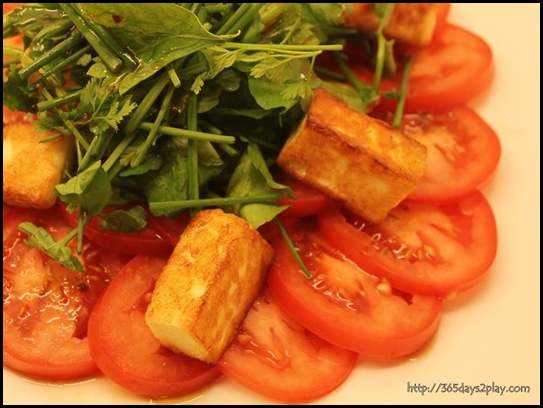 Haloumi Salad ($21)
If you've never tried Haloumi, you SHOULD. It's a lovely cheese, very different from the usual types. It's harder, looks like tofu and yet has the texture of fried mozzarella. Lovely, especially when paired with the wonderfully sweet and firm roma tomatoes.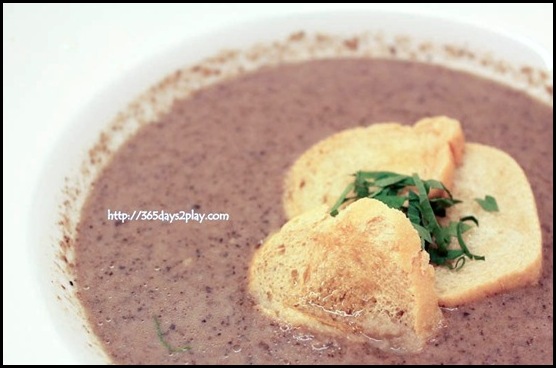 Mushroom Soup ($10)
A very intense mushroomy flavour with lots of tiny bits of mushroom for bite. Better to share this because it would definitely fill you up quite a bit if you had the whole bowl.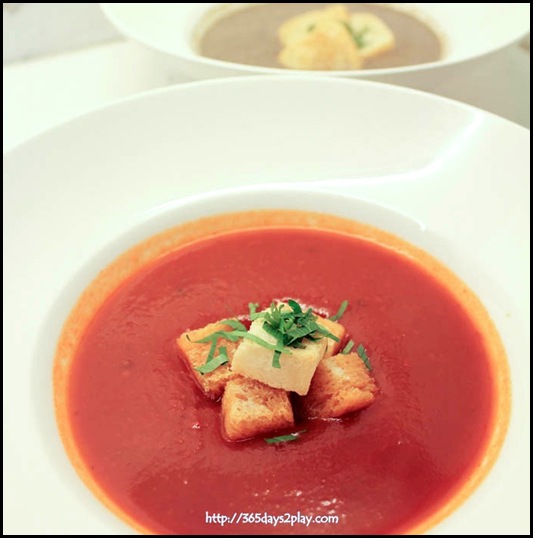 Spicy Tomato Soup ($10)
Never been much of a fan of tomato soup because I just find it too "empty", nothing to bite you know. I did like it that it tasted quite fresh and wasn't sour.
Mexican Chicken Salad ($22)
This was another stunning salad. The beans and chicken make it substantial enough to eat as a main course. I really like it that this is so different from the usual leafy type of salads. This is so easy to eat, scoop up all the diced vegetables and shove them into your mouth! The spiced corn, salsa and tortilla imparted a nice Mexican touch to the salad.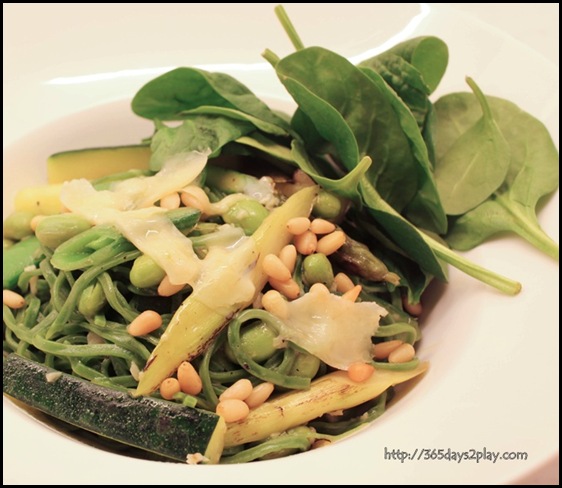 Handcut Spinach Pasta ($24)
Marmalade Pantry really knows how to dish up innovative meals. I found this spinach pasta really tasty! It's vegetarian too! Love the texture and the taste of the noodles. Actually it tastes less like pasta and more like Chinese mee! The pine nuts and zucchini gave additional texture and flavours to the pasta. I would most definitely order this dish again!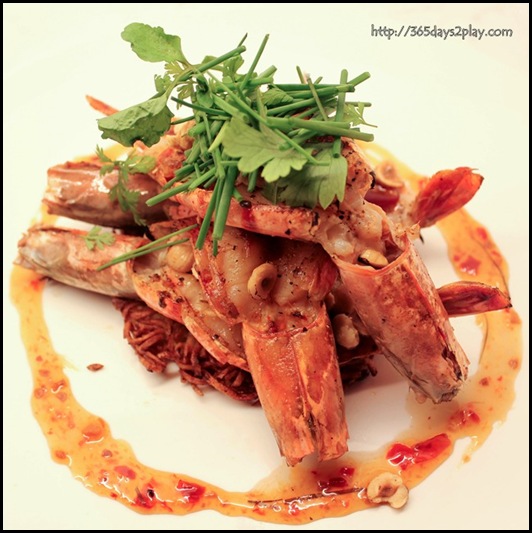 Hazelnut King Prawn ($32)
Butterflied succulent king prawns. These were delicious although I'm not sure if the hazelnuts added much to the dish.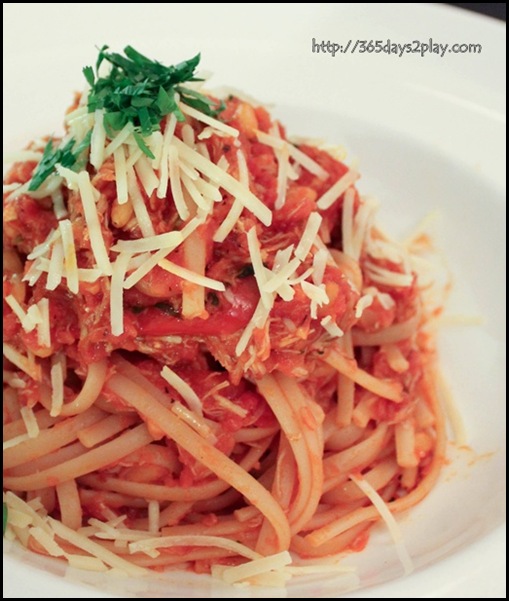 Crabmeat Linguini ($24)
So so dish for me. Just a very normal pasta dish. Crabmeat was kinda lost in the thick tomato sauce.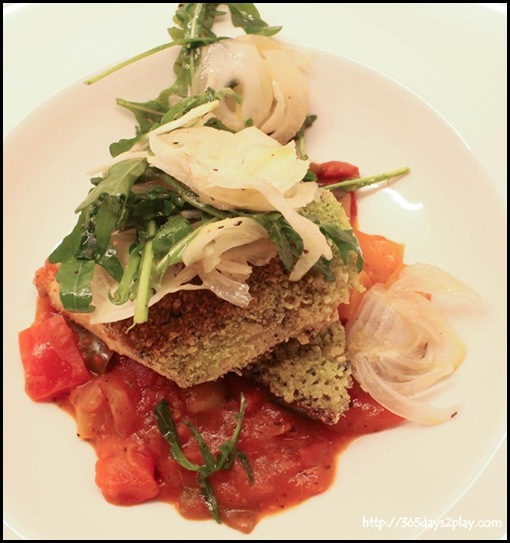 Roasted Snapper ($28)
A well-balanced dish with the snapper cooked just right.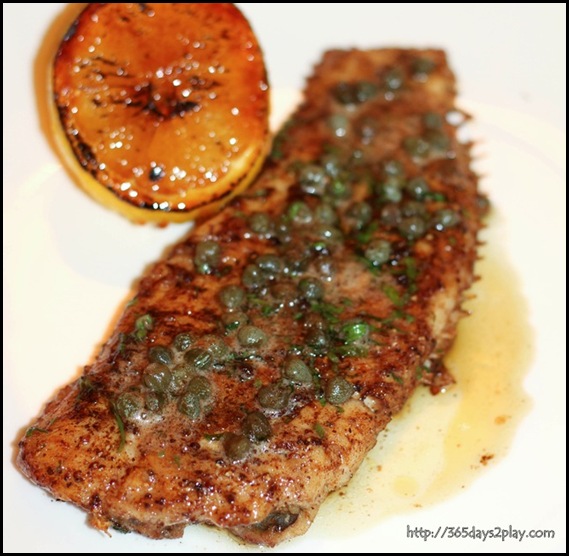 Lemon Sole ala Meuniere ($42)
The sole was supremely tender and moist. It was simply done in meuniere style, very tasty but a little oily. $42 seems a very high price to pay, especially when the roasted snapper costs only $28. Taste wise, I definitely preferred this to the snapper.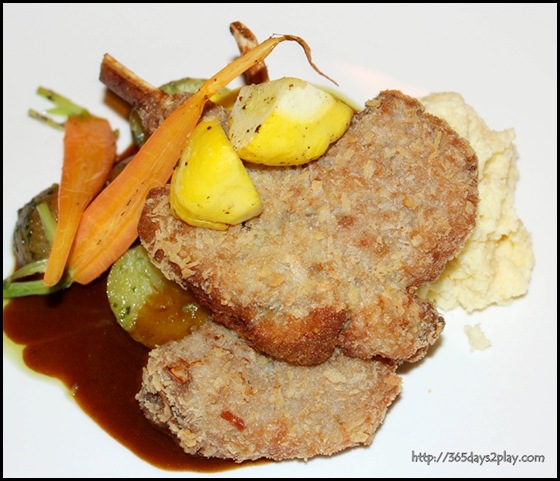 Fried Lamb Chops ($45)
We were warned that these lamb chops had a stronger than usual gamey taste. I was looking forward to that because I love strong tastes. However, I didn't detect a gamier than usual lamb chop and on the contrary, I thought that the flavour was rather masked due to the breading. For 2 pieces, I thought it was a little pricey too.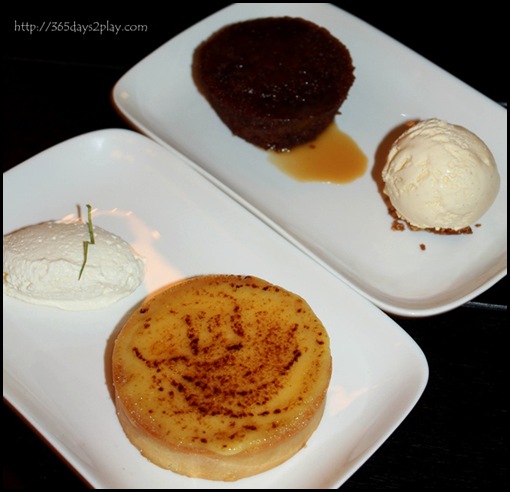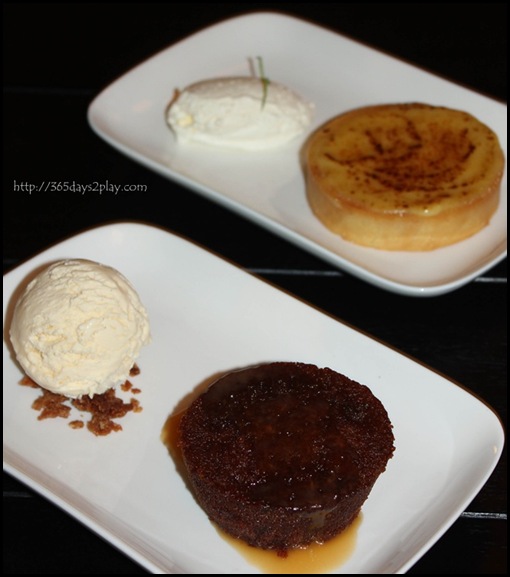 Sticky Date Pudding and Lemon Brulee Tart ($14 each)
Warning, the Lemon Brulee tart is rather tart! A little too sour for me actually, but I loved the crumbly tart base! The sticky date pudding was okay on its own, but tasted much better when paired with the lovely vanilla ice cream.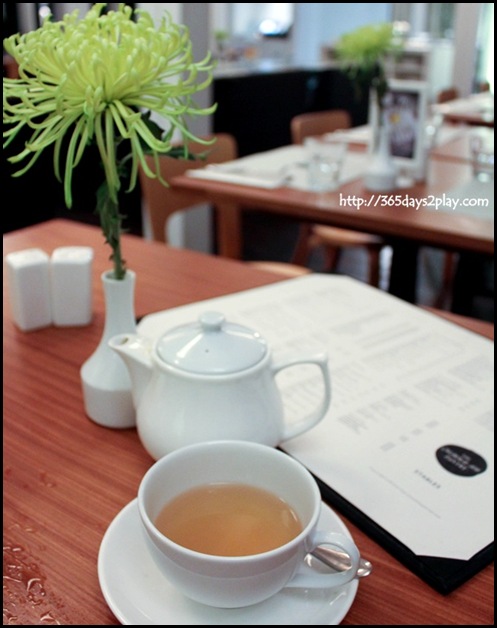 White Gingerlily Tea from Gryphon Tea ($7)
A nice cup of calming white gingerlily tea to end off the lovely evening. There are quite a number of Gryphon Teas to choose from such as the Marrakesh Mint Tea, Bombay Chai and Sangria Fruit Tisane.