Brand Expedia recently released the findings from its 2018 Singapore Staycation Study, which surveyed over 500 Singaporeans aged 21 and above who were the decision makers for their holidays. The survey results are quite interesting, and if you have time, you should read the full results here. But more importantly, how do you benefit from all that information? Well I've sieved through all that information and here's my tips on how to maximise your next staycation as well as advice to hotels on what they need to do to entice more Singaporeans to go for staycations.
If you've never been on a staycation, try it!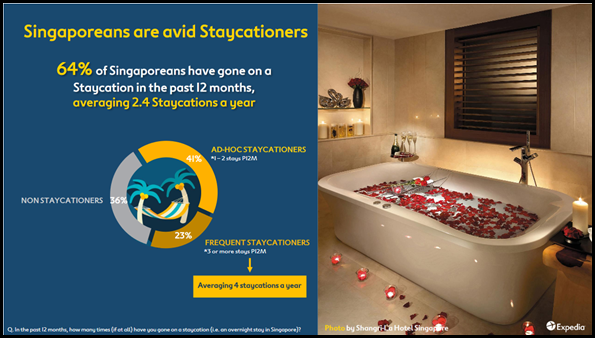 First of all, if you've one of the 36% of the population who have never gone on a staycation,  know that you are in the minority! You may feel uncomfortable about going on a staycation, or wonder what's the big deal about it, but give it a chance because you just might love it so much you might become one of those frequent staycationers who average 4 staycations a year! Check out my staycation reviews here!
Best period to do a staycation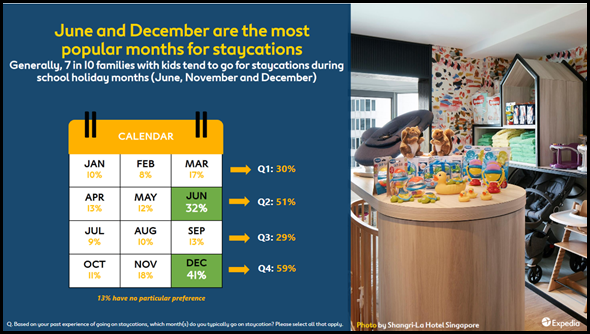 Everyone knows that June and December, being the school holiday months, are the peak periods for holidays overseas. However, June and December are also the peak months for staycations! You would think that it would be more evenly spread throughout the year as staycations are short stays that can be easily completed over a weekend during the school term! Nevertheless, now that we know this for a fact, if possible avoid the June and December holidays. You just might be able to score a better room rate or even an upgrade if you can avoid the peak periods. And parents, please give your children a break during the school term too!
Gift your parents a staycation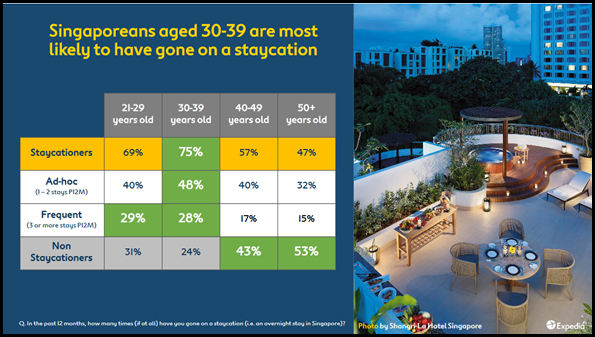 More than 50% of those aged above 50 years have not gone on a staycation in the last year. Christmas is coming, if you're thinking of what to buy for your parents or an older relative, what about gifting them a staycation? Give them an early gift too so that you avoid the peak December prices!
It is possible to have an "affordable" staycation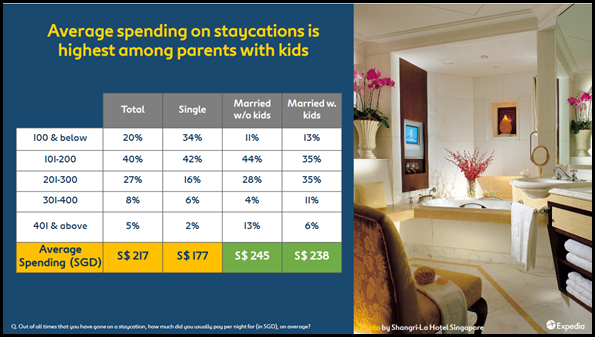 Did you know that staycations don't have to be expensive affairs? Prior to seeing this chart, I used to think that most people spend in excess of $200 per night for a decent hotel. Glad to know that 40% of Singaporeans have spent less than $200 per night on their staycation, which means that it's not that difficult to enjoy a staycation without feeling the pinch.
Free breakfast and price promotions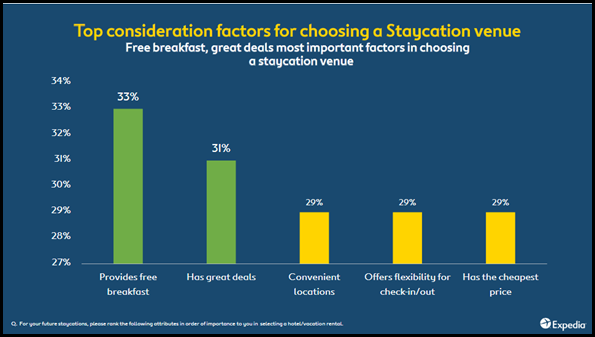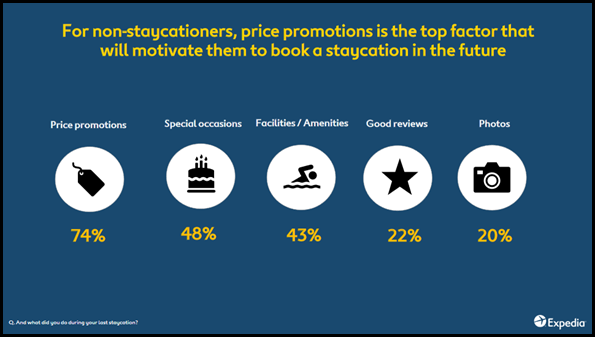 The above two findings are more for hotels to take note! Please provide free breakfast and price promotions to entice more people to go on staycations.  And very importantly, please make sure the information reaches people, especially the non-staycationers who may not even be actively searching for price promotions to begin with.
Come to think of it, I've given many a staycation opportunity a miss simply because breakfast wasn't provided. It's a psychological thing. Even though breakfast can be bought cheaply from some nearby eatery, it's the idea of waking up and just simply heading downstairs to the hotel's buffet breakfast where a spread awaits that is so appealing.
Get Expedia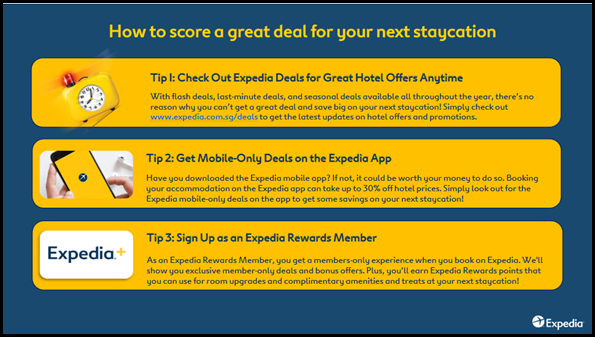 And last but not least, to easily check for and keep track of hotel deals out there, do check out Expedia as well as get the Expedia App which offers mobile-only deals. And why not be an Expedia Rewards Member while you're at it to chalk up those points.
*This post was brought to you in collaboration with Brand Expedia and Shangri-La Hotel Singapore.
---
Add me on Facebook, Instagram and Twitter if you want to be kept up to date with the latest happenings in the food and lifestyle scene in Singapore!
Check out my recent staycations
---
---