I have been wanting to revisit the Oriole Coffee & Bar for the longest time after my previous visits where I found the food to be affordable, value-for-money and very tasty. Also, the cafe is located in a very convenient location, just outside Somerset MRT Station. Alas, it's convenient location also meant I didn't want to go on weekends as all the eateries in Orchard Road would surely be packed. And the last thing I want is a packed restaurant and long queues, when I can avoid it.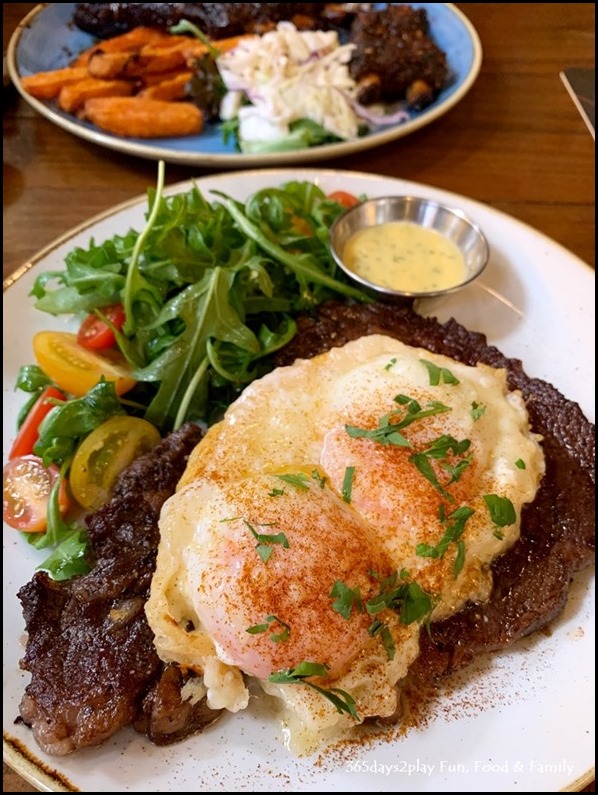 Anyway, because I had a voucher to utilise and it was going to expire soon, I finally made my way to Oriole Coffee yesterday. Decor wise, I don't think much has changed since my last visit in 2014. They have a spacious interior, as well as a long al-fresco area flanking the thoroughfare leading from the Somerset MRT Station towards Orchard Road. I'm sure those who love to people-watch would find this a nice place to chill.
Prices have increased somewhat, so now most mains are averaging $25 – $30. Unless you want to get smashed avocado toast for $16 or eggs benedict for $18. We decided to splurge big time on the Ribeye Steak & Baked Eggs and the Sweet Soy Pork Ribs.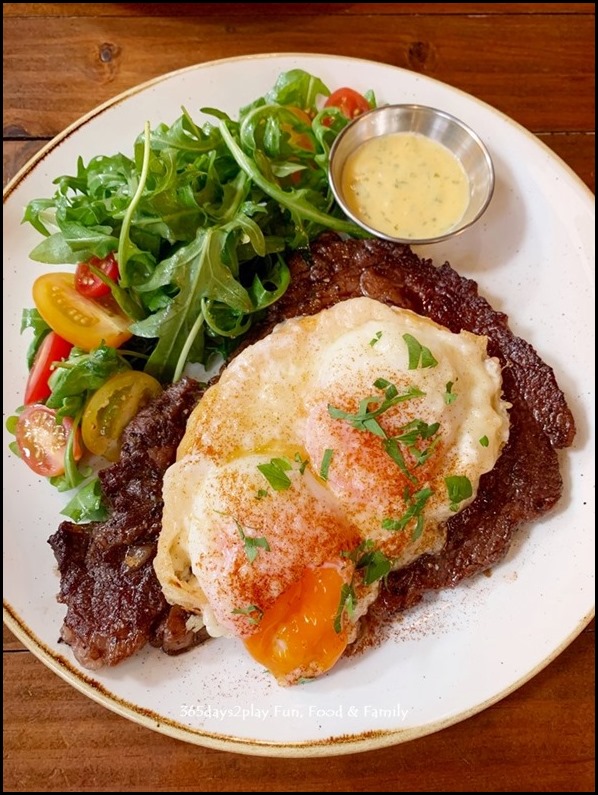 I must say I really really enjoyed my Ribeye steak. First of all, to see 2 gleaming eggs with their semi-soft yolks, it's like half the battle won for an egg-lover like me. And the flavour of the steak, it was superb. Too often I have had steak which was just lacking in flavour and tasting like cardboard. It wasn't a particularly rich tasting steak, but it had intense flavour, helped along with just the right amount of char.
Now I have to admit that the steak wasn't perfect. It was actually very gristly, and the doneness was medium to medium well, even though I had asked for medium rare. But just the flavour itself allowed me to close an eye on everything else. It's one of those meals where I know I have to return again and order the exact same dish.
And a bit about those eggs, those aren't just fried eggs. Parmesan cheese has been added to the whites to jazz them up. I don't think they quite worked for me, as the sour taste overwhelmed the otherwise already enjoyable taste of crispy egg whites. They were also bunched up along the sides.
The dining companion got the Sweet Sauce Pork Ribs. The ribs were tender and glaze was done just right, not too sickly sweet or overwhelming. Usually, you might get sick of the rich food towards the end of the meal, but this was enjoyable right to the very end. I enjoyed the taste of the sweet potato fries too even though they were served at room temperature.
Did you know that Oriole Coffee is on the Entertainer App? That means you can get 1 for 1 discounts on their mains. Email me if you want a discount code to purchase the Entertainer App. Unfortunately their fish and chips is not under the mains category and won't qualify! I would have wanted to try that on my next visit to see if standards have been maintained since the last time I raved about it in 2014.
Mastercard® cardholders enjoy 15% off total bill for a la carte menu till 31 May 2021.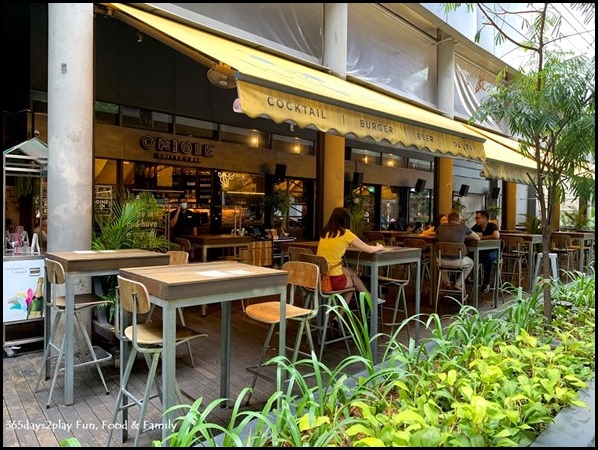 ---
Add me on Facebook, Instagram and Twitter if you want to be kept up to date with the latest happenings in the food and lifestyle scene in Singapore!
Other great ideas on what to eat at Orchard Road
Previous visits to Oriole Coffee & Bar
---
ORIOLE COFFEE + BAR
96 SOMERSET ROAD #01-01, PAN PACIFIC
SERVICED SUITES ORCHARD, SINGAPORE 238163
+65 6238 8348
enquiry.pp@oriole.com.sg
Website: https://www.oriole.com.sg/
Menu: https://www.oriole.com.sg/menu
Facebook: https://www.facebook.com/OrioleCoffee
Instagram: https://www.instagram.com/oriolecoffee