As promised, this is the blog post detailing my wild weekend in Resorts World Genting, courtesy of the Resorts World people! Yes, fully paid trip for me and the Partner to spend 3 days in Genting! The Resorts World people were so generous, they even gave us 700 ringgit each, to spend on food! Seriously, the Partner and I had such a great time indulging, we actually found the trip too short! I returned from the trip two weeks ago, and I'm still reeling from the experience. Feel like going on holiday again! Anyone who's smsed me about the trip would have received a barrage of replies from me detailing every aspect, but I guess I have to write about it here to share it with all of you and also for me to relive the wonderful memories!
To read more about our experiences at various restaurants in Genting, as well as see pictures of the Theme Park itself, click on the respective links.
The New Orleans BBQ Restaurant
Genting Palace Chinese Restaurant
Proposed 3D2N Itinerary at Genting (which won me this trip!)
If not, continue reading about the journey to Genting, the First World Hotel experience and a summary of what we did in Genting!
The journey to Resorts World Genting
I had to wake up at an ungodly hour of 4.30am as we had to assemble at 5 Stars Tours at Golden Mile Complex at 6am. For the uninitiated, Golden Mile Complex houses lots of coach tour companies to various destinations like Kuala Lumpur, Cameron Highlands, Penang and of course Genting. This was the 1st time that I had been to Golden Mile Complex, and I can assure you that it is unlike any other building I have come across in Singapore. Suffice to say that it is a building that will transport you back in time, say to 20 years ago? Lots of authentic Thai eateries can be found there though.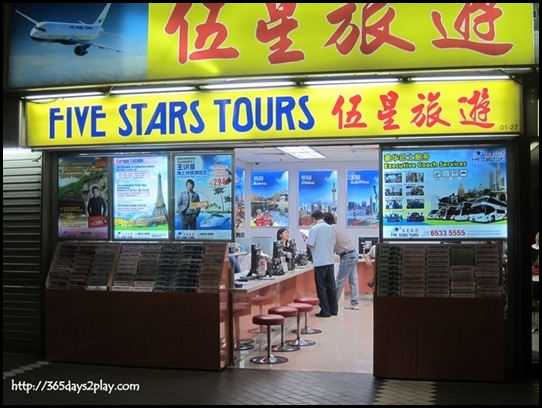 The 5 Stars tour bus was pretty comfortable and clean, although you could tell that it has been well utilised. I was able to recline the seat to about a 45 degree angle, which was good enough for me to sleep on. The leg room was also spacious enough for me to have my little suitcase at my feet. There was a small TV screen and games console but I spent most of my time sleeping or staring into the palm plantations. I actually have a knack of being able to stare into space for long periods of time so I didn't even bother to bring a book. The Partner on the other hand had to busy himself with the iPad.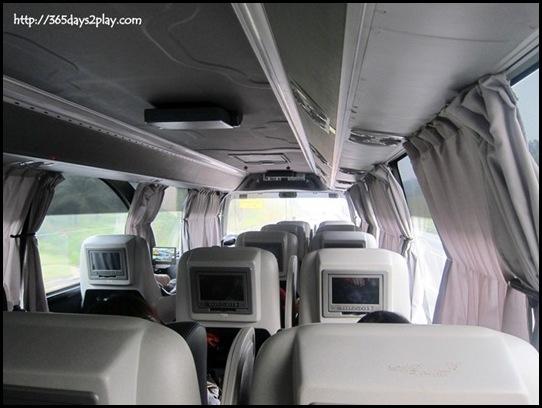 For the 6 hour journey, we made 2 toilet stops. The 2nd stop was for 25 minutes and we managed to have a quick fishball noodle breakfast there. 5 Stars was good enough to let you know the number of toilet breaks in advance as well as the estimated timing so you don't have to worry about whether you're going to wet your pants. This is one of my greatest fears about coach travel, that I would be stranded with a busting bladder not knowing when relief would come.
The 6 hour plus journey was pretty uneventful, except it seemed a tad bumpy all the way. Even the ascent to Genting Highlands was uneventful. I was quite afraid that it would be a precarious climb up, with hair-pin twists and turns. It's fine if you're in a car, but trust me, when you're on the upper level of the bus and unable to see the road itself, you feel like you're going to fall off the face of the cliff any minute. Or maybe that's just me.
First World Hotel
We finally arrived at the First World Hotel Coach terminal, and it was just a 2 or 3 minute walk from the bus to the reception area. I was bowled over by the size of the reception area. It was humongous, and you had to take a queue number to wait for your turn. Kinda resembles a hospital waiting area, with rows and rows of chairs. Only the decor reminds you that you are still in a hotel. I suppose it has to be this way because there are 6,118 rooms. It is the 4th largest hotel in the world, and at one point, before 2008, it was the largest hotel in the world!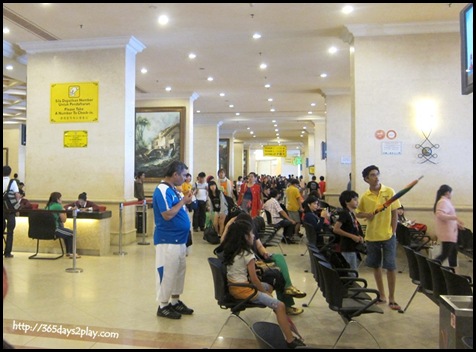 The room we were assigned was the Courtyard facing Deluxe Room. Courtyard sounds kinda quaint, but actually, the room simply faces the room on the opposite side. While the corridors and lifts make you feel like you're in a nice hotel, the Deluxe Room is very spartan. There is only a standing shower, no toiletries are provided save for a 3-in-1 shampoo shower gel. 2 thin towels are also provided. I was quite surprised to find a hair dryer, safe and refrigerator, which I found very useful throughout the stay. All in all, you can't complain too much because this really is a budget room, meant for tourists who are going to spend the entire day outside gambling or something.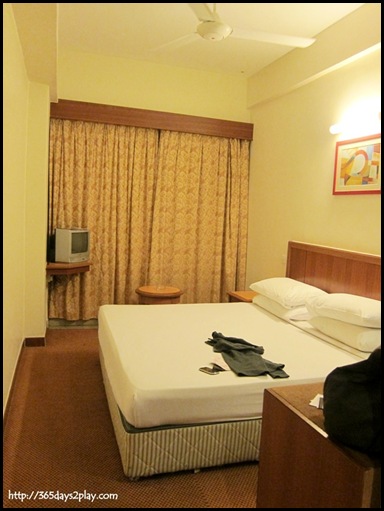 If I had a grouse, it would be this constant non-stop whirring sound coming from the courtyard. I couldn't really poke my head out the window but I did take a photo of it and I can't see a thing that would have caused the noise. I wonder if it could possibly be the whooshing sound of wind travelling up the air well, although it sounded more like a motor, and it was constant in volume too.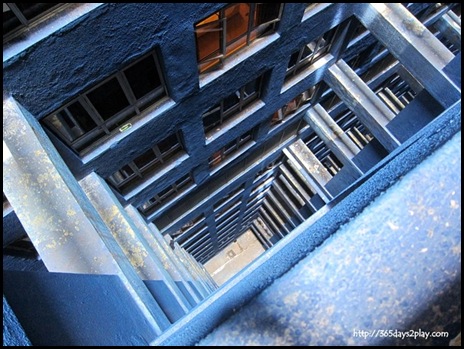 Anyway, stay in First World Hotel if you wanna have easy access to the StarWorld Casino, the Indoor Theme Park as well as the shopping mall. These are all located in the First World Plaza, that is directly connected to First World Hotel. Actually all the other hotels are interconnected to. The next nearest hotel would be the Maxims Genting Hotel, which is about a 5-10 minute walk
What to do in Resorts World Genting
We spent most of our time eating, eating and eating. Of course, less gluttonous people would probably spend a full day at the Outdoor and Indoor Theme Parks, or perhaps indulge in a bit of shopping.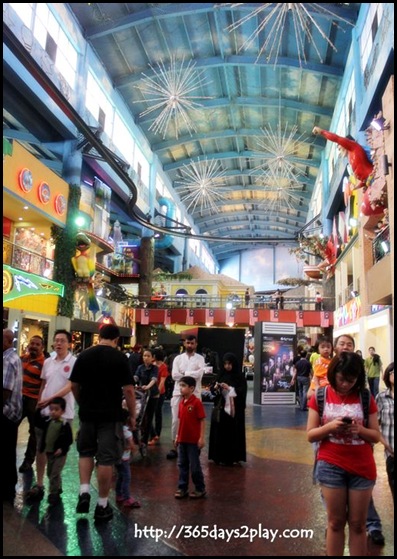 Another highlight of our trip was the Spa massage we had. It was so luxurious and we even managed to get a couple room. The service was impeccable. I normally just go for Thai Massage or Swedish Massage, but I was feeling adventurous that day and went for Hot Stones Massage! A very interesting experience lying on top of hot stones in addition to more hot stones being massaged all over my body. Unfortunately I can only write about it here and not show any pictures.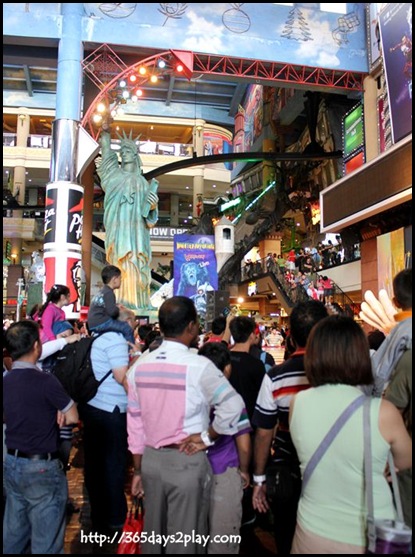 Certainly, we had a fair dose of gambling at the Casinos, once again no photos allowed. There is one located in the First World Hotel adjoining mall, and another casino located in Maxims Genting Hotel. I particularly liked the Maxims Genting one because there was this little secluded non-smoking area, outside of the New Orleans BBQ Restaurant. Oh I only go for the slot machines btw.
On the last evening, we also snagged 2 tickets to watch the Magic Show at the International Show Rooms. Alas, no photos allowed too!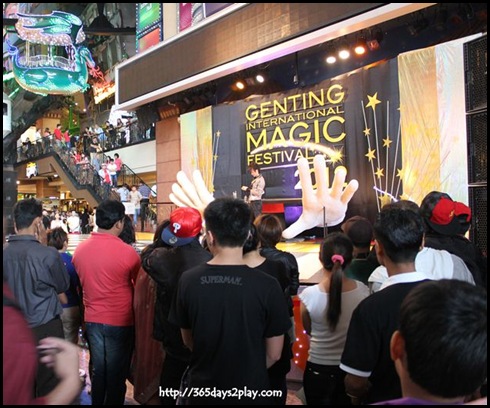 Sneak peek of the Magic Show..