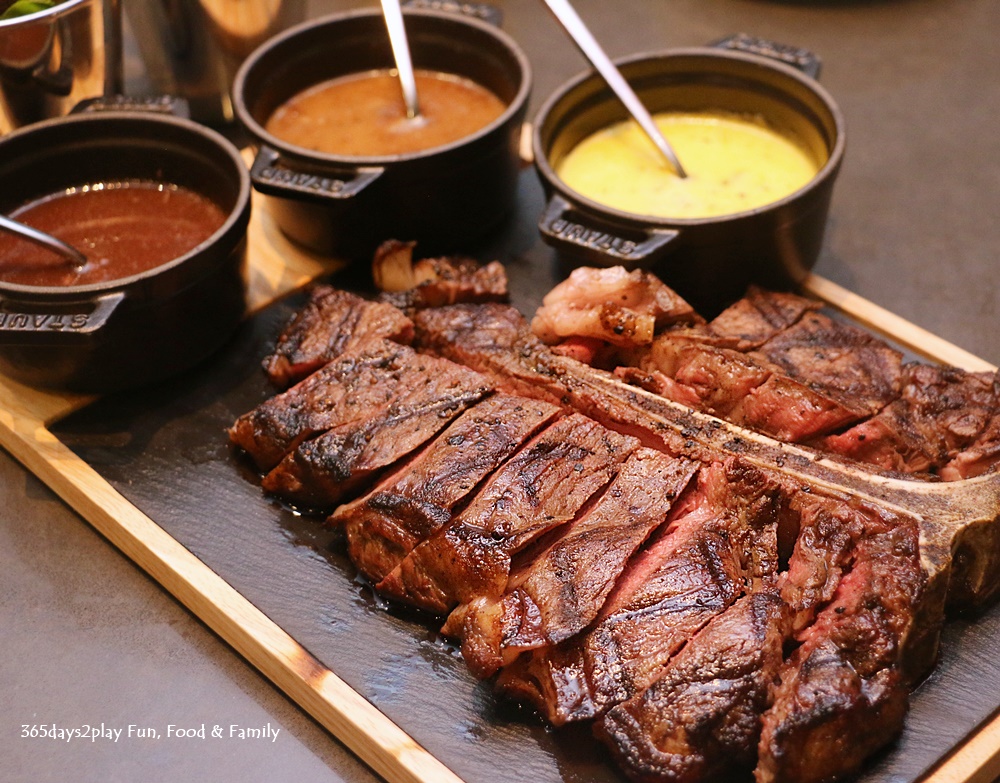 Singapore Marriott Tang Plaza Hotel's Crossroads Cafe has recently launched new items to its menu. As the name suggests, Crossroads Cafe is located at at the crossroads of Orchard Road. It's so conveniently located that it's always bustling no matter the time of the day. Even the tourists and Marriott's hotel guests who flock to the cafe know that it is the place to people watch while downing a cold drink or having a meal. It may be called a cafe but with its East-meets-West menu, you can get proper meals here such as steaks, pastas, burgers, local delights like hor fun, salads and even oysters.
I was recently invited to sample the new dishes that Crossroads Cafe has come up with. Scroll down to find out more.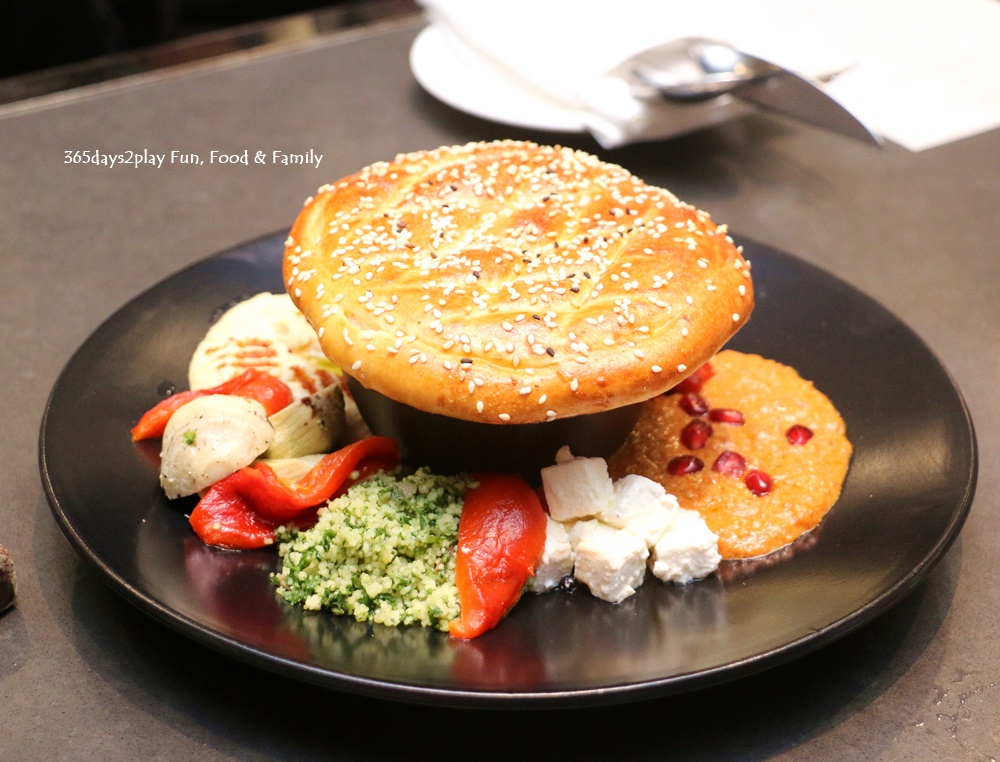 Marriott Crossroads Cafe – Mezze Platter $24
The Mezze Platter comes served with muhammara, hummus, tzatziki, tabbouleh, dolma, feta cheese, olives, artichoke, turkish pita. I love Mediterranean food and particularly love trying out the various dips. This could be a meal in itself!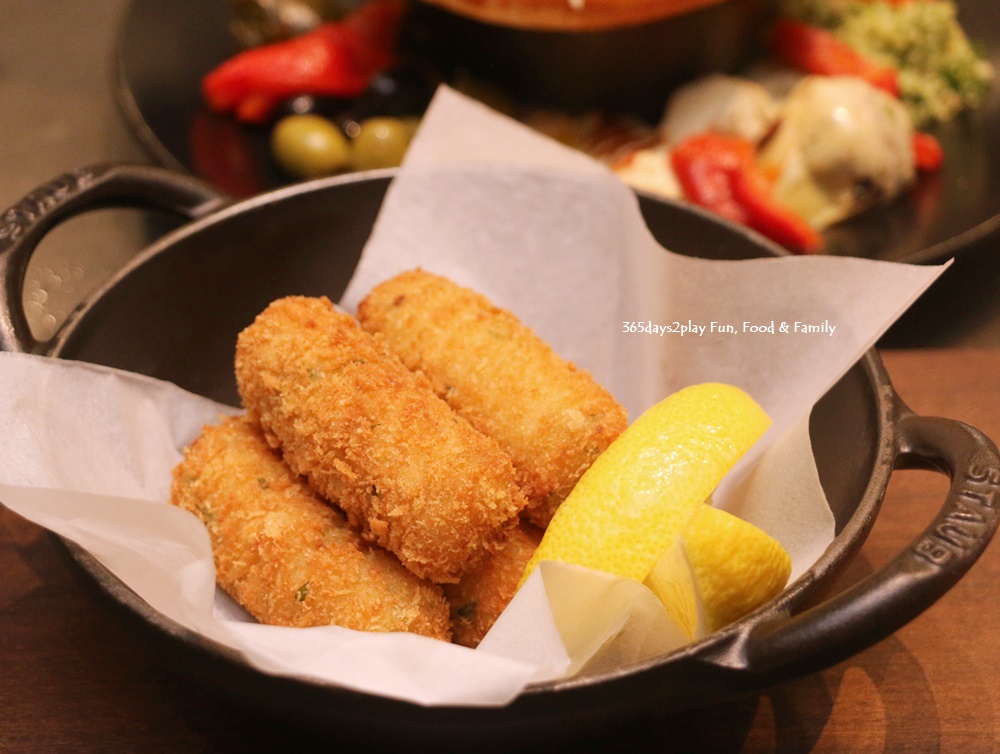 Marriott Crossroads Cafe – Cod Fish Croquettes (5 pieces) – $18
The fish croquettes were enjoyably crispy without being greasy, but I couldn't really detect that it was cod fish though which was a pity.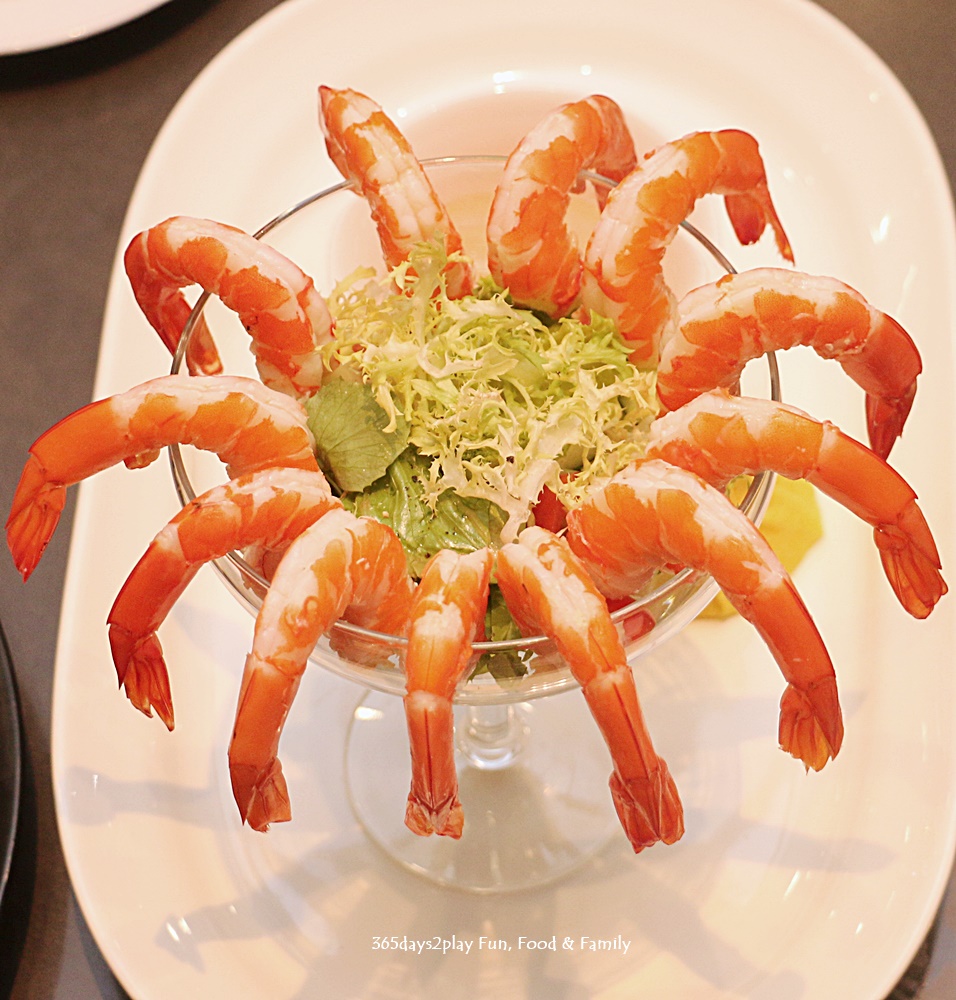 Marriott Crossroads Cafe – Prawn Cocktail (One dozen) – $32
These prawns were humongous hence the pricing. Succulent and sweet, the only problem is popping too many into your mouth without realising!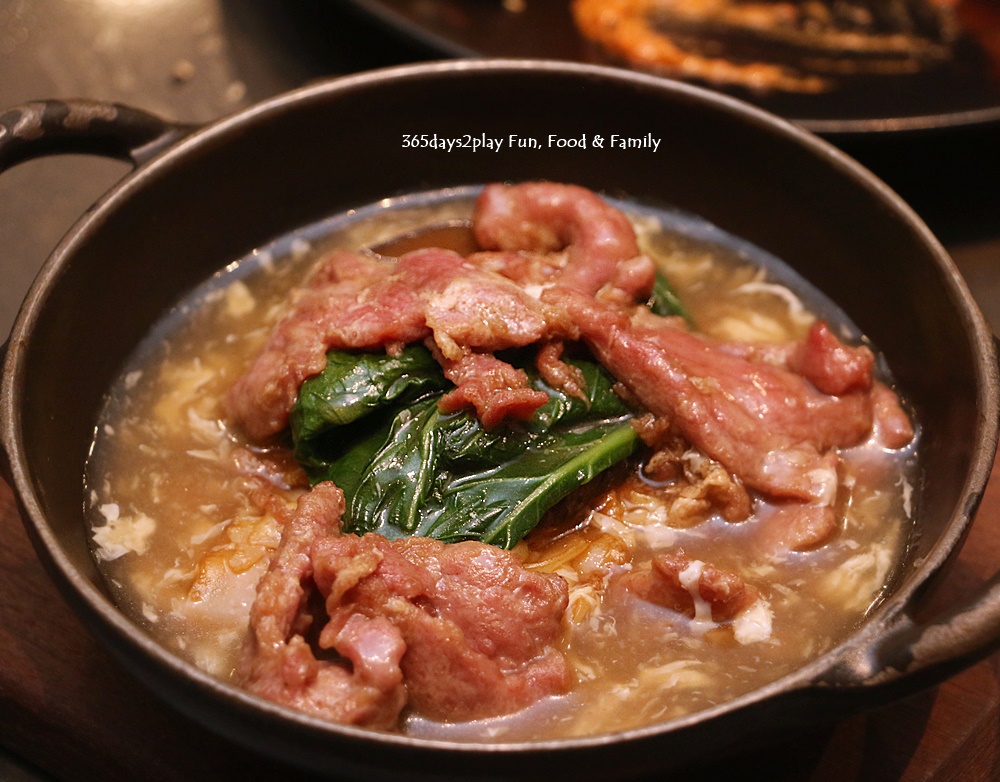 Marriott Crossroads Cafe – Sliced Beef Char Hor Fun – $ 26
I usually don't expect to find good local food at hotels because I tend to believe that more likely than not, the hawkers who have honed their skills for years are better at the job. And also, everyone has their own favourite stall where the flavour is just right for them personally. It's a hard battle to win but I must say I enjoyed this sliced beef char hor fun very much. Could definitely detect the wok hei, and there was also generous amounts of tender sliced beef.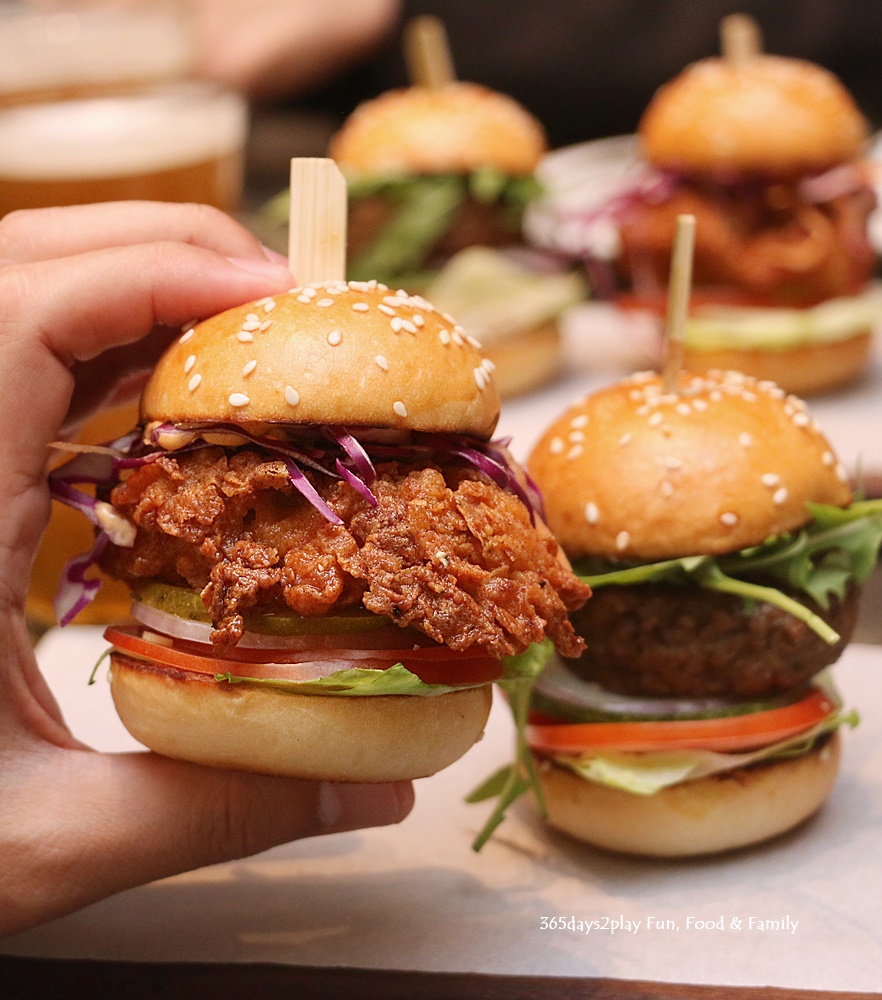 Marriott Crossroads Cafe – Buttermilk Fried Chicken Burger – $26 and Impossible Burger – $28
When it comes to burgers, you can't go wrong with a fried chicken burger. This hit the spot with the super crispy batter and juicy and tender interior. Unfortunately the Impossible Burger left much to be desired as the "meat" was so dry! I have heard that some places do it so well such that when you slice the meat, you can even see "blood" oozing out. Oh well, not this version here. Interestingly, my dining companion actually liked the Impossible Burger despite the dryness.
Not an optical illusion. How many burgers can you count here?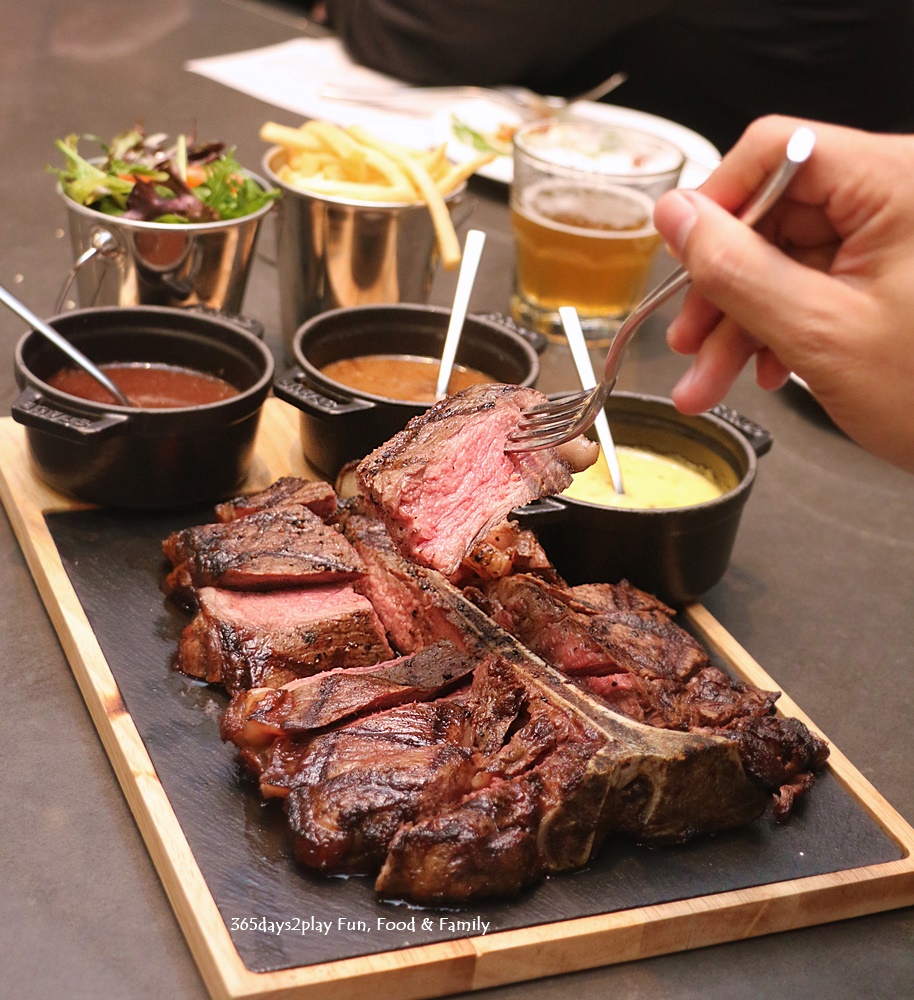 Marriott Crossroads Cafe – Steak Frites T-Bone (900gm-1kg) – $168
And if you're looking to really indulge or share with a couple of friends, you can consider this 400-day grain-fed Australian wagyu beef, served with red wine jus, black pepper jus or béarnaise sauce. I personally thought the flavour was great, and look at the beautiful char, although the meat could have done with a bit more fat given that it's Wagyu and grain fed.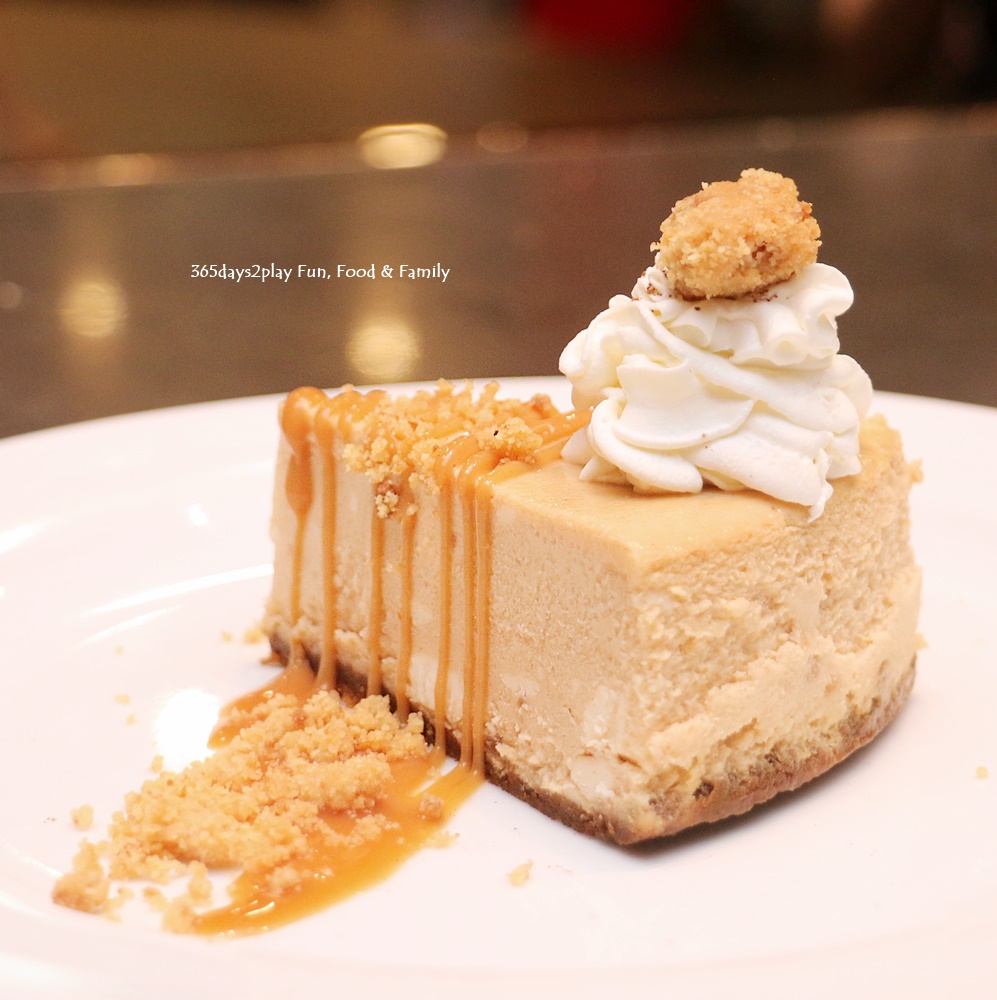 Marriott Crossroads Cafe – Caramel Cheese Cake – $14
And finally, Caramel Cheese Cake with speculoos crumble and whipped cream. I call this an in-between cheese cake, ie not too heavy but not too light either and quite mild tasting. I loved the addition of speculoos crumble for its rich biscuity flavour but the whipped cream was unnecessary.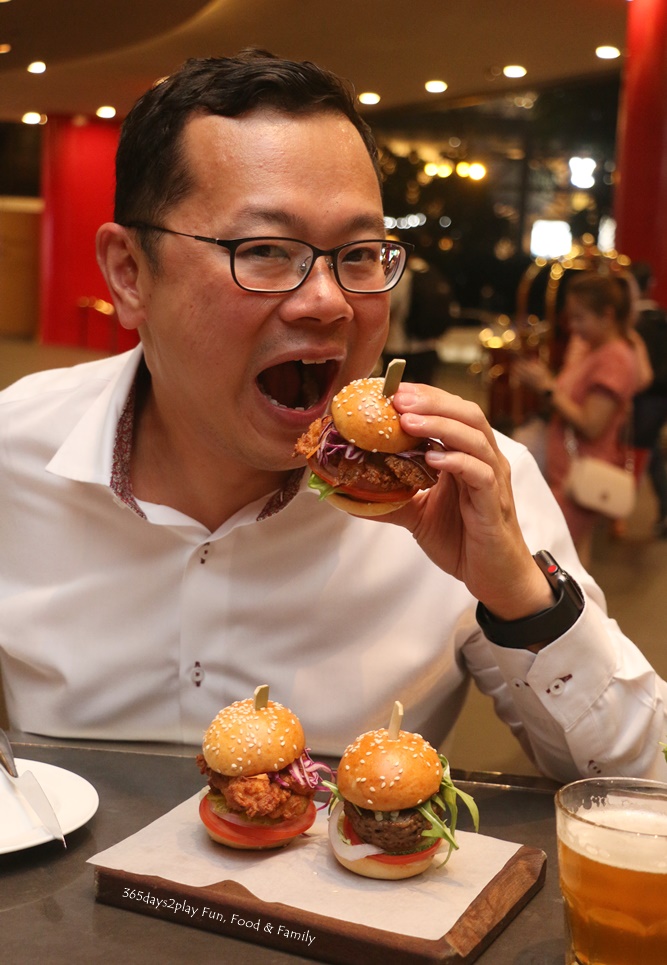 Leaving you with a picture of a happy diner.
---
Add me on Facebook, Instagram and Twitter if you want to be kept up to date with the latest happenings in the food and lifestyle scene in Singapore!
---
Read previous dining reviews at Marriott Hotel
Crossroads Cafe | Singapore Marriott Tang Plaza Hotel
320 Orchard Road Singapore 238865
Opening Hours : 7am —12 am Sunday to Thursday | 7am — 2am Friday and Saturday
Tel : (65) 6831 4605
Email: mhrs.sindt.fb.reservations@marriotthotels.com
Facebook : https://www.facebook.com/CrossroadsCafeSG/
Website : http://www.singaporemarriott.com/restaurant/crossroads-cafe/