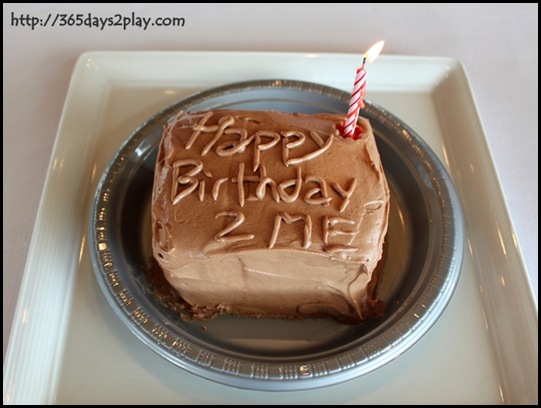 Happy Birthday to me….. I made this chocolate birthday cake because no one else wanted to buy a cake for me. I know how because BITC taught me how. Valrhona chocolate on the inside, Ghirardelli chocolate on the outside. I think it looks quite okay, if I say so myself. It could have been better but I didn't have a turntable and I had to use the plastic plate as a makeshift base instead of a proper one. I made this at home last night, iced it this morning, and brought it to Il Lido restaurant for my birthday lunch. I wanted to pipe rosettes but there wasn't enough time. Il Lido kindly provided a little candle plus the white plate.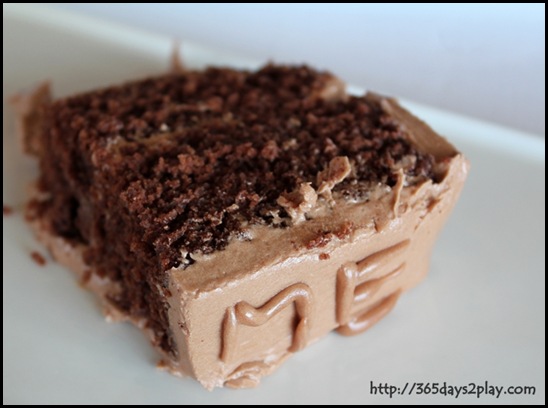 I ate the ME slice of course…
I celebrated my birthday with my parents and The Partner at Il Lido today. Yesterday, I had a pre-birthday celebration with The Partner at The Prime Society in Dempsey. I had the most fantastic piece of meat I have eaten in a very long time, perhaps ever to date. It was SO DELICIOUS it was almost unbelievable. It was a Wagyu Tri-Tip. More about that in a separate post.
Next week, the celebrations will continue as The Partner will take me to Guy Savoy. Looking forward to that, although I may have to postpone it to space out the rich food. Oh and Restaurant Week's at the end of March and my friend is taking me to Brasserie Les Saveurs at St Regis. It's good food galore. Man I love celebrating my birthday like the King of Thailand (ie month long….)
AND, The Partner is taking me to the Tott Store to pick out a kitchen gadget as my birthday gift. Can't wait!