[Media Invite]
Situated atop the densely forested Labrador Nature Reserve, and yet only a 10 minute walk from Labrador MRT Station, the restaurant Tamarind Hill qualifies to be called a hidden gem. When you arrive at the restaurant, it's hard not to be wowed by the charming colonial bungalow that has been decked out to exude a rustic-luxe Asian flair, amidst vast greenery. It really feels as if you are cocooned away from the hustle and bustle of the rest of Singapore.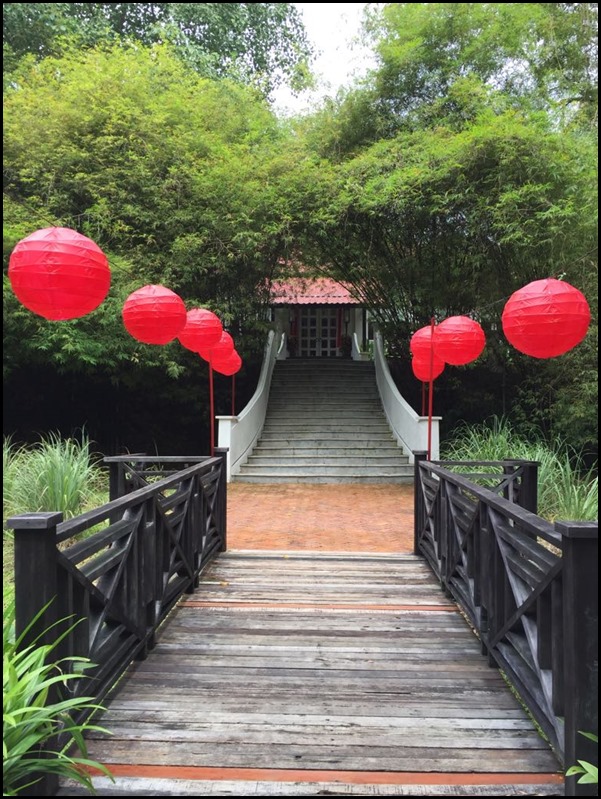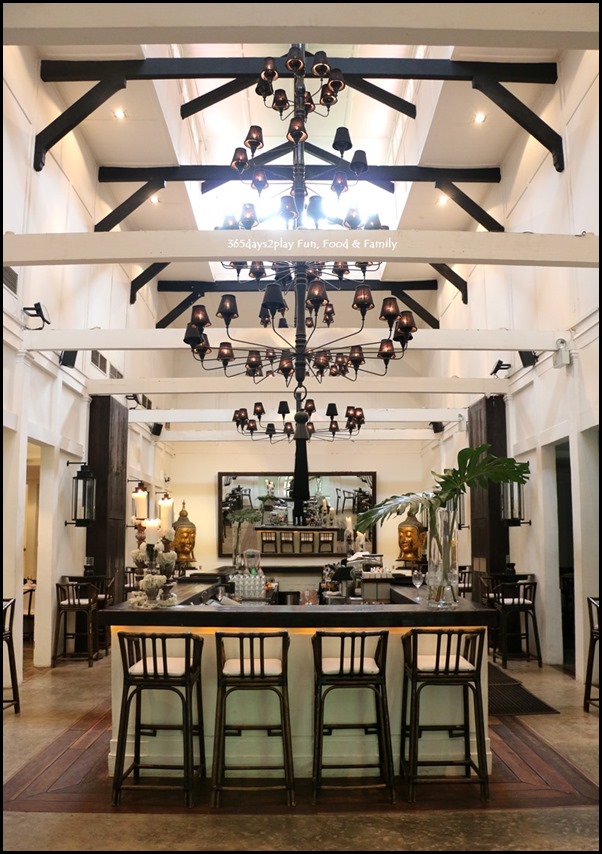 The bungalow may seem small from the outside, partly because it is obscured by all the plants. But once you open the main door, you will surely be wowed by this imposing and grand looking bar area. This is probably the most instagrammable spot in the entire restaurant!
The restaurant serves traditional and contemporary Siamese cuisine, and is led by Executive Chef Wanthana Nikonsaen who hails from a small village near Laos, North-East of Thailand. But I was there to try the Lunar New Year menu, so I was keen to see how this menu might be different from all the Chinese New Year menus I have tried in the past few weeks.
For $88/pax, Tamarind Hill will be offering a 4 course set menu comprising fixed dishes of appetisers, soup, mains and desserts. If you want to have Yu Sheng / Lohei, that's an additional $38 (small for 3 — 4 pax) or $68 (large for 7 — 8 pax). Check out the photos of the food below. If you have the chance, sit outdoors in the al-fresco area because the greenery all around is just so pretty.
Steamed Sago Pork Dumplings and Fish Roe Marinated in Red Curry
You know you're in an Asian restaurant when you see food being presented in banana leaf. I loved the sticky and chewy morsels of dumplings, but I'm not so sure about the fish roe. It's an entire piece of fish roe, which is actually quite filling since it's roe. It was a little on the dry side too.
Barramundi and Ginger Soup (hot and sour soup with slices of ocean-farmed barramundi)
A simple yet warming and nourishing soup, makes you feel like you can chase away any colds. The sour tang also whets the appetite for the main course.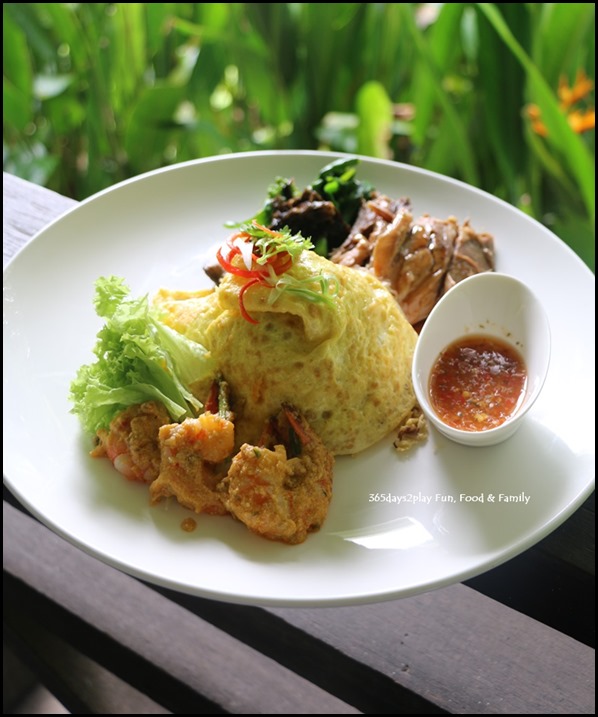 Tiger Prawns with Salted Egg Yolk Sauce, Five-Spice Braised Pork Knuckle and Longevity Noodles
What you see is 1 person's portion. My dining companion was so stuffed he couldn't finish his plate, and I just barely did! When I dine at Asian restaurants that are not Chinese, I am often reminded that Chinese food is really salty! These Thai-inspired dishes are definitely not as salty, so the taste of the ingredients shine through instead. I especially loved the pork knuckle which was flavourful and fork tender.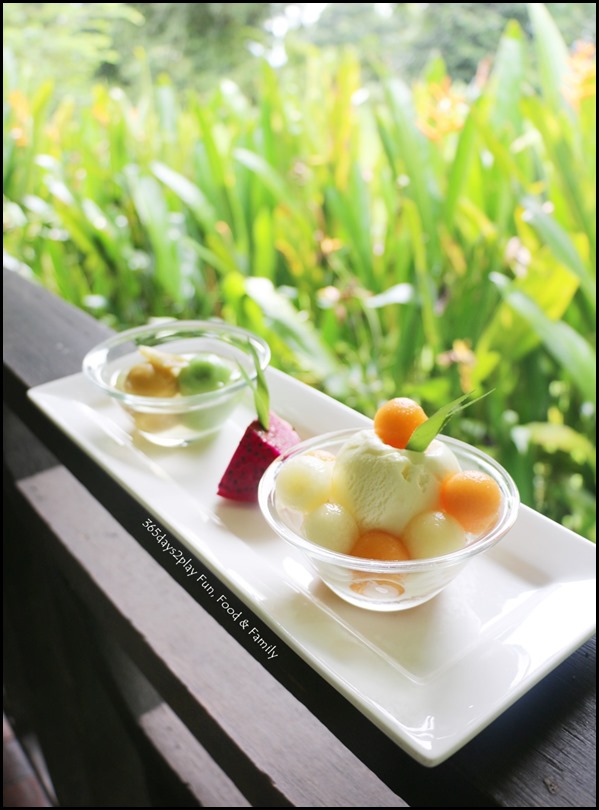 Glutinous Rice Balls stuffed with Sesame and Honeydew Sago with Vanilla Ice Cream
I really enjoyed this hot and cold dessert very much. The honeydew and ice cream was refreshing and quenched my desire for something sweet, while the ginger soup was warming and made me feel like I was in a spa.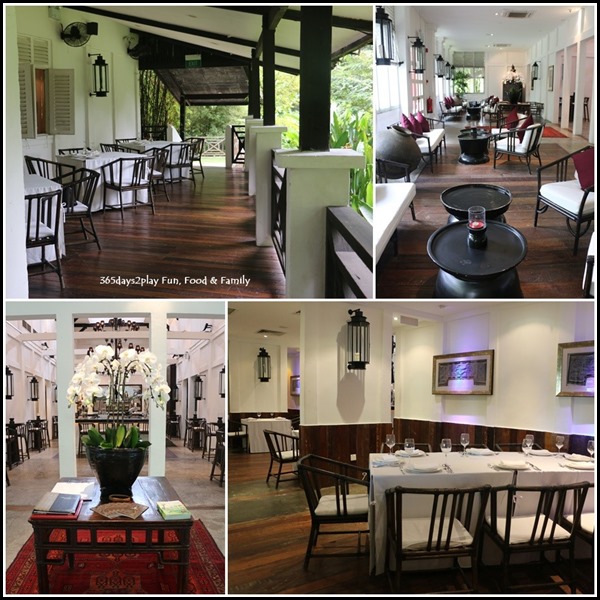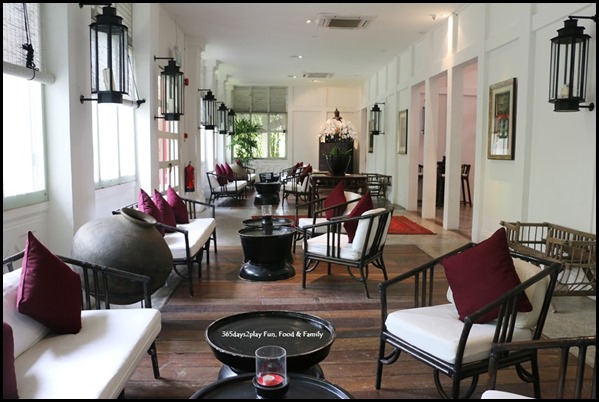 #Livingroomgoals Does this look like somebody's living room? This colonial bungalow, named Labrador Villa, used to be the residence of prominent ship chandler, George John Mansfield. And in fact the name of the villa is probably the inspiration behind why Labrador Park and Labrador Nature Reserve are named so.
In case you can't get enough of Tamarind Hill and its lush surrounding, you will be glad to know that Villa Samadhi, a 20-room restored colonial hotel residence is just a 5 minute walk away. They are all part of part of Samadhi Retreats, a luxury hospitality group offering unique experiences in unexpected locations across Asia. Tamarind Hill KL, as well as sister restaurants Tamarind Springs (Traditional Indochinese), NEO Tamarind (International with an Asian twist) and The Terrace at Tamarind Springs (Traditional Thai and Hot Pot) are located in Kuala Lumpur.
---
Add me on Facebook, Instagram and Twitter if you want to be kept up to date with the latest happenings in the food and lifestyle scene in Singapore!
Check out other restaurants located in Singapore's Parks and Gardens
East Coast Park
Fort Canning Park
Singapore Botanic Gardens
---
Tamarind Hill Singapore
30, Labrador Villa Road, Singapore 119189 (Labrador Nature Reserve)
Operating Hours : Daily: 12pm – 3pm (Last order 2.30pm) & 6.30pm -11pm (Last order 10.30pm)
Tel : +65 6278 6364
Email: singapore@tamarindrestaurants.com
Reservations: quandoo.sg, chope.co, bit.ly
http://www.tamarindrestaurants.com/tamarind-hill-singapore.html
http://www.samadhiretreats.com
The Lunar New Year menu is available at $88/pax until 2 March 2018.