And just like that, Christmas and New Year are over and it's time to think of how to celebrate Chinese New Year. This year, Chinese New Year falls on 28 – 30th January 2017 (Saturday – Monday), that's like less than 4 weeks away! This means you have to start planning for your reunion dinner pretty quickly.
If you are looking for a restaurant serving casual homey fare that is affordable, for your reunion gathering, you might want to consider Gu Ma Jia restaurant located at Tai Thong Crescent. Gu  Ma Jia prides itself on serving food with less oil and less MSG. Two set menus will be available during this CNY festive period.
The "Peace" set at $599++ includes
Yu Sheng
Crab Meat and Fish Maw
Steamed Red Grouper with Soya Sauce
Braised Duck and Sea Cucumber
Broccoli with Macadamia Nuts & Fresh Scallop
Stir-Fried Prawns with Superior Sauce
Steamed Lotus Leaves Rice
Dessert – Longan Wolfberries Sea Birds Nest
The "Prosperity" set at $768 includes
Yu Sheng
Cold Platter
Sea Cucumber, Crab Meat & Bamboo Fungus
Stir-fried Broccoli with Chinese Mushrooms & Abalone
"Ginseng Fortune Chicken" – Double-boiled Chicken, Roasted Pork, Scallops, Sea Cucumber and Fish Maw with Ginseng in a Claypot
Steamed Prawns with Gu Ma's Home Made Sauce
Steamed Red Grouper with Soya Sauce
Seafood Fried Noodles
Dessert – Yam Paste with Gingko Nuts
Session Timings for set menu on Chinese New Year Eve (27th Jan 2017):
12pm – 2pm
2.15pm – 4.15pm
6pm – 7.45pm
8pm – 9.45pm
I had the opportunity to sample some of the dishes from the two CNY set menus. I have to agree that the cooking style is more homey and less seasoned as compared to other Chinese restaurants in Singapore. If you want to taste the natural flavours of the food and not have them obscured by heavy sauces, Gu Ma Jia would be up your alley.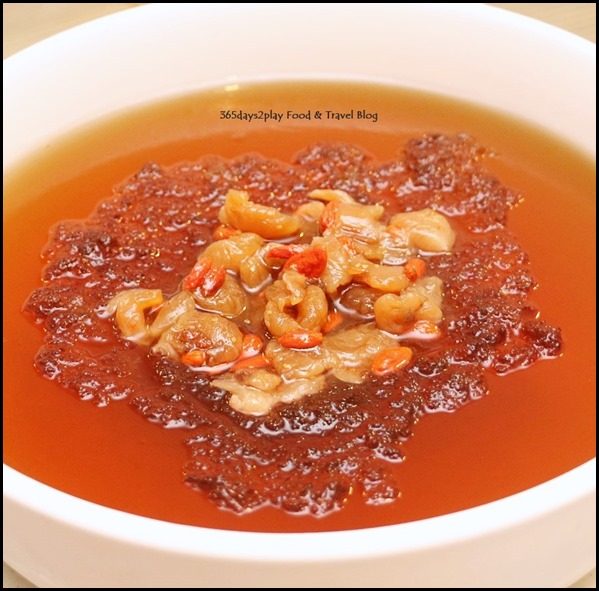 Longan Wolfberries Sea Birds Nest 
The dessert was one of my favourites not only due to visual appeal but because of the generous amount of jelly. And as can be seen from the colour of the jelly, it's flavoured as compared to some versions out there where the jelly is tasteless.