Next stop on the Festive Gourmet Food Trail…..Rendezvous Hotel Singapore! This is the Christmas themed part of the food trail, if only they gave us Christmas presents….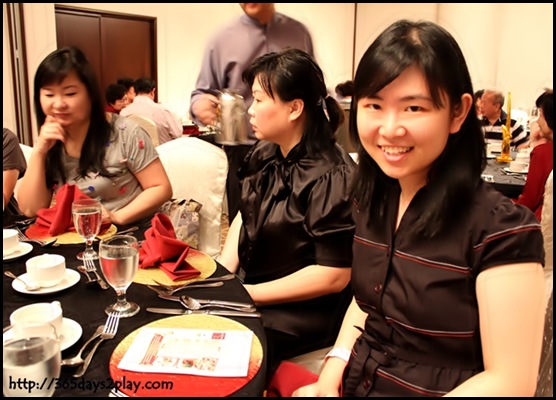 Me looking really happy for having a seat at the VIP table heh heh heh… And I didn't even have to know the bride and groom. Ok just kidding. My blogger buddy  Rachel of PXDKITTY helped me take this photo. Check out her blog at http://pxdkitty.blogspot.com/.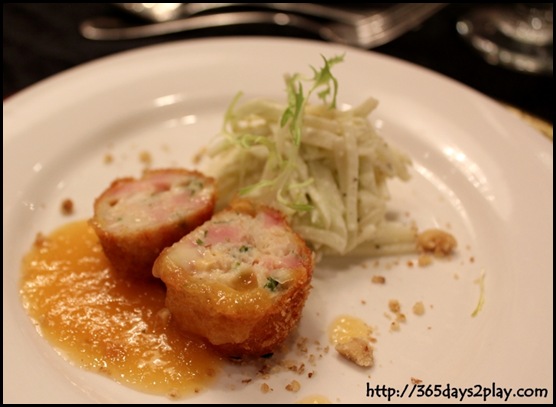 Honey baked ham & crabmeat croquette (Accompanied with granny apply salad, cinnamon pineapple sauce
The croquettes looked festive, with the cinnamon pineapple sauce. There was a nice crunch due to the water chestnuts, onion and pine nuts used. The taste is a little like Ngoh Hiang. Didn't quite like the apple salad on the side. It had too much salad dressing/mayonnaise in it and resembled coleslaw. I think coleslaw has a very bad reputation, in Singapore at the very least. I suspect it is due to the cheapo and lousy coleslaw served at KFC and Western food stalls in hawker centres. The Partner tells me that KFC NZ serves really wonderful coleslaw, which is nothing like what we have in Singapore. I wonder why.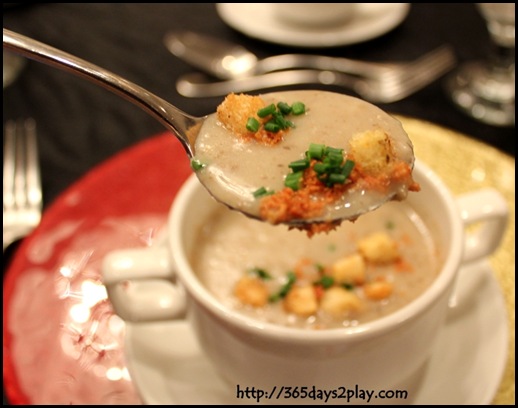 Cream of wild mushroom soup topped with crispy turkey bacon — Nice as It had a whole load of little bits of mushroom in it.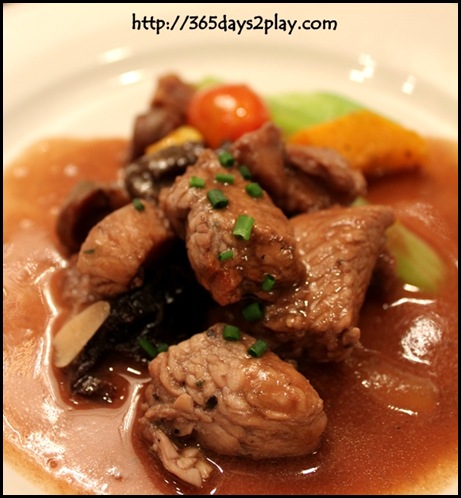 Stewed turkey breast with chestnut and prune in red wine sauce –
I think where the chefs truly excelled were in the meat dishes. The turkey and duck dishes were done so well that just for these alone was worth the visit to Rendezvous Hotel.
The thing with turkey that is that it's a tougher type of meat as compared to chicken and duck. Whenever I go for Christmas dinners, I'm always hesitant to order the turkey dish even though I really want to. I mean, what's Christmas without turkey??? The turkey that we had at Rendezvous Hotel was really tender and flavourful. I was so shocked to discover that it was turkey BREAST that was served! I mean some cooks can't even do chicken breast correctly and here I was eating these tender morsels of turkey breast. It was GOOD.
Another interesting thing which the chef shared with us. Did you know that turkey for Christmas is only prevalent in the USA? In Europe, it's duck or goose! In New Zealand it's duck or lamb. I think the Americans eat turkey for Christmas mainly because turkey is also the traditional dish for Thanksgiving (an American holiday), which is in November and so close to Christmas. It makes economic sense for the farmers to specialize in one type of meat.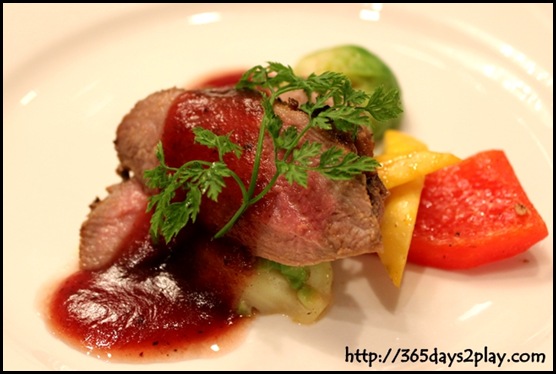 Baked duck breast topped with goose liver mousse – The chefs outdid themselves again with the sliced duck dish. Once again, the meat was very very tender. I love the sweet accompanying sauce. Didn't manage to taste the goose liver mousse though. Definitely a dish you should consider ordering for Christmas too. I'm salivating as I'm writing this!! It's torturous to see but not be able to eat it!
Christmas cream cheese with black currant log cake – This is not the usual Christmas log cake with whipped cream. The white cream you see is actually cream cheese, which I'm sure cream cheese enthusiasts will love. We were really lucky to be able to try this out as Rendezvous Hotel has not started selling the cake yet!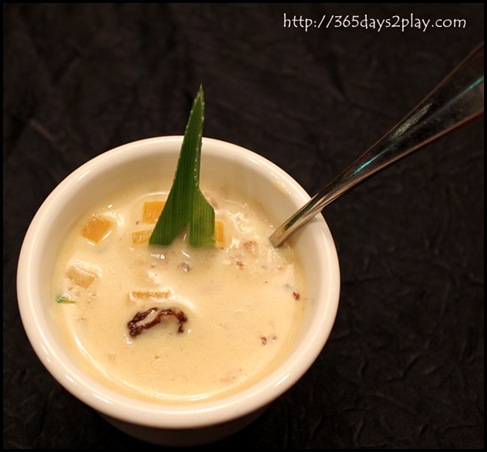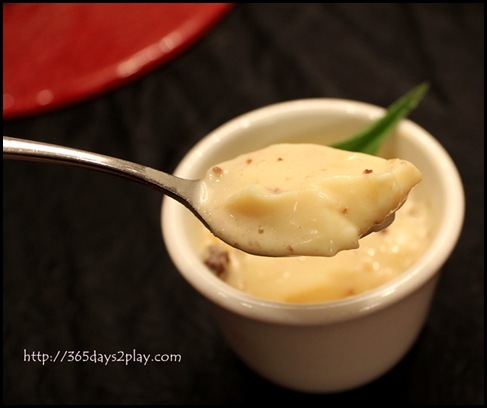 Steamed soya bean pudding with pumpkin topped with vanilla-rum chestnut & raisin sauce — I'm in 2 minds about this dessert. Due to the orange cubes which I thought to be mango at first, I was kind of expecting a cold dessert. Turns out it is a steamed pudding! The soya bean flavours are a bit too bland for me. I prefer egg type pudding aka Crí¨me brí»lée kind. Still, it was a refreshing change. Everyone else at the table seemed to like it a lot.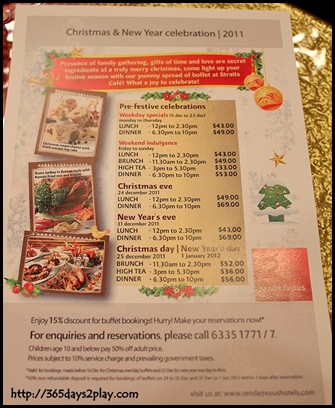 You can try out the Christmas dishes at Rendezvous Hotel.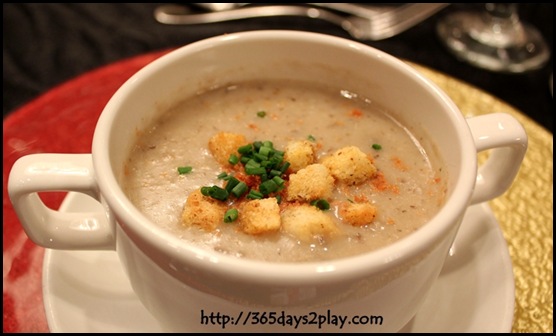 Extra picture of the mushroom soup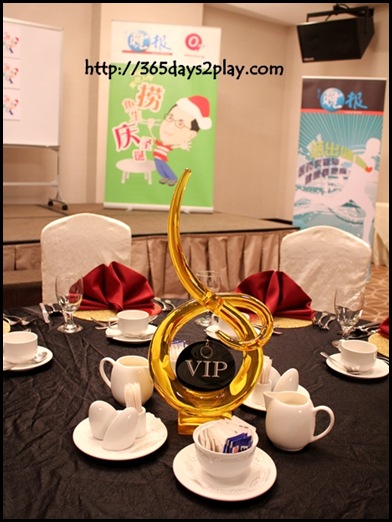 See, this is proof that I sat at the VIP table…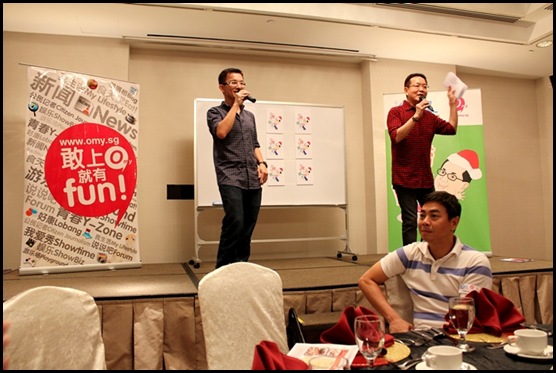 Ah Lun and Xiao Peng keeping everyone entertained
Santa Claus competition…. Check out the Santas with their numerous hand bags. Hilarious!!! There was even a female Santa! The thin ones had to stuff their bellies with table cloths! It ain't Santa if he ain't FAT!!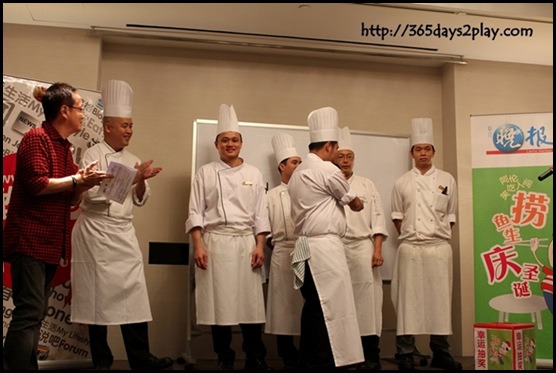 A round of applause for all the hardworking chefs who worked tirelessly behind the scenes!
My blogger buddy Rachell of PXDKITTY. First met her at the McDonalds Open Doors event. Cannot tahan her long eyelashes!! I went to buy some myself from Watsons. Cost me $10. Carted them all the way to Norway and back, and still haven't had the courage to try them on.
Rendezvous Hotel Singapore
9 Bras Basah Road
Singapore 189559
Tel:  65 6336 0220
Fax: 65 6337 3773
Email: reservations@Rendezvous.com.sg