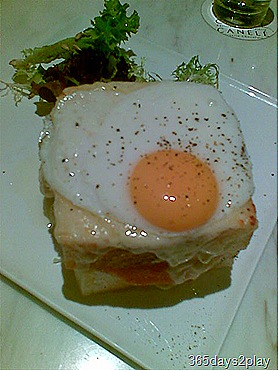 I don't know about you all, but I go weak at the knees when I see an egg like that. I can't even remember what the name of this sandwich is, I believe it's the Croque Madame with ham and Gruyere Cheese. So satisfying and filling. Comfort food at its best! I like to go to the Raffles City Shopping Centre branch, get one of their cushion seats and just watch the world go by, perhaps with a pot of tea as well.
~Update 23 May 2010~
Canele at Raffles City is currently closed. In fact, half the restaurants at Raffles City basement are closed for some sort of renovations. It is scheduled to be reopened in September 2010. As to whether Canele has closed down for good at Raffles City, or only temporarily, is anyone's guess. Click here for Canele's website.