*Media Tasting*
Miam Miam, a French-Japanese fine casual café kitchen, is a labour of love by globetrotting friends with a passion for food. Marrying French techniques with Japanese inspired flavours and ideologies, the team at Miam Miam is engineered to deliver a consistently excellent experience. The kitchen at Miam Miam subscribes to the Japanese ideologies of kaizen and kanban in its food and preparation practices. Kaizen refers to the practice of continuous improvement and kanban of a scheduling system that ensures lean and just-in-time production.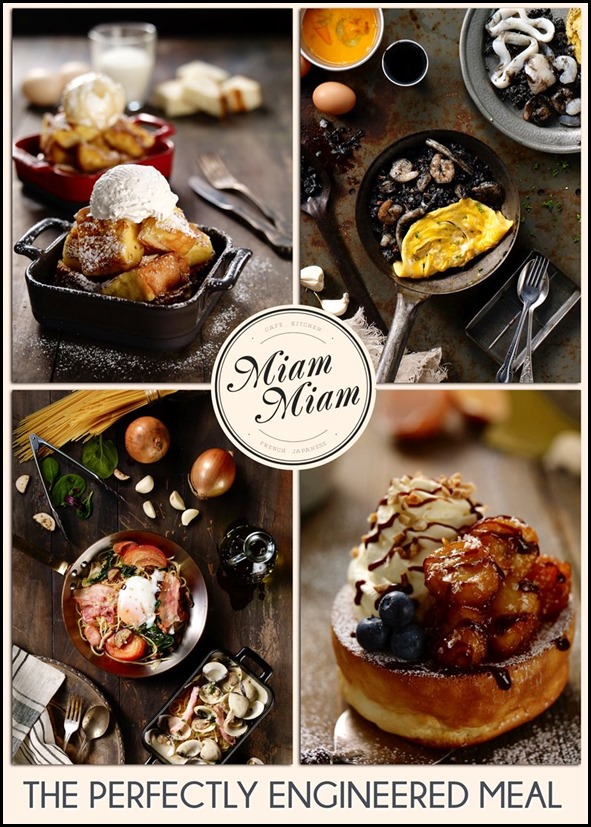 They're not lying when they tell you that everything is "engineered to perfection".  For example, each portion of raw pasta measures exactly 110g. The pasta is cooked for exactly 7.5 minutes to achieve the perfect bite, aka pasta that is al dente. And in order to achieve the freshness that they so desire, everything is made to order. So…. be prepared to wait a little longer than what you would be used to for other restaurants!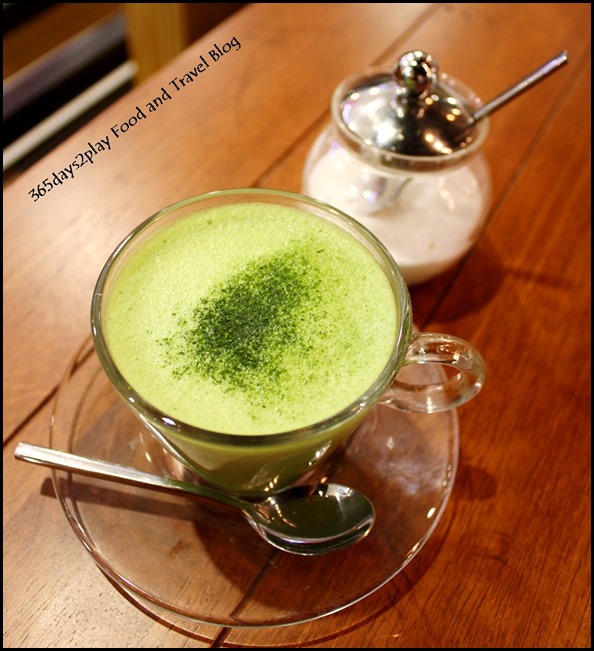 Hot Matcha Latte $6
Started off my meal with a delicious hot matcha latte. I'm not too adventurous when it comes to drinks, so I was glad to spot the matcha latte. Having drunk at least 1 matcha latte a day while I was in Seoul, and none since my trip back in November, I was glad to be able to enjoy this delectable beverage again. Grade 1 matcha aka green tea is used here for smoothness and richness. It was definitely very smooth alright. I was kinda expecting a stronger matcha kick, but in the end the taste was quite similar to the green tea latte from Starbucks. Mind you, that's not a bad thing because I love the green tea latte from Starbucks!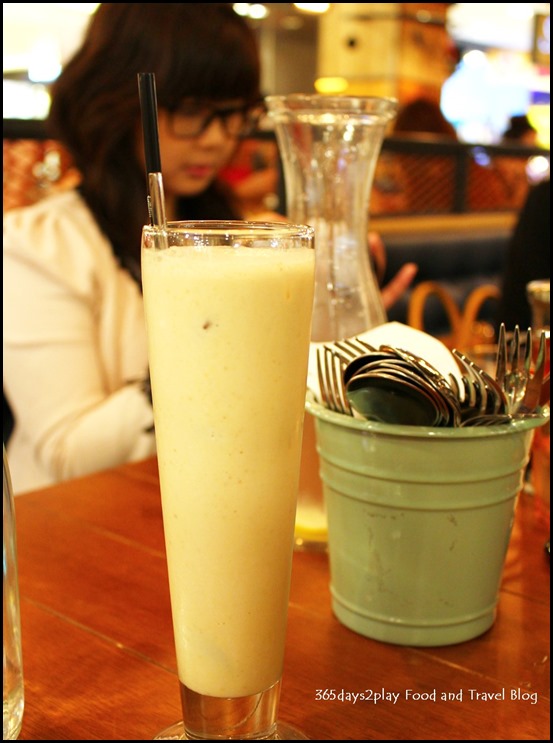 For the more adventurous, you can try the Peanut Butter milkshake which my BFF tried. Can't imagine drinking this before my meal, it is definitely for those whose appetites are insatiable!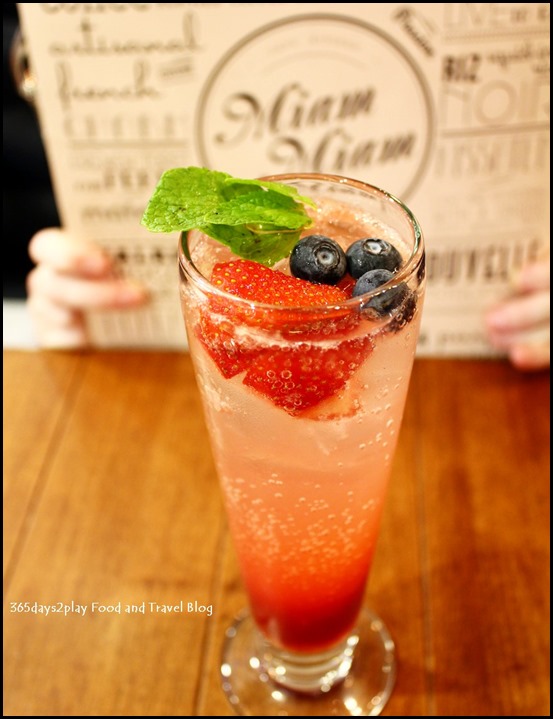 Berry Soda $7.20
The Partner ordered this refreshing Berry Soda to kick start his meal.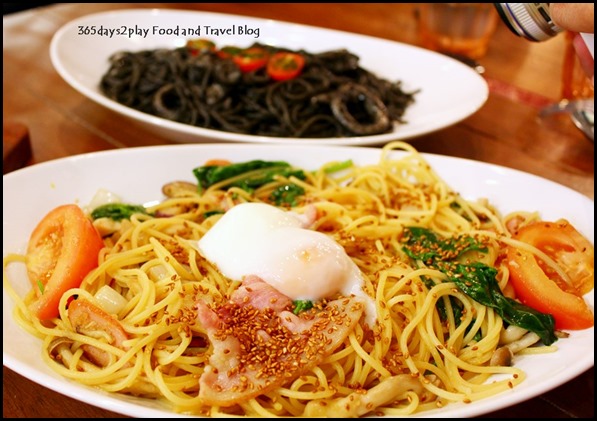 Miam Miam Spaghetti – $15 (Sautéed with frankfurters, tomatoes, baby spinach and bacon, Tossed with french butter, our secret broth and shoyu.
First up for the mains was this Miam Miam Spaghetti which is very similar to pasta carbonara except that it isn't as sauce rich as the pasta carbonara that you get in Singapore. In fact, you will see that the squid ink pasta below is pretty dry too. I was told that the pasta dishes served at Miam Miam a deliberately designed to be light on the palate, hence less sauce rather than more. As the dish was to be shared, the standard procedure would have been to break the luscious wobbly egg and mix it evenly into the pasta. For a wobbly yolk lover like me, that was pretty heart breaking to witness because I wanted to just eat it as it is! I liked the Asian twist to it in the form of sesame seeds, but more of that secret broth would have been appreciated!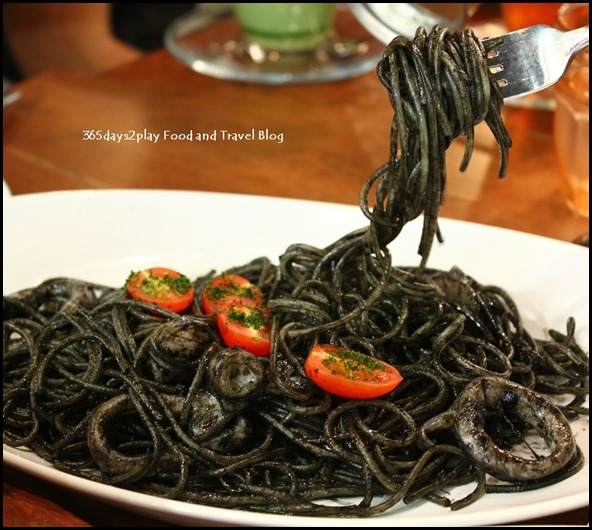 Squid Ink Pasta – $16 (Pasta tossed in Extra Virgin olive oil, squid ink and squid rings, finished with a wasabi infused oil)
Not something you would want to order as the squid ink would stain your teeth and lips black! Not so good if you're keen on smiling to your date once in a while throughout the meal. Miam Miam was pretty generous on the squid rings provided, but I think I really would have appreciated some sauce here as it was just too dry. Also, the squid ink flavour was pretty mild. For a dish that is as black as this, I would have expected a stronger squid ink flavour. Top grade ikasumi powder from Hokkaido was used, guess it was wasted on me. Didn't detect any wasabi flavours either.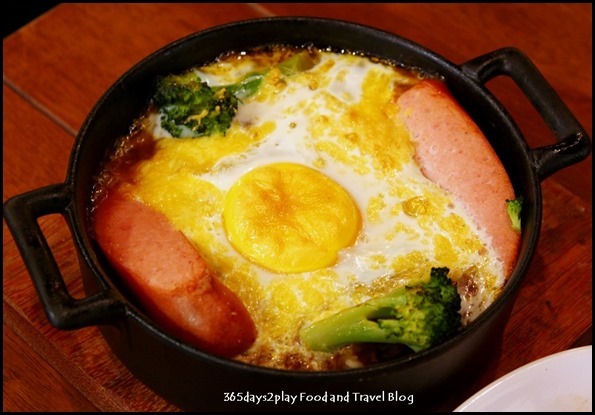 Riz Au Curry – $15.50 (Baked rice with homemade Japanese curry, pork frankfurters, broccoli cheese and egg)
This was my favorite mains of the evening, and if I am not wrong, the favourite dish of my dining companions Gurkhason and Mitsueki. Only the Partner did not like this dish because he found it weird to have curry going along with cheese. For a cheese lover like me, I find it perfectly acceptable if cheese is found in any dish on earth, except maybe in a drink. The baked rice was perfectly cooked and the Japanese curry fragrant and delicious. Not the best presentation I must admit, with the broccoli sticking out like that, and I do think I would love the dish even more if the egg wasn't cooked hard. A 20 minute waiting time is required for this dish.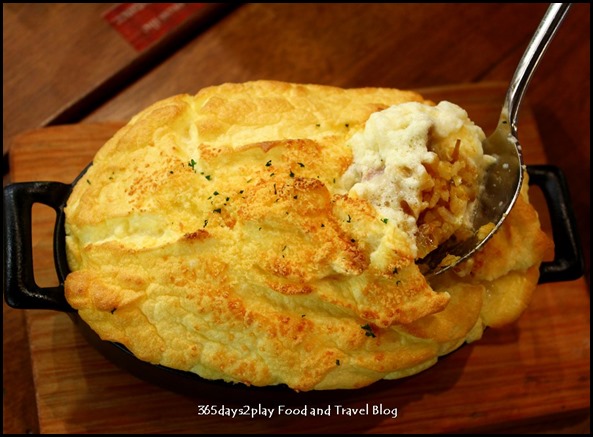 Souffle De Nuage – $15 (Home-style fresh tomato sautéed rice topped with fluffy clouds of egg and cheese)
Can you believe it this dish is for one person? It looks humongous! But it's because of the puffy egg whites that have been whipped sky high. I liked the cheesy flavour of the egg whites, but not the texture though. The inner parts of the egg were cooked, but somehow they had a mushy texture. A little longer in the oven would have been nice. Compared to the Riz au Curry, this was less exciting. But guess what, they have a Souffle au Curry so you can have this souffle with curry rice instead of tomato rice!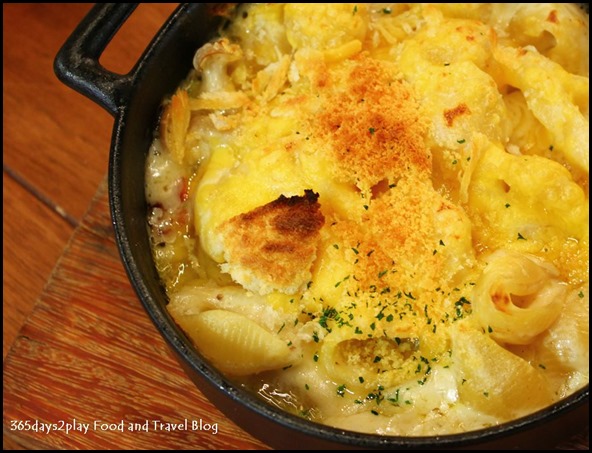 Mac & Cheese – $14.50 (Oven-baked fresh pasta shells with our selection of four special cheeses with crunchy Japanese breadcrumbs)
And last but not least from the main courses, the traditional Mac & Cheese in a not so traditional form. I have not so fond memories of Mac & Cheese mainly from the pre-packaged ones I used to get from the supermarket when I was a teenager. I'd lust over the delicious pictures on the packaging but the cooked product would be so cloying from the cheese flavoured goop I'd have to stop after a couple of mouthfuls. How far we have come when real cheese, 4 in this case!, have been used. My only grouse is that shell pasta should not have been used. Due to the irregular shape, some parts of the pasta were overcooked while the inner parts were still slightly stiff.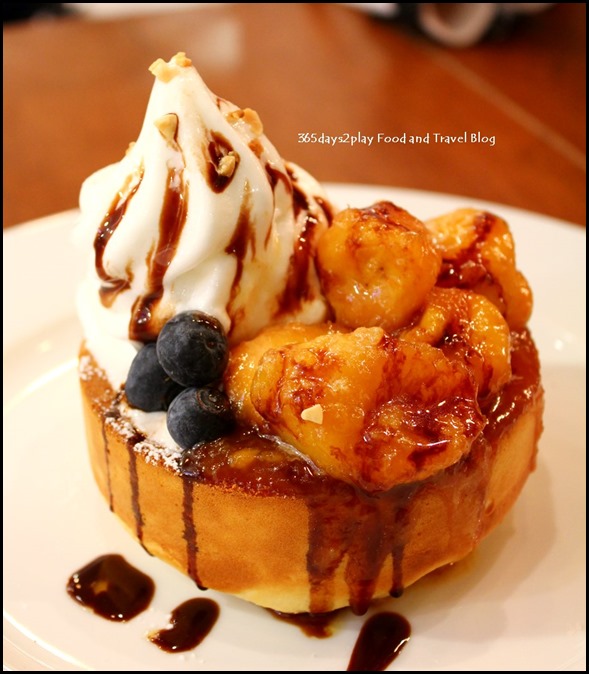 Caramelised Banana Pancake – $12.80 (Topped with premium gelato vanilla soft serve, served with bananas cooked in a deep golden caramel sauce, garnished with toasted almond nibs)
Let's start with my favourite dessert of the evening, the caramelised banana pancake. Isn't it a picture to behold? It's always funny when pancakes arrived and they are not quite the flat thing you imagine. Still, one bite into the tall pancake and there's no mistaking the fluffy and slightly rough pancake texture for anything else. I always suffer from having too little toppings on my pancakes, but certainly not in this case. Miam Miam was very generous with the amount of bananas and as if that's not enough, take a vanilla ice cream as well for good measure. Loved the mish mash of flavours, and the icy cold ice cream on piping hot pancake! I could detect some banana essence in the pancake, and as a rule of thumb, I do not like essence as it means fake, but in this case, it was tasty nonetheless.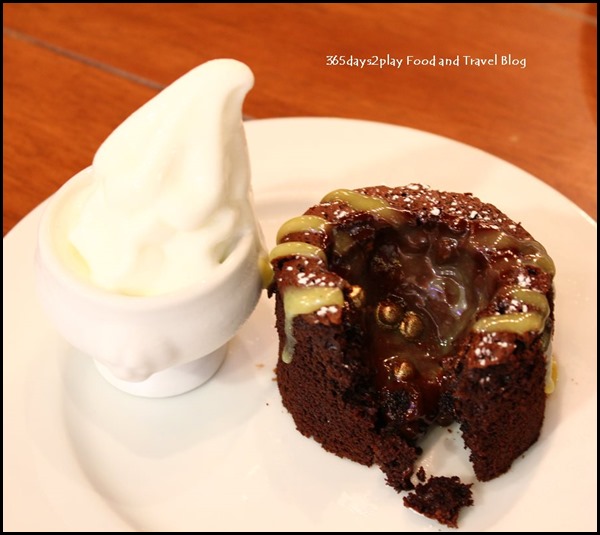 Chocolate Molleaux – $9 (Sinful dark chocolate cake with a molten center)
Molten chocolate cake is always a crowd pleaser but apparently Miam Miam does not do them with a really molten and flowy center. I can still remember all of us were positioned with our cameras, waiting to snap the lovely volcano eruption moment and it was a "oh" moment instead. Nevertheless, the cake was rich and delicious, and when eaten together with the ice cream, much would be forgiven. One thing though, WHY SUCH A SMALL dish for the ice cream? Can't get the spoon into it!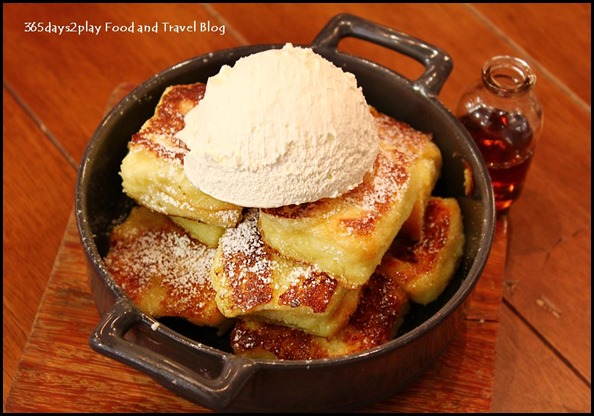 Famous French Toast – $9.80
The French Toast was highly anticipated but I must admit, fell short of expectations. The toast pieces could not be easily speared out as they had stuck to each other. The huge white blob was not ice cream as most people had expected, but was whipped cream. Alas, the whipped cream was pretty tasteless, even though I was told that it was pure dairy.
Thankfully, there was a little bottle of maple infused sugar syrup to up the oomph factor a little. I would advise that you pour it directly onto the french toast instead of wasting it on top of the cream though. Maybe it would be a good idea to ask for ice cream instead of cream next time! Wonder if Miam Miam would oblige to that?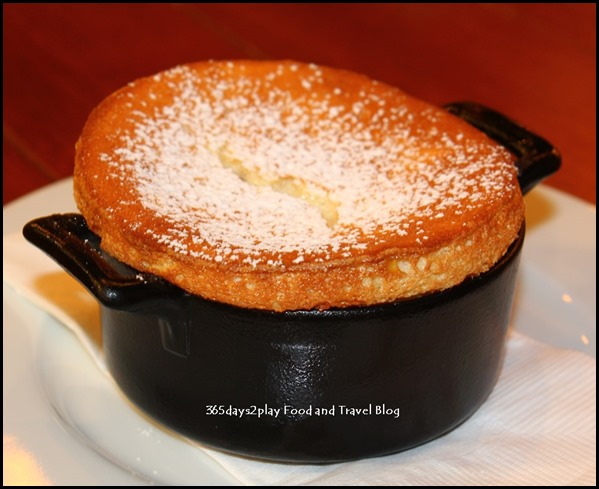 Vanilla Souffle – $9.80
And last of the desserts, the vanilla souffle, or you could order the chocolate souffle, which comes with a dollop of melted Valrhona chocolate. If you want something light for dessert, this is the one to go for as it's essentially a very light piece of cake.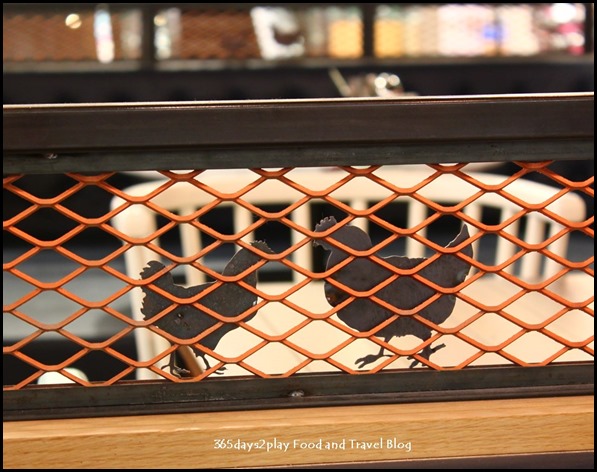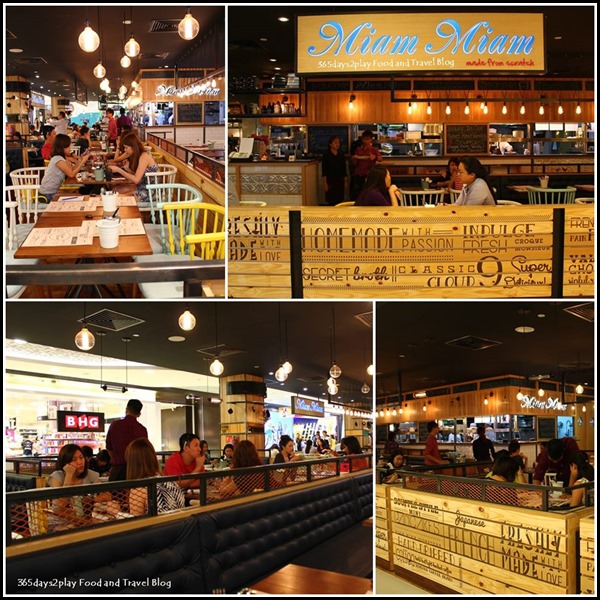 If you're at Bugis and lost for ideas as to where to eat, you might just want to consider Miam Miam. Prices are pretty affordable, and the spacious restaurant is really good for large group gatherings. Just be sure to order your desserts well in advance so you don't have to wait! Miam Miam is also available at West Gate Mall as well as in Penang and Melbourne!
---
Add me on Facebook, Instagram and Twitter if you want to be kept up to date with the latest happenings in the food and lifestyle scene in Singapore!
---
Miam Miam @ Bugis Junction (Outside BHG)
#02-14 Bugis Junction, 200 Victoria Street, Singapore 188021
Telephone number: (65) 6837-0301
Miam Miam @ Westgate
#01-21/22 Westgate 3 Gateway Drive Singapore 608532
Opening Hours
Monday — Friday
11:30 am to 10:00 pm
Saturday — Sunday
11:30 am to 10:00 pm