*Sponsored Post*
I think many of you out there will have heard of the health benefits of kale. Kale is one of the superfoods in recent times, and is high in calcium, vitamin B6, vitamin C, potassium, magnesium, chlorophyll and beta-carotene. Kale has also been touted to be helpful in reducing cholesterol. It's probably one of the most power-packed vegetables around, hence the superfood nickname, but Kale is actually not always readily available in supermarkets.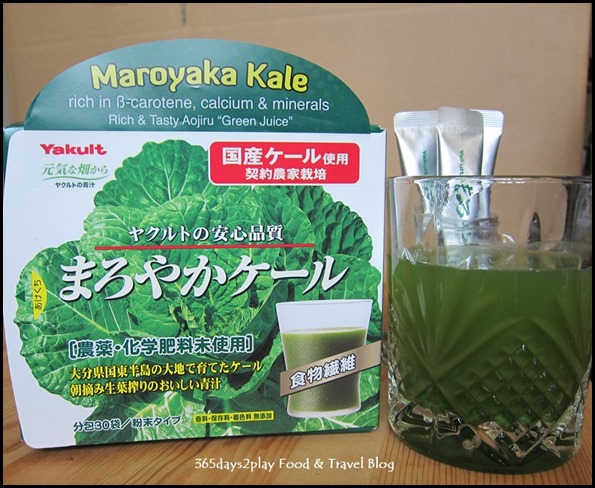 Here's an easy way for you to consume more kale. Yakult Health Foods has introduced this gift of nature in a convenient form — Maroyaka Kale, which comes in sachets of powdered kale.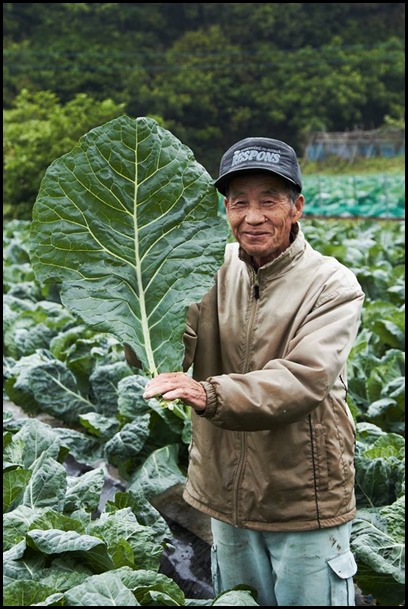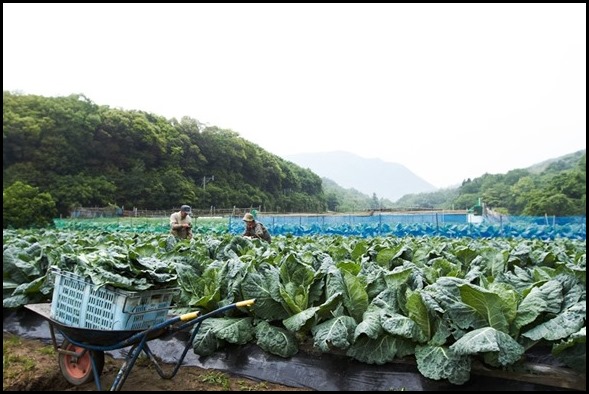 The kale used is cultivated in the rich soils of Kunisaki Peninsula area of the Oita-Ken Prefecture of the Kyushu region in Japan,  without any agrochemicals, chemical fertilizers or pesticides. The large, dark green leaves are plucked at dawn and delivered to the factory in its freshest state where it is powderised using minimum heat.
Every 2 sticks contains 9g of Maroyaka Kale powder, dissolving easily in cold water or milk.
Nutritional info per 2 sticks of Maroyaka Kale (9g)
Calories : 21 — 35 kcal
Protein : 0.6 — 1.2g
Beta — Carotene : 139 — 1086 μg
Vitamin C : 29 — 56 mg
Vitamin K : 41 — 125 μg
Iron : 0.1 —0.5 mg
Calcium : 61 — 150 mg
Potassium : 220 — 496 mg
Magnesium : 14 — 36 mg
Compare this with 10g of cooked, boiled and drained kale (source: Wikipedia)
Calories : 2.8 kcal
Protein : 0.2 g
Beta — Carotene : 817 μg
Vitamin C : 4.1 mg
Vitamin K : 82 μg
Iron : 0.09 mg
Calcium : 7.2 mg
Potassium : 22.8 mg
Magnesium : 1.8 mg
I personally think that the best thing is to always ingest your vitamins and minerals by eating the real thing. But assuming you aren't able to do so, having this kale juice would be a good supplement to your diet.
How does it taste???
That's the key question that must be on everyone's minds right? Actually, it tastes quite alright. It's like drinking cold vegetable soup with a seaweed flavour, if you use room temperature water to dissolve the powder. It didn't taste raw, which was what I was expecting at first. I tried adding milk, and that does help to mask the vegetable flavour, however it makes me fuller than I want to be, so I'd rather stick with just room temperature water. For a person like me who is totally not adventurous with liquids (I'm more adventurous with food), this was pretty palatable. I could see myself drinking this on a daily basis for health benefits. Another interesting idea would be to sprinkle this into soups that you will be having for lunch and dinner, as long as those soups are not boiling hot.
Where to buy?
Solely distributed by local company Abeille d'Or (Singapore), this Maroyaka Kale is available at Guardian Pharmacy, and retails at the introductory price of $79.90 from now till 30th September 2014, after which the price will increase to $87.90. The complete range of Yakult Health Foods is also available at Guardian Pharmacy.
**Thanks AT Marketing Consultancy for inviting me to try out this product.
---
Add me on Facebook, Instagram and Twitter if you want to be kept up to date with the latest happenings in the food and lifestyle scene in Singapore!